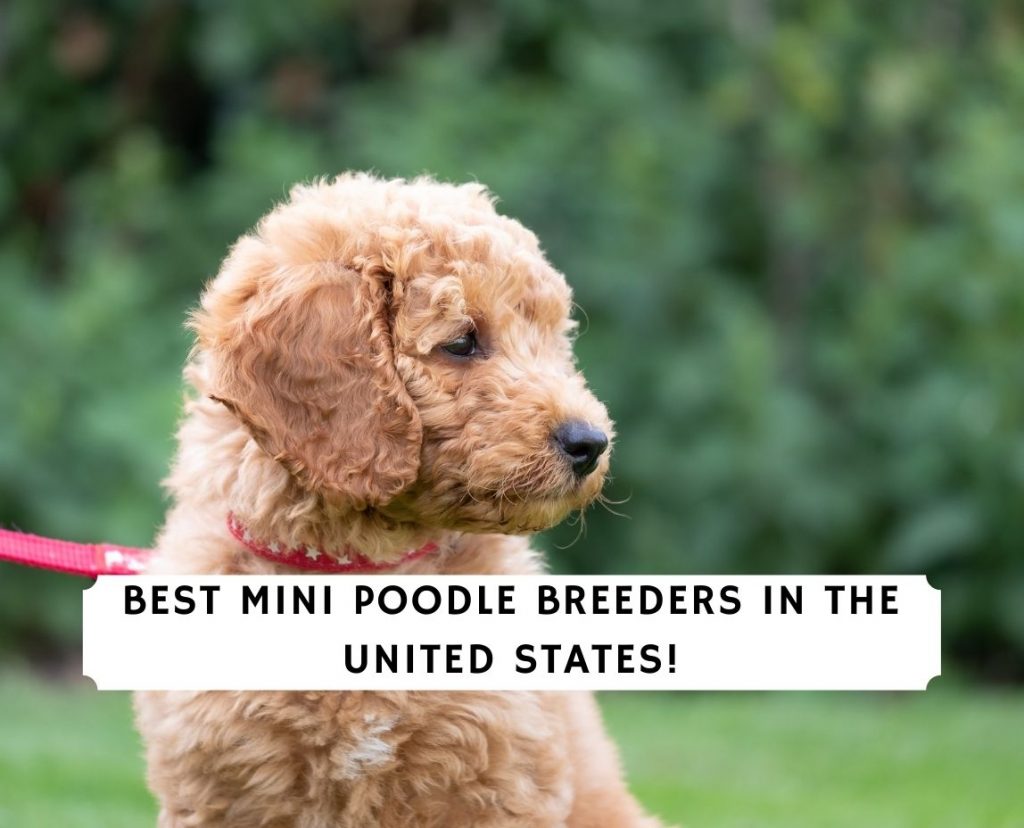 If you're looking for the best Mini Poodle breeders in the United States, then you're in for a treat. Known for their hypoallergenic and nonshedding coats, mini Poodle puppies make a great family dog with their mix of high intelligence and easygoing personality. However, one of the hardest tasks of new prospective owners is finding a reputable breeder. Our list of breeders will certainly give you some great options!
Did you know? The Poodle is ranked as the second-most intelligent dog. Since they're smart, many mixed breeds come from the Poodle. You can check out our list of Doodle breeds for more information.
Other articles you might be interested in:
Mini Poodle Puppies For Sale in the United States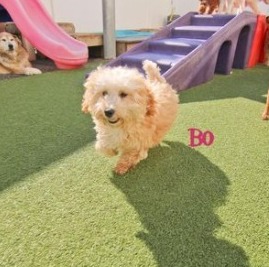 Decades of inbreeding have resulted in genetic health issues in Mini Poodles. Thus, it is essential to find a breeder who is careful and selective in their breeding so that you can be assured of the healthiest pet possible. As a potential new puppy owner, you also want to avoid puppy mills and backyard breeders.
Irresponsible breeders will typically sell lower-priced miniature Poodles puppies without health or genetic testing the parent dogs. They also have unethical breeding practices, such as leaving dogs in kennels with no socialization and only basic care. Below is a list of the best Mini Poodle breeders in the United States; we've done our best to make sure each is responsible and ethical but be sure you, too, do your research!
1. Creekside Puppy Adoptions
Creekside Puppy Adoptions is a family of breeders with a mission to improve the quality of Poodle breeds for generations to come. Health is their number one priority; they take pride in the health and well-being of all their mini Poodle puppies, along with the parent dogs. They believe healthy parents will create healthy Poodle puppies for generations to follow.
All miniature Poodle puppies are veterinarian checked and have up-to-date vaccinations before they're sent to their new forever home. Creekside Puppy Adoptions also has all the puppies microchipped at five weeks of age. The breeders strive to help you find the perfect fit for your family pet, and through years of experience have become experts at helping you find the right fit for your temperament preference.
A quality Poodle starts with socializing from birth. Creekside Puppy practices socialization from day one, not only making sure puppies are nursing, eating well, and continuing to grow, but also ensuring that they're accustomed to human handling. Their mission is to provide you with not only the most healthy and well-socialized puppy, but also provide great customer service. 
At Creekside Puppy you can visit in person to meet the puppy, or you can schedule a FaceTime to save you a trip – regardless of whether or not you put down a deposit. A nonrefundable deposit of $200 will reserve a puppy until you can schedule pickup or delivery.
Creekside Puppy Adoptions does offer delivery throughout the United States for an additional fee. They also provide a 2-year health guarantee for each puppy. Health checks and vaccinations are up to date on Gotcha Day. 
Creekside Puppy Adoptions Details
Location: Arcola, Illinois. They will safely transport your mini Poodle anywhere around the United States.
Website: Creekside Puppy Adoptions
Phone: 217-549-6555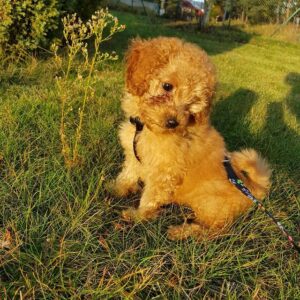 PuppySpot is the ultimate destination for all your puppy needs. They are committed to raising healthy, happy miniature Poodle puppies and believe that every puppy deserves a loving home. PuppySpot also has an extensive network of breeders in their database so you can find the perfect puppy quicker than ever before – most breeders on our list will have a waitlist of 6+ months!
You'll be able to search through hundreds of different Poodle puppies, read reviews from other pet owners, and even get matched with a breeder if you're still unsure about what type of furry friend to adopt. All you have to do is go to the PuppySpot website and search by size and select "miniature".
With PuppySpot's easy-to-use platform, finding the right mini puppy couldn't be easier! Additionally, it doesn't matter where you live in the United States since they can deliver your puppy to you since they have their own private, USDA-approved airline. With over 220,000 happy customers, we highly recommend that you check them out. 
PuppySpot Details
3. Sunset Valley Puppies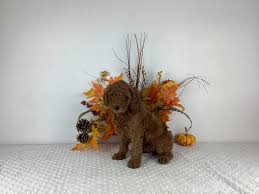 Next on the list of Mini Poodle breeders in the United States is Sunset Valley Puppies. Situated in Pennsylvania, they are a family-owned breeder of Red Mini Poodles, Moyen Poodles, and Toy Poodle varieties. With over 14 years of breeding experience, you can be assured of the breeder's passion, commitment, and expertise. Both Poodle parents and puppies are raised in a family environment.
All miniature Poodle puppies begin socialization training in their early weeks and are ready by their forever family by the eighth week. Sunset Valley provides a one-year health guarantee for all their Poodle puppies for sale and even have a replacement policy. Feel free to contact them if you have any questions about the dog breed.
Sunset Valley Puppies Details
Location: Kinzers, Pennsylvania 17535, United States
Contact: (707) 442-0833
Website: Sunset Valley Puppies
4. King Poodle Puppies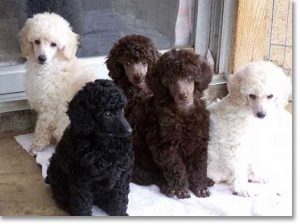 The staff at King Poodle Puppies provides a service unlike any other. Their Mini Poodles are show winners and are never kenneled, not even as puppies. The parent poodles are bred based on bloodline compatibility which helps to prevent genetic issues.
While your puppy grows, the kennel will keep you updated with videos and photos of parent dogs. Additionally, they will also upload videos and pictures of puppies after birth so you can check on your puppy and its health and training progress. Their miniature Poodle puppy training program is exhaustive and includes doggy door, potty training, and socialization.
When you buy a Poodle puppy for sale from King Poodle Puppies, they leverage their staff's pet transport and shipping expertise to ensure that your puppy reaches you safely. That includes providing you with all flight and tracking details so that you aren't anxious by the time your puppy arrives. All their mini Poodle puppies are dewormed, vaccinated, and certified by a licensed vet. Every puppy from King Poodle Puppies comes with a one-year health guarantee.
King Poodle Puppies Details
5. Pear Tree Poodles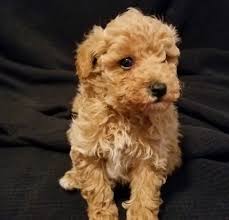 Based in North Carolina, Pear Tree Poodles specializes in petite Miniature Poodles. Their breeding and training efforts focus on the conformation, health, and temperament of puppies. This means that you can expect board-certified veterinarians and ophthalmologists to check your puppy to ensure that it meets all health standards.
Poodle puppies are assessed using Volhard Puppy Aptitude Tests to better match a family with a puppy based on temperament and personality traits. All miniature Poodle puppies for sale come dewormed, vaccinated, and microchipped. The team will ship via United Pet Safe. Alternatively, they'll drive your puppy (throughout the Southeast), but prefer not to.
Pear Tree provides a two-year genetic health guarantee for all their puppies. This guarantee can be extended for two more years if you choose to use NuVet. 
Pear Tree Poodles Details
6. Mini Poodles and Doodles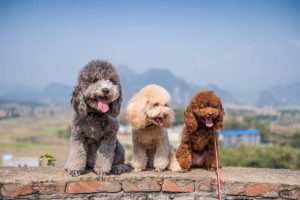 Based in the heart of beautiful east Texas is a family-owned breeder of the cutest dog breeds ever—Mini Poodles, Mini Goldendoodles, and Mini Labradoodles. The farm is spread over 21 acres south of Tyler, so your dog will have plenty of room to explore and play before joining your family.
Their Poodle puppies are given early neurological stimulation along with Biosensor training. The team will help you select puppies to raise as therapy dogs, emotional support dogs, or service dogs. They are licensed by the United States Department of Agriculture (USDA).
A hands-on breeder, Mini Poodles and Doodles invests a lot of time and energy to ensure that their puppies are happy and healthy and grow with the best family-friendly temperaments. They even provide litter boxes and crate training to their puppies.
You can choose from a wide variety of mini Poodle coat colors ranging from various shades of red and chocolate to black, golden, apricot, or cream. And they deliver the most adorable, sweet-tempered new family member to your home (nationwide)!
Mini Poodles and Doodles Details
7. Carolina Mini Poodles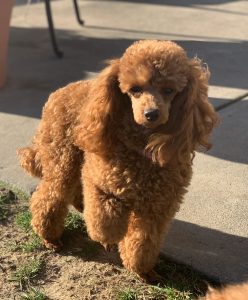 This home breeder based in Greensboro, North Carolina, is committed to breeding and raising healthy and happy Mini Poodles. All the parents are bred according to AKC and CKC breeding standards. In addition, all adults and puppies are raised in a loving, hands-on home environment.
The miniature Poodle puppies are well looked after and trained to socialize up to 8 to 12 weeks old. They are also provided with proper health checkups and genetic testing. Your puppy will come with a basket of goodies and essentials such as a bag of puppy food, a blanket with the mother's scent, wee-wee pads, health certificates, toys, and registration documents.
Carolina Mini Poodles Details
8. Quality Poodle Farm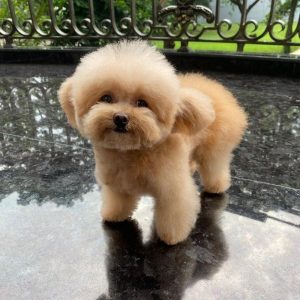 Last on the list of Mini Poodle breeders in the U.S. is Quality Poodle Farm. With 11 years of breeding experience, this family-owned and managed business specializes in breeding and raising Teacup Poodles. If you've been in search of the tiniest, cutest furriest companion, you've come to the right place!
In purchasing from Quality Poodle Farm, you will not only be assured of a genetically healthy and well-trained puppy but will also receive access to over a decade of expertise to help you take care of your mini Poodle puppy, ensuring that it grows into a happy and healthy companion.
Your miniature Poodle puppy comes with a puppy pack that contains puppy food, three toys, a soft cuddly blanket, a puppy training book, and many other accessories to make the transition easier. You'll also receive complete vaccination, deworming, health records, and AKC registration papers. Quality Doodle Farm also provides a written 5-year health guarantee with all their puppies. Perhaps best of all, Quality Poodle Farm will deliver your puppy to you!
Quality Poodle Farm Details
More Information About Miniature Poodle Puppies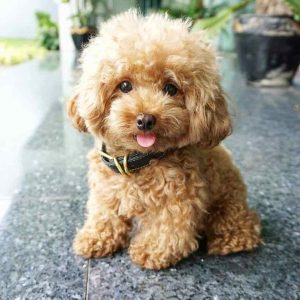 Poodles have featured in several movies—from the Secret Life of Pets to Oliver and Company to All Dogs go to Heaven 2. Chances are you fell in love with this exceptional breed because of its engaging personality. You aren't alone.
Because of their affectionate character and high intelligence, the Poodle is the seventh most popular dog breed among pet lovers in the United States. Although the breed's origins are unclear, most people the world over associate Poodles with France. In fact, the Poodle is so popular and loved by the French that they made it their national dog!
Despite all our reasons to love them, Poodles have earned a stereotype of being high maintenance because of their show dog qualities and the effort that goes into grooming them. It's a myth. Poodles can sport a regular trim, just like any other long-haired dog breed. So why are Poodles depicted with their signature trim with topknots and pompoms?
The answer to this mystery lies in their origins. Would it be strange to learn that the first of the Poodles served as duck hunters? And that their coat is trimmed specifically to allow them greater mobility while retaining body heat when they splash through ice-cold water searching for ducks? Since there's no functional purpose for a Poodle's signature trim, grooming is as easy as brushing every day followed by a professional touch-up on their grooming style every six weeks.
From duck retrievers, Poodles evolved to become guide dogs and performer dogs. They are easily trainable, have superior intelligence, and are territorial and protective to a fault. What gives them a distinct advantage over other breeds is that they're considered hypoallergenic. What this means is that as they shed minimally so Poodles are best suited for people who have dog hair related allergies.
Conclusion For The Best Mini Poodle Breeders in the U.S.
Throughout the United States, there are tons of miniature Poodle breeders. We hope that you will be able to bring a companion home from this list of the best Mini Poodle breeders – or at least narrow down some of your choices!
If you're planning to purchase from unknown Mini Poodle breeders, we advise you to stay cautious and look out for red flags. If it's too good to be true, then most likely it is.
There are many puppy mills breeding dogs in unethical ways (mainly for profit) and we encourage future dog owners to avoid them if possible.
If you've decided on a Mini Poodle, we'd like to congratulate you on the new chapter of your life. Meeting your companion for the first time is definitely a memory you'll cherish for the rest of your life. 
If this list of Mini Poodle breeders in the U.S. isn't enough for you, we have recommendations for certain states:
To learn more about the Mini Poodle dog breed, watch "Miniature Poodle" down below:
Garrett loves animals and is a huge advocate for all Doodle dog breeds. He owns his own Goldendoodle named Kona. In addition, he volunteers at the Humane Society of Silicon Valley, where he fosters dogs and helps animals. Garrett enjoys writing about Doodles and believes that dogs can teach humans more about how to live than humans can teach a dog.
Why Trust We Love Doodles?
At We Love Doodles, we're a team of writers, veterinarians, and puppy trainers that love dogs. Our team of qualified experts researches and provides reliable information on a wide range of dog topics. Our reviews are based on customer feedback, hands-on testing, and in-depth analysis. We are fully transparent and honest to our community of dog owners and future owners.