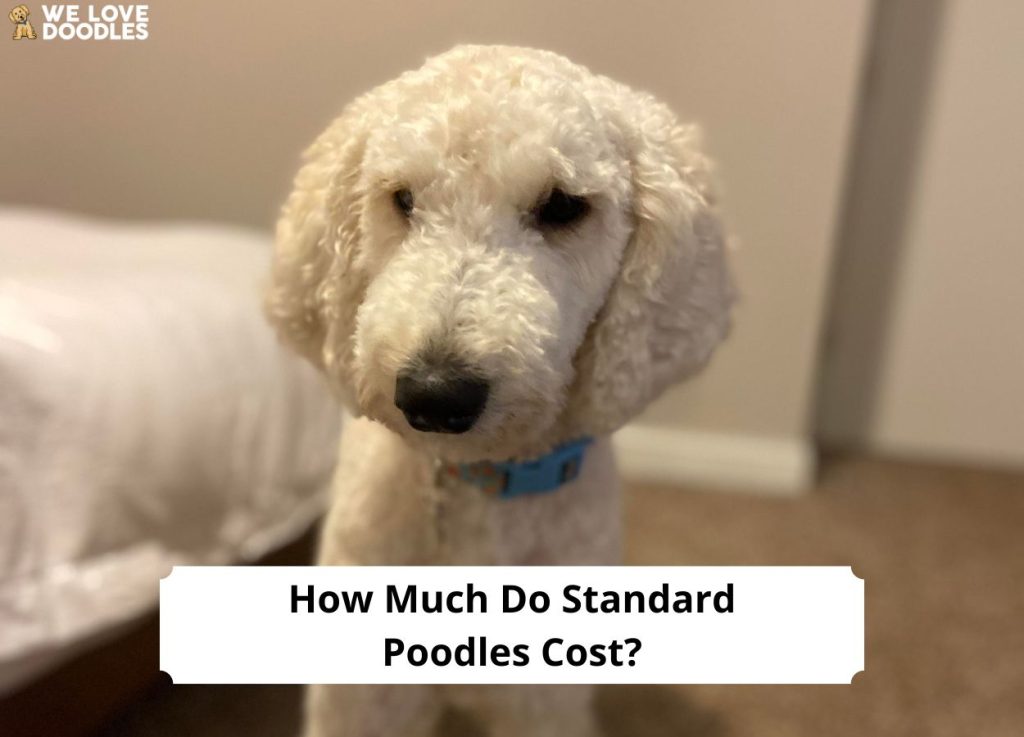 Poodles are known to require quite a lot of maintenance, a fact that scares off many potential adopters. There's also the matter of price. How much do Standard Poodles cost?
It's possible you'll find someone who put a Poodle up for free adoption. If not, buying Standard Poodles from a breeder can cost you anywhere from $500 to $2,000, whereas getting one from an animal shelter will cost you $50 to $300.
Keep reading below for more information about how much Standard Poodles cost over their lifetime.
Before you read this guide, "How Much Do Standard Poodles Cost?," check out: How Much Do Toy Poodles Cost? A Guide to Prices! (2023) and 13 Best Standard Poodle Haircuts – With Pictures! (2023).
About the Standard Poodle
The Standard Poodle is a medium-sized dog with a square build and a distinctive, rough, curly coat. Low-hanging ears are covered in fur, and tails are typically docked, raised, and straight. Their height and length (from the top of the head to the bottom of the buttocks) are proportional.
The Standard Poodle has an air of self-respect and superiority about him. The Standard Poodle should be judged like a working gun dog, with flaws or exaggerations penalized according to how much they get in the way of the dog's job.
The rough, dense coat of the Standard Poodle, which can be exhibited in a variety of standard styles or, less commonly, corded, is the breed's most distinguishing feature. The right disposition is also an important quality. This breed is recognized for its cleverness, trainability, and playfulness.
Poodles are pack animals that thrive with constant human company and close familial bonds. Poodles succeed in performance events of all kinds due to their high intelligence and their love of human companionship. They love showing affection to kids.
History of the Standard Poodle
Although the Poodle's official place of origin is France, its forebears originated in central Asia. The present-day breed likely owes the most to the German variant (the word "poodle" is German for "splash" or "puddle").
The contemporary Poodle grooming technique may be traced back to the 18th and 19th centuries, when the breed served several roles in Europe, including duck hunting, guiding, and subsequently circus performance.
The Poodle quickly gained popularity among the French nobility and was eventually recognized by the government as the official national dog of France.
The 20th century saw the introduction of Poodles to the United States. Over time, they gained traction and became some of the most popular dogs in the country. Standard Poodles, Miniature Poodles, and Toy Poodles are all recognized dog breeds that belong to the Poodle family.
The Poodle's ancestry is still up for debate; some believe they originated in Germany as a type of water dog, while others trace their ancestry back to the ancient French Barbet breed.
One-Time Standard Poodle Expenses
There are a number of one-time expenses in addition to the cost of buying or adopting a Poodle. If you're buying a puppy, you should also expect to make many vet visits in the first few months after bringing it home.
In addition to the initial cost of the dog, you'll also need to buy things like food, water, a kennel, bedding, and accessories for your dog.
Getting a Poodle for Free
Finding a free Poodle is challenging, but not impossible. Poodles and their hybrids are extremely popular, which means that it's not unusual to come across an abandoned or stray Poodle or Poodle mix. However, you should use caution when searching for free Poodles.
Some owners choose to rehome their dog because of the animal's behavior, while others do it because of practical considerations like moving into a new place that doesn't accept pets.
Getting a Dog from the Animal Shelter
$50 to $300
You should budget no more than $150 to adopt a Poodle from a shelter organization. It is reasonable to assume that the cost of a rescue organization will be higher than that of a typical shelter.
The average cost of a rescue is between $100 and $300, though this can vary widely based on location and the specifics of the rescue.
Buying a Poodle from a Breeder
$500 to $2,000
The cost of buying a Poodle from a breeder will vary depending on the breed you choose and the reliability and honesty of the breeder. Standard Poodles are normally somewhat less costly than Toy and Miniature Poodles.
Try to locate a breeder who takes health testing seriously, sells only healthy offspring, restricts the number of breeds and litters they produce annually, and never sells to pet shops. A Poodle from a good breeder can cost anything from $500 to $2,000.
Initial Setup and Supplies
$800 to $2,000
In the first few months after bringing your Poodle home, you can expect to spend between $800 and $2,000. Supplies, vet care, immunizations, home and professional grooming products, and a trip to the groomer are all included in these initial expenditures. Initial costs are going to vary greatly depending on where you live.
Monthly Costs
$185 to $770 monthly
The monthly cost of keeping a Poodle as a pet is difficult to estimate, but it probably won't be any higher or lower than keeping any other dog in your neighborhood. Food, supplies (such as toys), and maintenance (grooming, veterinary care, etc.) will all add up to a hefty monthly bill.
Healthcare
$50 to $150 monthly
Routine things such as flea and tick prevention and heartworm prevention will be included in a Poodle's monthly medical expenses. Your dog's individual health issues will necessitate additional medical costs.
Food
$50 to $150 monthly
The monthly cost of feeding your poodle will vary depending on the dog's weight and the quality of food you provide. The average monthly cost of feeding a Toy or Miniature Poodle is about $50. The cost of providing proper nutrition for a regular Poodle might go up to more than $100 per month.
The price of treats should also be factored into your budget.
Grooming
$70 to $250 monthly
If you brush your Poodle regularly at home, he or she may not need to go to the groomer every month. Getting your dog groomed might cost you anywhere from $75 to $250, based on the size of your dog, the state of its coat, and the location in which you live.
Grooming costs may rise for a dog that is particularly large or has a coat that is poorly maintained.
Medical Care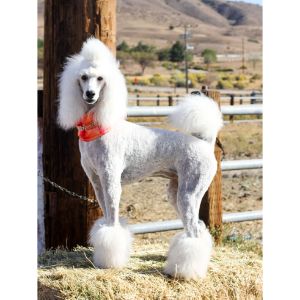 $50 to $150 monthly
Even though your Poodle probably won't need to see the vet that often, you should still set aside money every month in case of an emergency or to help reduce the cost of visits when they're necessary. Veterinary care can range from the diagnosis and treatment of illnesses to urgent care and preventative medicine.
Insurance
$0 to $100 monthly
Purchasing pet insurance is a personal decision. Pet insurance will help in the event of an accident, and it can also reduce the out-of-pocket costs associated with routine care. However, due to age factors or preexisting conditions, not all dogs can be covered by pet insurance.
If your company provides employee benefits, you ought to check whether or not they provide a discount on pet insurance.
Environment
$0 to $20 monthly
Put some money aside each month to cover environmental upkeep costs. Cleaning items that are safe for pets can be purchased to help keep your dog's kennel and dishes spotless. Items such as grooming supplies are examples of other types of maintenance items. These products help to maintain your dog's cleanliness and good health.
Entertainment
$10 to $100 monthly
Depending on how active your Poodle is, your monthly entertainment budget may vary. Some are more likely to destroy toys than others, requiring more regular purchases of new ones.
Toy subscription boxes are a terrific way to try out some brand-new toys each month, and they only cost about $10 to $40 on average. If you want to make sure your Poodle has toys that are the right size for it, you can find plans for a variety of dog breeds and sizes online.
Activities like agility can provide additional stimulation for your dog. Memberships and classes might cost $50 per month or more. In addition, you may get things like puzzles and Kong toys to make your own mental games for your dog. These are excellent alternatives for days when you can't go outside to play.
Potential Other Costs
So far, we have just gone over the essentials, but there are many situations in which you may need to factor in a lot of unanticipated costs. Other costs associated with Poodles include the following.
Classes
Dog sports and other activities learned in classes and through training can be an added source of joy for you and your pet. The typical cost of a membership or per class is $50 to $80. It's also a good idea to enroll your Poodle in an obedience, socialization, or toilet training course.
Puppy Daycare
If you need to be away from the house for an extended period of time, such as on business vacations, leaving your Poodle at a pet daycare facility is the best option. You should expect to pay between $20 and $30 a night for lodging.
Dog sitting
If you need someone to take care of your Poodle while you're at work or out of town, you can hire a pet sitter. The average cost of a pet sitter for Standard Poodles should be around $20 per visit.
AKC Registration Fees
Registration with a kennel club, such as the American Kennel Club, allows your purebred Poodle to participate in events like dog shows and exhibitions. AKC registration fees range between $30 and $80. In exchange, your Poodle will be able to take part in dog-centric festivities and build a paper trail of their family tree.
Apartment Pet Fee
Some landlords charge an extra fee for renters with pets. Check the pet policies of your building if you live in a condo or apartment complex. The typical cost of keeping a pet in an apartment is between $25 and $30 per month.
A Poodle, as you can see, has many secondary requirements. While it's not necessary to have them all, it's smart to have some cash on hand in case an emergency arises.
Frequently Asked Questions
What is the life expectancy of a Standard Poodle?
Standard Poodles typically live for 10 to 18 years.
Do Standard Poodles shed a lot?
Standard Poodles don't shed much, and furthermore, they are considered hypoallergenic.
Are Standard Poodles hard to take care of?
Standard Poodle owners need to invest a lot of time and energy into caring for their dogs. They need physical and mental stimulation, grooming, and companionship to be happy and healthy.
Conclusion for "How Much Do Standard Poodles Cost"
And there you go. Although you might find that Standard Poodles have many costs associated with them, once you do get your dog, it's easy to forget about the money. This is because of the sheer amount of love they'll bring into your life in return.
Now that you have a better understanding of how much Standard Poodles cost, check out:
Learn more by watching "7 Reasons You Should NOT Get a Standard Poodle" down below:
Garrett loves animals and is a huge advocate for all Doodle dog breeds. He owns his own Goldendoodle named Kona. In addition, he volunteers at the Humane Society of Silicon Valley, where he fosters dogs and helps animals. Garrett enjoys writing about Doodles and believes that dogs can teach humans more about how to live than humans can teach a dog.
Why Trust We Love Doodles?
At We Love Doodles, we're a team of writers, veterinarians, and puppy trainers that love dogs. Our team of qualified experts researches and provides reliable information on a wide range of dog topics. Our reviews are based on customer feedback, hands-on testing, and in-depth analysis. We are fully transparent and honest to our community of dog owners and future owners.