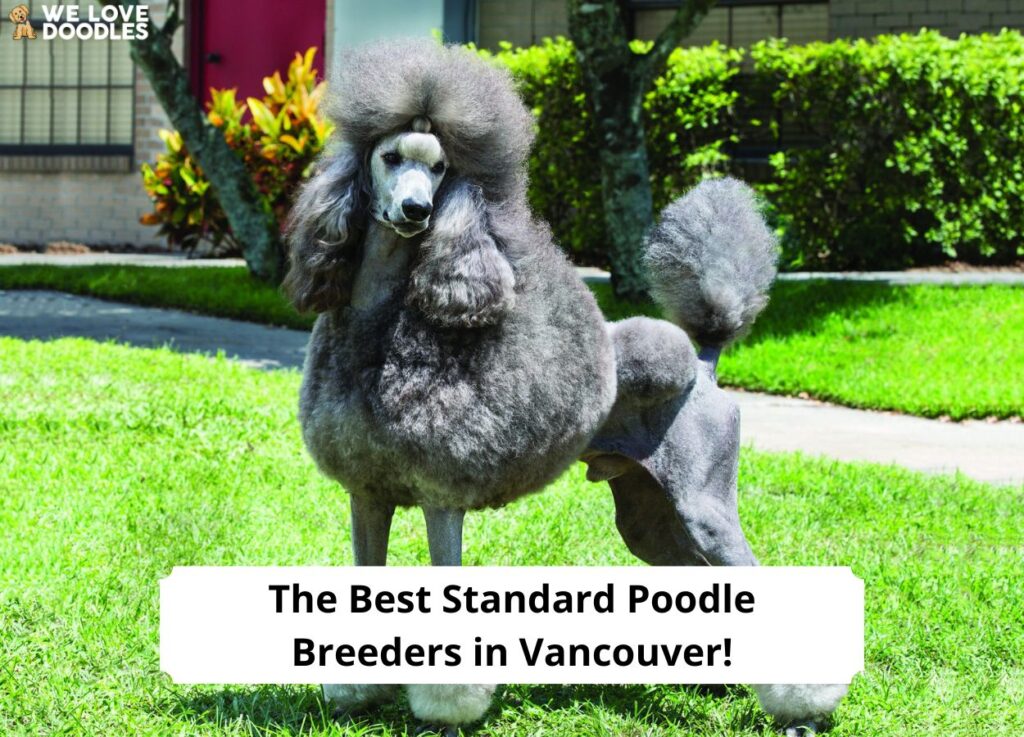 Are you looking for Standard Poodle breeders in Vancouver? This guide will help you choose the most reliable one!
Poodles are one of the most intelligent dog breeds around, making them a popular choice for dog owners. If you're in the Vancouver area and looking for a good Standard Poodle breeder near you, our experts have you covered. Keep reading to learn about the best Standard Poodle breeders in Vancouver!
Before scrolling down this list of Standard Poodle breeders in Vancouver, check out these other dog guides from our team at We Love Doodles: Best Dog Groomers in Vancouver and Best Dog Rescues in Vancouver.
The Standard Poodle: An Overview
Poodles, a famous water dog breed, originated in Germany, where they are called Pudelin, which means to splash in the water. Although they were initially bred to be hunting dogs to retrieve ducks and other birds from the water, they became popular companion pets in the 21st century.
The Poodle comes in three different sizes: Toy Poodle, Miniature Poodle, or Standard Poodle. Each one is considered a single breed and follows its own standard of characteristics. Poodles are the second most intelligent dog breed in the world. They are easy to train and energetic, making them great family dogs.
Poodles make excellent service dogs because they are intelligent, obedient, and protective. Perhaps the best quality of a Poodle is that it does not shed, and its coat is hypoallergenic.
With all these great characteristics, Poodles make a fantastic choice for those looking to add a canine companion to their household. To help you find the best Standard Poodle puppies in Vancouver, check out our list of the best breeders in the area!
The Best Standard Poodle Breeders in Vancouver
1. Hollyberry Hollow
The first breeder on our list of Standard Poodle breeders in Vancouver is Hollyberry Hollow, a small-scale, family-owned dog breeder in Vancouver. They are registered with the Canadian Kennel Club (CKC) and United Kennel Club (UKC).
The Hollyberry Hollow family has been breeding Poodles for over 20 years. They specialize in raising therapy-grade CKC-registered puppies for suitable adopters. The breeders at Hollyberry Hollow are passionate Poodle lovers and believe in caring for their parent dogs and puppies.
These breeders always breed with healthy and active females and take complete care of the mother after she gives birth. Hollyberry also allows their puppies to live a farm-based active lifestyle and ensures all their dogs regularly see a veterinarian.
Their Standard Poodles receive the following:
First vaccines, deworming, and a health certificate
Early neurological stimulation and early scent introduction
Head start on crate training
Head start on house training
Socialization with children and other animals
A list of additional things their dogs come with is as follows.
Pet insurance from Trupanion, free for 30 days
Two-year health warranty
A birth certificate and digital photo album
A crate, toys, and information sheets
A voucher to get the puppy de-sexed when it reaches the appropriate age
Free puppy food
Lifetime breeder support
Lifetime membership at Baxter & Bella, an online puppy school
Hollyberry puppies are CAD 3500, including GST. Their website features a page on their Standard Poodles that showcase their breeding process. They also include a detailed guide on how you can reserve a puppy, watch your pup grow through their social media, and meet your puppy for the first time when it is six weeks old. You can finally take your pup home when it's eight weeks old!
Hollyberry Hollow Details:
2. Pookies Poodles
Pookies Poodles is a reputable dog breeder registered with the Canadian Kennel Club. They prioritize the health and well-being of their dogs by strictly adhering to the official standards set by the CKC.
In addition to ensuring their dogs are healthy and well-cared for, Pookies Poodles also places a strong emphasis on temperament, striving to provide families with calm and joyful companions. Its puppies are dewormed, microchipped, and vaccinated before going home with their forever families. Pookies Poodles also provides dog owners with their new puppy's health records.
Pookies Poodles is dedicated to breeding purebred puppies from purebred parents. Each one of their breeding dogs has a pedigree certificate, which you can view on their website.
To ensure the health and quality of their puppies, Pookies Poodles subjects their breeding dogs to a variety of tests, including DNA testing, Animal Genetics testing, and Embark DNA testing.
By taking these extra steps, Pookies Poodles is able to provide families with healthy and genetically sound puppies. They sell their Poodles on a pet contract at CAD 2500. The purchase includes the following:
GST
ENS (Early Neurological Stimulation)
Puppy care package
First veterinary appointment
Pookies Poodles Details:
Location: V3R3N2 Surrey, BC Canada
Phone Number: 778-998-1967
Website: Pookies Poodles
3. Haseya Poodles
Another place for Standard Poodle puppies for sale in Vancouver is Haseya Poodles. It was started by a mother-daughter team that wanted to bring their love for poodles into their work.
At Haseya Poodles, the health and temperament of dogs are top priorities. As such, all puppies receive early socialization to ensure they grow into well-rounded and well-adjusted pets.
To further demonstrate the quality of their dogs, Haseya Poodles obtains Canadian Good Neighbor (CGN) certification for their dogs, which is a testament to their dedication to producing healthy and temperamentally sound puppies.
Their puppies come with a complete vet check. They also receive deworming treatments, vaccinations, and microchipping. Haseya Poodls provides one free month of Trupanion Pet Insurance, veterinarian health records, and a health guarantee to all their new puppy parents. In addition, their parent dogs are from the European World-Famous Championship Lineage, which means their puppies have the best genetic makeup.
Haseya Poodles Details:
4. Divinity Poodles
Divinity Poodles is a well-respected, family-run breeder in Vancouver that has been raising healthy Poodles since 2011. Their top priority is producing dogs capable of reaching the full potential of the Poodle breed. As such, it's no surprise that Divinity Poodles consistently ranks among the best Standard Poodle breeders in Vancouver.
This breeder's dedication to the Standard Poodle is demonstrated by its memberships in the Canadian Kennel Club (CKC), Poodle Club of Canada (PCC), United Poodle Association (UPA), Versatility in Poodles (VIP), and West Coast Dog Sport and Show Club.
At Divinity Poodles, the breeders prioritize breeding dogs that adhere to the breed standard and can excel in any task asked of them.
Divinity Poodles obtains various health certifications to ensure the breeding dogs' health and well-being. Breeding dogs also undergo several genetic and health screenings, including genetic testing, eye evaluations, congenital cardiac exams, and thyroid tests.
In addition, Divinity Poodles ensures its dogs receive all necessary vaccinations. They also take care of their dogs' diets by providing them with nutritious food, cooked and raw.
Divinity Poodles Details:
5. Windcrest Standard Poodles and Tibetan Terriers
The last breeder on our list of the best Standard Poodle breeders in Vancouver is Windcrest Standard Poodles and Tibetan Terriers. This home-based breeder provides a loving and nurturing home environment for their dogs. Although they are located in Nanaimo, about a 2-hour drive from Vancouver, they are worth the visit!
Along with recognition and care, Windcrest also invests in Early Neurological Stimulation (ESN) to socialize their puppies. The breeder, Gail Beerman, is also a dog trainer who strives to give her puppies a happy and healthy life. Her dogs receive health testing and are registered with the CKC.
The Standard Poodles at Windcrest lead an active sporty lifestyle. They are raised in a home but receive plenty of outdoor space for playing and activities.
Windcrest Standard Poodles and Tibetan Terriers Details:
How To Choose a Standard Poodle Breeder in Vancouver
Choosing a breeder can be stressful. You want to make sure your new furry friend is healthy, happy, and well-bred before taking it home. To ensure you get a healthy Poodle puppy, take the following steps to find the best Standard Poodle breeders in Vancouver:
Consider a couple of breeders before choosing one.
Make sure both parents are genetically tested.
Find a breeder that provides post-purchase support.
Choose a breeder that specializes in breeding Standard Poodles.
Check papers for puppy pedigree.
Personally pay a visit to the breeder's facilities.
Don't choose a breeder that allows you to take a puppy home before it is eight weeks old.
Opt for a breeder that answers all your questions before buying.
Frequently Asked Questions
What is the average cost of a of standard size poodle?
Standard Poodle puppies cost an average of $600 to $2000. The actual cost depends on the dog's pedigree, health, and age.

What is the average lifespan of a Standard Poodle?
A healthy Standard Poodle will live between 12 to 15 years. With a healthy diet, plenty of exercise, and lots of love, you may see Standard Poodles that live even longer!
What is the rarest color of standard poodle?
The Apricot-colored coat is the rarest to find in a Standard Poodle. This reddish brown color comes from a recessive gene, making it incredibly difficult to find.
Visit The Best Standard Poodle Breeders in Vancouver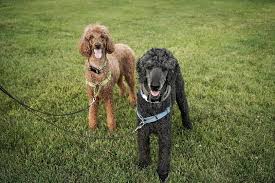 Finding a Standard Poodle can be difficult. These non-shedding, energetic puppies are in high demand. Therefore, finding one requires great effort and patience. But once you find one, your life will never be the same! Standard Poodles are fun-loving dogs that make excellent family companions.
We created a list of the five best standard Poodle breeders in Vancouver to make your search easier. Although we curated this list after thorough research, we suggest you visit each breeder to learn whether they produce dogs you'd like.
Also, ensure the breeders are registered, licensed, and have good reviews. We hope you can join the waitlist for any of these breeders and enjoy a Poodle-filled life!
For more guides similar to this list of Standard Poodle breeders in Vancouver, you can check out:
Before you bring home a Standard Poodle from a breeder in Vancouver, you can learn more about the breed by watching "STANDARD POODLE Pros, Cons & Personality of this Large Breed Dog" down below:
Garrett loves animals and is a huge advocate for all Doodle dog breeds. He owns his own Goldendoodle named Kona. In addition, he volunteers at the Humane Society of Silicon Valley, where he fosters dogs and helps animals. Garrett enjoys writing about Doodles and believes that dogs can teach humans more about how to live than humans can teach a dog.
Why Trust We Love Doodles?
At We Love Doodles, we're a team of writers, veterinarians, and puppy trainers that love dogs. Our team of qualified experts researches and provides reliable information on a wide range of dog topics. Our reviews are based on customer feedback, hands-on testing, and in-depth analysis. We are fully transparent and honest to our community of dog owners and future owners.