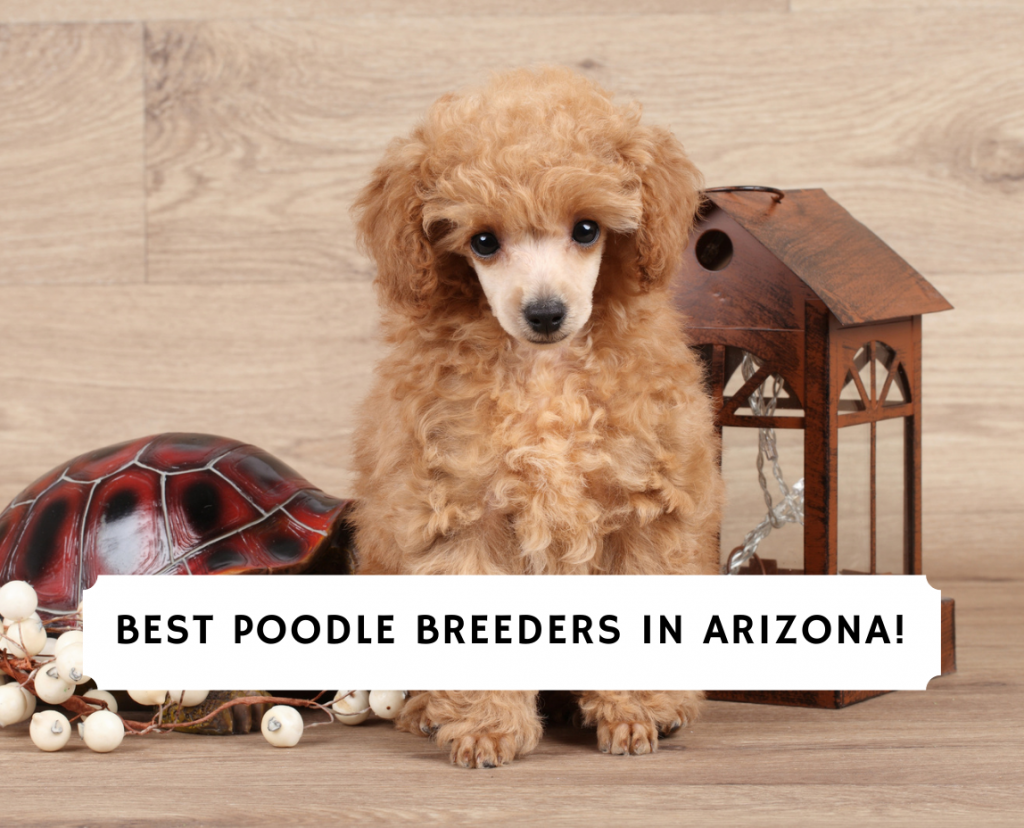 Poodle puppies for sale in Arizona are growing in popularity. Their high intelligence and nonshedding coats make them one of the most ideal family dogs. Due to their high intelligence, they are easy to train and make outstanding companion pets. However, one of the hardest aspects of finding a puppy is choosing the right breeder.
There are several Poodle breeders in Arizona and they are virtually all different. In addition, we saw several backyard breeders who are selling cheaper Poodle puppies without health or genetic testing them. This could result in an unhealthy puppy with hereditary diseases. We've done our own independent research and found some reputable Poodle breeders in Arizona. We always suggest you ask any potential breeder lots of questions and request an in-person visit.
Other articles you will like: Best Dog Food for Poodles and Best Clippers for Poodles.
#1) K. Line Poodles Arizona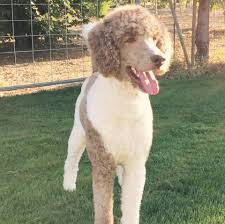 K. Line Poodles is a poodle breeder located in Florence, Arizona. These dogs are registered with The American Kennel Club (AKC) and pass genetic health screening prior to breeding. This breeder offers a guarantee that your dog will be free of any hip issues and other health issues. Moreover, the breeder has dogs readily available should you want to purchase one now, or they also pre-sell their litters 6 to 12 months in advance.
They sell Standard, Miniature, and Moyen Poodle puppies in Arizona. Additionally, they come in a variety of coat colors and come with a health guarantee! 
Poodle Breeder Information
#2) Desert Oasis Kennels Standard Poodles Arizona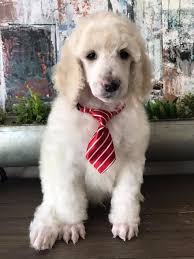 Desert Oasis Kennels breeds standard size Poodles puppies in Arizona This breeder is located right outside of Phoenix. All their dogs are AKC registered and adhere to the purebred standard. The pricing for this Poodle breeder can cost up to $2,000.
Desert Oasis Kennels requires a deposit of $300. According to the website, right now all of the dogs are sold for now, but you can view a list of the litters that are going to be available soon. You can see all the features of both parents on this list to best pick which dog is for you. If you're looking for a standard-sized Poodle, we really like this breeder!
Poodle Breeder Information
#3) Springer Clan Standard Poodles
Springer Clan Standard Poodles are raised with loved and are extremely well socialized. These Poodle puppies in Arizona are introduced to a wide variety of animals such as horses, dogs, cats, and even goats! The puppies are handled daily with humans as well to develop neurological stimulation. The Poodle puppies stay with their mom for the duration needed and are serviced by a licensed veterinarian.
Springer Clan has a limited number of litters per year. Check with this Poodle breeder in Arizona to see what is available at the time of adoption you are interested in. If you do not live in the Phoenix area this breeder does ship puppies, even though usually it is preferable not to.
If you're also looking for a service Poodle or a therapy dog then Springer Clan may be able to help. They sell many of these types of dogs due to their high intelligence and easygoing temperament. You can contact them for more information.
Poodle Breeder Information
#4) Desert Diamond Poodles
Desert Diamond Poodles breeds standard size Poodles from championship bloodlines. Located in Prescott, Arizona this breeder has over 20 years of breeding experience. For what it's worth, they were one of the oldest Poodle breeders in Arizona we could find.
They are an AKC and UKC registered Poodle breeder. In addition, their Poodle puppies come in many different coat colors and multi-color coat colors. Contact the breeder to see when and if they have Poodle puppies for sale in Arizona!
Poodle Breeder Information
#5) Munaut Standard Poodles
Munaut Standard Poodle breeder is actually located in St. George, Utah, but if you live in the northern part of Arizona this might be the closest reputable breeder available to you. This Poodle breeder meets and exceeds the American Kennel Club standards and has so since 2008.
Munaut Breeders make sure both parents pass an extensive health screening before breeding their Poodle puppies so you know that you are getting the best quality out there! Contact the breeder to see whenever the next litter will be available.
Poodle Breeder Information
How to Choose a Poodle Breeder in Arizona
There are several things that you need to research before you purchase a Poodle puppy from a breeder in Arizona. Here are a few basic tips to help you choose the right breeder and puppy:
Make sure to ask any questions that you have before purchasing the dog or signing any contract. It is important to know everything about the dog prior to signing anything because you might be out of your money, and not have the type of dog you wanted.
Make sure to consider the pedigree of the dog you're going to purchase. Not because you are going to be placing the dog in fancy dog shows but to have the proper documentation of the dog to make sure they will be healthy.
Another thing is to ask about the health of the parents and of the Poodle puppy. Even some of the top Poodle puppies in Arizona might develop health issues in the long run. Consider asking if the breeder has any type of health guarantee. If they don't you might want to consider a different breeder because you can be stuck with hefty vet bills!
Make sure to check out the breeding facility! Some breeders DO not allow visits! This can be a turn off unless they have a valid reason like the puppy is too young. If the Poodle breeder in Arizona does not have a good reason you might want to reconsider. They could be a puppy mill or backyard breeder.
More Information about Poodle Puppies in Arizona
Poodles, especially toy Poodles, are some of the most popular dogs available to purchase right now. You might be familiar with the breed Poodle since they appear in many canine shows. Poodles usually come in a variety of colors and sizes from toy to mini to standard.
Many people believe that the Poodle breed originated back in Germany. One thing we do know is that the Poodle resulted in a cross of several water dogs. Poodles were originally bred as hunting dogs to retriever fowls in the water. They have one of the highest intelligence levels of the dog breeds and can be easily trained.
One reason that people are drawn to Poodles is that they are hypoallergenic. Hypoallergenic dogs produce little pet dander. These dogs usually do not shed and the allergy-causing pet dander that sticks around on the floor doesn't get released in the air. This makes it an attractive breed for people who might suffer from allergenic reactions to dogs. 
Poodles fur is really hair because it sheds much less. Their hair is extremely soft and grows continuously. In addition, a Poodle's hair can respond to hormonal changes as well, just like humans. It is important to keep in mind whenever you are considering adopting a Poodle puppy in Arizona that they require a significant amount of grooming. Your Poodle might need to have a groom every 6 weeks and also need their hair brushed every couple of days if not every day to prevent tangling.
Poodle Sizes
Poodles vary in size. The 3 sizes as mentioned before are toy, mini and standard Poodles. The toy size poodle usually weighs about 4 to 6 pounds and their height is less than ten inches. The toy poodle is the smallest of the three sizes. Many people refer to toy Poodles puppies in Arizona as the teacup size. Teacup Poodles is the unofficial term, and many teacup dogs are unhealthily small and frail. The average life expectancy of toy poodles is around 15 years. Toy poodles usually need constant affection and physical attention.
Mini size Poodles weigh 10 to fifteen pounds and their height is about 10-15 inches. The life expectancy of the miniature-sized Poodles can be anywhere from 10 to 18 years. Miniature poodles are fit for people with small kids.
Standard Poodles can weigh anywhere between 40 to 70 pounds on average. They usually stand at over 15 inches tall. The life expectancy of the standard Poodle can be up to 18 years, but it's usually typically around 13 years. Standard poodles are usually very active more so than their smaller counterparts.
It is important to understand the size of Poodle to best fit your lifestyle before you consider adopting one. There are many other things to take into consideration before adopting a poodle.
Poodle Temperament
The temperament of Poodles is usually very alert, loyal, trainable, and instinctual. Poodles are one of the highest IQ dogs and can learn things rather quickly.
Poodles bond quickly with family members and even strangers after they are properly introduced. In addition, they can be emotional and can pick up on the mood of the owners.
Frequently Asked Questions about Poodle Puppies in Arizona
How much attention do Poodle Puppies need?
Depending on the size of the Poodle is the amount of attention that they might require. Poodles usually need a lot of love and affection from their owners. Poodles are very social dogs and need attention from humans and other dogs. They are great choices for families and people who have other dogs.
Poodles are very close to the top of the list of needy dogs. Every dog needs attention and there is no set time that you should allot to playing with your dog every day. Poodles do not like being left alone and this can many negative effects on your pup.
How much exercise does your Poodle need?
Again, this varies on your specific dog and the size of the Poodle you buy. Poodles are very high energy dogs and need to be taken out often. If you do not have enough time to engage in activities with the dog they can become hyperactive, depressed, and even destructive.
Conclusion for Poodle Breeders in Arizona
You might want to consider reaching out to several Poodle breeders in Arizona before selecting one just to see which one might be the best fit for your price range or style of dog. Poodle puppies for sale in Arizona have grown significantly in popularity due to the rise of designer dog breeds. Make sure that you purchase one from a reputable breeder! There is a pet for everyone and once you find your puppy you will know! Happy puppy hunting!
Other articles you would like:
Garrett loves animals and is a huge advocate for all Doodle dog breeds. He owns his own Goldendoodle named Kona. In addition, he volunteers at the Humane Society of Silicon Valley, where he fosters dogs and helps animals. Garrett enjoys writing about Doodles and believes that dogs can teach humans more about how to live than humans can teach a dog.
Why Trust We Love Doodles?
At We Love Doodles, we're a team of writers, veterinarians, and puppy trainers that love dogs. Our team of qualified experts researches and provides reliable information on a wide range of dog topics. Our reviews are based on customer feedback, hands-on testing, and in-depth analysis. We are fully transparent and honest to our community of dog owners and future owners.