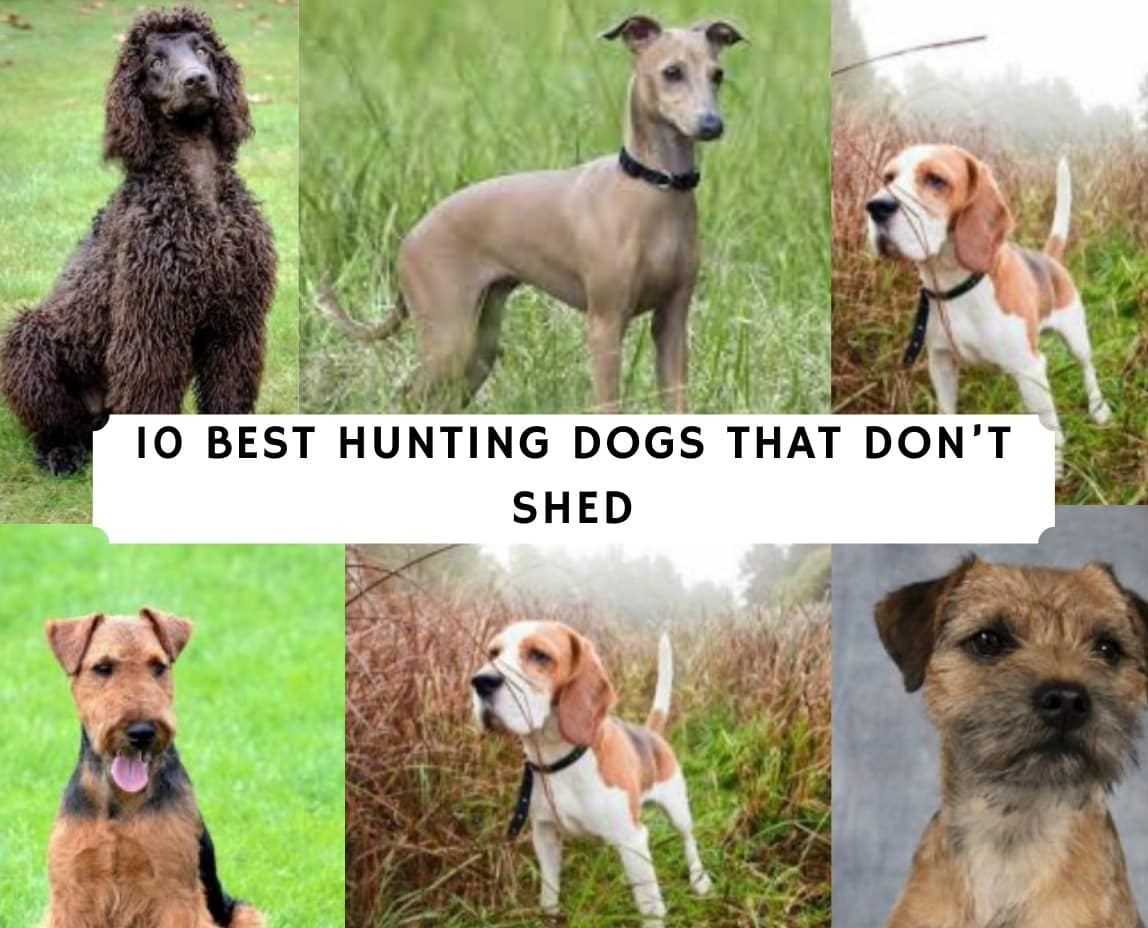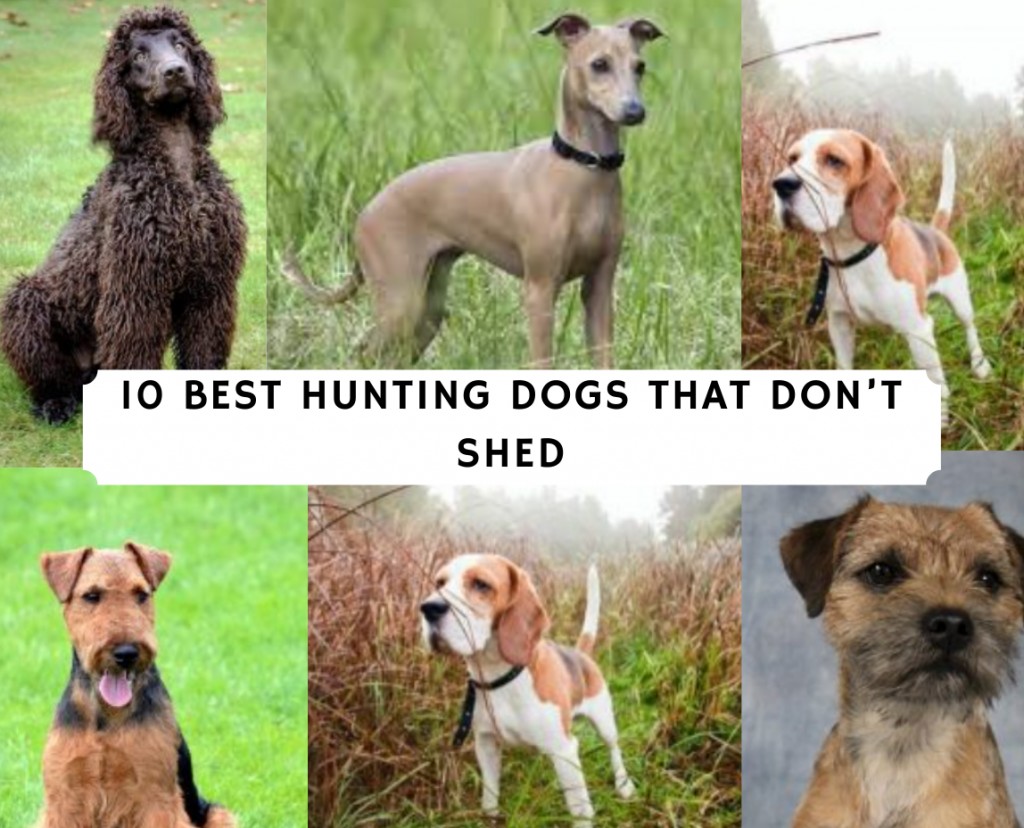 Hunters, farm owners, ranch owners, and families find themselves drawn to hunting dog breeds. Dogs have been helping humans hunt since the beginning of domestication. In order to be a good hunting dog they have to be athletic, have a prey drive, and extremely trainable. One of the new types of hunting dogs are ones that are nonshedding and hypoallergic. Imagine not having to vacuum up dog hair every day around the house or worrying about pet allergies.
Our list of hunting dogs that don't shed is special dog breeds that have hypoallergenic coats that are nearly waterproof. Most of the non-shedding hunting dogs mentioned on the list below require low grooming maintenance and are incredibly intelligent.
Other articles you might like: Top 10 Big Dogs that Don't Shed and Top 7 Low Energy Hypoallergenic Dogs.
1. Welsh Terrier
A true working dog the Welsh Terrier originates from North Wales. Their temperament is gentle, smart, intelligent, friendly, and they will do anything to please their owner. In addition, they are outstanding hypoallergenic bird dogs.
This dog breed is known for their hunting skills and their ability to keep up with other hounds. They are specifically bred to hunt rats, otters, foxes, badgers, and a variety of vermin.
The hypoallergenic coat features a wiry textured outer layer and a soft undercoat. This breed is an excellent hunting dog as well as a family dog. They are excellent companions for seniors and they are good with children. 
2. Wirehaired Pointing Griffon
This hypoallergenic bird dog was created in France and features a nonshedding coat. They are specifically trained to retrieve birds and often become the best friend of their owner.
It has a double coat that is easy to care for and dries quickly after being submerged in water. This means if your hunting dog has to go into the water to retrieve a bird they will dry off naturally in the air.
They don't shed easily but they do require frequent brushing to remove loose hair from under the surface of the coat. This means that you will regularly have to groom them and give them haircuts.
The Griffon is easy to train, intelligent, and a great fit as a family dog. They have tons of energy and require a large running space to get out their energy. Their high energy level is what makes them a great hunting dog.
3. Italian Greyhound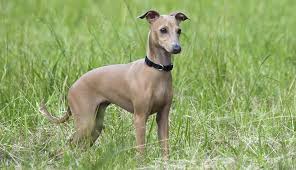 Italian Greyhounds are infamous for their hunting prowess. They are the smallest of the hound dogs and enjoy exercising outdoors as well as indoor living.                                      
This small hunting dog that doesn't shed is considered a toy breed that is elegant and has a small stature. Their graceful body doesn't require much grooming and they are easy to care for.
An important fact to keep in mind about Italian Greyhounds is due to the small stature they can become easily injured. They are best suited for families with older children, singles, and seniors. 
4. Afghan Hound
The Afghan Hound is a large dog breed known for its glamorous tresses and agility. They appear to have an exotic persona and regal appearance. They are considered high maintenance dogs due to frequent grooming and attention requirements.
While they do appear graceful and elegant, this dog breed is also playful, silly, and intelligent. Moreover, they are considered a shedless dog that is suitable for families with allergies. 
This mysterious dog is a bit stubborn and often ignores commands during training. Owners are encouraged to remain patient in the beginning stages of training. The Afghan Hound has excellent prey instincts and are great hunting dogs that don't shed.
5. Curly Coated Retriever
The adorable curly coated retriever is known as an amazing hunting companion. They feature a hypoallergenic coat that was inherited from their Irish Water Spaniel, English Water Spaniel, and Retrieving setter ancestors from the 16th century.
This sporting dog that doesn't shed is an excellent swimmer and often enjoys it just to have fun as well as during hunting sessions. In addition, this dog breed is obedient and easily follows your commands. They also have the ability to sense your needs during hunting sessions and follow through.
This curly-coated retriever is eager to please, great for kids, and has a gentle temperament. Their coat is short and low maintenance because it doesn't require regular grooming. However, it does need occasional baths with minimum brushing.
6. Portuguese Water Dog
The Portuguese Water Dog was bred to enjoy being in the water. They were originally bred in ancient Portugal and are considered low maintenance dogs. Their original job was to assist fishermen at sea by herding fish, swimming, and retrieving lost fishing nets and gear.
This breed features unique webbed feet and a hypoallergenic waterproof coat. They have robust bodies that make them excellent swimmers and a fisherman's buddy.
This low shedding hunting dog has an incredibly sharp focus and is loyal to their owners and mission. They are extremely athletic, friendly, intelligent, and loyal to their family. Additionally, they make excellent companion dogs and enjoy being around people and other pets.
7. Irish Water Spaniel
Intelligent, strong, and a dual-purpose hunting dog, Irish Water Spaniels have a natural instinct to please and hunt. This nonshedding dog breed is specifically bred to retrieve birds in the water. They are capable of swimming and maneuvering over bodies of water to reach their prey.
They are amazing swimmers and companions for hunters and families. Irish Water Spaniels have tons of energy, playful, and have a great sense of humor. When you are hunting side-by-side with this dog you will never be bored.
Eager to learn, this dog breed has the patience and understanding during training.  Their hypoallergenic coat is filled with thick dense curls that need to be groomed regularly. A quick visit to a groomer helps maintain their coat successfully. This dog breed is perfect for owners to hunt for ducks and birds that need to be retrieved from the water.
8. Lagotto Romagnola
A true hunting dog, the Lagotto is the ancestor of water dogs including Water Spaniels. This hunting dog has a unique skill and is recognized as a truffle searcher.
While they don't enjoy eating the truffles they have the nose and skills to discover them easily and quickly. This dog breed has lots of energy and is happiest when active. They are extremely loyal and affectionate companion dogs. Lagotto's need to be kept busy otherwise they will bark excessively and exhibit other destructive behaviors
9. Border Terrier
Border Terriers have a mentality of work hard and play hard. They are specifically bred to protect livestock and farmland in Scotland and England. In fact, according to the American Kennel Club (AKC), the Border Terrier is the 88th most popular dog in the world.
They are excellent Fox Hunters and have superior skills in running and digging. They have incredible endurance and agility and are persistent workers alongside their owners.
They learn quickly, obey their owners' commands, and remain obedient throughout their lifetime. While they are excellent protectors of your property they do require leash training because their natural instincts make them chase rabbits, squirrels birds, and other animals. For this reason, they are at their best when they are the only pet in the household.
10. Cirneco dell'Etna
This dog breed's unique name comes from the east coast of Sicily and is named after Mount Aetna. The Cirneco dell' Etna is found throughout Sicily.
This dog breed originated 2500 years ago and is considered hypoallergenic due to its shiny coat.  Once considered a hunting dog in Egypt it later found its way across the Mediterranean where it now remains.
This unique dog breed is affectionate, friendly, and an excellent family and companion dog. They are very inquisitive and have high intelligence which requires frequent mental stimulation and daily exercise.  Their sleek coat makes them low maintenance and non-shedding. They only require grooming on occasion.
How to Choose the Right Hunting Dog that Doesn't Shed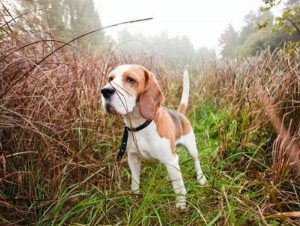 Choosing the right hunting dog that doesn't shed for you and your family involves important decision making. To help you make the decision you need to make a list of the requirements you are looking for in a hunting dog.
Bird Dog or Scent Hound
First, you need to write down important information such as the types of nonshedding dogs you need  such as hunting, swimmers, and other important requirements.
For example, if you are a duck and bird hunter, you most likely need a dog that is a strong swimmer and enjoys being in the water. Any of the water dog breeds mentioned on the list will be highly suitable for your needs.
However, if you are looking for a dog to protect your farmland in roundup livestock there are other weeds on the list to choose from the get the job done and are excellent family dogs. There are also scent dogs that follow prey.
The personality of the Dog
The next topic to consider when choosing a hunting dog for your family is the age of your children. Some dogs are extremely family-oriented and do well with children while others require to be around adults only or older children such as teenagers instead of toddlers.
Personality is an important trait that needs to fit in with your family perfectly. Some of the dogs on the list are hard-working hunting dogs but also have a fun and energetic personality. Some are silly and can keep you laughing during those long days of hunting.
All of the breeds mentioned on the list above are loyal to their owners, companions, and family members. They consider themselves part of the family and take their work as hunters, retrievers, and protectors very seriously.
Grooming Requirements
The last factor is the grooming needs. Chances are you are busy running your farmland or ranch and need the assistance of a hunting dog on a daily basis. Most likely you don't have time to spend grooming your dog daily. For this reason, grooming requirements might be last on the list but are equally as important as all the other topics.
Most of the dogs on this list are low maintenance and feature waterproof coats. Always consider the type of coat and grooming needs required before making your final decision. In general, if the hunting dog doesn't shed any fur, you'll need to regularly brush your dog and give them haircuts in order to prevent mats and tangles.
How to Train a Hunting Dog that Doesn't Shed
Training a hunting dog that doesn't shed is easier than you expect. The wonderful thing about dog breeds that are specifically bred for hunting is they have a prey instinct that kicks into action.
Typically most hunters and dog owners prefer bringing home a nonshedding hunting puppy so they can begin training them from the very start. However, many dog owners have rescued older dogs that happened to be experienced dog hunters and adjust easily and quickly to the job and become a loving part of your family
Whether you are welcoming a new puppy or adopting an older dog, training is an ongoing process that requires patience and understanding from you.
Typically, dog owners bring their dog along on hunting trips or while working on the farm or ranch. The first step to training is to teach your dog that you are the leader of the pack so they respect you and obey your commands.
Once you establish your position in your pack observe your dog's natural Instincts along the way. Take them hunting and see how they naturally react to the situation. You may need to encourage them along the way and teach them what you require them to do. Remember, most hunting dogs are eager to please their owners and will do almost anything to make you happy.
Conclusion for Hunting Dogs that Don't Shed
Many people are looking for hunting dogs that don't shed because they don't like vacuuming and pet hair all over their clothes. Luckily, there are several hypoallergenic and nonshedding dogs that have the natural prey instinct and can help you retrieve birds, drive off prey, or hunt game. Welcome a hard-working, loyal, and fun dog into your family today when you choose any of the breeds on the list!
Other articles you might like:
Garrett loves animals and is a huge advocate for all Doodle dog breeds. He owns his own Goldendoodle named Kona. In addition, he volunteers at the Humane Society of Silicon Valley, where he fosters dogs and helps animals. Garrett enjoys writing about Doodles and believes that dogs can teach humans more about how to live than humans can teach a dog.
Why Trust We Love Doodles?
At We Love Doodles, we're a team of writers, veterinarians, and puppy trainers that love dogs. Our team of qualified experts researches and provides reliable information on a wide range of dog topics. Our reviews are based on customer feedback, hands-on testing, and in-depth analysis. We are fully transparent and honest to our community of dog owners and future owners.