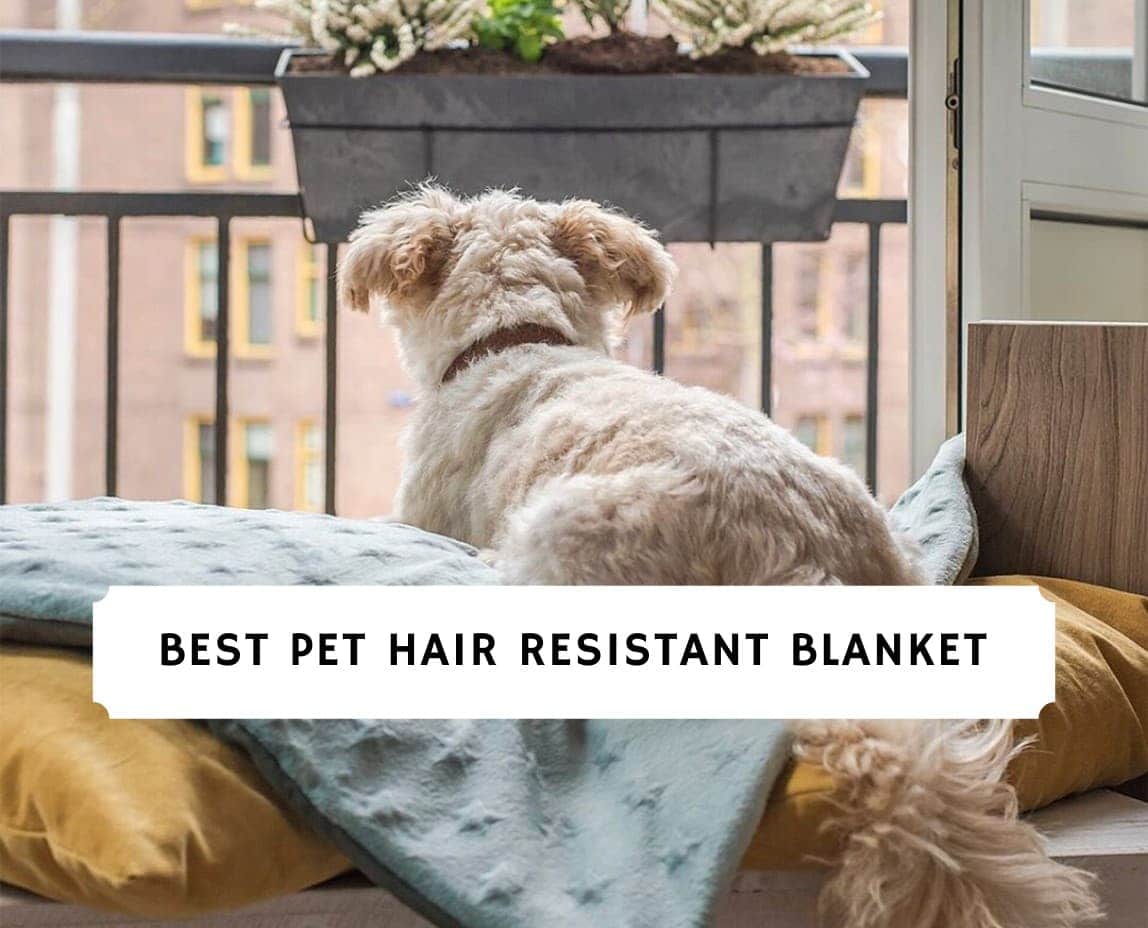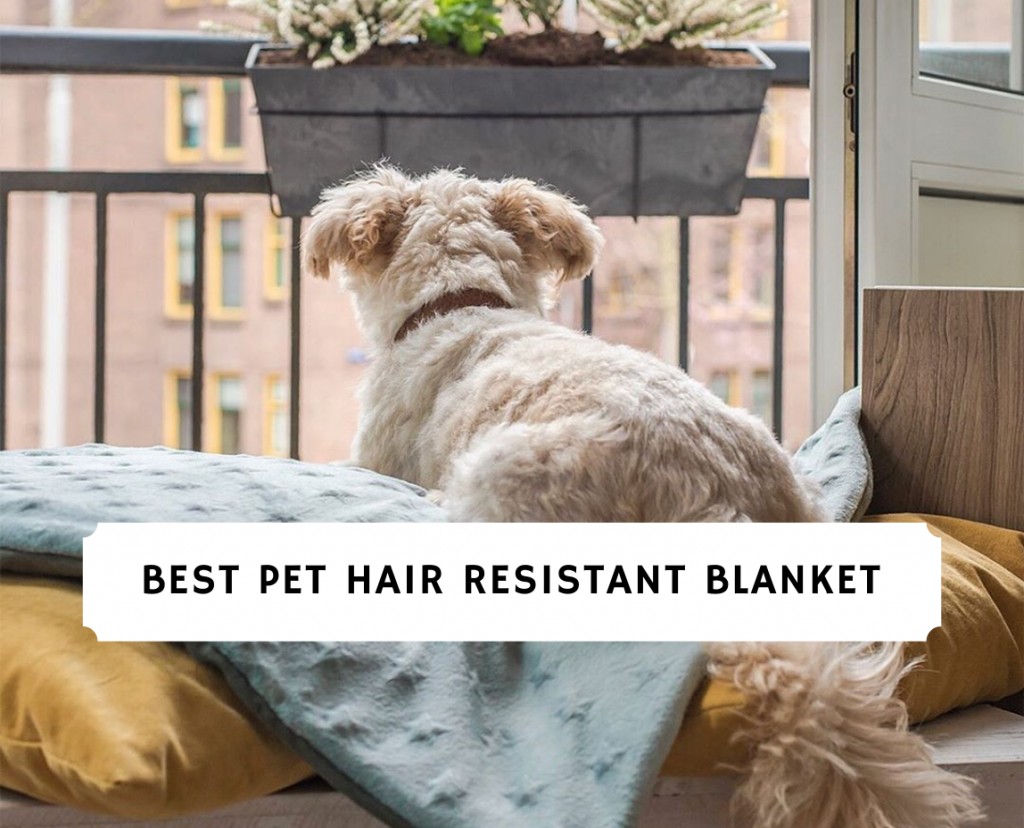 Does your dog leave their hair all over your house? If so, a pet hair resistant blanket is a must-have for your household to protect your bed and couches. These hair and water-resistant blankets protect your furniture while at the same time providing a safe and cozy surface for your dog to enjoy.
Vacuuming your furniture is a constant hassle especially during shedding season. As the temperatures rise in the springtime before summer, dogs tend to shed a lot of fur. In addition, they will jump on your couches and your bed which leaves a mess of hair all over the place. A pet hair resistant blanket is easier to clean than daily vacuuming.
Check out the amazing pet hair resistant blankets below to find out which one your dog will like the best! 
In a rush? Here are our top picks!
Image
Review of the Best Pet Hair Resistant Blankets
Not all pet hair blankets are created equally so we searched for the best of the best and listed them below. We also tested several of these blankets with dogs that shed a ton of fur.
In general, dog hair repellant blankets are soft, durable, colorful, reversible, and waterproof. The waterproof material generally keeps hair from sticking to the blanket, especially when you put them in the washing machine. In addition, it's easy to shack these blankets outside to get all the fur off. They are meant to complement your home décor while at the same time protecting your furniture. 
This pet hair resistant blanket for dogs is made with 100% polyester fabric. In addition, this waterproof reversible blanket features an insulated lining that creates a barrier between the microfleece cover and your bed. 
It protects sheets, quilts, mattresses, and comforters from accidents, and pet hair doesn't stick to the surface of this blanket. Moreover, it is also soft and comfortable so it can be used alone while relaxing on the sofa or to keep you warm in bed. 
The unique fabric traps urine and prevents it from reaching your mattress and furniture. In addition, this pet blanket is portable and ideal for use on the sofa, beds, chairs, cars, camping, and at the beach. 
This dog hair repellent blanket is machine washable and available in a variety of colors. Your pet's hair will not stick to the surface of this blanket and it's extremely easy to clean.
This dog hair free blanket is 100% leakproof and waterproof. It protects your sofa, bed, and other furniture from dog hair and stains. It's warm and has thick Sherpa fleece material keeps you warm and cozy indoors or outdoors. 
This dog blanket is reinforced to prevent any urine or water from leaking to the other side of the blanket. The durable material also protects your furniture from chewing and scratching. This high-quality pet blanket is made with premium microfiber polyester and it's machine washable.
Whether you want to machine wash this blanket or shake it off outside, pet hair will not stick to the surface of this blanket. It's one of the best dog hair free blankets that we tried.
This reversible blanket is fuzzy with Sherpa microfiber on one side and a soft plush on the other side. It's waterproof and protects your furniture from unwanted pet hair and stains. It features an internal lining that provides protection against stains and successfully stops liquids from seeping through to the surface of your furniture. In addition, this blanket is machine washable which will remove all your dog or cat hair off. This pet hair blanket is slightly hard to just shake the hair off so will either need to dust it off or wash it.
In addition, this blanket is warm and cozy and great to cuddle up with alone or with your pet. It's also suitable for protecting the interior of the car. You can wash this blanket on a gentle cycle and tumble dry it to remove all the fur. It's available in a variety of colors so it can easily match the inside of your house.
Are you looking for the best blanket for dog hair? If so, you need to try this one! It protects your bedding and furniture from hair, dirt, and other messes that are difficult to clean. 
This lightweight blanket is reversible and has two shades. It's made from waterproof and breathable material that keeps odors, moisture, and dirt away. It's suited for queen and king size beds and covers the entire surface nicely so you won't have to constantly wash your bedsheets with dog fur.
The dog blanket is easy to clean and can be spot-treated for stains, machine-washed, or simply wiped down to remove pet hair. It's available in a variety of two-tone colors. 
This pee proof dog blanket is made from durable microfleece material that resists liquid and urine. It acts as a barrier to protect your bed, sofa, and other furniture in the house. You can even use it in your car to protect the interior. Since this blanket resists liquid, it also is very good at resisting pet hair. Unlike other microfiber pet blankets, dog or cat hair can easily fall off this blanket.
It is machine washable on a gentle cycle and you can put it in the drying to remove all your pet's hair. The waterproof coating is located inside the blanket and withstands many washing cycles which makes it long-lasting and durable. Lastly, this soft and cozy blanket is plus and great to use during cold weather months. 
This lightweight blanket is reversible and has two colors. You can choose the lighter or darker side to match or complement your home décor. It provides complete protection from pet hair, dirt, spills, and stains. Your furniture will be safe with this blanket and you won't have to constantly clean your pet's hair off.
It's made from a high-quality waterproof fabric that is non-crinkly and features insulation lining between the two layers of fabric. It's an excellent blanket that protects against accidents commonly caused by pets and young children. 
This blanket is easy to wash and keep clean by tossing it into the washing machine and tumble drying afterward or spot cleaning stains. 
This dog blanket is specially designed to provide comfort for your dog as well as keep your furniture protected from dog hair and stains. It's water-resistant and has a bottom layer that provides protection and an extra defense against stains. 
The soft bolster protects the arms and back of the furniture while also providing support for your dog to rest comfortably. The front portion of the blanket extends over the edge of furniture or can be stretched out on a bed for more protection. 
It's an easy pet blanket to care for and maintain. You can easily vacuum fur, hair, and debris from the surface of the blanket or spot clean spills. Pet hair comes right off this blanket and it will keep your household clean. 
This super-soft microfiber blanket features polyester filling and water-resistant material to repel pet hair. The design of the blanket is modern and shiny and it looks great on a bed and brings elegance to any room. 
This blanket protects your furniture from pet hair, dirt, moisture, and stains. The material repels water and makes it easy to clean up with paper towels without staining the fabric. 
The reversible color design makes it easy to flip over and enjoy a different look anytime you want. It's easy to clean and machine washable. 
How to Choose a Pet Hair Resistant Blanket
All of the blankets on the list are pet hair resistant and work successfully at keeping your furniture clean. In addition, they are made of high-quality materials that are easy to clean and long-lasting.
Where are you putting the blanket?
When choosing a pet hair resistant blanket for your household, there are a variety of things to consider. The first topic is where in the house you plan to use the blanket. Does your dog sleep on your bed? Are you trying to prevent dog hair from reaching your comforter, sheets, and mattress? Or, are you trying to protect your sofa and other furniture from pet hair? 
The answers to those questions will help you pinpoint where you want to use the pet blanket within your household and how many blankets you will need. It's wise to mix it up and choose different types of dog blankets. For example, your dog might love to sleep on a chair or sofa in your living room so the blanket with the bolster attached will be an excellent option for this scenario since it provides support and comfort for your pet while protecting your furniture. 
You might need a large blanket that covers the entire surface of your bed to prevent dog hair and stains from reaching your mattress. In this case, make sure you measure your bed and choose a full-size blanket that extends over the edges of the bed to provide all-over protection.
Pet Hair Blanket Design
Home décor is important to a lot of pet parents and most of the time the décor is ruined by bulky and ugly pet products that don't match the house. Most of the blankets on this list are available in a variety of colors to ensure you find one that matches or compliments your home décor.
It's important to make the blanket part of your home décor instead of work against the theme. You can even choose to use the blanket as a color accent or choose the exact color of your furniture to make it blend in nicely.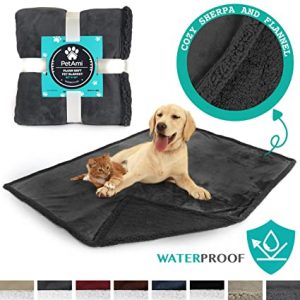 Some of the blankets on the list are reversible and provide dark and light color options that are perfect for pet parents that like to switch up the colors throughout the year. The reversible blankets provide options without needing to purchase more than one blanket. 
Size of the Blanket for Dog Hair
The next thing you need to look at is the size of the pet blanket you need. If you are planning on using the dog blanket on the sofa you might need a throw style blanket or you might need a full-size blanket for your bed. Always consider the size of the surface you want to cover when choosing a blanket. Also, consider if you want the blanket to cover the edges of the surface such as the side of the bed or sofa or just the top surface.
Waterproof Pet Blankets
Does your puppy stain your furniture with their saliva, urine, or vomit? If so, the stain-resistant blankets mentioned on the list are highly recommended. These waterproof dog blankets provide protection and they are easy to clean. 
Stains often occur due to elderly, sick, or injured dogs that have mobility or health issues. If your dog is experiencing health problems that cause them to stain the surface of furniture and the bed, choose a waterproof blanket from the list.
Ease of Cleaning
When it comes to pet hair, you either want to be able to easily wipe it off the blanket or toss the blanket into the washing machine. If you want the blanket to attract the hair similar to a magnet and hold it there until it goes into the washing machine try the plush style blankets on the list. These blankets tend to attract pet hair so it doesn't stick to your furniture. However, it's more difficult to remove the pet hair off these blankets and you'll need to put them in the washing machine and drying.
However, if you are looking for easy hair removal and a blanket that can be shaken outdoors to allow all the hair to fall off, choose the slick and shiny fabric blankets from the list. 
Ways to Use a Pet Hair Resistant Blanket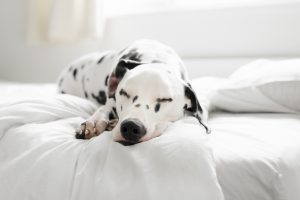 This might be the first time you are considering purchasing a pet hair resistant blanket. Most pet parents eventually find themselves searching for one when they can't handle the pet hair in the house anymore. If you have gone out of the house and shown up at work with dog hair all over your clothes because you sat on your sofa for two minutes before leaving the house for work, you are not alone. 
The great thing about dog hair repellent blankets is they are easy to clean and prevent the embarrassment of walking around with dog hair on your clothes. They also prevent dog hair from settling into furniture. There are a variety of ways you can use a pet hair resistant blanket.
Sofa
First, most pet parents use a blanket on their sofa. This blanket either covers a small area of the sofa where their dog likes to sit and sleep alone or it covers the entire sofa so your dog and cuddle up next to you anytime they want. 
Bed
Most dogs prefer sleeping in the same bed as their owner. This means your sheets, comforter, and mattress are all at risk of having pet hair stick to them as well as potential stains. A blanket can protect the surface of your bed no matter where your dog sleeps. 
Car
Another great place to use a pet hair resistant blanket is in your car. Does your dog enjoy coming along for car rides? If so, a blanket that covers the entire seat is beneficial since it not only protects against hair but also dirt, stains, and damage. 
Kennel or Crate
Does your dog spend a lot of time in their crate or kennel while you are at work? Chances are they do and would prefer it to be a bit more comfortable. Folding a blanket and placing it inside the crate will provide comfort for your dog. Since the blankets on the list are all easy to clean, you will be able to maintain a clean environment for your dog when using a blanket.
Portable Pet Blanket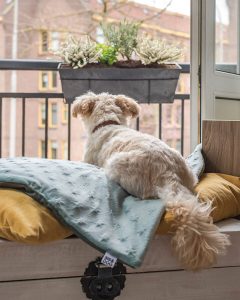 Some pet parents like to take their dogs along on camping trips. A blanket provides protection for any surface that needs protection during a camping trip but it also provides warmth and comfort. If you like taking your dog on camping trips when the weather is cool outside, consider a plush or Sherpa blanket to help keep your dog comfortable on the trip. 
Floor
Another great way to use a pet hair resistant blanket is if you have children that spend a lot of time with your family pet. Young children and dogs are usually best friends that share their day with each other. If your children lay on the floor to watch tv and nap with your dog or your dog sleeps in their bed, a pet hair resistant blanket is an excellent option. 
You can choose which one suits your children and dog the best. You can even place the blanket on the floor to use as a barrier for spills that your children make and stains your pet causes. 
If your children like to cuddle up with your dog while watching movies or tv, try a plush warm blanket that both of them will enjoy. This same blanket is an excellent option for your child's bed as well.
Outdoors
Do your children like to play outside in the yard with your dog? If your children are still very young and spend most of their time outdoors sitting in the grass playing with their toys while your dog jumps around them or naps nearby, a blanket can help them stay in the same area by acting as a guide.
The blanket can also protect your child's skin from having contact with the grass which is highly beneficial for children with skin allergies. The same goes for dogs that have sensitive skin and suffer from skin ailments. The waterproof blankets on the list are the best choice for this scenario. 
Using a blanket outdoors opens up a new world for children and puppies who experience skin problems because the tick barrier the blanket provides prevents direct skin contact with grass and other plants. 
Conclusion for Best Pet Hair Resistant Blanket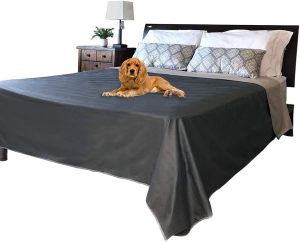 When choosing a dog blanket for your household keep an open mind and consider buying more than one style to suit your needs. For example, you will need a full size waterproof or plush pet blanket for the beds, a throw pet blanket to cuddle on the sofa, and a bolster pet blanket for your furniture in the living room that needs side and back protection. 
Also, make sure you consider your dog's comfort level. Some dogs prefer to remain cool and comfortable while others like to have plush cozy blankets that keep them warm and feeling safe. These same plush blankets are also beneficial for dogs that experience stress and separation anxiety. The soft texture of the blanket reminds them of their mother and siblings which creates a calm environment and helps reduce stress. 
You can use a blanket to protect your furniture and improve your dog's lifestyle and comfort level today! Browse the blanket options on the list and choose the right ones that suit your household needs!
Garrett loves animals and is a huge advocate for all Doodle dog breeds. He owns his own Goldendoodle named Kona. In addition, he volunteers at the Humane Society of Silicon Valley, where he fosters dogs and helps animals. Garrett enjoys writing about Doodles and believes that dogs can teach humans more about how to live than humans can teach a dog.
Why Trust We Love Doodles?
At We Love Doodles, we're a team of writers, veterinarians, and puppy trainers that love dogs. Our team of qualified experts researches and provides reliable information on a wide range of dog topics. Our reviews are based on customer feedback, hands-on testing, and in-depth analysis. We are fully transparent and honest to our community of dog owners and future owners.