Many dogs will excessively chew and tear apart anything that is inside of their crate. Crate-training for puppies and adult dogs has to be a positive experience and nothing beats a durable and indestructible dog crate pad. Dog crate pads should fit comfortably inside your dog crate, and offer adequate musculoskeletal support.
A crate with a dog pad should offer a comfortable and secure environment throughout puppy training and needs to also provide a good night's rest. You can also leave your dog crate open so that your furry best friend has a temporary playpen and rest area that he can use as he wishes.
We'll start with an overview of the best indestructible dog crate pads. Then, we'll highlight the key features that you should look for when purchasing an indestructible dog mat. We've reviewed dozens of crate pads for chewers like adolescent Pitbull's, and narrowed our list to the best ones to make it easy for you to shop.
In a rush? Here are the top picks!
Product
Best Overall
K9 Ballistic
Best Elevated
K9 Elevated
Image
Here are The Top Seven Chew Resistant Crate Pads

With over 1,850 positive Amazon reviews, the K9 Ballistics Tough Dog Crate Pad features military-grade materials for optimal durability. K9 Ballistics features a tough and durable dog bed liner for those puppies that are rough on their beds and like to chew. This is a dog bed that is built to last a long time, not just a few months which is why it's our #1 for the best indestructible dog crate pads.
Using specially engineered rip-stop ballistic fabric that targets every aspect of a dog's lifestyle, the K9 Ballistic is renowned for its high-quality dog products. The mats are densely woven with durable construction that can take a beating from a dog's nails and teeth.
Key Features
Waterproof, preventing moisture from accidents or wet dogs (repels moisture)
Features military-grade durable materials for optimal durability
Rip-stop material to prevent tearing from nails
Smooth surface for easy cleaning
The Quiet Time MAXX Pet Bed is the perfect combination of toughness, strength, and comfort. Covered in a water-repellant polyester, this durable pet bed is designed to resist wear from the rough pad of a dog's paw and nails, while providing maximum comfort with a plush, poly fiber-filled cushion.
This dog crate durable mat has over 1,267 positive Amazon reviews and is also available in 5 sizes and four colorways allowing it to compliment your home decor. The Quiet Time MAXX Pet Bed is priced well and is categorized as an ultra-rugged pet bed for optimal durability.
Features
Priced well
Features 4 colorways and multiple sizes for all dog breeds
Made from durable polyester
Fits standard crate sizes
Resists water, stains, and odor
Priced affordably, the K9 Ballistic Chew Proof Elevated dog bed can be used indoors or outdoors. It resists water, dirt, mud, and grime. A perfect fit for standard sized dog crates, this chew resistant dog bed is available in snow camo, black, blue, and tan. Featuring 6 sizes for all dog breeds small and large, the K9 Ballistic dog bed is elevated which allows for good ventilation which keeps dogs cool the entire time.
Features
120 Day chew-proof armored warranty
Ripstop ballistic chew resistant dog bed
Specially designed for aggressive chewers
Elevation allows for good air circulation keeping dogs cool
Not only does this indestructible dog crate liner feature orthopedic support, but it's priced well below some of the other dog pads on our list. With over 2,984 positive Amazon ratings, you can easily see why. The Hero dog bed mat just looks terrific and is also offered in 6 sizes and 5 colorways to match home decor.
Priced right, you can purchase several of these and scatter them throughout your home keeping your puppy comfortable 24/7. Also, this mat is easy to take on a pet vacation or gift during the holidays. The Hero Dog Mat features extra small to XXL size for those of you with giant dog breeds. Why we really love these dog mats is because they are made of orthopedic memory foam that is good on joints!
Key Features
Dog bed for crates, carriers, sofa, and other pet homes
Fleece cover with premium Cotton bolster and cushion
Anti-slip bottom to keep in position                          
Grey, blue, brown, and red color helps hide shedding      
Machine washable mats
Portable design that is lightweight
Another affordable chew proof dog crate pad with over 2,012 positive Amazon reviews is the Furbaby. Targeting all dog breeds and featuring sizing from extra small to extra large, the Furrybaby dog mat is featured in five colors which include dark brown, navy, pink, red, and grey. It also features a super soft plush fleece that is machine washable. This dog mat is perfect for dog crates and has 3cm bouncy foam for your dog to rest on. It also features a non-skid bottom and is handmade.
Features
Affordable dog mat
Good for all seasons
Features 3cm cotton padding
Numerous colorways and sizes
Made with breathable cotton to keep pets cool during the hot summer months
Machine washable
The Joicy Dog Bed Pad has over 1,464 positive Amazon reviews and is popular as a chew-resistant crate pad because it's lightweight, easily foldable, and can be used in cars, crates, at home, and outdoors.
This chew proof dog crate pad is 100% washable and features fleece material. It's super easy to keep clean and allows for both machine or hand wash in cold water. What's terrific about this dog crate mat is that it's so affordable.
You could purchase a few of these to scatter around the home or in the car for comfortable travel. The soft fleece material used makes it comfortable for crate use because it allows for airflow throughout, removing funky odor that builds up with use.
Features
Features 3 sizes with four color options
Uses soft fleece premium plush material for optimal snugness
Anti-slip dog mat
Priced well
Filled with cotton (nontoxic)
Featuring 1,569 positive Amazon reviews, the PetAmi waterproof dog blankets are priced well and are indestructible to most dogs. Not only are these great for seasonal pet gifting, but for everyday use around the home and car.
The PetAmi dog blankets are 100% waterproof and leakproof. They're perfect to use for your pet to lounge on and nap. Made with thick warm Sherpa and microfiber fleece to offer comfort and snugness, the PetAmi can also be used to protect your furniture, and keep your pup comfortable at the same time. The PetAmi is made with 460 GSM premium microfiber polyester so it's lightweight yet durable.
Key Features
Premium waterproof reversible plush soft Sherpa
100% waterproof and rugged
Affordable dog mat
Can be used as a car seat protector, on the sofa, or on the bed 
Featured in 16 colorways and 4 sizes
Made with 460 GSM premium microfiber polyester
Crate Training a Dog with a Pad
Crate training for dogs works because dogs have a denning instinct as well as enjoy comfortable and confined spaces.
The key to puppy crate training is choosing the best crate and mat. This keeps your puppy as comfortable as possible when in his crate. Keep in mind that dogs shouldn't spend more than a few hours at most in a crate unless they are sleeping.
Your furry best friend shouldn't hesitate to enter his crate and for those destructive chewers, you'll need to add a hard frozen chew Kong toy and a soft cuddly one to keep him snug. When that indestructible chew toy doesn't suffice and keep them distracted, we have the best options for durable crate pads for every dog breed.
In this article, we'll discuss how to help by combining various options. While many of us enjoy purchasing numerous dog crate pads at once, there are some tips that you need to keep in mind when purchasing the best indestructible dog crate pad for your canine.
With that said, if you have a puppy that is an indestructible chewer, you're probably already tired of changing dog crate pads. So finding a chew resistant dog crate pad that can withstand sharp puppy teeth will save you plenty of time and money!
How to Choose the Best Indestructible Dog Crate Pads?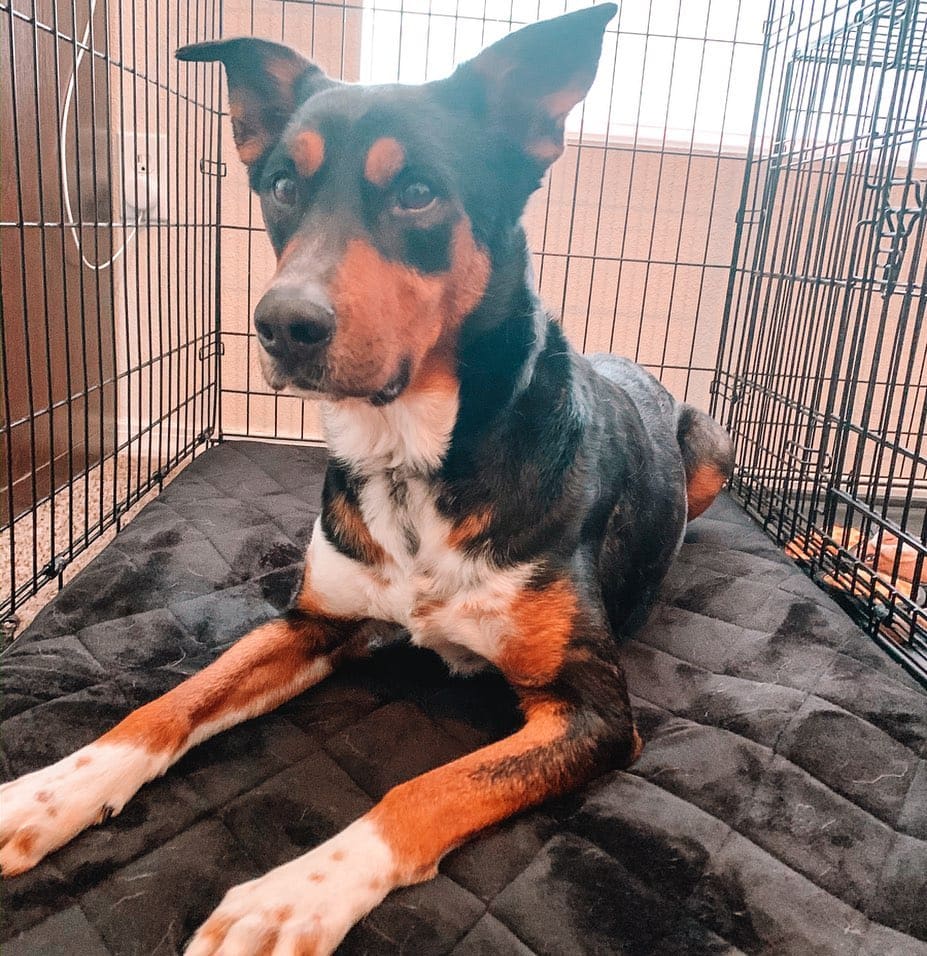 Puppy training is one of the most important aspects of good dog parenting. For your puppy to feel comfortable and relaxed inside his crate, you'll need to cover the plastic tray at the bottom of a wire crate.
With hundreds of dog crate pads to choose from, you'll need to understand what to look out for. Some pet beds may be a good fit for some crates, but if you're looking for the perfect match, you can find specific dog crate pads for chewers that work with wired crates. Dog crate pads have the following function:
Allows for a comfortable snooze or chew time
Provides warmth during cold weather
Minimizes pressure on your dog's joints and body
Can be used in your car or at home as a dog bed
Are There Really Chew Proof Dog Crate Pads?
With so many different crate pad options, one needs to look at durability, fabric, thickness, firmness, and whether the mat is orthopedic.
Finding a chew-proof mat is difficult. Most especially if you have a giant-sized adolescent pup that's teething. Dogs with separation anxiety also tend to destructively chew. With that said, let's take a look at excessive chewing in pups.
Excessive Chewing
Chewing and mouthing happen with varying intensities and occurs when puppies are teething. It's a natural puppy and grown dog behavior to use their mouths and noses to investigate objects.
Teething occurs between 4 and 30 weeks of age, and chewing encourages the baby teeth to fall out, and adult teeth to come in.
You'll notice that when your puppy will chew his way through an array of household objects. During this stage, you'll need to be careful and make sure that they are constantly supervised and safe.
The crate and mat will be their "safe zone" when you're not around, or you can use an area of your home close by you so that they are not isolated and lonely. The key here is to ensure that they don't chew anything that could be dangerous to their health and cause them to coke.
Puppies and adult dogs also chew due to boredom, and that's why it's so important to have plenty of chew toys around for him to play with. Regular exercise also allows for mental stimulation and gets your puppy tired out so they will chew less.
You can keep your dog occupied and out of trouble by allowing him to actively chew an assortment of frozen and stuffed chew toys like the KONG or purchasing interactive dog toys. This encourages relaxation and keeps their teeth and jaw strong. Keep in mind that trips to the dog park for off-leash runs and to the dog beach are important and allow for mental enrichment and vigorous play.
If your dog spends too much time alone and is bored or anxious when you're away from home, you may find that they are prone to destructive chewing. If your puppy is showing signs of separation anxiety, it's important to work together with your veterinarian and positive dog trainer to work out the best comprehensive behavior modification plan for your puppy.
Conclusion for Best Indestructible Dog Crate Pads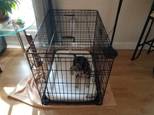 If you're planning on bringing a new puppy home, don't forget to plan ahead and purchase all the necessary dog training and dog crate pads that you'll be needing for destructive chewing.
It's important to positively puppy train your new best friend and to make sure that they are safe at all times. You and your dog will spend many years together and there's nothing like a well-trained and content puppy. Keep in mind that destructive chewing will typically stop as your puppy gets older.
When choosing the best indestructible dog crate pads for your dog, you'll need to look for high-quality materials with ripstop covers that are specially designed for destructive chewers. As usual, make sure to pay attention to comfort, premium materials used, whether they're tear proof, and waterproof. Chew proof pads may be difficult to find, but once you find one that works for you, consider purchasing a few in assorted colors!
Other articles you might like:
Still not convinced? Check out this video by K9 Ballastic!
Garrett loves animals and is a huge advocate for all Doodle dog breeds. He owns his own Goldendoodle named Kona. In addition, he volunteers at the Humane Society of Silicon Valley, where he fosters dogs and helps animals. Garrett enjoys writing about Doodles and believes that dogs can teach humans more about how to live than humans can teach a dog.
Why Trust We Love Doodles?
At We Love Doodles, we're a team of writers, veterinarians, and puppy trainers that love dogs. Our team of qualified experts researches and provides reliable information on a wide range of dog topics. Our reviews are based on customer feedback, hands-on testing, and in-depth analysis. We are fully transparent and honest to our community of dog owners and future owners.