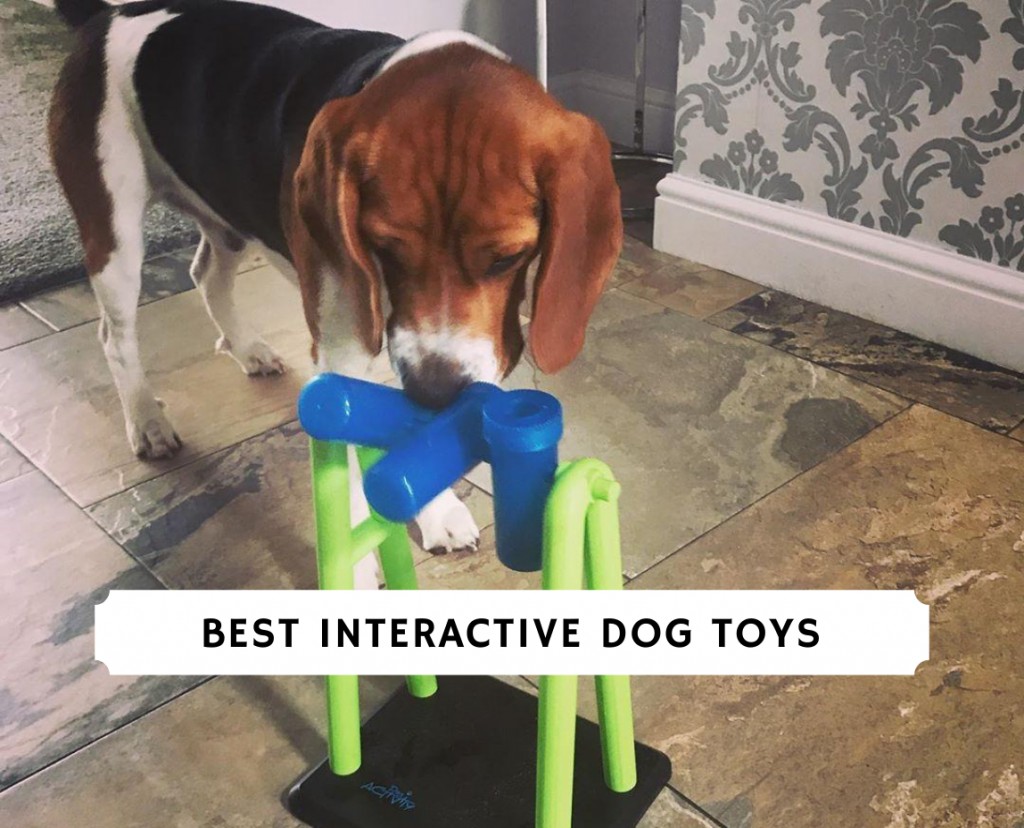 If you've ever had a dog or a puppy, you'll know that they can get bored pretty easily among all of the naps and jumping around. In addition, sometimes you have to work and will need to leave them bored at home for extended periods of time. Our furry friends will oftentimes cure their boredom by destroying our most loved possessions, which is a recipe for disaster. 
Thankfully, one way to remedy a dog's boredom is by getting them an interactive dog toy. Not only will these toys keep your pooch busy, but it will also get their mind working and give them lots of exercise in the form of mental stimulation.
There are a bunch of dog toys on the market that claim to be interactive, but there are always good and bad options out there. Thankfully, we're here to make sure you're not barking up the wrong tree and have compiled this list of the best interactive dog toys to keep both you and your best friend occupied for hours on end. 
In a hurry? Here are our Top 3 Picks:
Product
Best Overall
IFOYO Dog Toy
Runner Up
Nina Ottosson Toy
Image
If your dog is mad for treat dispensing interactive dog toys, then why not try the Starmark Bob-a-Lot Interactive Dog Toy? The Starmark brand is one that is well known for creating products in the pet education and toy sector, so you will know already that this toy is definitely going to be one that your pooch will enjoy.
As the name suggests, the toy is like a wobble toy that will keep your dog amused for hours. All you have to do to use the toy is put some treats into the top of the toy. Then in order for your dog to get their new food or treats, then need to wobble the toy. It's possible to adjust the difficulty setting too, so you can make it harder for a more intelligent dog or you can make it easier if your dog is finding it difficult. 
The interactive dog toy will really help to get your dog active, and it's great for stimulating your dog as they work for their reward. Furthermore and perhaps most importantly, the toy doesn't have any sharp edges and it's safe to use for all dogs, so you don't need to worry about any safety issues with the toy. It lasts a long time too – though it may not be the best choice for a particularly avid chewer! 
The Ifoyo Squeak Dog Toy is not just a cute toy – it's also a lot of fun for your furry friend to pull out the squeaky toys! The mental stimulation dog toy will allow your canine to use his brain in a constructive way as it's basically a hide and seek toy for your dog. Though it may not look it, it's also quite durable as it's made of high quality and tear-resistant plush so it doesn't break easily.
Basically, the interactive puzzle toy has a base and three little bee toys, both made out of the same plush materials. The toys are then put inside of the holes made into the base and your dog has to attempt to get the bees out. Dogs love the luscious, soft material, and love the little squeaky noise that the toys make when they are squeezed. As you may imagine though, they're pretty noisy! 
The toys are also fairly inexpensive and have a lot to offer despite this low price. It's definitely an option worth considering and your dog will have hours of fun with it. Someone will have to constantly put the bee toys back in the hive, but dogs love pulling these toys out and even playing fetch with them. They're not suitable for very aggressive biters and chewers though!
Our next pick is the Dog Tornado interactive toy. This whirlwind of a puzzle dog toy that is perfect for a dog that wants a lot of physical and mental stimulation. This interactive puzzle toy is made up of 4 different spinning levels and has 12 total compartments where you can hide your dogs favorite treats.
The interactive toy is a fantastic way to teach your dog, and you can actually use it as part of their mealtime to make their feeding time even more enjoyable. Your dog will be tasks with the challenge of sniffing out their treats to find out where they are. Then, they must spin the Tornado in order to release the treats. It comes with a base with rubber feet to keep it in place so it's a great interactive dog toy for large dogs.
Furthermore, the toy is very easy to clean, saving you a lot of time that you would otherwise spend playing with your dog. One thing worth noting though is that even though the manufacturer states that it's suitable for dogs of any size large dogs may just try to flip the toy upside down to get the food out faster.
The Trixie Dog Activity Flip Board is a well-known product from a loved brand that has years of experience in creating high-quality interactive toys for dogs. This toy will definitely mentally stimulate your dog and make them think.
The Activity Flip Board is a strategy game with two difficulty levels. It's designed for intelligent dog breeds and is an interactive dog toy for small dogs. The game has a bunch of places where you can hide treats that your dog has to find. In order for your dog to get to their treat out, they will need to work out the opening techniques for the flaps and sliders as well as lift up the cones. The board itself comes with two cones and there are little markers in the board where hinged lids and sliders go. It's a pretty complex interactive dog toy that will keep your dog thinking for many hours.
In addition to these features, the toy is dishwasher safe for easy cleaning. It's made out of very durable plastic and there are also non slip rubber feet on the board's base. It's durable so you can use this as an outdoor interactive dog toy as well.
This is yet another fantastic dispenser toy from the reliable Trixie brand. The interactive treat toy is made up of 3 elements that your dog can turn and store their dog's treats inside.
Essentially, your dog is going to need to understand how to turn the elements in order to get their favorite treats to release for them to eat. They won't be able to get the treats just from hitting the elements though, because the lids also add an extra element of difficulty to the containers. This really adds to the dog's mental stimulation, keeping them amused for much longer. They won't be able to get a dog treat out based on luck as they will have to completely understand how the toy works.
The toy is also dishwasher safe for easy washing and made out of safe plastic. It will also stay in place as it has non slip rubber feet to keep it in the right place, even if your dog is playing quite aggressively with it.
Types of Interactive Dog Toys
An interactive dog toy aims to get your dog to interact with the toy. Brands try to do this differently, so of course, there are a few different kinds of interactive dog toys out there:
Treat-Dispensing Toys
As the name suggests, these toys dispense a small treat at the end of the interaction. Typically, your dog will have to either nudge the interactive toy to dispense a treat or they will have to paw the toy to flip a treat out. There are multiple different variations of a treat-dispensing toy.
Electronic Toys
Electronic interactive dog toys will gain your dog's attention and keep them active as they will use a range of sound and lighting effects that will draw your pooch in to play. Typically, electronic interactive toys use a motion or proximity sensor to make a noise that stimulates your dog. The more they push or move the object, the more noises the toy makes to keep them stimulated.
Ball Launches
An interactive dog launcher will throw your dog toy automatically without your input, allowing your dog to play fetch for hours on end without making your arms sore. These are great toys if your dog likes to play fetch.
Hide and Seek Toys
The hide and seek dog toy is one of the most interactive kinds of dog toys and they're quite advanced. These kinds of dog toys will require your dog to use their intelligence and problem-solving abilities to get to the result. They will usually have to pull or dig a toy out to get to a smaller squeaky toy.
Tension Toys
This is ideal for the dog that's particularly fond of tug of war. An interactive tension toy means that you aren't going to have to be present to provide your dogs with hours of tug of war amusement. One of the most popular tension interactive toys is one that sticks to your floor and your dog can tug the rope.
Mobile Interactive Dog Toys
If your dog automatically looks to go hunting for their prey, then an interactive mobile toy is going to mimic the hunting process for your dog. These are toys that simulate the movement of smaller animals.
Important features
Size
Before buying an interactive dog toy you should first look at the size of the dog that the toy was designed for. If you give a large dog a toy designed for a small toy there is a risk of them choking. Likewise, a small dog isn't going to be able to properly enjoy a toy that's designed for a bigger dog.
Durability and Materials
When you buy an interactive dog toy you ideally want it to last you for quite some time. A dog toy that falls apart in less than a week of use is going to be pretty useless for your dog. When buying an interactive dog toy, ensure the material that the toy is made out of, and think about the chewing habits of your dog. Of course, the size of the toy in relation to your dog is going to impact their ability to get their maximum enjoyment out of using it.
Now, onto materials. This is a very important aspect to consider before you buy. High-quality materials are going to ensure that your toy lasts longer. Certain dog chew toys are made from plastic that is weak and can break easily. If your dog swallows these pieces then it can kill them. Make sure you always check the label first!
Safety
When you buy a toy for your child you check that the toy has been made and designed without toxic materials that will harm them. Likewise, you need to do the same thing when buying an interactive dog toy. Your dog will use their mouth to play the vast majority of the time, so the toys that you get for your dog must be safe for them to play with.
Adjustable Difficulty Levels
It goes without saying that not every dog is the same. Same dogs are insanely intelligent, whereas sometimes you may look at your dog and wonder if they think at all! Because of this, it's simply not possible to make an interactive dog toy that can be used for all dogs.
Also, some are designed specifically for puppies so they may not be suitable for older dogs, and vice versa. Because of this, it's important that the interactive dog toy has some levels of adjustability, as this means you can make them harder or easier based on how your dog responds to them.
A toy that is too difficult for your dog to figure out isn't going to keep them occupied for very long. Likewise, a toy that's too easy is going to have the same outcome. With this in mind, look for dog toys that have a lot of adjustability so your toy will fit with your dog's needs.
Cleaning
This may not seem that important, but for your sake, you really are better off trying to make sure that the dog toy that you choose is easy to clean. A lot of interactive dog toys involve dog treats, and because your dog's mouth and paws will be all over them.
Because of this, they can get quite dirty. As a result, it's vital to look for an interactive dog toy that you can clean easily to keep your dog safe and your home hygienic. If you're buying a dog toy that's hard to keep clean, then it will end up suffering from grime and dirt build-up. It can also take a long time to clean up an awkward dog toy.
Biting Force
This leads on from our point about durability, but dog toys are usually made to be able to deal with the strain from biting and chewing. With that being said though, if a dog has a particularly strong bite then they may ruin the toy quite quickly.
There are a lot of 'indestructible dog chew toys' on the market, but you should always check reviews to see how true that statement is. Ultimately, quality is the most important thing, but consider how strong your dog's bite is when buying.
Conclusion for Best Interactive Dog Toys
There are several different types of interactive dog toys that will keep your dog mentally stimulated while you're trying to do another activity or at work. It's important to keep your dog mentally stimulated with various toys so they don't destroy your belongings around the house. Interactive toys also keep your dog occupied so they don't suffer as much from separation anxiety. We hope that you enjoyed our article and found the best interactive dog toys that will keep your canine from getting bored.
Other articles you might like:
Garrett loves animals and is a huge advocate for all Doodle dog breeds. He owns his own Goldendoodle named Kona. In addition, he volunteers at the Humane Society of Silicon Valley, where he fosters dogs and helps animals. Garrett enjoys writing about Doodles and believes that dogs can teach humans more about how to live than humans can teach a dog.
Why Trust We Love Doodles?
At We Love Doodles, we're a team of writers, veterinarians, and puppy trainers that love dogs. Our team of qualified experts researches and provides reliable information on a wide range of dog topics. Our reviews are based on customer feedback, hands-on testing, and in-depth analysis. We are fully transparent and honest to our community of dog owners and future owners.