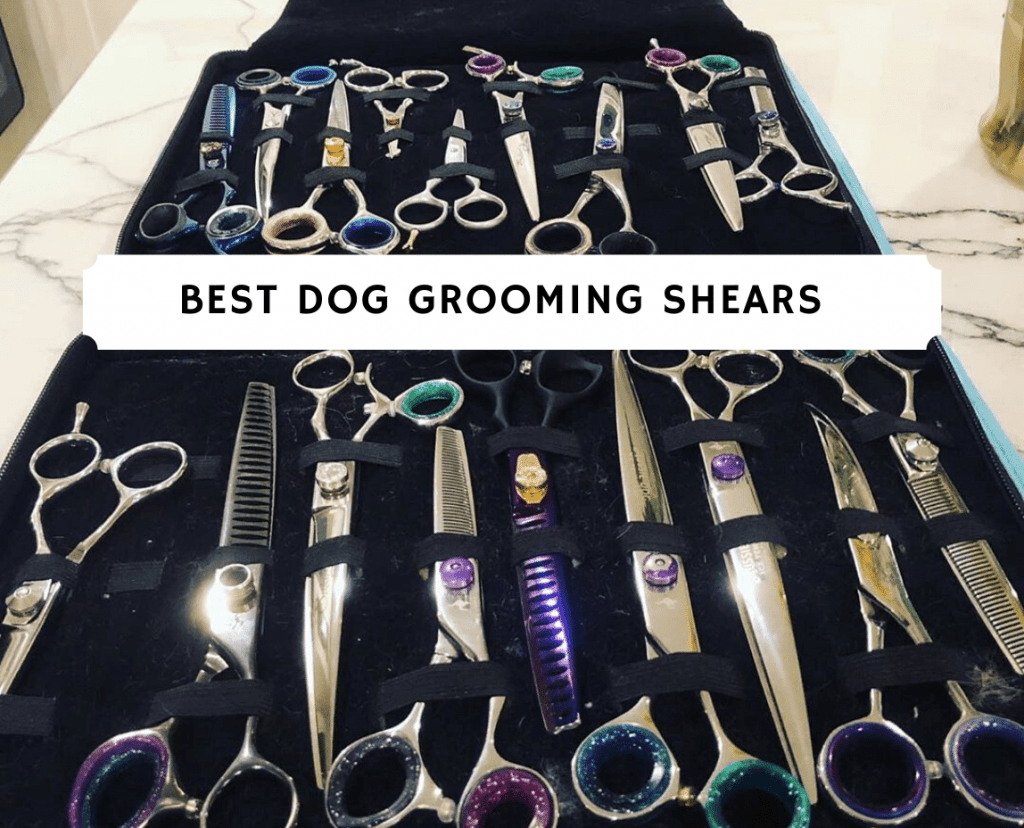 Keeping your pet properly groomed is important. Not only does it keep them looking nice but it also protects their bodies and their coats from tangles and mats. Even if you do not want to pay for and schedule routine grooming appointments, you should plan to do some form of grooming from home.
In order to be prepared for grooming from home, or even if you are a pet groomer looking for the best options, you have to have the right tools! One tool that you will absolutely need is dog grooming shears. Shears are different from traditional dog grooming clippers as they can reach in areas the shaver can't and perform finishing touches better. They add another role to the grooming toolbox.
In this guide, we will cover the best dog grooming shears and even provide you with some insight as to what you may want to look for in your next set of grooming shears. We will share with you our top picks on the market as well as everything about them that makes them one of the best!
In a hurry? Check out the Top 3 picks:
Image
The 7 Best Dog Grooming Shears Reviewed
If you do a basic search on dog grooming shears, you can find hundreds of options out there on the market. They all claim to be the best dog shears so how can you really know if they are one of the best? Not to worry! We've dug and sorted and researched so that you don't have to!
Our list was carefully compiled using reliable product reviews and information to narrow down the options for the best dog grooming shears. We hope you will stick with us as we share our top picks with you.
The Sharf Gold dog grooming shears does not come in a set and it does have a much higher price tag. However, these are professional-quality dog grooming shears that are well worth the cost for the quality — they are our top pick for the best dog grooming shears. The primary reason they are top-notch quality is because they are made out of Japanese steel. You probably have heard of kitchen knives made with Japanese steel, and these scissors have a similar design. These shears will absolutely cut through any dog coat type including thick and matted hair.
Japanese stainless steel is of the highest quality material that you can create for a pair of shears. It is extremely sharp and durable and does not require extensive sharpening or as frequent sharpening. These scissors are 7.5-inches and made with a finger rest. They are silver and gold and comes with a small case for storage. This is a premium dog groom shear option if you are willing to pay for it. If you're going to be grooming your own dog frequently, this is our top pick.
This dog grooming shear is also the straight shear type. There are many types of dog shears including straight, curved, or thinning shears. If you're going to buy only one pair of shears, we recommend the straight pair of shears as it is multipurpose and cut all the areas of a dogs body.
The Kingstar professional dog grooming shears set is a premium option that won't let you down. It's highly-rated across the board due to quality and durability. They are very nicely made, they look great, and they even come in a carrying case, which is a great bonus! All of these features make Kingstar the second best dog grooming shears on the market today.
This grooming set of 4 has thinning shears, curved shears, straight shears, and regular grooming scissors. If you're new to dog grooming, it's best to buy a kit and try out all the different shear types to figure out which one works the best for you. Also, kits are wonderful value.
The Kingstar Professional Dog Grooming shears are made of titanium, making them high-quality scissors. The scissors are sharp at the blade and the tips are slightly rounded and not poky for safety. In addition, they are comfortable to hold and work with.
Lilly's Pet professional dog grooming kit is another nice set that comes in a fun color, rather than your everyday silver or black colors. These shears are a glossy purple color, but they also have an iridescent multi-color available as well. This set has the typical 4 types of shears (thinning, curved, straight, scissors) as well as a comb, a tension adjuster, and a cleaning cloth. You also get a case as well to protect these dog grooming shears.
You really can't go wrong with these dog grooming shears. They are titanium-coated and are built to be reliable and durable. The shears are 7-inch shears, which is the perfect size to cut the body hair of your dog. In addition, each shear has a finger rest to give you the best comfort while holding them and using them. Quality materials and design were used when these dog grooming shears were created.
The only downside is there are multiple complaints that these shears don't come very sharp so be aware you may need to sharpen them right away. Titanium isn't going to be as sharp as high quality Japanese steel, but it's still a solid building material for grooming shears.
The Purple Dragon dog grooming scissors kit is another option that uses Japanese steel in the design process. These shears are a bright red color but you can also get them in purple, pink, or blue. They look very nice and are well-made. These are premium-quality Japanese steel grooming shears, but they come in a full set with a case for a much better price.
The Japanese steel used in these grooming shears gives these scissors an ultra sharp edge. The tip is blunt for safety purposes while grooming so you don't accidentally cut your dog or poke their eyes. These are made to be comfortable and durable, while also being stylish. They are professional quality and they are 7-inch pieces.
This is a premium option that costs a bit less and comes as a set of four. It's great that this company also believes in their product and will offer a 30-day money back guarantee if you don't like these dog grooming shears. If you're looking for Japanese steel, these are one of the best dog grooming shears on the market.
If you want to be truly prepared, finding a kit that has a little of everything is the best way to do it! The Gimars stainless steel dog grooming shears kit has thinning shears, straight shears, curved shears, and grooming scissors. There is a little bit of everything here, and they are all made with heavy-duty titanium coated stainless steel.
These scissors are also equipped with rounded tips for safety so you don't accidentally poke your dog while grooming them. If you're new to grooming or your dog moves around a lot while being groomed, we highly recommend that you get all your shears with blunt tips. Many new dog owners will often times poke their dog in the eye or skin. 
The Gimars stainless steel dog grooming shears are primarily designed for grooming long hair, but they can work with all types of hair. If your dog has thick or matted hair, these shears will also work well. If you buy these grooming shears, you will have everything you need for a simple grooming process. The handles even have pink outlining which gives them a unique look.
The Moontay Professional Dog Grooming Scissors set is totally fun, with iridescent multi-colored coating. In addition, it's a good and reliable set of pet grooming shears as well. This 5-piece set comes with a comb and a carrying case to protect your grooming instruments and store them easily.
If you're not a fan of this color, they have some other color options. This is a 5-piece set with comb, straight shears, curved shears, grooming shears, and thinning shears that are going to be ultra durable and long-lasting. It also has the carrying case, a tension adjuster, and a cleaning cloth.
Despite the vibrant colors, Moontay actually produces some of the best dog grooming shears that are high quality steel and cut through any dog hair because they are sharp. 
The iSeaFly set of dog grooming shears is very nice and come in your standard silver color. They are well-rated across the board and are a reliable set at a budget-friendly price. You really can't beat the price for the quality of these dog grooming shears. The iSeaFly shears are not cheaply made and you'll definitely feel like you got your moneys worth.
This 5-piece dog grooming set comes with the traditional 4 shear options (straight, curved, thin, and scissors) as well as a comb and a cleaning cloth. The set comes in a nice looking case as well. These shears have the fully-rounded safety bottom and are comfortable to use and simple to work with. The sizes vary from scissor to scissor, but they will work well for trimming your dog. If you want a cheap dog groom shear, this should be your choice!
The Hashimoto dog grooming shear is one of the best curved dog shear on the market. The best part about these dog shears is that they are made from Hitachi 440C Japanese Stainless Steel which make these shears sharp, hard, smooth, and durable. They are also hand-crafted and feature a symmetrical crafted handle that can be used by right or left-handed people.
This dog grooming shear is 6.5 inches which is slightly smaller than most of the others, but curved dog shears are best used to cut around your dogs feet. Thus, you want a smaller blade that you can easily control to round out the hair of your dog's feet. If you're looking for a high quality curved dog grooming shear, this is one of the best on the market.
The Laazar Pro Dog Shears are high-quality 420C Japanese stainless steel. These blades are long at 8 inches, which is a good length for straight dog shears. Straight dog shears are typically used to cut around the body so professional dog groomers typically like them longer for smooth and straight cuts.
Buying the Laazor Pro Dog Shear is going to be significantly better than any shear that you find in a kit. These pet scissors are great for professionals or at home dog owners.
Choosing the Best Dog Grooming Shears
When it comes to choosing shears, there are a few things you should keep in mind. First of all, it's convenient to purchase a set that comes with all of the shears but be sure that the set is consistent in both quality and design.
Here are some key qualities you will want to watch for.
Sharpness: Sharpness is probably the most important factor because you want a shear that will cut through thick and matted hair easily. Dull shears won't cut your dog's hair. The sharpest are typically going to be dog grooming shears that are 420C Stainless steel.
Durability: Long lasting dog scissors are important because you don't want to be spending money every year. Buying a high quality product from our best dog grooming shears list will ensure that you get a good product. They may just need to be occasionally sharpened, but these shears should be long-lasting.
Size: It highly depends on the size of your dog. Typically, you'll want straight shears that are 7 inches or longer because these are used to cut your dogs body. A curved shear can be shorter than 7 inches because they are used to cut around your dogs paws.
Will they cut all hair types? If your dog has thin hair that isn't matted or tangled, you can likely use almost any pair of dog shears. However, most dogs hair that doesn't shed is going to get thick and tangled. You'll want a high quality dog shear to cut through it.
Are they easy to use? Comfort and ease of use is also important when choosing a dog grooming shear. Important aspects to consider are going to be a finger grip, an ergonomic grip on the inside, and the diameter of the finger hole. Chances are that you will be holding these shears for 20 to 30 minutes when grooming your dog so it's important that you're comfortable in the process.
It's a bonus if your dog grooming shears come with some sort of case as well as if they come with the tension adjuster tool and cleaning cloths. These are great additional perks that you'll be using all the time.
One thing we noticed most across the board, is that many of these shears require frequent sharpening. Be sure to sharpen your shears safely. It may be worth it to purchase sharpening tools to have on hand. Sharpening pet grooming shears is not overly challenging but it will take some time and effort.
Different Types of Dog Grooming Shears
There are many dog grooming shears and each serves a different purpose. Below we will break down the most popular types of grooming shears:
Straight Shears: Straight shears are likely going to be the main scissor that you use the most if you're doing a full body groom. We recommend getting a pair of shears that are at least 7 inches if you have a medium-sized dog or it will take you longer to groom your dog. However, the longer the straight shear is, the higher likelihood of you making a mistake because they are harder to control. Use the straight shears around your dog's body, legs, and facial region where the dog clippers can't easily get.
Curved Shears: Curved shears are usually used around the legs and paws of a dog. Many professional groomers also use curved shears around the body and facial regions if you don't like the straight edge look. In general, it's much harder to use the curved shears and you'll need to get some practice in before grooming your dog.
Thinning Shears: Thinning shears are great for the finishing touches and blending in the regions of dog hair together. For instance, usually the leg hair is going to be shorter than the body hair. When this long hair meets the short hair, they need to be blended together. Thinning shears are great for this. The number of teeth on the thinning shears indicate how aggressive the thinning will be. Usually the larger the number of teeth, the more hair it will thin out.
Conclusion for Best Dog Grooming Shears
Whether you're in the market for a pair of new pet grooming shears or you're just looking at your options for now, there are several great choices here. The key is to choose something that will work for your needs and be comfortable for you to use. We hope that our list of the best dog grooming shears helped you make an informed decision. Happy pet grooming!
Garrett loves animals and is a huge advocate for all Doodle dog breeds. He owns his own Goldendoodle named Kona. In addition, he volunteers at the Humane Society of Silicon Valley, where he fosters dogs and helps animals. Garrett enjoys writing about Doodles and believes that dogs can teach humans more about how to live than humans can teach a dog.
Why Trust We Love Doodles?
At We Love Doodles, we're a team of writers, veterinarians, and puppy trainers that love dogs. Our team of qualified experts researches and provides reliable information on a wide range of dog topics. Our reviews are based on customer feedback, hands-on testing, and in-depth analysis. We are fully transparent and honest to our community of dog owners and future owners.