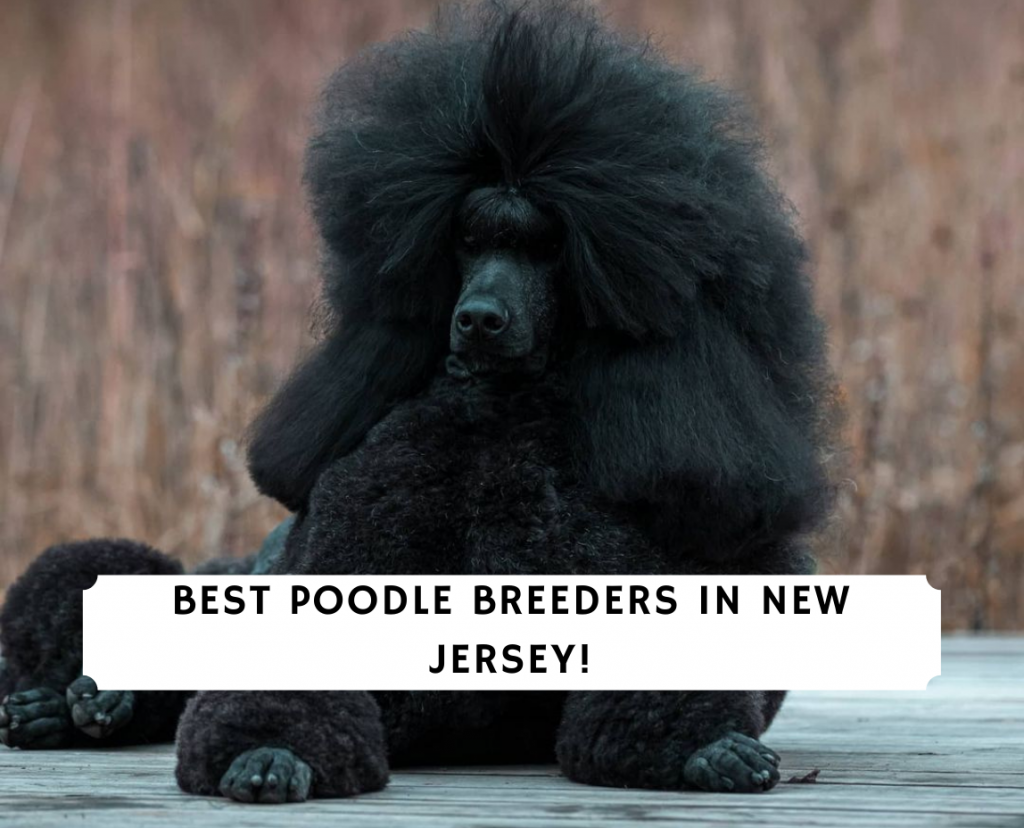 Poodles are one of the most popular dog breeders in the world because they are highly intelligent, nonshedding, and hypoallergenic. In fact, according to the American Kennel Club, the Poodle is the 7th most popular dog in the world. They make great family pets and come in a variety of sizes and coat colors!
It's no surprise that there are lots of Poodle puppies for sale in New Jersey. You'll see many backyard breeders and puppy mills that you will want to avoid. Purchasing from reputable Poodle breeders in New Jersey ensures that you get a healthy and happy puppy. Always check for genetic testing, health testing, and early socialization. If possible, we always suggest that you visit the breeder in person and tour their facilities.
Other articles you will like: Best Dog Food for Poodles and Best Clippers for Poodles.
We highly recommend PuppySpot because they are changing the way that people buy puppies. First, PuppySpot has a "no puppy mill" promise for all their Poodle puppies. This means that each breeder is screened and vetted better than state and USDA standards. Each Poodle breeder has to pass a 100 point inspection and less than 10% of all breeders who apply will make the cut.
Using PuppySpot makes getting a Poodle puppy simple and easy. Since they are a reputable network of dog breeders, they have Poodle puppies for sale today. You can choose your Poodle based on size, price, coat color, gender, and age. Once you find the ideal puppy you want, you simply buy it and PuppySpot can deliver it to you in New Jersey. 
Over 220,000+ families have purchased a puppy from PuppySpot. We also got one of our Goldendoodles from them and had a fabulous experience. Each puppy that you buy comes with a health check, health guarantee, and AKC paperwork. We highly recommend that you check them out today.
Poodle Breeder Information
2. Poco A Poco Toy Poodles New Jersey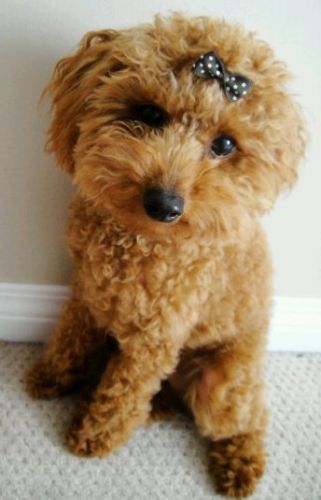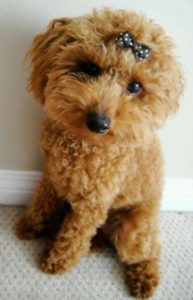 Poco A Poco Toy Poodles are famous for their dogs' personalities. There are now 25 American Champion Poco a Poco Toy Poodles, with more in the ring being shown and winning. Their toy Poodles puppies in New Jersey feature a short-backed, athletic, brilliant, and sweet temperament.
All of Poco A Poco dogs are checked annually by a Certified Veterinary Ophthalmologist (ACVO) and have their DNA checked for the PRCD form of PRA. All of those checked annually are also registered with CERF, and those who have been DNA cleared are also registered with OFA. This means that your Poodle puppy in New Jersey will be healthy and happy due to a significant amount of health testing.
All dogs who are shown and/or bred by Poco a Poco are also microchipped well as all being DNA profiled by the AKC. For full pricing of Poco A Poco Toy Poodles puppies, contact them directly. If you're looking for a toy Poodle in New Jersey, this is a great breeder!
Poodle Breeder Information
Address: Hightstown, New Jersey, USA
Phone: (609) 426-0559
Email: pocopoodles@comcast.net
3. Light N Lively Poodle Puppies
Light N Lively Poodles is a breeder servicing the New Jersey area and has been involved with Miniature Poodle puppies specifically with black and white coat colors. This is one of the oldest Poodle breeders in New Jersey on our list with over 40 plus years of experience.
They produce Poodle puppies with extraordinary intelligence, a wonderful personality, and incomparable elegance. They have devoted their Poodle puppy breeding to protect and continue breeding companion pets with those qualities.
They breed mostly for what they will keep as their own dogs and show dogs. They breed selectively to keep to the purebred standard set by the AKC. Those Poodle puppies in New Jersey not kept as their own are placed with people who will care for and love them.
Light N Lively puppies are raised in their home kitchen so they can be watched constantly. They grow up to be well socialized, used to interacting with people, noises, and all aspects of everyday family life.
When adopted, a puppy will come with AKC limited registrations, well-groomed in a Poodle puppy cut, microchipped, with appropriate shots according to Jean Dodd's DVM limited vaccination protocol, health checked and certified by a veterinarian. In addition, each of their Poodle puppies in New Jersey comes with a health guarantee.
Light N Lively has bred many award-winning miniature Poodles in New Jersey, so any puppy adopted comes from a champion bloodline. For full pricing of their puppies, contact Light Nlively Poodles directly.
Poodle Breeder Information
4. Nobility Standard Poodles New Jersey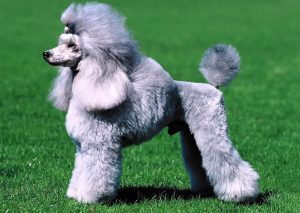 Nobility Standard Poodles has been breeding dogs since 1975 and Standard Poodles since 1990. They ensure that every incoming and outgoing Poodle puppy is examined by their staff veterinarian and verifies that all vaccinations are up to date. They give adopters a health paper to take to a veterinarian with what has been done and when.
Nobility Standard Poodles maintains a puppy-friendly environment throughout its facilities, keeping their dogs safe and happy. All Nobility Standard Poodles are hand raised and come from champion bloodlines.
For full pricing of Nobility Standard Poodle puppies for sale in New Jersey, contact them directly. They do offer visits to their facility, but they by appointment only.
Poodle Breeder Information
5. City Lights Standard Poodle Puppies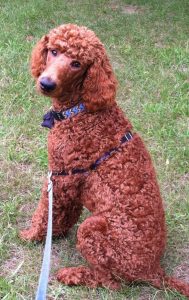 Though not in New Jersey, City Lights Standard Poodles services the state of New Jersey as well as surrounding areas. With over twenty-five years of experience in breeding, they have gained a reputation for breeding healthy and beautiful AKC registered Poodles puppies.
City Lights specializes in red, apricot, and black Poodles. They also guarantee the health of their Poodle puppies. They test for hip dysplasia, clear eyes, DNA, as well as testing for thyroid and cardiac disease. This will almost guarantee that your Poodle puppy is healthy.
City Lights Standard Poodles puppies come microchipped and with lifetime registration. To be put on a waiting list to adopt one of their Poodles, an adopter must fill out a form found on City Lights website on their "Contact Us" page.
Puppies are raised in City Lights' personal home and are well acclimated to people as well as children. Moreover, they are temperament tested at 7 weeks of age. For full pricing of City Lights Standard Poodles puppies, contact them directly via their website, phone, or email.
Poodle Breeder Information
6. Firebrook Poodles New Jersey
Firebrook Poodles is a breeder located in Shamong, New Jersey. Their specialty is breeding quality Standard and Miniature Poodles from AKC Champion sires and dams. Their Poodle puppies in New Jersey are bred for correct conformation, excellent coats, loving personalities, and intellect. Firebrook puppies are sold on limited registration.
To reserve a standard or miniature Poodle from Firebrook, interested adopters must pay a deposit to be put on their waiting list. Their Poodle puppies are up on all vaccinations, shots, and deworming. All appropriate paperwork is available upon adoption.
For full pricing of Firebrook Poodles puppies, contact them directly via phone, email, or on their website.
Poodle Breeder Information
7. Bella's Red Toy Poodle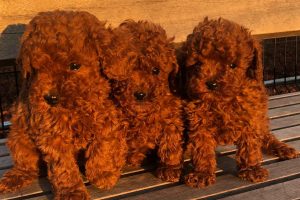 As a newer Poodle breeder in the Northeastern United States with about four years of experience, Bella's Red Toy Poodle is a breeder of red toy Poodles that services the New Jersey area. Their toy Poodle puppies are home-born and are well socialized with people.
All of Bella's Red Toy Poodle puppies come with AKC registration, pedigree, first shots, and a 30-day health guarantee with a full refund if an adopter has a need to return the puppy. When picking up a new Poodle puppy, an adopter will also receive pet food and a travel bag.
To adopt from Bella's Red Toy Poodle, an application must first be filled out on their website. This is to make sure that their dogs are going to the best homes possible. They do not ship their dogs. For full pricing of a Bella's Red Toy Poodle puppy, they as potential adopters to contact them via email or text. If you're looking for a smaller sized toy Poodle near New Jersey then this could be a good breeder.
Poodle Breeder Information
Address: 40-24 College Point Blvd, Flushing, NY 11354
Phone: (929) 462-6816
Email: bellatoypoodle@gmail.com
Website: Bellas Toy Poodle Puppies
8. Jans Cockapoos and Poodles New Jersey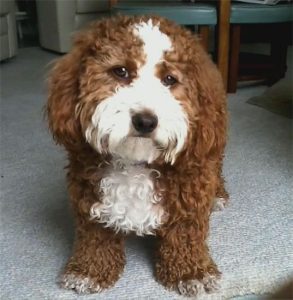 Cockapoos are Poodle-mixed dogs and we included them on our list in case you're open to Poodle mixes. Jans Cockapoos is a small Cockapoo Breeder in Northern New Jersey. Their puppies, a crossbreed bred from a Cocker Spaniel and a Poodle, most commonly the Miniature Poodle, are raised in their family home.
The owner of Jans Cockapoos comes from a breeding family who has been producing poodle and other poodle varieties for over 50 years and carries that experience over to their own breeding efforts.
When adopting a dog from Jans Cockapoos, they offer the NJ Health Guarantee, 2-weeks health, 6 months for genetics, Veterinarian Health Certification, and Vaccinations up to date and de-wormed. The puppy also comes with a supply list and training schedule as well as a goody bag consisting of a toy, blanket, and sample of food.
A $100 deposit with an application must be received by Jans Cockapoos to adopt one of their cockapoo puppies. This will put the adopter on a waitlist for an upcoming litter within 6 months. A deposit is only accepted and assumed that you make a commitment to purchase and is nonrefundable.
Once the pups are old enough [normally 6-7 weeks] an appointment will be set for a visit. When visiting and choosing a puppy, a 500.00 cash deposit must then be placed.  The remainder of the purchase price will be due on pick up. For full pricing of Jans Cockapoos puppies, contact them via phone or email.
Breeder Information
Address: 27 Colonial Woods Dr, West Orange, NJ 07052
Phone: (973) 632-1338
Email: Janscockapoos@hotmail.com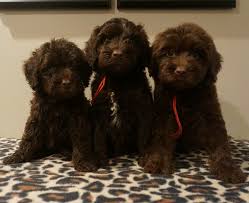 English Manor Labradoodles don't breed purebred Poodles, but instead, Poodle mixed dogs called Labradoodles. This is a breeder that specializes in Australian Labradoodles located in West Milford New Jersey. They strive to breed the absolute best dogs possible. They have spent their time studying bloodlines, conformation, genetics, nutrition, and health. With their tireless work, they have succeeded in breeding Regional and National Championships.
All English Manor puppies are sold with a spay/neuter agreement and all pups are required to be spay/neutered by six months of age. A certificate from a licensed vet must be sent to them as proof.
Their purchase prices include age-appropriate vaccinations as well as a 1-year health guarantee. All English Manor puppies are home-raised and handled daily.
Breeding dogs must pass OFA, health clearances, and have all their vaccinations before breeding to allow the puppies the best immunity before whelping. Their breeding dogs will be HD, prcd-PRA, CERF, and ED clear or they will not be used for breeding.
When purchasing an English Manor Labradoodle, it is expected that the buyers continue all necessary care. This includes healthy feed, exercise, vet care, and vaccinations should be kept current for proper health.
The buyer should be able to provide a clean warm dry environment for the dog to live. The dog's physical needs should be met every day. If for some reason a buyer can no longer care for their dog, English Manor will take back the dog. They do not want any of our dogs placed in shelters.
Pricing for English Manor Labradoodles is set at $2,900 and is non-negotiable. A $400 non-refundable deposit must also be made to reserve a puppy as well as filling out an application. This is to make sure English Manor puppies are only going to the best homes possible.
Breeder Information
Address: 11 Marisa Ct, West Milford, NJ 07480
Phone: (973) 697-8896
Conclusion for Poodle Breeders in New Jersey
Poodles are the most popular nonshedding and pet allergy-friendly dog on the market. You'll see lots of Poodle puppies for sale in New Jersey, but we highly suggest that you only purchase one from a reputable breeder. If you purchase a puppy from a backyard breeder, you may end up with a hefty medical bill in the future for genetic diseases. You can use our list to find the best Poodle breeders in New Jersey. Always do your own research and ask lots of questions before putting your deposit down on a Poodle puppy!
Other articles you would like:
Garrett loves animals and is a huge advocate for all Doodle dog breeds. He owns his own Goldendoodle named Kona. In addition, he volunteers at the Humane Society of Silicon Valley, where he fosters dogs and helps animals. Garrett enjoys writing about Doodles and believes that dogs can teach humans more about how to live than humans can teach a dog.
Why Trust We Love Doodles?
At We Love Doodles, we're a team of writers, veterinarians, and puppy trainers that love dogs. Our team of qualified experts researches and provides reliable information on a wide range of dog topics. Our reviews are based on customer feedback, hands-on testing, and in-depth analysis. We are fully transparent and honest to our community of dog owners and future owners.