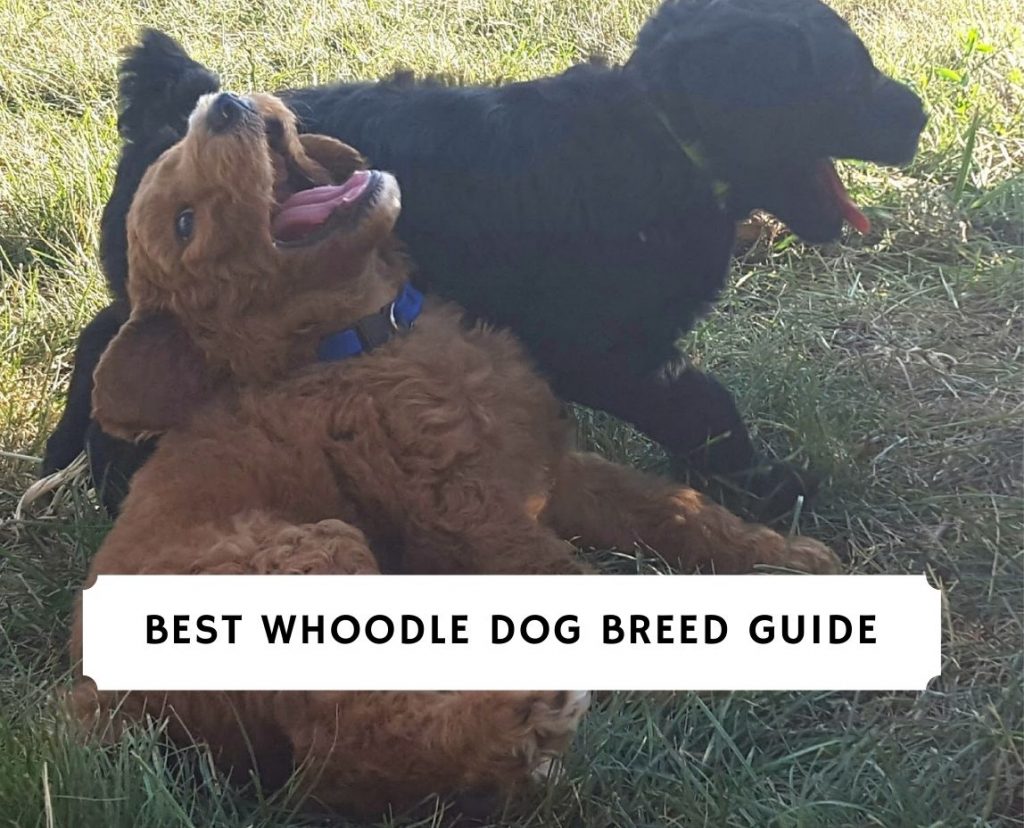 With a catchy breed name and a unique mix, the Whoodle is a dog breed mixed between the Soft-Coated Wheaten Terrier and Poodle. In case you didn't know, Whoodles are a miniature size dog that can grow up to 20 inches in height. Senior citizens, children, and people from all over the world adore this cute little dog. They're filled with energy that could make anyone's day.
The Whoodle inherited some of the most adored personalities from its parents and you'll see why in a moment. Whether you're planning to bring home a Whoodle from a rescue or breeder, you'll likely experience love at first sight. Since they're full of positive energy, you're going to want to show your companion off to friends and families. They're smart, teddy bear-like, active, cute, and an endless list of positive descriptions.
With its curly hypoallergenic coat, this dog breed is best described as "non-shedding." Whether you're a child or an adult, training a Whoodle shouldn't be too difficult if you have enough patience. If you already own this mix or planning to buy a puppy, then this Whoodle dog breed guide will help you prepare for the responsibilities of raising this breed.
Are you interested in learning more about the Whoodle dog breed? We created a video for you down below or feel free to continue reading our article:
Other articles you might like: Best Whoodle breeders in the United States.
Characteristics of a Whoodle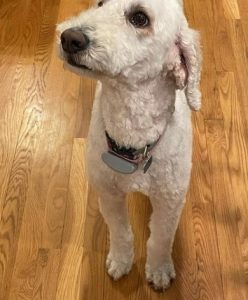 Breed: Soft-Coated Wheaten Terrier and Poodle
Temperament: Active, Clever, Loyal
Typical Standard Height (Approx.): 12 to 20 inches or 30 to 50 centimeters
Typical Standard Weight (Approx.): 20 to 45 pounds or 9 to 20 kilograms
Life Expectancy: 12 to 15 years
Nicknames: Wheatendoodle, Sweatenpoo
Sizes: Toy Whoodle, Miniature Whoodle, Standard Whoodle
The Whoodle is a mixed dog breed between the Soft-Coated Wheaten Terrier and the Poodle. They're known to be active, clever, and loyal. Since one of its parents is a Poodle, the Whoodle inherits intelligence and curly coat.
The typical standard height for the Whoodle can grow up to 20 inches and weigh up to 20 lbs. While the average lifespan of a dog is between 10 to 13 years, the lifespan of a Whoodle is between 12 to 15 years due to its miniature size. Small dog breeds always tend to live longer due to less health issues.
If you did a little research on the Whoodle, you might've stumbled across several nicknames as they are oftentimes called the Wheatendoodle or Sweatenpoo. Some Whoodles resemble the appearance of a Poodle and some resembling the appearance of a Soft Terrier. With these characteristics, they're perfect for families with children.
Origins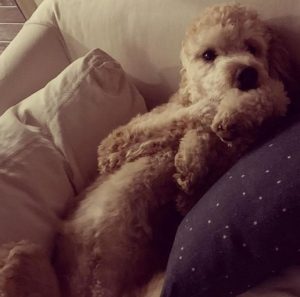 At the moment, there isn't much information about the origin of the Whoodle. However, since Whoodles are mixed between the Soft Terrier and the Poodle so we can learn from the origin of its parents. You'll see why the Soft Terrier mix with Poodle creates the perfect combination for many potential dog owners. Let's get started with the Soft Terrier!
Originated from Ireland, the Soft Terrier (Soft-coated Wheaten Terrier) is known to be a pure-bred dog. This pure-bred dog has two types of coats which are Irish coat and Heavy coat. Unlike most dog breeds with straight hair, the Soft Terrier has wavy hair. Throughout history, this dog breed was bred for over 200 years for farming purposes. It's amazing what this dog breed can do to help ease tasks back then
Living with farmers, the Soft Terrier supports them by watching and guarding livestock along with hunting/killing. While this dog breed has been around for centuries, it wasn't recognized as a breed until less than a century ago. (1937 Irish Kennel Club, 1943 British Kennel Club, 1973 American Kennel Club)
As for the Poodle, there are three sizes of this dog breed: Standard Poodle, Miniature Poodle, Toy Poodle. Due to its long history, people aren't exactly sure where they originated from. It's believed that the Poodle came from Germany and became popular throughout France. Documents are leading back to East Asia or Australia.
Throughout the dog community, the Poodle ranks second in intelligence competing against many dog breeds. There are many mixes of Poodle today because of their hypoallergenic coats and the ability to learn fast. With three different varieties, Poodles are amongst one of the most popular dogs.
Size Information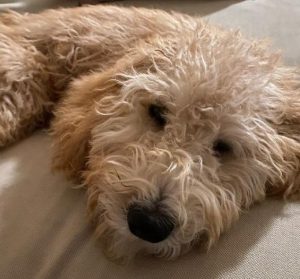 For a relatively new Poodle mix, the popular sizes for Whoodle puppies are small and medium. There is also Toy Whoodles but it isn't brought up as often in the dog community. Whoodles can grow as high as 20 inches and weigh up to 45 lbs. While there are three varieties of Whoodles, there isn't much information about its size. We can, however, compare the size of the Poodle and the Soft Terrier to provide you with a better perspective of a Whoodle's size.
Toy Whoodle: Less than 10 inches in height and typicall less than 20 pounds.
Miniature Whoodle: Less than 15 inches in height and weighs less than 30 pounds.
Standard Poodle: Over 15 inches in height and typically weights 30+ pounds.
Temperament & Personality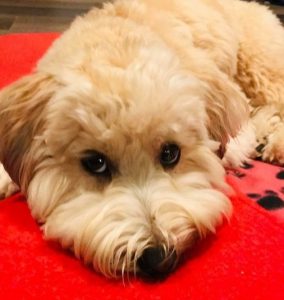 Inherited from the Soft Coated Wheaten Terrier and Poodle, the Whoodle has a unique combination of personalities and temperament. This dog breed is adored by many people for this very reason. Whoodles are known to be kind, affectionate, and get along well with others.
Due to their energetic behavior, Whoodles are active and loves play. Note that this dog breed is not for dog owners who can't keep up with their energetic behavior. At times, you'll feel drained so be prepared. Since the Whoodle is intelligent, you'll have to keep it entertained with dog toys or taking them out to socialize. The reason for this is that Whoodles can get bored easily, which could be problematic.
If you live with a family, then the Whoodle would be an ideal pet with all of the attention it'll likely receive. In a scenario where you have other pets at home (cats, dogs, etc.) your Whoodle puppy will learn to get along and adapt to it. After all, they love socializing with anything that gives them attention.
Nutrition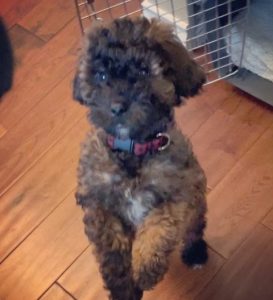 When raising a Whoodle, it's your responsibility to make sure that they're having a well-balanced diet. After all, it's essential for your companion's wellbeing and overall health. Aside from exercise and other responsibilities, feeding your Whoodle the proper nutrients should be your primary concern.
Just like other dog breeds, your Whoodle should be able to do well on dry dog foods. You should keep in mind that not every kibble is the same. Each brand could have different ingredients catering to certain types of dogs. If you're feeding your Whoodle kibble, make sure that it's created from natural and quality ingredients. In a situation where you're unsure what the required standard is when it comes to feeding your Whoodle, you should speak to a veterinarian.
Since the Whoodle comes in different sizes, try to search for a formula that best fits the criteria. Different sizes require different amounts and what to feed. For instance, Miniature Whoodle puppies should be fed dog food specifically created for smaller breeds while the Standard Whoodle should be fed food created for medium-sized breeds.
If your Whoodle is still at the puppy phase, you could provide them "puppy blends" because it'll have more nutrients especially when your companion is still developing. You should do your due diligence when feeding your Whoodle because if you feed them properly, your dog's life could improve drastically.
Depending on the size of your Whoodle puppy/rescue, try not to feed them too much. If you consult with a veterinarian about your dog, they'll advise you on the proper amount of food. After gathering this information, stick to the plan. When your Whoodle is eating, try to observe its food portion because it could help benefit your companion's health in the long term.
Grooming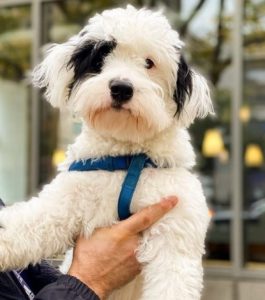 Like all Poodle mixes, you should always groom your Whoodle to help them from feeling irritated. It might appear daunting at first for beginners, but it's quite easy as long as you follow the proper instruction and using the right dog tools. Whoodles have long coats, which means that you should trim them once every 8 to 12 weeks. This helps them from having any tangled hair, which could make them uncomfortable.
You should also invest in a dog nail clipper to clip your Whoodle's nails. If you hear the sounds of their nail hitting the hard surface while walking or running around, that's when your companion's nail is too long. Sometimes, situations could arise and people aren't able to groom their dogs. If this is you, you could bring your Whoodle to a professional grooming expert to ease the process. Most groomers charge less than $100 to clean, trim, and clip your dog's nails.
Exercise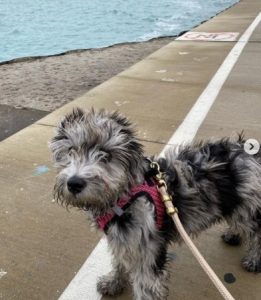 As active as Whoodles are, you should still find ways for your companion to exercise daily. There are different types of exercises you can try for your dog. You could take your Whoodle out for daily walks or you could let it play in your backyard. There are many activities you can try!
Since Whoodles are smart and energetic, the lack of exercise could cause problems for you. Without exercise, they'll use up their energy around your home causing a mess and unnecessary issues. Before you commit to raising a Whoodle, make sure that you're able to provide them exercise every day. It's recommended that you have your dog exercise at least 15 minutes or more every day.
Training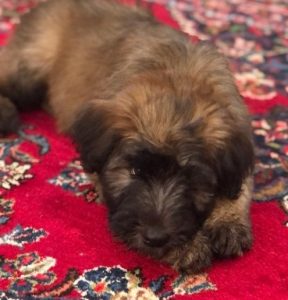 Since Poodle is known to be one of the most intelligent dog breeds, it's no doubt the Whoodle is as well. Knowing this, the Whoodle is actually easy to train for beginners, kids, and adults. Whether you're a novice or expert, this dog breed is perfect for almost everyone. One obstacle that Whoodle owners have to deal with is their energetic behavior. Since the Whoodle is constantly active, you'll need to have more control and get its attention.
Just like every dog breed, you'll need to focus on positive reinforcement training strategies. The first thing you're likely going to have to do is to find a potty training spot for your Whoodle to establish its territory. It could be in your backyard, on a dog pad, or any spots you feel comfortable with. When your Whoodle is still young, then training them shouldn't be difficult. However, if you wait until your Whoodle becomes a fully grown adult, then it could be problematic because they have already developed habits.
Health
Unfortunately, every dog breed will deal with health issues as they age. If you're planning to bring home a companion from a Whoodle breeder, try to keep an eye out for red flags. Any Whoodle breeder that promises perfect health should already be a sign that they're dishonest. Like humans visiting doctors, you should bring your Whoodle to the veterinarian for checkups once in a while.
Some health problems your Whoodle could be dealing with are eye infections, kidney issues, Addison's disease, or retinal atrophy. If you notice any strange behaviors or if something seems off, try to visit a veterinarian as soon as you can. The smallest health problem could lead to bigger issues, which is why it's better to take action as soon as you notice something is off.
Appearance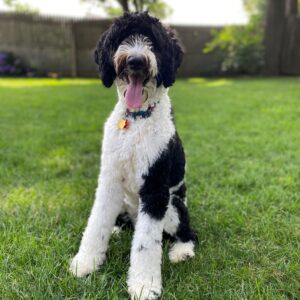 With the Soft Coated Wheaton Terrier's silky coat and the Poodle's curly coat, the Whoodle can sometimes have a wavy or straight coat. For dog lovers, Whoodles come in a variety of different colors. The color options for this dog breed can be parti, silver, apricot, chocolate, red, or even black.
If you didn't know, the Whoodle's coat is normally long, which means you should trim them at least once every 8 to 12 weeks to prevent any unnecessary issues. If you're sensitive due to allergies, the Whoodle or any hypoallergenic dogs would be perfect for you because they're non-shedding.
Prices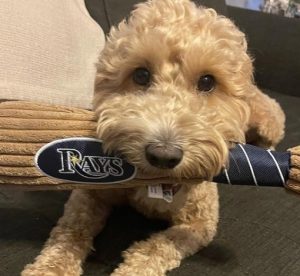 If you believe Whoodles are the perfect type of dog breed for your living environment, then let's go over the price. This type of dog breed is actually quite high in demand since it's adored by many people around the world. The starting cost of a Whoodle generally begins around $1,500 and can go as high as $5,000.
When you're purchasing a Whoodle from a breeder, make sure to do your research and read about the breeders. It's recommended that you go to a reputable breeder instead. If you find a Whoodle breeder charging you less than $1,500, you should at least have a little suspicion. As unfortunate as it sounds, there are puppy mills breeding dogs only to earn money. These types of breeders are generally dishonest. By purchasing from a reputable Whoodle breeder, your mind will be at ease knowing that these puppies are being treated well. 
Conclusion for Whoodle Dog Breed Guide
Today, there are many Poodle mixes such as Goldendoodles and Whoodles. Mixed between the Soft Terrier and the three types of Poodle (Toy Poodle, Miniature Poodle, Standard Poodle), the Whoodle can easily adapt to your living environment.
With curly hypoallergenic hair, they're perfect for people with allergies due to their low shedding. Whoodles are energetic and affectionate to people around them (especially their owners!). Since they love socializing and seeking attention, your Whoodle should do well if you have other family pets or children at home.
Whether you're a novice or expert when it comes to raising a dog, dog communities describe the Whoodle as an easy-to-train dog breed. With a longer lifespan than the average dog, raising your Whoodle will create unforgettable memories that'll last an entire lifetime.
Check out some of these other articles:
Want to watch a video about the Whoodle Dog Breed? Check it out below:
Garrett loves animals and is a huge advocate for all Doodle dog breeds. He owns his own Goldendoodle named Kona. In addition, he volunteers at the Humane Society of Silicon Valley, where he fosters dogs and helps animals. Garrett enjoys writing about Doodles and believes that dogs can teach humans more about how to live than humans can teach a dog.
Why Trust We Love Doodles?
At We Love Doodles, we're a team of writers, veterinarians, and puppy trainers that love dogs. Our team of qualified experts researches and provides reliable information on a wide range of dog topics. Our reviews are based on customer feedback, hands-on testing, and in-depth analysis. We are fully transparent and honest to our community of dog owners and future owners.