Whoodles are an up-and-coming crossbreed between a Poodle and Wheaten Terrier. They are rising in popularity because of the Poodle's curly, hypoallergenic coat and high level of intelligence. In addition, Whoodles also look like little teddy bears! If you're set on this specific dog breed, the hardest task you will face is finding Whoodle puppies for sale from a reputable Whoodle breeder.
If you've decided to add a Whoodle to your family, finding an ethical breeder that focuses on quality and healthy puppies is the next step. As Whoodles are not purebred dogs, it's important to find a breeder who has experience in breeding and emphasizes the overall health and well-being of both the puppies and the parents.
We also made a video below about the Whoodle dog breed if you want to learn more.
Check out these other articles: Mini Goldendoodle Breeders and Mini Labradoodle Breeders
Whoodle Breeders in the United States
When you're ready to start your search for your perfect Whoodle puppy, you've got some options. To help you get started, here we share some of the top Whoodle breeders in the United States.
Find a breeder near you or inquire about each breeder's travel and shipping options. In this list, you'll find a quick overview of the breeder and their contact information if you're interested in learning more about their puppies and availability.

1. PuppySpot
If you want a Whoodle puppy guaranteed to be bred by a professional breeder, check out PuppySpot. It's a virtual marketplace that places the utmost importance on the breeders' quality. The breeders need to fulfill all the prerequisites before being allowed to join PuppySpot. Hence, less than 10% of those who apply end up in this community of dog lovers.
PuppySpot is the largest marketplace in the USA and delivers over 25k puppies to their new homes each year. Over the years, they have won the trust of breeders and owners. The 10,0000 5-star reviews on their website vouch for it!
If you order the Whoodle puppy of your dreams from here, you're sure to get one that's been given a thorough medical check. Plus, you'll also get a 10-year health guarantee, so you need not worry about genetic disorders. We highly recommend that you check out PuppySpot.
Update: PuppySpot has given our blog readers a $100 coupon code. Use "WLD100" at checkout for an extra $100 off.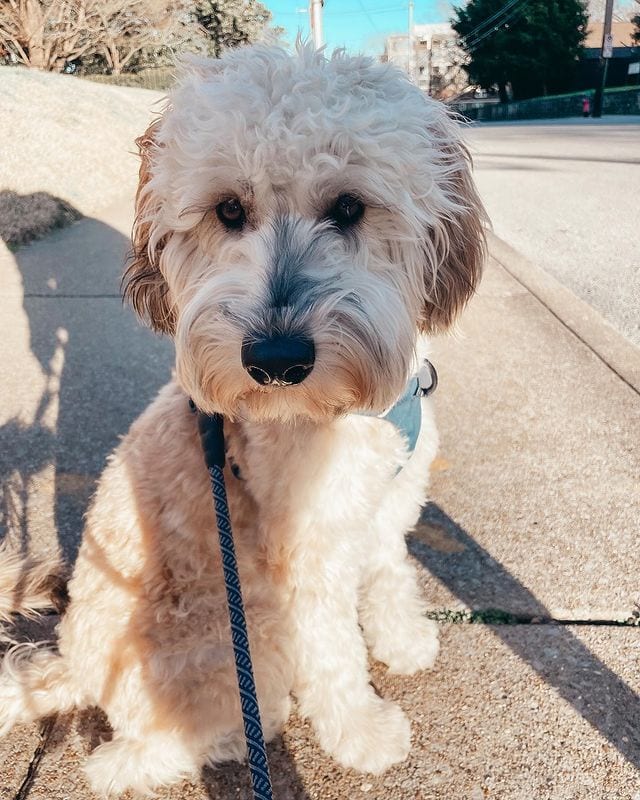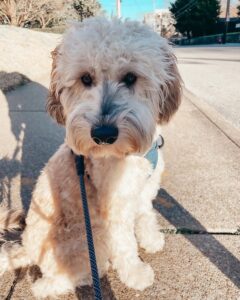 2. Heart of America Whoodles
Heart of American Whoodles is focused on giving back to the community by sharing the joy of the Whoodle dog breed. Their mission is focused on using Whoodles to work and service dogs and using the funds raised from puppy sales to help support veterans. Heart of American Whoodles are committed to helping puppies find forever homes and supporting and empowering veterans.
With the increasing popularity of the Whoodle breed, there is often a waiting list for the next available litter of Whoodle puppies for sale. Families who are interested in adopting a puppy can complete an application online. You can also inquire about donating a dog to a school as a therapy dog or in another context.
With their in-depth application process, they're dedicated to finding the right Whoodle puppy for your family. You can browse their upcoming litters to know when the next Whoodle litter will be available. They also have a blog with helpful resources in training and raising your Whoodle puppy to be happy and healthy.
Heart of American Whoodles has both standard Whoodle puppies and mini Whoodle puppies for sale.
3. S'Wheaten Your Life Wheatens & Whoodles
Bring some added joy to your life with an adorable Whoodle puppy. The S'Wheaten Your Life team offers Wheaten and Whoodle puppies that make great family pets.
Holly Deffley began breeding Whoodles and Wheatens in 2007 and has continued sharing her love and passion for puppies. She operates as a puppy mom, trainer, and groomer to keep puppies and dogs looking and feeling their best. For what it's worth, she's one of the most experienced Whoodle breeders we could find.
Families who are interested in adopting a Whoodle can begin with an application. These questions and the follow-up conversations ensure that Holly and her team can find the right Whoodle for your family's needs.
Their puppies come with a 1-2 year health guarantee, necessary paperwork, as well as deworming and vaccination procedures. They also come with a sample of NuVet vitamins to help them grow strong and healthy and a toy with a familiar scent.
S'Wheaten Your Life Wheatens & Whoodles breeds Mini Whoodle puppies and Standard Whoodle puppies. They have also expanded to breeding Goldendoodles and Bernedoodles, found on their sister site, Sterling Brook Doodles.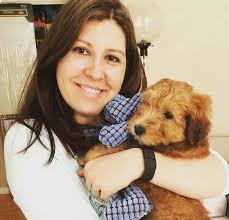 4. Texas Whoodles
If you live in the southern states and are looking for the right Whoodle puppy for you, then you may be able to find your forever furry friend at Texas Whoodles.
They are dedicated to breeding Whoodle puppies that are healthy and well-balanced. Their puppies are raised in their own home for maximum potential for socialization and the valuable "Puppy Culture" to help puppies experience the world through various sights, sounds, and socialization.
Each parent is also health tested to ensure the best results for the Whoodle puppies and to help the breed overall. One thing to note is that they only have one litter a year, which may affect availability and waiting times for these Whoodles.
Their Whoodle puppies for sale come with a sample of dog food, a 1-year health guarantee, dog toys, and a blanket to help them adjust well to your home. While they don't ship their puppies, they can meet you at the Austin-Bergstrom International Airport to pick up your puppy!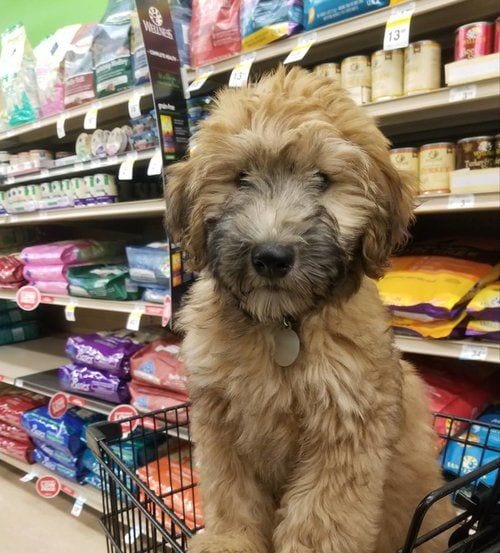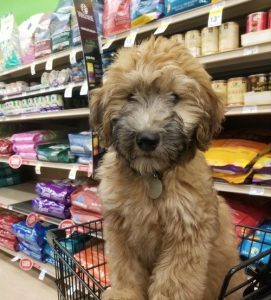 5. Feathers and Fleece Farm Whoodles
Find your next furry friend with the team at Feathers and Fleece. They breed Whoodles with high health standards and great temperaments. You can find Whoodles in both Standard and Miniature sizes. Their website shares a wide collection of adorable photos that will make you love the breed even more.
Puppies from Feathers and Fleece are highly socialized as they are raised with other dogs. The team pays close attention to both the health of the breeding dogs and the new puppies. Their environment is filled with outdoor spaces and gardens to provide space for dogs to run around and explore.
You can begin your application online if you're interested in adopting a Miniature or Standard Whoodle. Keep in mind that the typical wait time for a Whoodle puppy is between 6-9 months. A waitlist and wait time are normal for a reputable breeder. If you see a breeder with no waitlist and puppies immediately for sale, it may be a scam.
Be sure you're prepared to wait in anticipation for this beautiful crossbreed! Its worth the wait.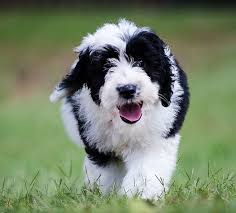 6. Fleury Farm Doodles
Fleury Farm Doodles is a family-run breeder operated out of three family houses. They have been around since 2011 and breed Whoodles, Sheepadoodles, and Bernedoodles. They breed both mini and standard-size doodles. In the past, they have also bred Goldendoodles.
Whoodles raised at their Knoxville home have their tails docked, but Whoodles raised in their North Carolina homes do not. All Whoodle puppies are given the appropriate vaccines and deworming medication. They also offer a 1-year health guarantee.
Fleury Farm Doodles does not ship their puppies, but they may offer personal hand delivery at an additional fee in select special cases.
Fleury Farm Doodles offers a 10% discount to all active duty military families and disabled vets, first responders, and health care workers. They also offer a 50% discount for certified ESA (Emotional Support Animals) puppies.
7. wataWhoodle
wataWhoodle is a breeder out of Northern California. They began their business in 2016 after their family fell in love with and wanted to purchase a Whoodle but realized they were really hard to find, especially in Northern California. They specialize in mini Whoodles, most of which are reddish in color (see photo below; Source: wataWhoodle).
Mini Whoodle puppies from wataWhoodle undergo a thorough veterinary wellness exam. They also come with a Puppy Starter Kit which includes premium dog food, a toy, and a blankie. The owners of wataWhoodle really care about the long-term health of your mini Whoodle. They prefer to make suggestions about which puppy will fit your home life because they really get to know the personalities and behaviors of all their puppies. 
wataWhoodle will not ship puppies. However, they will meet you in the Bay Area or halfway in California for a small fee.
More Details About Whoodle Puppies
Dogs and puppies can come in all shapes and sizes. From large dogs with long legs to stout toy dog breeds that are great for cuddling. Especially when it comes to hybrid breeds that combine two standard dog breeds, you'll see tons of diversity between each dog.
One of those newer hybrid breeds includes the Whoodle. This dog breed mixes a Standard Poodle and a Soft Coated Wheaten Terrier. They're fun to pronounce and even more fun to have around your home. In addition, the Whoodle can also go by names like Wheatenpoo or Wheatendoodle.
Much of what their coat looks like is determined by how curly or straight the Poodle's hair is. They're often super soft and cuddly, making them great companion pets. Whoodle puppies are known to be a "teddy bear" breed and are called a "velcro dog" because they don't leave your side.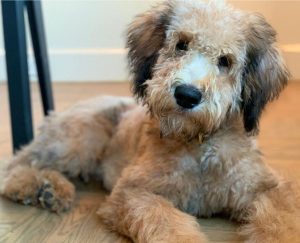 Hypoallergenic Traints
You get some great benefits with a Poodle crossbreed dog when mixing it with a Wheaten Terrier. For example, Poodles are highly intelligent and have coats that often don't shed or cause problems with pet allergies.
Thus, you'll see Whoodles that are frequently nonshedding and hypoallergenic. However, a nonshedding coat requires more frequent grooming practices to keep its coat tangle and matte-free. Like Poodles, their coats can also come in various colors and patterns to keep the breed even more interesting and exciting.
Whoodle Sizing
The size of the Whoodle depends on the parent's size. Typically, the Poodle parent can be a Standard, Miniature, or Toy Poodle, which affects a Whoodle puppy's size.
Wheaten Terriers usually come in a more consistent sizing method. Overall, these Whoodles typically grow to be between 20 and 45 pounds as adults. Their personalities and temperaments are often highly active, but they enjoy being around people and playing. Their friendliness and high energy levels make them great companions for kids of all ages. 
Why Shouldn't I Get a Whoodle?
Owning a dog is a big responsibility. It is important to consider the pros and cons of any given breed before taking on that responsibility. You need to ensure that your lifestyle supports your cute new Whoodle puppy. Below are some of the potential downsides of the Whoodle.
Whoodles are Energetic!
The may be a pro to some people but a con to others. Whoodles are very hyper and active dogs. They need exercise daily to manage their energy and prevent them from getting bored and blue. Leaving them home alone for most of the day is not recommended.
You can expect to take your Whoodle for an hour-long walk every day and play with them at home or in the yard. Whoodles need lots of space to run and let off some steam, so train them to walk off the leash and allow them to run around freely.
Better yet, give them free rein of your garden – provided it's large enough for them to run around for hours.
Whoodles might not be the best dog breed for people who are gone long hours of the day and who don't want to pay for a dog walker or sitter. Whoodles need lots of love and attention to keep them happy and content.
Too much energy built up within a dog can lead to aggressive tendencies or boredom behaviors such as chewing or biting. Not enough exercise can make your dog more likely to experience anxiety or depression.
Whoodles Can Be Difficult to Train
Whoodles are not the easiest breed to train. Although they are a smart dog breed, they also have lots of energy, making it difficult for them to focus on the task at hand.
The mixture of active and smart also plays a hand in how stubborn the Whoodle can be. They'll often test your limits and focus more on playing around than learning new tricks.
However, if you keep a firm mindset and don't give in to the cuteness of this dog, you should be able to show them who's boss. Whoodles can also be easier to train when they have started learning from a young age.
You must begin training your Whoodle, like many other breeds, within a few weeks of getting them home. Dogs develop very quickly in the first months of their lives, which is also when they're most impressionable.
Starting their training during this time can help them learn that training is a normal part of their routine, and they will (hopefully) be more likely to listen to you. The longer you put off training your dog, the harder it will be to get them to listen and learn with you.
Aggression (Very Low Probability)
Whoodles are a very friendly dog breed on the whole, so aggressive isn't the first word that springs to mind when thinking of the Whoodle. This dog can make friends with anyone they meet, including adults, children, and other animals.
Whoodles are a mixed breed between Wheaten Terriers and Poodles. The former breed can be considered very active and with high energy. This might come off as aggression to some people who don't know or like dogs.
Wheatons have also been known sometimes to show aggression to dogs of the same sex. However, this is not every Wheaton and does not mean that every Whoodle will adopt this trait too.
Poodles are not considered aggressive dogs, although they might get anxious, leading to aggressive behaviors. Again, this may not be passed down to your Whoodle. If it is, you can often manage it through training and socialization. You can also prevent your dog from getting anxious.
Overall, Whoodles are not aggressive dogs. However, they are more likely to show aggressive tendencies if their parents do. Whoodles also need proper training and socialization from a young age to prevent them from becoming aggressive, much like any dog.
Conclusion for Whoodle Breeders in the U.S.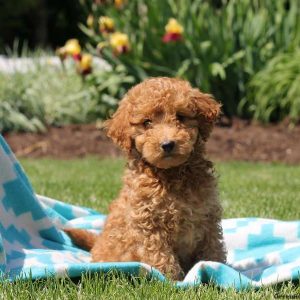 With their adorable appearance and bright and lively personality, a Whoodle can be a great addition to your family. Their non-shedding coat makes it easy on dog allergies and clean-up. In addition, their extreme friendliness makes them helpful companions for children of all ages.
Use this list of Whoodle breeders to discover a new puppy that's just right for your family. Be sure to do your research as you identify your family's needs and how a breeder may be able to match what you're looking for. We always suggest you ask for health and genetic testing and request to visit the breeder before putting down a deposit! Best of luck finding your next Whoodle puppy!
Other articles you will like:
Interested in learning more about the Whoodle Dog Breed? Check out the YouTube video below:
FAQs about Whoodle Puppies / Whoodle Breeders
How much do Whoodle puppies cost?
Whoodle puppies of all sizes cost approximately $2400-3200. You can also expect to pay a non-refundable deposit of $200-500 (the average is about $300). This does not include travel to visit the breeder/pick up the puppy in person, which we highly recommend.
How do I find Whoodle puppies near me?
There are a lot of places in the U.S. that do not have a reputable Whoodle breeder nearby. We always recommend checking out PuppySpot first. They have tons of experience transporting puppies and will ship your puppy to you. 
If you do not use PuppySpot, we recommend you invest in traveling to see the breeder from which you intend to purchase your Whoodle puppy. Consider this part of the cost of purchasing a dog. If possible, you should visit the breeder before placing a deposit down for a Whoodle puppy. This way, you can ensure the breeder is reputable, ethical, and not a scam. Most breeders also appreciate forming a relationship with you so they can check in on the dog and ensure its long-term health.
Do Whoodles bark a lot?
Every dog barks a little bit, but Whoodles aren't considered big barkers. While they are small dogs, they aren't yappy or bark at every single thing they see or hear. Having said that, Whoodles will bark when they think they are in danger. So, if your Whoodle is barking, take it as a sign that something is wrong and check out the problem.
Most of the time, it will be a simple mistake on your dog's part, but make sure to calm them down so that they're not so stressed.
Dogs that haven't been properly trained from a young age are more likely to bark than dogs that have. So, if your dog has come from an untrusted breeder, they're more likely to bark.
Barking is also often a learned behavior and, therefore, can be picked up during a dog's immature stage when they are the most impressionable. So, if you have another dog who barks a lot, your Whoodle is likelier to learn that this is acceptable behavior and start barking too.
Can Whoodles swim?
Yes, most Whoodles can swim, and they will swim if they're allowed in a body of water such as the ocean or a lake. However, this isn't to mean that every Whoodle likes to swim. Some dogs just don't like water and therefore won't want to swim when you take them near the water.
That said, most Whoodles love the outdoors and will do anything to stay outside for as long as possible. If this means getting into the water and swimming, then so be it. Whoodles often like treading water, chasing insects on top of the water, or simply taking a dip to cool down.
Swimming can be an excellent way to release energy, and as the Whoodle is a highly energetic dog, this can be an excellent activity to get them into.
You can train your dog to like swimming from an early age of around 4 months old. Introducing them to the water needs to be a positive experience to prevent traumatizing them to water.
Once your dog has started to enjoy the water, you can throw a toy into the water and allow them to fetch it and bring it back to you. This is a great way to burn their energy using swimming. Just make sure that you stop when they start getting tired.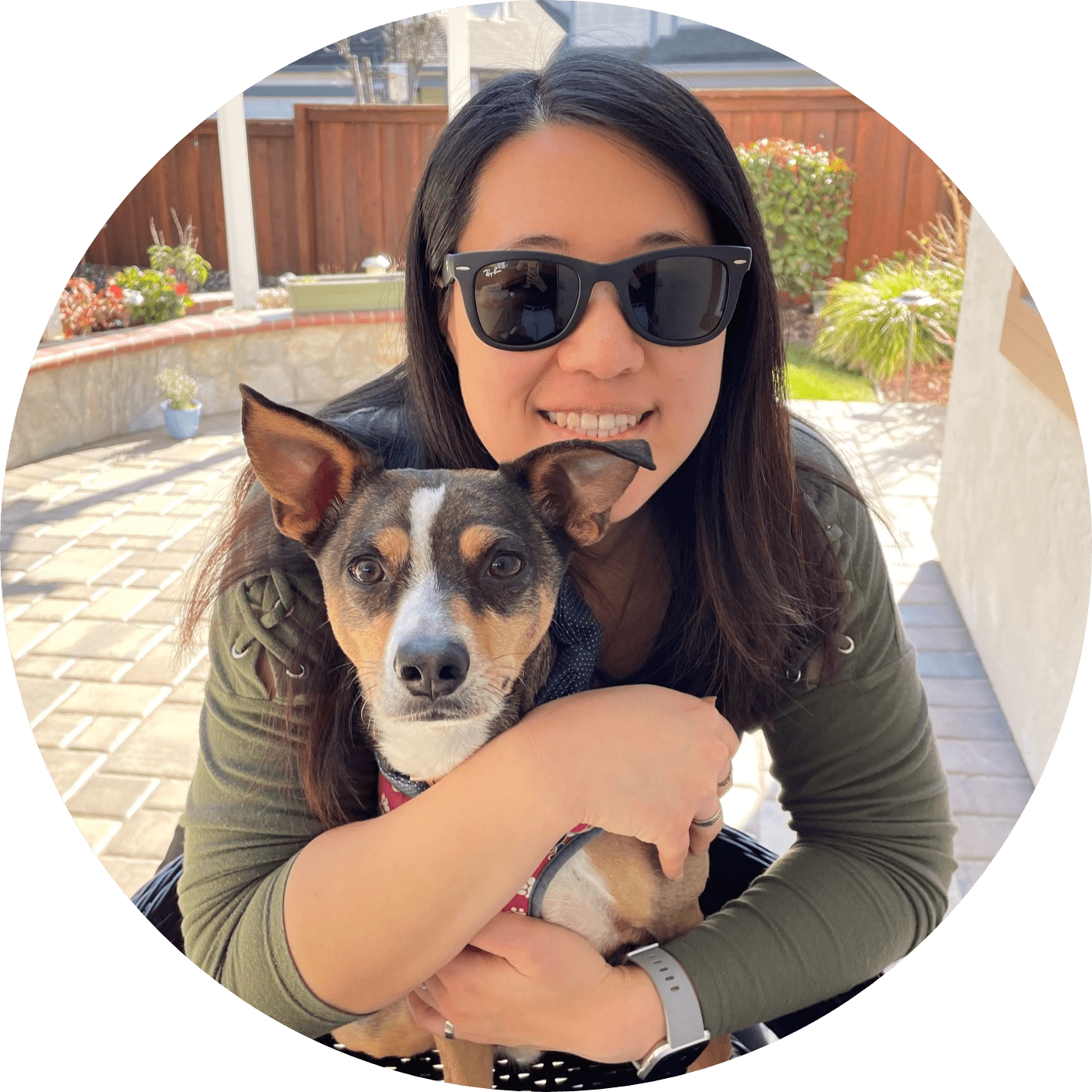 Dr. Sabrina Kong graduated from the Royal Veterinary College in England in 2016 and has been working at a small animal clinic in Northern California since then. She grew up in the Bay Area and got her bachelor's degree from Cal Poly San Luis Obispo. She also became a Certified Canine Rehabilitation Practitioner through a program at the University of Tennessee.
When she isn't in the clinic taking care of her four-legged patients, she enjoys traveling and trying new foods with her friends and her three-legged dog, Apollo. She adopted Apollo from her clinic when he was a puppy with numerous health issues. Dr. Kong truly cares about taking care of animals.