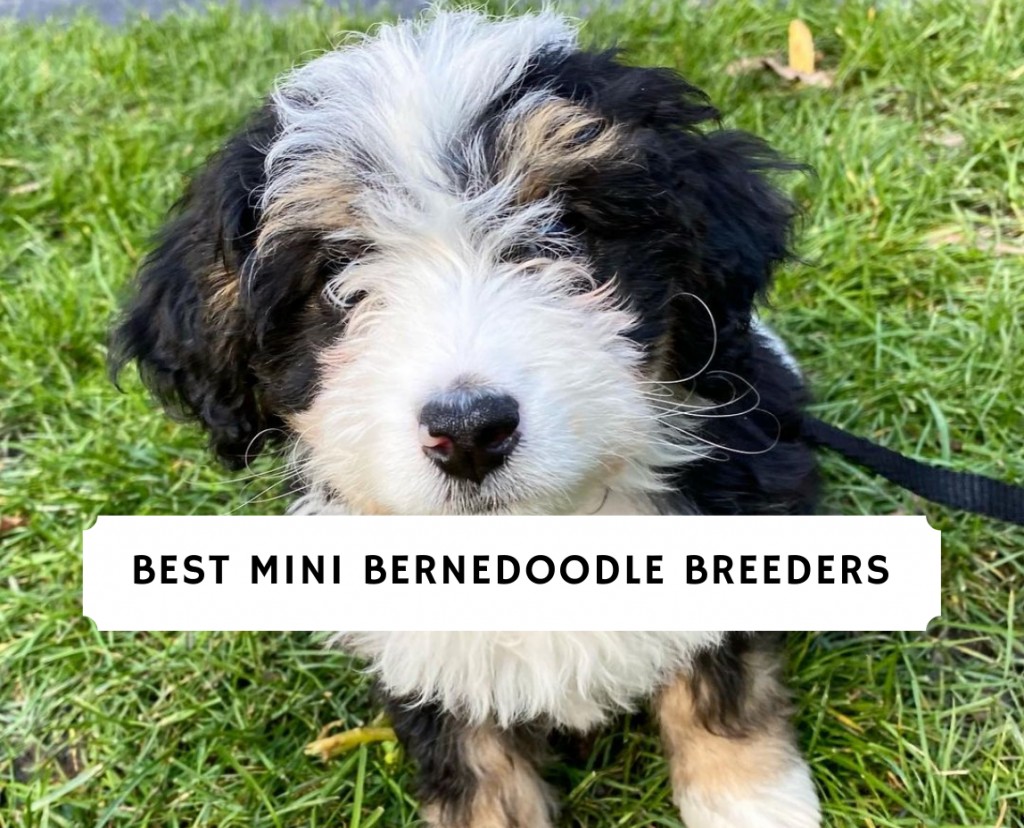 The mini Bernedoodle has become one of the most popular doodle dogs due to its small size. Like other hybrid dogs that have "Doodle" in the name, the Mini Bernedoodle is a mix between a Miniature Poodle and a Bernese Mountain dog. With two beautiful dogs as parents, the Bernedoodle is a gorgeous dog you can't help but fall in love with.
However, not all miniature Bernedoodle breeders are the same and you'll notice significant differences in breeding practices between operations. For instance, we came across several puppy mills that don't health or genetic check the parent dogs. This is a concern because this breeder could be passing known genetic issues to their mini Bernedoodle puppies. With the increasing popularity of this dog breed, there are tons of mini Bernedoodle puppies for sale, but not all are going to be healthy and happy.
Other articles you might like: Mini Bernedoodle Breeders on the East Coast and Mini Goldendoodle Breeders.
Mini Bernedoodle Breeders in the United States
Whether you've been sold on a mini Bernedoodle for years or have just discovered the joy of this dog breed, you can find a furry friend that's just right for you and your lifestyle. Wherever you are in the United States, you can be within a reasonable distance of a reputable breeder with miniature Bernedoodles to share. In several instances, you can even find a mini Bernedoodle breeder who can meet you at their local airport or safely ship you a puppy for an additional cost.
To help get you started in your research in finding the right puppy, we created a list of the best mini Bernedoodle breeders in the United States that are registered by the United Bernedoodle Registry. We also verified health testing, genetic testing, and the breeder's reputation. You'll also find contact information if you're interested in learning more.
Mini Bernedoodle breeding practices change all the time, so always make sure to ask any particular breeder questions about their dog's health and try to view their facilities. In addition, always check if they offer a puppy warranty and have any previous testimonials.
1. Creekside Puppy Adoptions
Creekside Puppy Adoptions is a family of breeders that is located in Central Illinois but can ship your puppy all around the United States. Creekside Puppy Adoptions' top priority is the health and well-being of all parents and mini Bernedoodle puppies alike. The owner, Clint, has been born and raised in the country and has been passionate about raising healthy miniature Bernedoodle puppies his whole life.
Creekside Puppy Adoption socializes all of their puppies with adults and children. They feel this is very important to get a well-balanced and well-cared-for puppy that will be a great fit for you and your family. Creekside Puppy Adoptions mission is to improve the Bernedoodle breed by carefully selecting each parent and making sure that they meet all highest expectations. They are such a unique breed that is a great choice for families or anyone looking for a companion.
At Creekside Puppy Adoptions you will find they have two different mini Bernedoodle sizes. They will have the F1 (first generation) mini Bernedoodles which are approximately 30 to 40 pounds and F1B (second generation) miniature Bernedoodles which will be approximately 20-30 pounds. They also offer a variety of coat colors like tri-color and merle colors. The health and well-being of each puppy are the highest of priorities. Each puppy will be up-to-date on all vaccinations and wormer, they will also have a health check at seven weeks by a veterinarian and will come to you microchipped.
Each Bernedoodle puppy will also come to you with a health guarantee along with all medical records. Creekside Puppy Adoptions offers ground transportation all across the United States. Also, check out Creekside Puppy adoptions for all other designer breeds that they have to offer.
Mini Bernedoode Breeder Information:
Location: Arcola, Illinois. They can transport your puppy all around the United States.
Website: Creekside Puppy Adoptions
Phone: 217-549-6555
The Bernedoodle dog breed is becoming more popular every year which means that introducing a puppy into your home could take you longer than expected because waitlists are long. One problem you'd have to deal with is getting accepted onto the waiting list which could be 1+ years long from reputable breeders. Fortunately, PuppySpot makes your journey for a mini Bernedoodle puppy easy. They are a highly reputable marketplace with a vision to connect families with trustworthy breeders. They interview all their breeders with the USDA to make sure that you aren't purchasing a Bernedoodle from a puppy mill.
When you're navigating through the website for a Bernedoodle puppy, you'll have the option to see how much the mom dog and dad dog weighed prior to giving birth. If you're looking for a miniature Bernedoodle puppy, you'll ideally want something less than 40 pounds. You can even choose whether you want a male or female Bernedoodle, the generation, and more specific features like coat color. You'll notice a massive difference between using PuppySpot and contacting each breeder on your own. Before searching for a compatible Bernedoodle puppy on the website, you should probably know that breeders are all screened before they can list anything to the marketplace. We highly recommend you using PuppySpot for your next mini Bernedoodle.
Update: PuppySpot has given our blog readers an exclusive coupon for a new puppy. Use code WLD100 at checkout for $100 off!
Mini Bernedoodle Breeder Information
As the leading Bernedoodle puppy service provider, Premier Pups, does more than just sell puppies. They are all about the entire puppy buying experience – from the beginning of your inquiry to the safe delivery. They make getting a mini Bernedoodle puppy easy for you.
The process from finding the ideal mini Bernedoodle breeder to teaching their clients how to properly settle their puppies into their new home is what Premier Pups is all about.
The team at Premier Pups provides the best puppy adoption experience in the country. The whole process is transparent and hassle-free, making the company different from others in the market.
Additionally, you get a ten-year puppy replacement guarantee and a cash medical reimbursement guarantee with your purchase. You won't find any other individual breeder offering these health warranties for a mini Bernedoodle.
They have USDA-compliant miniature Bernedoodle breeders with a particular focus on the health and well-being of the puppies. Furthermore, they also make routine visits and regularly evaluate their breeders. We highly suggest you check them out if you are looking for an affordable mini Bernedoodle breeder with the longest health guarantee.
Update: Premier Pups is offering our readers a $250 discount with code WLD250. This is very generous of them.
Mini Bernedoodle Breeder Information
4. Highfalutin Furry Babies – Florida
Raised from quality pedigrees, the mini Bernedoodle puppies at Highfalutin Furry Babies are given the care and attention to help them grow up strong and healthy. Their mini Bernedoodles are known for being great companion pets as well as therapy and service dogs.
In fact, the Bernedoodle breeding operation was inspired by the owner's daughter who is deaf. She found empowerment and support with her Bernedoodle puppy and wanted to share the experience with others.
With their sole focus on breeding Bernedoodles, the team at Highfalutin Furry Babies is dedicated to sharing the healthiest and best-fitting puppies for your family. They offer a wide range of sizes of Bernedoodles including miniature, micro, and standard.
The team is also passionate about being involved in the community and seeing how their furry friends can support and help others. Their commitment to the health of their Bernedoodles is a key priority. With family at the focus, they are passionate about inspiring others with the joy that comes with Bernedoodle puppies.
If you're interested in securing your own puppy, you can complete an application and be added to the waitlist until the next mini Bernedoodle litter. As you get ready, they provide you a wealth of resources and materials to help you move forward in welcoming your puppy home.
Mini Bernedoodle Breeder Information
5. KB Ranch Doodles – Texas
With over 12 years of experience, the team at KB Ranch Doodles knows their mini Bernedoodle puppies by heart. They raise both Bernedoodles and Aussiedoodles in their own home and horse training facility in Aubrey, Texas. With great socialization and training opportunities, their miniature Bernedoodle puppies will be ready to be part of your family.
Each of their mini Bernedoodle puppies comes with a two-year genetic health guarantee along with lifetime support to help you as you welcome your puppy home. They also offer a range of training options and other helpful resources to help you be equipped and confident in making your puppy part of your family. Their mini Bernedoodles are on the slightly bigger side of the spectrum so don't expect a micro, tiny, or teacup-sized dog.
As these puppies are in high demand, their availability is limited, but they do have a waitlist. If you're interested, be sure to reach out and start the application process. Submitting a non-refundable reservation fee can be your next step in getting your mini Bernedoodle puppy.
Mini Bernedoodle Breeder Information
6. Buckeye Ridge Bernedoodles – Ohio
For Paul and Angie Jewell, mini Bernedoodle puppies are their true passion. They began breeding Australian Labradoodles in 2003 and added Bernedoodle puppies to their breeding list starting in 2013. Their home is located on 12 acres of land where their Bernedoodle puppies and dogs are given space to live and play. They won't be stuck in kennels like a puppy mill.
With genetically cleared Bernedoodle parents and a two-year health guarantee, you can be confident in the quality and health of these miniature Bernedoodle puppies. They hold their breeding dogs to the highest standards and want to ensure that each puppy lives a happy and healthy life. In addition, they continue to learn more about dog breeding practices and how to best improve the health of both puppies and breeding dogs.
Each mini Bernedoodle puppy is trained and cared for to help them be strong and social. Paul and Angie also offer lifetime support so you can call them for help in training or medical history information. If you're interested in one of their mini Bernedoodle puppies, you can complete an application and ask to be put on their waitlist for the next available litter.
Mini Bernedoodle Breeder Information
7. Above and Beyond Standards – North Carolina
Choose the doodle dog breed that's right for you with options of Bernedoodles, Poodles, and Goldendoodles all in one place. The team at Above and Beyond Standards offers a wide range of mini puppies that come in different colors and with different temperaments. While they typically focus on standard and traditional dogs their variety is worth considering.
Each mini Bernedoodle puppy comes with a 2 to 3-year health guarantee and has parents that have been cleared. As the puppies are in high demand, it's helpful to get on a waitlist if you're interested in one of their puppies. The experience with Above and Beyond Standards also comes with training through AviDog and supplements through NuVet.
Your dog will be healthy and happy when they're ready to join your family. Not only do they emphasize the health and wellness of their puppies, but they also ensure that they are well-behaved and socialized to be ready for your family. This mini Bernedoodle breeder seriously cares about the future health of their puppies.
Mini Bernedoodle Breeder Information
8. Alpine Bernedoodles – Colorado
With years of experience in veterinarian work and a passion for pets, the team at Alpine Bernedoodles is delighted to share the beauty of the Bernedoodle. They specialize in breeding miniature varieties of tricolored Bernedoodles.
As this breed is a hybrid dog, they can't guarantee the exact look and temperament of each mini Bernedoodle puppy, but they ensure its health and well-being. On their website, you can view a wide collection of photos of past and upcoming litters to get a feel of what one of their Bernedoodles will look like in terms of size and coat color.
As you get ready to welcome your new furry friend home, this breeder helps you with the transition and provides a health guarantee for all their mini Bernedoodles. They also provide a lot of resources and helpful guides to common questions about Bernedoodle puppies. This is a miniature Bernedoodle breeder that you can trust and is going to be there to help guide you.
To reserve your spot on their waiting list, you'll need to submit a non-refundable deposit as well as a completed puppy application. When they have mini Bernedoodle puppies available and it's your turn to choose your puppy, you can browse their availability and make your selection. Due to their smaller size, Mini Bernedoodles are ready to be placed with a family once they are just 8 weeks old.
Mini Bernedoodle Breeder Information
Location: Montrose, Colorado
Email: ThunderRiverRanch@yahoo.com
Phone: (970) 901-5892
9. Shady Oaks Doodles
Shady Oaks is mini Bernedoodle breeder based out of San Diego, California, that can deliver puppies with a private flight nanny anywhere throughout the United States. Not only do they health test all their puppies, but they also have a deep understanding of coat genetics so they can provide you with a mostly nonshedding and hypoallergenic puppy. Additionally, all their miniature Bernedoodle puppies are multi-generation since they spent years perfecting their coat and genetics. Thus, genetic testing allows them to understand and know exactly what each litter is going to produce.
In addition, all their breeding dogs are carefully selected for health, temperament, and structure. They live in loving homes and are treated like family with the best possible care. Additionally, they have a wonderful flight nanny who can deliver your puppy directly to you.
To reserve a puppy, they have a small deposit of $100 which is fully refundable if your Bernedoodle doesn't turn out as you want it to. Most other breeders will charge you significantly more. The actual purchase of a mini Bernedoodle puppy is done at the litter appointment where you will spend time with the puppy that you purchased.
If you're looking for an extremely high-quality miniature Bernedoodle breeder then we highly suggest that you reach out to Shady Oaks. The owner's name is Becca and she loves talking to customers. You can also take a look at their Google My Business reviews which shows outstanding reviews and testimonials from past clients.
Mini Bernedoode Breeder Information:
Choosing a Mini Bernedoodle Breeder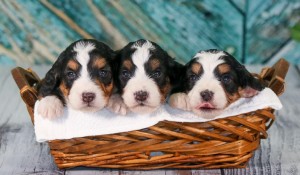 With their beauty and fun personalities, Mini Bernedoodles can be a delight to add to your family and lifestyle. No matter where you live, you can be in close proximity to a reputable breeder that puts the health and well-being of their dogs first and are operations you can trust.
If you didn't find a mini Bernedoodle breeder that interested you on our list, be sure to do your own research to find a breeder and location that's a good fit for you and what you're looking for. Get started on your quest for the perfect puppy by researching your area and the availability of breeders. While you may need to be put on a waiting list due to the popularity of these mini puppies the wait will be worth it.
In general, we always recommend that you tour the breeding facility to make sure that you aren't buying from a puppy mill. Verify that their mini Bernedoodles have adequate space to run around and aren't stuck in a kennel all day. Also, ask about their puppy socialization and if they start any crate, potty, or behavioral training. It's important that you find a miniature Bernedoodle breeder you can trust because you want a healthy and happy puppy.
More Information About Mini Bernedoodle Puppies
These colorful and lively dogs are known for being friendly and affectionate with people and children of all ages. They tend to have the intelligence and furry coats of the Poodle, yet they also have the loyal personality and friendliness of the Bernese Mountain dog. According to the United Bernedoodle Registry (UBR), the miniature Bernedoodle ranges from 25-45 pounds and can reach up to 18-22 inches tall at the shoulder. There are smaller Bernedoodle sizes such as the Tiny Bernedoodle and Micro Bernedoodle, but we don't recommend those sizes due to health concerns.
As with most hybrid breeds, there may be a bit of variance in the exact look and temperament of a mixed mini Bernedoodle puppy. As a result, litters oftentimes don't look identical and you'll see puppies with different coat colors, different coat types, and different sizes. However, with that diversity comes the opportunity to pick out a miniature Bernedoodle puppy that fits your preferences and family lifestyle best.
Some miniature Bernedoodles may have a slightly higher level of intelligence than others. With a mixed breed, breeders can't guarantee exactly what your puppy be since most Bernedoodles are a combination of two opposite dog breeds. Yet for many families and breeders, that diversity and non-uniformity is something that makes this hybrid dog so interesting and loveable.
Frequently Asked Questions
Who are the best Bernedoodle breeders?
The best Bernedoodle breeders have a passion for the breed and are dedicated to producing healthy dogs with good temperaments.
They should be knowledgeable about the Bernese Mountain Dog and Poodle breeds and be able to answer any questions you may have about the Bernedoodle. A good breeder can also provide reviews from other satisfied customers. 
Before adopting or purchasing a dog, carefully research the breed that will best suit your lifestyle. You should always avoid puppy mills and get your dog through a reputable breeder or recognized animal shelter.
What is the best mini Bernedoodle generation?
We created a video below to help explain the differences between F1, F1B, F1BB, F2, F2B, and F3 mini Bernedoodles. This will help you decide which generation to get from a breeder.
How much should I pay for a mini Bernedoodle?
The price of a mini Bernedoodle will vary depending on the breeder, the generation of the dog, and the coat type. Mini Bernedoodles can range in price from $1,500 to $3,000. The best way to find a reputable breeder is to research and look at reviews. You can also check out online Bernedoodle forums to get opinions from other dog owners.
Are mini Bernedoodles barkers?
Some mini Bernedoodles may bark more than others, but this tends to be breed-related and not an indication of how good or bad a dog will be as a pet. 
Mini Bernedoodles that are well-socialized and have been appropriately trained are typically good with other pets and children. Mini Bernedoodles are not excessive barkers, but if you leave your dog alone for long periods, he may become prone to excessive barking, separation anxiety, and even depression. 
You should also keep your Bernedoodle well socialized and trained. Make sure you have enough time to spend with your mini Bernedoodle before adopting or purchasing.
Do mini Bernedoodles have health issues?
Mini Bernedoodles are generally healthy dogs, but like all breeds, they can be prone to specific health conditions. They may be prone to health issues from the Poodle or the Bernese Mountain Dog.
Be sure to speak with the breeder about any health concerns you may have. Some of the most common health issues that mini Bernedoodles can experience include hip dysplasia, elbow dysplasia, and von Willebrand's disease. 
They may also be prone to skin issues like hot spots and obesity, so it's essential to ensure they get enough exercise and eat a healthy diet.
By choosing a reputable breeder, you can help avoid some common health issues through genetic testing of the parents. Be sure to do the following when purchasing a mini Bernedoodle:
Opt for a reputable Bernedoodle breeder
Genetic testing will allow you to see what your pup may be predisposed to regarding common health issues.
Feed your pup high-quality dog food throughout his lifetime
Ensure regular veterinary care
Purchase pet health insurance to ensure that your mini Bernedoodle always gets the care he needs as soon as he needs it.
Avoid obesity with regular exercise and dog sports. Regular dog walks and long hikes allow for a healthier dog, just as in pet parents.
Engage in safe activity dog sports like swimming and hiking
If you have a senior mini Bernedoodle, transition to a senior diet to help keep pounds off and manage kidney disease and other ailments that come with old age.
Conclusion for the Best Mini Bernedoodle Breeders
Miniature Bernedoodles puppies for sale are popping up all throughout the United States. In order to select the right puppy, you'll have to do tons of research to ensure you're getting a healthy dog. Remember that not all mini Bernedoodle breeders are the same. In order to get a healthy dog, you'll need to verify health checks, genetic tests, ask for a puppy warranty, and make sure you find a breeder you can trust. We hope our list helped you find your next miniature puppy!
Check out these other articles:
Garrett loves animals and is a huge advocate for all Doodle dog breeds. He owns his own Goldendoodle named Kona. In addition, he volunteers at the Humane Society of Silicon Valley, where he fosters dogs and helps animals. Garrett enjoys writing about Doodles and believes that dogs can teach humans more about how to live than humans can teach a dog.
Why Trust We Love Doodles?
At We Love Doodles, we're a team of writers, veterinarians, and puppy trainers that love dogs. Our team of qualified experts researches and provides reliable information on a wide range of dog topics. Our reviews are based on customer feedback, hands-on testing, and in-depth analysis. We are fully transparent and honest to our community of dog owners and future owners.