Whether you're looking for a Standard, Mini, or Toy Bernedoodle, these multi-color living teddy bears will be an excellent addition to your family. Bernedoodles mix the best of both worlds from the Bernese Mountain Dog and the Poodle. The gentle Bernese Mountain dog brings its fun-loving and loyal personality while the Poodle brings its hypoallergic non-shedding coat.
Bernedoodles will do anything for the love and approval of their owner. This loyalty trait combined with the Poodle's love for an active household requires a moderate amount of mental stimulation and attention every day. The easy-going temperament also makes the Bernedoodle a great dog to have around children. 
Finding a good breeder that upholds the highest breeding standards for a Bernedoodle can be a little tough. That's why we have created a list of the top 7 Bernedoodle breeders in Michigan. Every breeder on the list subscribes to the highest standards of breeding Bernedoodles and has their dogs registered with organizations such as AKC. If you're looking for Bernedoodle puppies in Michigan then we certainly got you covered.
Other articles you would like: Labradoodle Breeders in Michigan and Cavapoo Breeders in Michigan.
Premier Pups is the #1 puppy marketplace in the US for getting small breed puppies like miniature Bernedoodles. They are a family of dog lovers dedicated to providing a convenient way to deliver your chosen puppy to your doorstep. You can also FaceTime before buying your puppy. The best aspect about purchasing a Bernedoodle puppy from them is that you get a 10-year health guarantee.
They offer numerous delivery options to choose from. You can get your puppy delivered to you via an inflight nanny at an extremely affordable price. Their devoted team and travel partners prioritize your puppy's health and well-being and ensure your puppy's safe arrival. 
Once you're done with the adoption process and formalities, they coordinate the best time and date to fly your puppy to your nearest major airport. They also send you an email with your Berendoodle puppy's travel information and their Puppy Care Guide. You'll also get a link to follow your puppy's flight and search for the location of your cargo facility.
Premier Pups is offering our readers a $250 off exclusive coupon with code WLD250. You won't find this coupon anywhere else. It makes their Bernedoodle puppies extremely affordable.
Bernedoodle Puppy Information:
Generation: All Generations
Size: Miniature Bernedoodle Puppies
Bernedoodle Breeder Details:
We placed PuppySpot on the first of this list for numerous reasons. You might be expecting an individual Bernedoodle breeder but PuppySpot is entirely different. PuppySpot is a marketplace for people in search of puppies and introducing them to their homes in the most efficient way possible. In case you're wondering, PuppySpot doesn't allow Bernedoodle puppy mills to be listed on their platform. In fact – they're against puppy mills. PuppySpot requires all Bernedoodle breeders to go through a 100-point screening process before the listing even begins. This process is backed by the American Kennel Club (AKC). To show you how strict this marketplace is, the acceptance rate for applicants is fewer than 10%.
PuppySpot has over 8,000 positive reviews and is trusted by over 200,000 families around the United States. We highly recommend checking out PuppySpot for your Bernedoodle companion and if it doesn't turn out the way you want it – continue down this list of breeders. We had a great experience with PuppySpot because there wasn't a long waitlist and you can select the exact Bernedoodle puppy you want since you can sort by gender, age, coat color, and size. If the Bernedoodle puppy you find isn't located in Michigan, they will fly it out to you safely.
Bernedoodle Puppy Information:
Generation: F1, F1b, F2, F2B, and Multi-generational Bernedoodle puppies
Size: Miniature, Medium, and Standard Bernedoodle puppies
Bernedoodle Breeder Details:
3. Great Lake Bernedoodles Michigan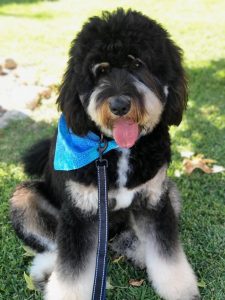 Great Lakes Bernedoodles are a breeder in Southwest Michigan. They specialize in F1, F1b, F1bb, and Multigenerational Standard Bernedoodles. Most of their breeding dogs live in their home with their 4 children so you can ensure they are well socialized. The rest live in loving hand-selected guardian homes close to Stevensville, Michigan.
Their litters are born and raised in their home to ensure each pup receives hands-on attention and close monitoring. They start their Bernedoodle puppies on early potty training, walking on a leash and basic commands to make sure that their new owners can easily train the puppies.
Aside from this, Great Lakes Bernedoodles in Michigan also exposes their puppies to a variety of Neurological stimulation to ensure the pups are familiar with different sounds and simulations.
Each pup comes with a 1-year health warranty. These Bernedoodle puppies price depends on the coat color but generally start at $1500. For the price, overall care, and health warranty, there are one of the most reputable Bernedoodle breeders in Michigan.
Bernedoodle Puppy Information:
Generation: F1, F1b, F1bb, Multigenerational Bernedoodle puppies
Size: Standard Bernedoodle puppies
Bernedoodle Breeder Details:
Location: Berrien County, Michigan
Address: Stevensville, MI 49127
Telephone: 269-757-2972
Website: www.greatlakesbernedoodles.com
Email: greatlakesbernedoodles@gmail.com
4. Kandi Sweet Bernedoodles MI
Kandi Sweet Bernedoodles MI are F1b Bernedoodle breeders in Byron Center, Michigan. The family-owned breeding business has been in operation for over 15 years which is one of the oldest Bernedoodle breeders in Michigan. They started raising Bernedoodles about 11 years ago and haven't looked back since.
All their dogs are family pets and enjoy snuggling up with their family of 7 in their home. They don't believe in kennels and most of their litters are booked months, sometimes years, in advance. You'll have to put a deposit down and wait on the waitlist if you want one of their Bernedoodle puppies in Michigan.
Each puppy comes with a 3-year health guarantee which is over and above what many Bernedoodle breeders cover. If you don't live in the U.S., Kandi sweet Bernedoodles offer international shipping. Be sure to check the country's policies on pets' quarantine as Kandi Sweet doesn't ship to countries that place puppies in quarantine for over 5 days.
Bernedoodle Puppy Information:
Generation: F1 Bernedoodle puppies
Size: Mini, Standard Bernedoodle puppies
Bernedoodle Breeder Details:
5. Storybook Bernedoodles Michigan
Update (3/24/2022): We no longer recommend this breeder due to multiple complaints.
Storybook Bernedoodles Michigan is one for the books. They are dedicated to breeding the best Bernedoodle puppies while maintaining the highest breeding standards. All their contributing dogs are registered with AKC and go through comprehensive health and genetic clearances.
They breed Mini and Standard Bernedoodles with a variety of coat colors like tri-color, merle, sable, and parti-factored coat patterns. Each puppy comes with a 2-year comprehensive health guarantee, puppy package, and records. If you're looking for Bernedoodle puppies in Michigan that have unique coat colors, this is your breeder.
They raise the Bernedoodle pups in their home and to match them with their new owners. They undergo a puppy aptitude test to ensure that each potential owner is correctly matched with a dog. They use the test as a gauge for the puppy's temperament and what traits s/he will have as the years go by.
This is a terrific addition for new dog owners to avoid unwelcome surprises down the road. For instance, if your potential puppy's result comes back as a 1 or a 6, the puppy might need a lot of training down the road and might respond to a firm and experienced owner. The puppy might also not be ideal for families with small children or elderly folks as they can be prone to biting under stress.
Storybook's Bernedoodles price starts at $2500 for bi-color pups, $2800 for puppies with phantom marking, $3000 for puppies with excellent Bi-color markings, $3200 for tri-color puppies and $3500 for the correctly marked Tri-color puppies. This Bernedoodle breeder in Michigan differentiates itself from the rest of the breeders by offering lots of colors.
Bernedoodle Puppy Information:
Generation: F1, F1B Bernedoodle puppies
Size: Mini, Standard Bernedoodle puppies
Bernedoodle Breeder Details:
6. Bearcreek Bernedoodles MI
Bearcreek Bernedoodles MI started 9 years ago with a beautiful Bernedoodle named Mulligan. Originally, the Bearcreek family had dreamed of buying and owning a Bernese Mountain dog. When the time came to own the dog, their son broke out in serious hives within minutes of playing with a Bernese Mountain puppy.
This is where the search for an allergy-free dog in the doodle world begun. Months later, they were blessed with beautiful Mulligan who still lives with them today.
All their breeding dogs are AKC registered and live in Kent County, Michigan with their family. They also raise the Bernedoodle puppies in their home until they are ready to go to their forever homes.
Bearcreek Bernedoodles price their Bernedoodles according to coat color or pattern. Puppies with an abstract coat start at $1700, puppies with particolored coats start at $2000, phantom colored puppies at $2500, and tri-color puppies at $3500. 
Bernedoodle Puppy Information:
Generation: F1, F1b Bernedoodle puppies
Size: Mini, Standard Bernedoodle puppies
Bernedoodle Breeder Details:
7. Bear Paws Bernedoodles
Bear Paws Bernedoodles has been breeding Bernedoodles for the past 5 years. They are in the heart of the Great Lakes Regions in Michigan.
Most of their dogs live in loving Guardian homes and their litters are raised in their homes. The Bernedoodle puppies come with a 3-year health guarantee. Puppy prices start at $4500. They usually have multiple litters in April and May. They require a deposit of $500 for a spot on the waiting list.
Bernedoodle Puppy Information:
Generation: F1, F1b Bernedoodle puppies
Size: Mini, Standard Bernedoodle puppies
Bernedoodle Breeder Details:
Bernedoodle Puppies in Michigan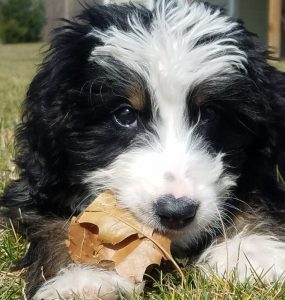 Michigan is a great environment to raise your new Bernedoodle. However, you must take special precautions as Bernedoodles just like Bernese Mountain dogs overheat in hot weather because of their thick coats.
We highly recommend you trim your Bernedoodle's coat during the hotter months and give them easy access to water. If you can install air conditioning indoors, that will also help them cool off. Overall, Michigan is a great place to raise a Bernedoodle puppy.
How to Choose a Bernedoodle Breeder in Michigan?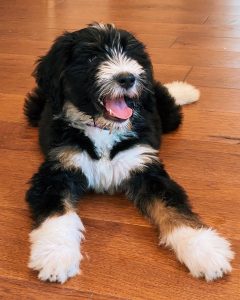 There are tons of good Bernedoodle breeders in Michigan. You can start with our list. If you would like to explore more breeders, here are a few handy tips to help you out.
Research – This cannot be emphasized enough. Research the breeder's experience, the number of litters per year, tools they use to socialize the pups, health records, and references. This will help you make an informed choice about which breeder is the best to buy from your new Bernedoodle. You can also request to meet the parents and based on the meeting, you can decide if you are comfortable with your new puppy exhibiting some of the traits you have seen in the parents.
Check Health Testing – When you ask for the health records, be keen to check what kind of health testing the dog has undergone. Generally, dogs should have their elbows, hips, ears, eyes, and heart tested. These tests are quite expensive but a great breeder will do it. Also, remember to ask for vaccination records for your new puppies.
Check their health guarantee. A good breeder should be able to provide lifetime support and a health guarantee of at least 1 year.
Conclusion for Bernedoodle Puppies in Michigan
Bernedoodles require a lot of time and money. If you're a busy person and time is a bit of a strain, a Bernedoodle might not be an ideal choice for you. For instance, Bernedoodles require a lot of time and attention as they grow up. They need daily grooming and they can develop separation anxiety if you spend a lot of time away from them.
If you have time and energy for a Bernedoodle, go for it! Generally, Bernedoodles can adapt to a variety of lifestyles whether you love to run, hike, or take frequent walks. We hope we made your research easier and you found a Berndoodle puppy in Michigan.
Garrett loves animals and is a huge advocate for all Doodle dog breeds. He owns his own Goldendoodle named Kona. In addition, he volunteers at the Humane Society of Silicon Valley, where he fosters dogs and helps animals. Garrett enjoys writing about Doodles and believes that dogs can teach humans more about how to live than humans can teach a dog.
Why Trust We Love Doodles?
At We Love Doodles, we're a team of writers, veterinarians, and puppy trainers that love dogs. Our team of qualified experts researches and provides reliable information on a wide range of dog topics. Our reviews are based on customer feedback, hands-on testing, and in-depth analysis. We are fully transparent and honest to our community of dog owners and future owners.