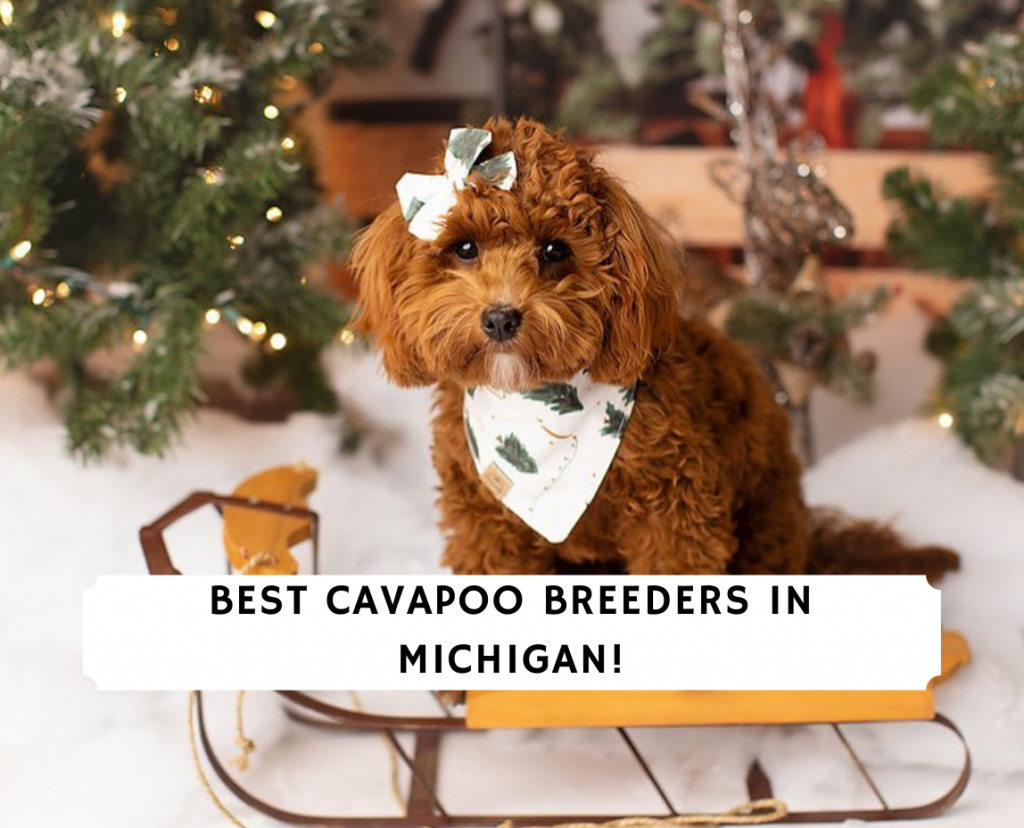 Cavapoos are a small dog breed that started in Australia when designer breeders decided to intentionally cross a Poodle with a King Charles Cavalier Spaniel. Both of these dogs are small and have rather high grooming needs, but the Cavapoo is beautiful and well-tempered. In addition, the Cavapoo is a hypoallergenic and nonshedding dog.
This is a breed of dog that would be a great addition to any family. Whether it is a single person or a larger family with small children, a responsibly bred Cavapoo will adjust seamlessly and become a great companion pet.
The problem for Michigan families or individuals looking for a Cavapoo is making sure they have found a reputable breeder to purchase a puppy from. Reputable Cavapoo breeders in Michigan are the ones who breed for health and temperament. They take the care of their Cavapoo puppies and make sure that preventable genetic conditions are not passed to the puppies by doing a series of health and genetic testing before an adult is allowed in the breeding program.
We have done our research and found the most reputable Cavapoo breeders in Michigan and surrounding states. Even with our research, it is important to do your own due diligence once you have decided which breeder you want to purchase from. Before committing to a puppy make sure you ask for a visit to ensure you aren't purchasing from a puppy mill. Since Cavapoos are a relatively new and fast-growing dog breed, we saw tons of backyard breeders and puppy mills in Michigan.
Other articles you will like: Cavapoo Rescues for Adoption and Cavapoo vs Goldendoodle.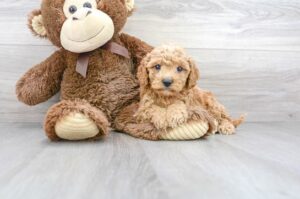 Premier Pups facilitates small breed puppies' smooth and hassle-free adoption process into their forever homes. They have various breeds to choose from and deliver them safely to your home. They are very similar to PuppySpot, but significantly lower in price. We recommend these marketplaces because there are tons of scams going on where "breeders" will take your deposit without giving you a dog. We've personally bought puppies from these marketplaces so we can vouch for them.
Their goal is to eliminate the hassle of starting your journey with a new, happy, healthy puppy. You get options where you can choose from the different categories of small puppy breeds along with the proper information about them. You can even ask for FaceTime with your chosen Cavapoo puppy and the parent dogs' health information.
Premier Pups has a nationwide delivery option through airways, roadways, and local pickup options. Your puppy will be flown in an airline-approved pet carrier and a temperature-controlled pressurized cabin.
Each puppy goes through a detailed health checkup before leaving for its forever home. All their Cavapoo puppies are dewormed, vaccinated, and come with a 10-year health guarantee.
Update: Premier Pups offers $250 for a new puppy with code WLD250. This makes their pricing very affordable.
Cavapoo Breeder Information
PuppySpot is a responsible, safe, and convenient platform to find your next Cavapoo puppy. They exist to connect dog-loving humans looking for a new puppy to top-quality breeders in the USA. To date, they have shipped more than 225,000 puppies to people looking for puppies.
The community primarily focuses on the puppy's health and well-being. They have achieved their objective as can be seen from the 10k customers who have rated them with genuine 5-star reviews.
Every Cavapoo breeder they work with has to pass a strict screening procedure that goes above USDA and state-regulated provisions. Moreover, they remove any breeder who doesn't continue to stick to the rules and guidelines. This breeder selection process is approved by the AKC.
When you get a puppy from PuppySpot, they take care of all the details, such as matching families with trustworthy breeders and ensuring that you get the exact breed puppy you asked for. 
PuppySpot understands that they are responsible for the joy you will get when your puppy snuggles into your arms and realizes it's home. They also give you a 10-year health warranty which is the longest of any of the dog breeders on our list.
Cavapoo Breeder Information
3. Sleeping Bear Kennels Michigan
One of the few Cavapoo breeders that are actually based in Michigan is Sleeping Bear Kennels. They have an amazing Cavapoo breeding program that has shown true dedication to the puppies in their care.
The Cavapoo dogs and puppies that come from Sleeping Bear Kennels have such amazing temperaments that they can be used as therapy dogs. There are many different types of therapy and service dogs and the Cavapoos from Sleeping Bear are known for multiple therapy dog disciplines. This is a true testament to their temperament and obedience.
Reputable Cavapoo breeders in Michigan will always breed for temperament and health. If a breeder is not reputable they will only care about the volume of puppies they can produce and the amount of profit they can make. Sleeping Bear Kennels is the very opposite of a puppy mill or backyard breeder. All of the adult Cavapoos in the program are health and genetic tested before they have a single litter of puppies. They also pay attention to the temperament of the parents.
This particular breeding program does focus on different coat colors for their dogs. The primary colors are red Cavapoo puppies as well as red and white Cavapoo puppies. Their Cavapoo puppies in Michigan don't have a ton of different coat colors. This breeder says this is because they want to focus on the temperament of the puppies rather than adding more colors.
Sleeping Bear Kennels does have a waiting list for their Cavapoo puppies for sale in Michigan. This is a good sign because this means puppies aren't born without already having a home lined up. The waiting list is currently five months long, but this is significantly shorter than it has been in the past. A typical waitlist is 18-24 months from a reputable Cavapoo breeder in Michigan.
There are an application and a deposit required to get on the waiting list. Their Cavapoo puppies for sale in Michigan cost $3500 regardless of the gender of the puppy. Sleeping Bear requires a $500 deposit that is non-refundable to reserve one of their puppies.
This kennel doesn't just breed puppies, but they also have other services to offer as well. They do online training courses as well as running an online shop with all of the Cavapoo puppy and dog necessities you will ever need. If you are interested in purchasing a puppy from Sleeping Bear Kennels or just want some more information, contact them at the information below.
Cavapoo Breeder Information
Location: Kalamazoo, Michigan. 40 minutes from Grand Rapids, Michigan.
Email: info@sleepingbearkennels.com
Telephone: (269) 998-5526
Facebook: Social Media
4. Smooch My Pups Cavapoos Michigan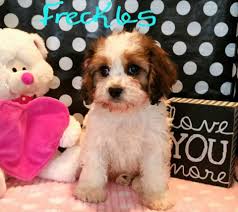 Smooch My Pups is a small Cavapoo and Cavachon breeder in Fairhaven, Michigan. Their website is not as regularly updated as their Facebook page, which is where they do most of their business. They are very responsive to text and Facebook messages and actually say that it is the preferred method of contact.
All of the Cavapoo puppies in Michigan are born in their own home and are watched constantly during the first few weeks of life. This is to ensure that the Cavapoo puppies are eating well and are healthy. They are not a puppy mill but are classified more like a small hobby breeder. The owners are dedicated to the health and well-being of the adult dogs in their program as well as the Cavapoo puppies.
The best way to get the most up-to-date information is to go to their Facebook page and look through the posts. This is where all of the upcoming litter information is as well as which Cavapoo puppies are for sale in Michigan. There are pictures of the litters as they grow as well as the parents.
The Cavapoo puppies in Michigan range in price from $3500 to $5500 depending on gender, color, and size. The best way to secure a puppy from a future litter is by texting and sending a Facebook message to express interest.
It is also helpful to follow the Facebook page closely for updates and when they can be contacted for an upcoming litter. If you aren't local to Fairhaven, Michigan, and it isn't within driving distance then you can arrange shipment but it will add around $600 to the cost of one of their Cavapoo puppies.
Cavapoo Breeder Information
5. Foxglove Farms Cavapoo Puppies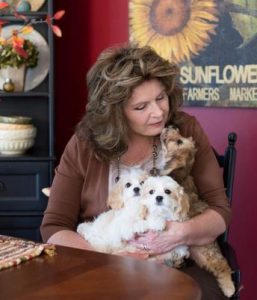 Foxglove Farms is not located in Michigan, but they are in the neighboring state of Ohio. This location makes it convenient for Michigan families and puppy purchasers to drive across state lines to pick up their new family member.
They are a reputable and amazing breeder specializing in Cavapoos and Cavachons. The owner wants nothing more than the health and happiness of the adults in her program as well as the puppies as they settle into new homes.
The breeder has worked with dogs in many capacities over the years as a breeder, vet tech, and dog-friendly bed and breakfast owner. She is knowledgeable and wants to share that knowledge with the families who take the Cavapoo puppies home. She has written an e-book on raising puppies and has an online shop full of great products and gear for dogs.
Foxglove makes purchasing a Cavapoo puppy easy as they list each puppy that is available along with the price. You will still need to fill out an application but you can choose a puppy by the picture. If you aren't within driving distance, they do offer to ship but you have to pay for flight nanny services because they won't fly them in cargo. This could be a convenient option if you want your puppy directly flown to you in Michigan.
All of the adults in the program are screened for health and genetic issues and the breeding adults are treated like family pets, not just money makers. The website has a plethora of information that can help new owners of a Foxglove Farms Cavapoo.
They also aim to educate those interested in adding a Cavapoo to the family as well as owners of other breeds that may need some help in the puppy phase.
Cavapoo Breeder Information
Location: Lucas, OH
Email: foxglovedesignerpuppies@gmail.com
Telephone: 419-552-6670
Facebook: Social Media
6. Darling Doodles & Poos Puppies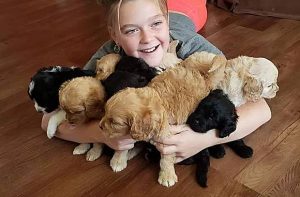 This another breeder that made our list who is from another surrounding state. This breeder is located in Wisconsin so it is a great location for those further West in Michigan. Because the reputable Cavapoo breeders in Michigan are scarce, it was important to add some out of state breeders to give you more options.
Darling Doodles & Poos breeds Cavapoos and Cockapoos. There is always a waiting list for their puppies so it is important to contact them as soon as you have decided to purchase a puppy from them to get on the list.
The way they match puppies with the new families is a little bit different from other Cavapoo breeders in Michigan. They make sure the future puppy owner and the puppy are matched well in terms of temperament and lifestyle. The matching is done in order of deposit.
For a certain litter, if you put the deposit down first then you essentially get first pick. They arrange a meet and greet at 8 weeks old and allow the new owners, in order of deposit, to meet and play with all of the puppies. Once your puppy chooses you, it is time to pay the final amount and go home with your new family member.
If you are interested in getting on the waiting list to reserve a Cavapoo puppy, the breeders ask that you call them.
Cavapoo Breeder Information
Conclusion for Cavapoo Breeders in Michigan
There are only a few Cavapoo breeders in Michigan that were reputable. We highly recommend that you do your own research if you're to purchase a Cavapoo puppy in Michigan. Always verify that the breeder's health check, genetic check, and socialize their dogs. You don't want to support a backyard breeder or puppy mill because they may be selling you an unhealthy dog with genetic diseases. 
Check out these other articles:
Garrett loves animals and is a huge advocate for all Doodle dog breeds. He owns his own Goldendoodle named Kona. In addition, he volunteers at the Humane Society of Silicon Valley, where he fosters dogs and helps animals. Garrett enjoys writing about Doodles and believes that dogs can teach humans more about how to live than humans can teach a dog.
Why Trust We Love Doodles?
At We Love Doodles, we're a team of writers, veterinarians, and puppy trainers that love dogs. Our team of qualified experts researches and provides reliable information on a wide range of dog topics. Our reviews are based on customer feedback, hands-on testing, and in-depth analysis. We are fully transparent and honest to our community of dog owners and future owners.