Cavapoos are a cross between a King Charles Cavalier Spaniel and a Poodle. These dogs are typically very small, have a hypoallergenic coat, and love to play outside. The Cavapoo designer breed has become very popular over the years with many families wanting a small, low-shedding, hypoallergenic dog for their families. However, it can be difficult to find reputable Cavapoo breeders in Ohio since there are many puppy mills and backyard breeders.
If you are looking for Cavapoo puppies in Ohio then we can help. We have done tons of independent research and rounded up information on four reputable breeders in Ohio. While we feel confident that none of these breeders are puppy mills, it is important to investigate more for yourself before purchasing a puppy. Always ask the breeder questions about health, genetic testing, and temperament of your dog.
We did our best to weed out potential puppy mills and keep them off of our list. However, the internet is not always honest and some may have snuck in, so you'll need to vet the kennel on your own, too.
These Cavapoo breeders are located all over Ohio so it is likely there will be one within driving distance of you. While some of them will likely meet you halfway, we do encourage you to visit the facilities so you know how and where the Cavapoo puppy has been raised. You can also meet the parent dogs.
Other articles you might like: Bernedoodle Breeders in Ohio and Labradoodle Breeders in Ohio.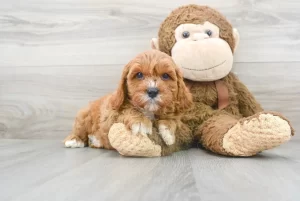 Premier Pups is one of the Top Cavapoo breeders in Ohio that we highly recommend. They specialize in breeding over 40 breeds, designer and purebreds alike and have been a top Cavapoo breeder in Ohio for well over a decade.
From recommending the right breed to delivering the puppy to your door, Premier Pups is with you every step of the way. And the experience doesn't end after you purchase your puppy from them. They have knowledgeable Puppy Agents that are available 24/7 to answer all your questions before and after you adopt. Their website has a vast collection of informative articles and blogs to help guide you through your puppy's upbringing. You can find thousands of photos and honest reviews from their customers, and you have the option to share your experience and puppy photos on their site as well.
Premier Pups is committed to raising happy and healthy puppies, and they back up this commitment with a 10-year health guarantee, which is the longest guarantee anyone offers and a clear sign of ethical practices. If you are out of state, they also have several nationwide delivery options to choose from. Their Cavapoo puppies are socialized, health-tested, and raised in a family environment, and by the time they reach 8 weeks of age, they are ready for a smooth transition to their new homes.
With Premier Pups, there are no waiting lists and no trace of a puppy mill. They have been in the business for several years and have a wide network of licensed and registered breeders that are passionate about raising puppies but also held to the highest standards.
Cavapoo Breeder Details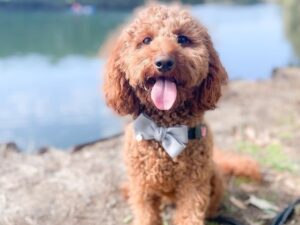 PuppySpot is by far one of the most reputable places to buy a Cavapoo puppy. The biggest benefits of buying from PuppySpot are that you won't have to wait for a puppy, you won't have to screen a bunch of different Maltipoo breeders, and you won't be supporting a puppy mill.
We got one of our Goldendoodles from PuppySpot and the experience was awesome. We were able to sort for our ideal puppy by coat color, size, weight, price, and age. Once we found our ideal puppy, PuppySpot was able to get it to me because they have their own airline to safely transport a dog.
PuppySpot also does all the Cavapoo breeder screening and verifies that they are licensed, registered, and not a puppy mill. They have such a thorough screening process that less than 10% of all breeders make the list. Their process is backed by the American Kennel Club (AKC) and they have happily sold over 220,000 puppies. We highly recommend PuppySpot if you're looking for a Cavapoo puppy in Ohio.
Cavapoo Breeder Details
3. Maple Hill Doodles Ohio
Like so many breeders of poodle mixes, Maple Hill Doodles was born out of a need for a hypoallergenic dog. Now, a larger breeding operation that still treats all of the dogs like family, they have come a long way from that one Poodle in 2001. This is one of the oldest Cavapoo breeders in Ohio.
Now they breed all kinds of doodles including Cavapoos, Goldendoodles, and Labradoodles. At the beginning of Maple Hill Doodles, they were really just a very small hobby breeder with just one or two litters a year. Since they were a young growing family, they wanted to be able to only have the dogs they could focus on.
Now that their children are older and a part of the breeding operation as active helpers, they have been focused on growing Maple Hill Doodles into one of the premier places for Cavapoo puppies in Ohio.
If you are looking for a reputable Cavapoo breeder that has put their heart and soul for 20 years in the dogs that they breed then you can't go wrong with Maple Hill Doodles in Ohio. Whether you get a Cavapoo or fall in love with one of the other breeds, you will go home with an exceptional dog.
Because they have become such a large operation, they do utilize the guardian program so all of the dogs are a member of a family. To get a Maple Hill Cavapoo it will cost you anywhere from $2000 – $2100 for a bouncy bundle of hypoallergenic fur. They also require a deposit of $300 which will go toward the total cost of a Cavapoo, but it is non-refundable.
Cavapoo Breeder Details
4. Kate's Puppies OH
Kate's Cavapoos is a breeder that is located in Sugar Creek, Ohio. The website states that the breeding operation is located on a farm that goes on for acres. This gives the puppies and adults the ability to run around a play in the fresh air daily without being constricted to a kennel. They do breed many different small breeds.
Some of the stock is purebred while other puppies are considered designer breeds like the Cavapoo. They are completely against puppy mills and are committed to the health and safety of the puppies and adults through ethical breeding.
All of the puppies do come with a health guarantee that is fully outlined on the website. We do recommend that you carefully read any guarantees or contracts that breeders put on their website. This will give you a lot of information about who you are dealing with.
Kate's Cavapoo puppies in Ohio do offer you the ability to visit the dogs but you have to call ahead and make an appointment. This will help protect the puppies from illness. They do not actively list Cavapoos on their website but you can contact them for information on litters.
Cavapoo Breeder Details
Location: Sugar Creek, OH. About 1.5 hours east of Columbus, Ohio. About 1.5 hours south of Cleveland, Ohio.
Website: katespuppies.com
Telephone: 303-663-1848
5. Foxglove Farms Ohio
Foxglove Farms is a well-known Cavapoo breeder in Lucas, OH. The owner is absolutely dedicated to the care and keeping of her puppies and adults. Unlike some of the other breeders that we have listed, Foxglove Farms only breeds Cavapoo puppies and Cavachon Puppies. The owner likes to specialize in these two designer breeders so they can be the absolute best puppies. Since Foxglove specializes in one dog type, we consider them one of the top Cavapoo breeders in Ohio.
The owner of Foxglove is not just a breeder but she has even authored an ebook to help new dog owners adjust to life with a puppy. The title is "New Puppy 101- A Busy Mom's Guide to Life with a New Puppy." She really wants to help those that go home with one of her Cavapoo puppies in Ohio. She wants the family and the dog to thrive in their new environment.
The owner also has many years of experience with dogs. She has been handling, training, and breeding dogs of various types for over 30 years. This shows her level of dedication and experience raising puppies like Cavapoos.
The Cavapoo puppy prices start at $2500 but can go all the way up to $6500. They come with the usual puppy package, health papers, care kit, etc. There are also different Cavapoo puppy care products for sale on the Foxglove website. If you need your puppy to be shipped they won't just send the puppy alone on a flight. However, they do offer an inflight nanny service so your puppy can ride in the cabin.
We are pretty sure there is a deposit but the purchase process is slightly different so we don't know what it is. Most of the puppies are put on the site are for sale after they are born. This breeder doesn't seem to have a typical deposit and waitlist like most other breeders in Ohio.
The best thing to do if you have questions is to give them a call or send an email.
Cavapoo Breeder Details
6. Our Family Cavaliers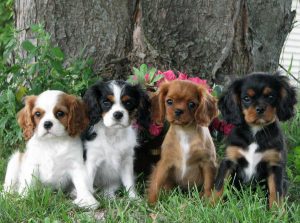 When you first go to this website the landing page does not read "family breeding operation." It actually reads "pet store." I almost clicked away to look for another Cavapoo breeder in Ohio but decided to explore a little more.
As I scrolled down I began reading more about this breeder and found out that they are not a pet store. This is actually a family farm and breeding operation for Cavapoo puppies in Ohio. The puppies and adults get to be outside a great deal. You can actually go visit their farm and see for yourself. They just ask that you call first so they can make sure they are home.
They only have two breeds that they sell, the Cavapoo and King Cavalier. This is usually a pretty good sign that a breeder is not a puppy mill when they only have one or two breeds. However, there are plenty of breeders that have many different dog breeds and are still reputable.
Their Cavapoo puppies in Ohio are actually very reasonably priced starting at $1200. The puppies are listed as when are old enough to go home. We didn't see where there was a waiting list or a way to reserve the puppies other than clicking on the picture of the available puppy you want.
We assume there is a deposit but you have to go through the reservation process to find out what it is. There are a few ways to contact them to ask questions if you have them. They don't talk about health guarantees or what puppies come with so you might want to ask before you reserve a puppy.
Cavapoo Breeder Details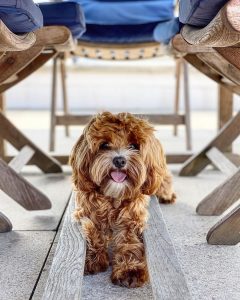 Conclusion for Cavapoo Puppies in Ohio
Cavapoo puppies in Ohio are in high demand because they don't shed much hair and are considered hypoallergenic. In addition, they look like cute teddy bears and have an easygoing temperament. If you're looking for reputable Cavapoo breeders in Ohio, you can't go wrong starting with our list. However, always do your own individual research and ask your breeder several questions before purchasing your puppy. Cavapoos live over 12 years, so you want to make sure they come from a healthy lineage.
Other articles you will like: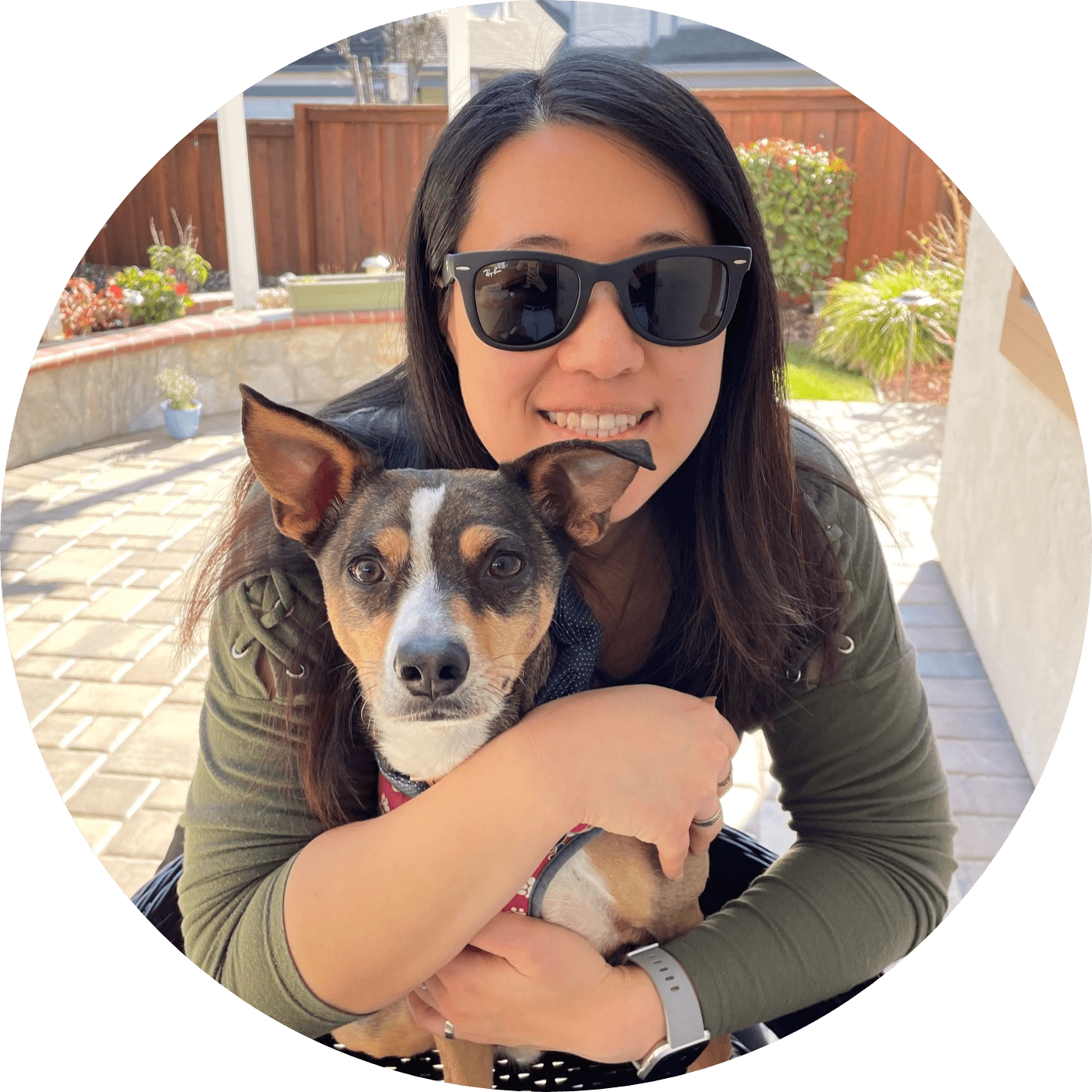 Dr. Sabrina Kong graduated from the Royal Veterinary College in England in 2016 and has been working at a small animal clinic in Northern California since then. She grew up in the Bay Area and got her bachelor's degree from Cal Poly San Luis Obispo. She also became a Certified Canine Rehabilitation Practitioner through a program at the University of Tennessee.
When she isn't in the clinic taking care of her four-legged patients, she enjoys traveling and trying new foods with her friends and her three-legged dog, Apollo. She adopted Apollo from her clinic when he was a puppy with numerous health issues. Dr. Kong truly cares about taking care of animals.