Before scrolling down this guide, "How Long Do Cavapoos Live," you can check out these similar posts from We Love Doodles: How Long Do Whippets Live and How Long Do Pitbulls Live?
How Many Years Can a Cavapoo Live?
The average Cavapoo lifespan is between 10 to 15 years, but these dogs can live for much longer. Of course, nothing can guarantee how long your Cavapoo will live, but knowing your Cavapoo's pedigree can help you get a better picture of its life expectancy.
Cavapoo Guides: When is a Cavapoo Full Grown and Cavapoo Pros and Cons.
Factors That Can Benefit a Cavapoo's Lifespan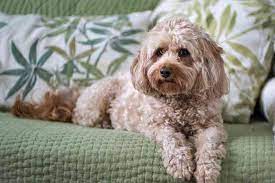 Although a healthy lifestyle doesn't guarantee to extend Cavapoo life expectancy, it does increase the likelihood. Research shows that stress and anxiety correlate with disease risk and shorter life expectancy.
So, keeping Cavapoos happy and healthy can help them live longer. You can do several things to ensure that your Cavapoo is happily living its best life.
1. Healthy Diet
Your Cavapoo is entirely dependent on you for food. Therefore, it's ultimately your responsibility to ensure that your Cavapoo eats a healthy diet.
Related: Best Dog Food with Vitamins and Minerals.
2. High-Quality Dog Food
The first thing you want to do is make sure that your Cavapoo eats a high-quality diet. Always check dog food ingredient lists to make sure that they include healthy ingredients.
In general, the first ingredient should be natural, whole meat protein, such as deboned chicken, beef, or salmon. Meat meal is acceptable, but avoid foods that contain meat by-product meal.
Meat by-product meal is very ambiguous, and it isn't easy to know exactly what's inside it. Another ingredient to avoid is unhealthy carbohydrate fillers, such as corn gluten meal.
Dogs are omnivores, so they do need some carbohydrates in their diet. Therefore, it's better to find dog food formulas with nutritious carbohydrates, such as whole oats, pearled barley, and sweet potato.
Related: Best Dog Food For Joint Health.
3. Balanced Recipes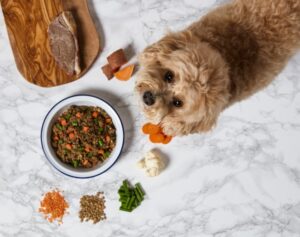 Contrary to popular belief, not all dogs benefit from high-protein diets. Dogs need a good balance of protein, fats, and carbohydrates in their daily diet.
The Association of American Feed Control Officials (AAFCO) recommends selecting diets that consist of at least 18% protein for muscle maintenance for adult dogs.
Higher energy dogs can consume more protein, but they shouldn't eat over 30% protein diets. Only owners of highly athletic dogs or working dogs should consider diets that exceed 30% protein.
Cavapoos tend to be high-energy dogs to benefit from dog food with more protein in it. However, they most likely won't need a diet of over 30% protein.
The best way to determine food portions and protein intake is to consult with your veterinarian. You can also keep track of your Cavapoo's weight with a personal scale and do weekly weigh-ins.
4. Age-Appropriate Meals
Dogs of different life stages require different nutritional needs. For example, senior dogs will probably need fortified food or supplements containing glucosamine and chondroitin to support joint health.
As your Cavapoo ages, make sure to include age-related nutrients in its daily diet.
5. Keep Snacks at a Minimum
Not feeding Cavapoos treats is probably one of the hardest things for Cavapoo owners. These adorable dogs have irresistible puppy eyes that make it nearly impossible not to give them a lot of treats.
However, consistently overfeeding your Cavapoo will inevitably lead to canine obesity, and obesity makes significant negative impacts on a Cavapoo's lifespan.
It puts dogs at a higher risk of developing diabetes. In addition, the additional weight can stress their joints, significantly impair their mobility, and cause them to develop joint damage and osteoarthritis.
Recommendations: Best Dog Treat-Dispensing Cameras.
6. Adequate Exercise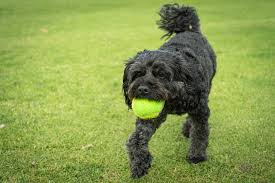 Cavapoos tend to be high-energy dogs, especially if they've inherited more Poodle characteristics. So letting your Cavapoo out to run around in your backyard can be an excellent way to have it let out its initial burst of energy.
However, it may not be stimulating enough to help them reach a relaxed state. Therefore, Cavapoos will benefit significantly from one or two daily walks in their routines.
Walks tend to be more stimulating and enriching for dogs because they allow dogs to explore new areas. Allowing them to stop and sniff can engage their minds and satisfy their curious natures.
Going on walks can also strengthen your bond with your dog because you spend more time together and invest in proper leash training. Since Cavapoos love being with their families, they enjoy going on walks.
Recommendations: Best Dog Playpen For Hardwood Floors.
7. Mental Stimulation
Cavapoos tend to be intelligent and curious dogs, so they also need mental stimulation to stay happy. In addition, since Cavapoos usually love being in the spotlight and center of attention, they can benefit from learning new tricks.
They're susceptible to emotions and vocal tones and tend to respond very well to praise. So, they can pick up on learning tricks pretty quickly, especially if it brings them more attention and admiration.
Cavapoos will also benefit from treat-dispensing toys and puzzles. These types of toys engage their minds and activate their instincts. They can help expend their energy, eventually bringing them to a relaxed and content state.
8. Good Hygiene
Good hygiene can help immensely with protecting your Cavapoo from debilitating diseases.
9. Regular Brushing
Cavapoos tend to have curly hair that needs regular brushing, or they'll end up with a ton of mats in their coats. Sometimes, you may have to brush your Cavapoo every day if you want to keep its coat long and shaggy.
Tangles and mats will tug on your Cavapoo's skin and cause painful irritation. Even more severe cases can lead to skin lesions. Matted coats can also house fleas. Food, feces, and urine can also get stuck in these coats, leading to infections.
If you cannot maintain a Cavapoo's long coat, it's better to take your Cavapoo to the groomer for a haircut regularly. Haircuts will make grooming more manageable.
Related: Best Brush For a Cavapoo.
10. Ear Cleaning
Cavapoos have adorable floppy ears, but these ears are prone to ear infections. Long ears trap moisture more easily, providing optimal conditions for bacterial growth.
Regularly clean your Cavapoo's ears. The best way to clean its ears is to use an ear cleanse. Fill your dog's ear canal with the ear cleanse and massage it into your dog's ear. Then, use absorbent gauze to wipe out the ear canal.
11. Dental Hygiene
Dogs use their mouths for many tasks other than eating. For example, they use their mouths to pick up items, play, and groom themselves. Therefore, when a dog has dental disease, it can significantly impact its quality of life.
You can also give your dog dental chews, sprays, and water additives. However, the best way to keep your Cavapoo's mouth free of plaque and tartar buildup is daily toothbrushing.
Improper dental care will ultimately lead to painful dental diseases and tooth decay. When your dog loses its teeth, it won't enjoy and engage in the same activities as it used to.
Recommendations: Best Dog Dental Wipes.
12. Companionship
Both Poodles and Cavalier King Charles Spaniels are companion dogs that love being around people. They don't do well being by themselves for long periods and can develop stress and separation anxiety. So, Cavapoos will do best in families where at least one person is usually home with them.
If you're in a situation where you have to leave your Cavapoo for longer hours, try to register your dog into doggy daycare. You can also use a dog walking service or hire a reputable pet sitter.
13. Regular Veterinary Appointments
One of the best ways to monitor your Cavapoo's health is to stay on top of veterinarian appointments. Building a good relationship with open communication with your veterinarian can significantly help your Cavapoo.
Your veterinarian can quickly help you determine if your dog's at a healthy weight and keep your dog up to date on vaccines.
Veterinarians can also easily collect blood and fecal samples to determine if your dog has any infections or infestations. They'll also be able to answer any questions on exercise and nutrition.
Potential Hereditary Cavapoo Health Concerns
Cavapoos are relatively healthy dogs, but they also have some hereditary health concerns that they may develop later in life.
1. Patellar Luxation
Patellar luxation is when a dog's patella, or kneecap, keeps getting dislocated or moving out of place. The patella moves out of place when the thigh muscle contracts and the patella draws inside the knee or dislocate.
There are varying degrees of severity of patellar luxation. In milder cases, dogs can learn to kick their leg out and snap the kneecap back in place. They can learn to live with mild cases and not have them affect their lives too much.
For more severe cases, veterinarians can perform surgery that corrects the joint or place an implant inside the knee that keeps the patella in place.
If you notice your dog developing patellar luxation, make sure to go to the veterinarian for a thorough examination. Then, your veterinarian can determine if surgery is necessary.
2. Hip Dysplasia
Hip dysplasia occurs when the ball and socket of the hip grind against each other instead of moving smoothly. The consistent grinding eventually leads to deterioration.
Hip dysplasia usually occurs later in a dog's life, but in rarer cases, puppies can develop it as well. It also varies in severity.
For milder cases, veterinarians can prescribe joint supplements or anti-inflammatory medications. More severe cases can prompt surgery, including reshaping the joint bones or inserting implants.
3. Progressive Retinal Atrophy
Progressive Retinal Atrophy (PRA) is a degenerative disease that affects the eyes, and it can occur in both puppies and dogs. For puppies, the photoreceptor cells in their eyes have abnormal development, which leads to vision impairment.
The photoreceptors begin to deteriorate for older dogs and eventually lead to blindness. There's no effective treatment or surgery for PRA.
However, many dogs cope well with blindness because they rely heavily on other senses. You can help your dog adjust to blindness by creating safe and familiar spaces and being slower to introduce it to new things and environments.
Conclusion For "How Long Do Cavapoos Live"
We hope this guide, "How Long Do Cavapoos Live," helped you understand its lifespan better. Cavapoos are relatively healthy dogs that can live between 10 to 15 years.
Although we can't control everything that impacts its lifespan, there are some things we can do to increase the likelihood of extending it. For example, we can control diet and exercise to a greater extent than preventing the development of hereditary diseases.
Regardless of life expectancy, keeping your Cavapoo happy and healthy is the priority. So, you're sure to have a life filled with happy days when you have a healthy Cavapoo in your life.
If you find this guide, "How Long Do Cavapoos Live," helpful, feel free to check out these similar guides:
You can learn more about the Cavapoo breed by watching "Things You Should Know Before Getting a Cavapoo Puppy" down below: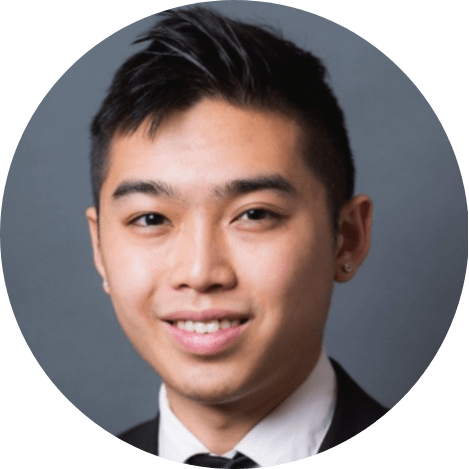 Andy is a full-time animal rescuer and owner of a toy doodle. When he's not saving dogs, Andy is one of our core writers and editors. He has been writing about dogs for over a decade. Andy joined our team because he believes that words are powerful tools that can change a dog's life for the better.
Why Trust We Love Doodles?
At We Love Doodles, we're a team of writers, veterinarians, and puppy trainers that love dogs. Our team of qualified experts researches and provides reliable information on a wide range of dog topics. Our reviews are based on customer feedback, hands-on testing, and in-depth analysis. We are fully transparent and honest to our community of dog owners and future owners.