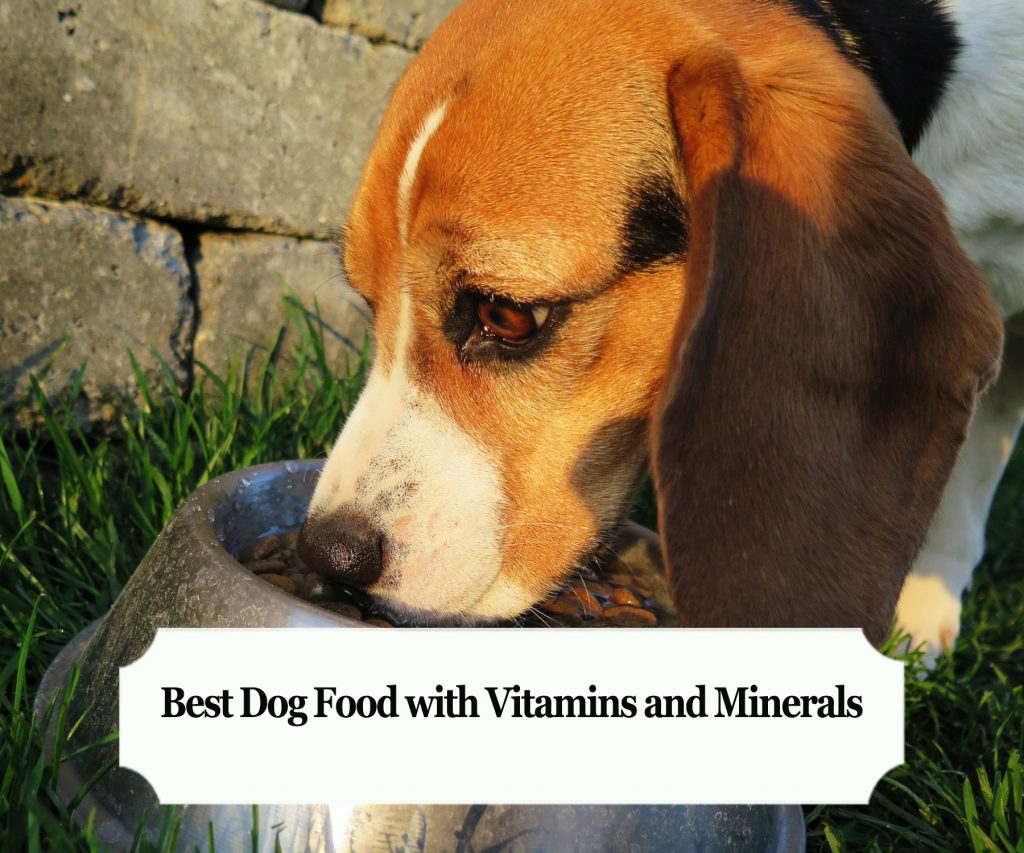 Dogs need to consume vitamins and minerals just like humans do, but their owners often overlook these needs. There are plenty of vitamins and minerals that can benefit your dog which we will be looking at today.
You can get a number of different supplements for your dog that is fortified with these vitamins and minerals, but some owners have their doubts about these products due to the lack of research on them. We're here to tell you that you don't actually need to use a supplement unless your veterinarian advises it – you can simply opt for dog food with vitamins and minerals. 
There are not many dog foods on the market that explicitly state that they have include vitamins and minerals, but that doesn't mean that they're not in the food at all. In fact, many natural dog foods include plenty of vitamins for your dog to benefit from. 
We've done the research and found the best five dog foods with vitamins and minerals on the market right now. We've also included a list of the vitamins and minerals that can benefit your dog in our buyer's guide below so that you can compare it to different dog foods that you're considering. 
In a hurry? Here are the top picks!
Product
Best Overall
Hill's Science
Budget Pick
The Honest Kitchen
Image
We bet that you cannot wait to get your dog started on their new vitamin and mineral enriched diet, which is why we've jumped right to the end where we tell you our favorite dog food with vitamins and minerals.
Spoiler alert, it's Hill's Science Diet Dry Dog Food, and below are some reasons as to why:
Hill's Science is a well-known brand and trusted by a lot of dog owners. 

Plenty of vitamins and minerals to keep your dog in great health. 

Not only are there added nutrients within the formula, but a lot of the ingredients offer great vitamin and mineral benefits as well. 
Hill's Science is a reputable brand of dog food that is trusted by hundreds of dog owners. Their chicken-flavored Sensitive Stomach and Skin kibble is no different, and it also happens to be full of high-quality ingredients, vitamins, and minerals. You can also opt for a 4, 15, 24, or 30-pound bag.
Vitamin E and omega 6 fatty acids are the main nutrients displayed in this food, but there is much more hidden in the ingredients list than just these. You'll find Vitamin C, A, B12, D3, and folic acid among the other added vitamins, and zinc, copper, manganous, calcium, and sodium are the minerals found within. 
All of these nutrients work together to ensure that your dog's health is top-notch throughout their adult life. In addition, the dog kibble is small and therefore much easier to digest than other kibbles on the market. The vitamins and minerals also work to keep your dog's skin and coat happy and healthy.
Merrick's dry kibble food comes in plenty of different flavors so that you can opt for the one your dog is going to enjoy the most. There is also the option for small breed dog food and puppy food. You can opt for a 4, 12, or 25-pound bag of this kibble. 
The ingredients list is packed full of healthy ingredients and the meat product is the first on the list, meaning that your dog is getting plenty of vitamins C, D, and zinc. There are also added mineral amino acids, including zinc, iron, copper, potassium, and cobalt. 
Moreover, this food is fortified with added vitamins including vitamin E, B12, A, and D3. Not only is your dog getting lots of nutrients from the healthy ingredients, but they are also benefiting from the added vitamins and minerals as well.
The Honest Kitchen offers you dehydrated food that you create as and when you need it. It is full of grains and nutrients, and all you have to do is add water and your protein of choice. The great thing about this is that you can choose what meat you want to add in depending on the vitamin and mineral content! 
The first ingredient is sweet potatoes which a great source of vitamin A. The rest of the ingredients are all healthy superfoods that are also sure to provide your dog with plenty of nutrients without the need for supplementation. 
Speaking of vitamins, there are plenty already added into the dehydrated concoction – vitamin E, B12, B1, B5, B2, and D3 can all be found within each serving. Similarly, minerals such as phosphate, potassium, choline, zinc, iron, copper, and sodium are also found within the ingredients list.
Natural Balance ensures that you and your dog are happy no matter what with premium ingredients full of amazing vitamins and minerals. You can choose the right size of the bag you need as well as your choice of protein flavor. Each of the meats is paired with brown rice, an ingredient that is high in minerals such as selenium and copper. 
The manufacturer claims that all essential vitamins and minerals can be found within their Limited Ingredient Diets kibble, so you can trust that your dog is getting a balanced diet. The protein source that you choose will be the first ingredient and therefore the one your dog gets most of, so choose wisely!
Luckily for you, all of the protein options to choose from are rich in nutrients beneficial for your pooch. Thanks to the limited ingredients list there are no added fillers or useless components. This means that every ingredient is actively helping your dog remain strong and healthy.
DOGSWELL offers a canned dog food that comes in three different flavors – chicken, duck, or lamb. You'll get 12 cans that are 13 ounces each for a competitive price. The manufacturer vows that each can come packed with vitamins and essential fatty acids, such as Omega 3 and 6. Vitamin E, A, B12, and D3 are among the vitamins that have been included within the formula for this food. 
Liver and sweet potatoes are very high up on the ingredient list for this food. The liver is full of almost every vitamin that is beneficial for dogs, so the liver is a great ingredient to look out for. Sweet potato is another excellent source of vitamin A. 
Vitamins are not the only nutrient fortified into DOGSWELL Vitality Wet Dog Food, as nutrients are also high up on the ingredient list. Feed your dog this wet food and they will be receiving zinc, iron, copper, manganese, sodium, cobalt, and potassium.
Best Dog Food with Vitamins and Minerals Buying Guide
Now that we've taken a look into the best five dog foods with vitamins and minerals, we're going to talk about what factors you should look for when comparing different options. It's all well and good us telling you that there are vitamins and minerals within a type of food, but how do you know where they're coming from and how to spot them? 
Below we've listed the beneficial vitamins and minerals that dogs can consume, why they're useful, and where you can find them. We've also added some interesting features to consider before committing to a purchase, ensuring that you opt for the best dog food with vitamins and minerals.
Important Vitamins and Minerals for Dogs
Many people overlook feeding their pets vitamins and minerals, but dogs are just like humans when it comes to their consumption needs. They need a balanced diet which includes vitamins and minerals; however, their food doesn't always include as many as they need. Below we'll be looking at the most important vitamins and minerals that need to be implemented into your dog's diet. 
Vitamins
Vitamins are a crucial part of life that need to be consumed for a healthy and fulfilled life.  Plenty of vitamins are found in dog-friendly food and help your puppy to grow and maintain their healthy muscle and tissue. 
Vitamin A is beneficial for growth, immune systems, and cell function.
This vitamin is also good for vision health, so vitamin A is great for older dogs who are beginning to lose their eyesight. You can find vitamin A in carrots, pumpkin, sweet potatoes, eggs, and fish oil. 
Vitamin B There are different types of vitamin B, all of which are very beneficial for dogs and their health.
B6 helps the nervous system, immune system, and red blood cells in the body. B12 also helps enzyme function and vitamin B also helps to keep your dog's energy levels high. You can find vitamin B in whole grains, liver, beans, and green leafy vegetables. 
Vitamin C is an antioxidant that almost everyone knows the importance of. It reduces inflammation and helps brain activity, which is beneficial for both humans and dogs.
Dogs can create their own vitamin C within their livers, but it can't hurt to implement some more into their diets. Vitamin C comes from fruits, organ meats, and vegetables. 
Vitamin D comes from the sun! It helps bone strength and maintenance of their muscles and bones.
To find vitamin D in food, you should look out for fish oil, dairy products, liver, and beef. 
Vitamin E protects your dog from oxidative damage and cell function.
Ensuring that your dog has enough vitamin E in their diets protects their eyes and muscle function, as well as reproductive problems and obesity. You can find vitamin E in plant oils, seeds, whole grains, liver, and green vegetables. 
Vitamin K keeps your dog's blood able to clot should they get hurt.
This is very important should the worst happen. You can find vitamin K in foods containing liver, milk, fish, and leafy greens. 
Minerals
Minerals are similar to vitamins and are all equally important to dogs' health and wellbeing. Here are a few of the most important minerals to look for when choosing your new dog food and where you can find them. 
Calcium is found in dairy products, raw bones, green beans, cauliflower, broccoli, tofu.
Chromium can be found in foods containing lean meats and vegetable oils.
Cobalt is in fruits, vegetables, kidney, and liver.
Copper can be found in nuts, whole grains, brown rice, seafood, and vegetables.
Iodine is found in seafood and dairy products. 
Iron is a mineral that can be within red meat, poultry, fish, eggs, and shellfish. 
Magnesium is commonly found in broccoli, beans, whole grains, spinach, tofu, and seafood.
Manganese can be found in whole grains and leafy greens. 
Phosphorus is within all animal tissues, fish, milk, and eggs. 
Potassium, Chloride, and Sodium can all be found in fruits, vegetables, grains, and milk. 
Selenium can be found in meat, seafood, brown rice, whole grains, and vegetables. 
Sulfur is within all meats, eggs, fish, and milk.
Zinc can be found in yogurt, poultry, beef, whole grains, and vegetables. 
Value For Money
Dog food has a tendency to add up before you even notice the price, so it's important that you pay attention to the price before you end up losing a lot of money.
Some manufacturers fool you into thinking that you're getting a great deal when choosing a dog food, but in reality, you're not getting many serving sizes for the price. 
To avoid wasting money you should divide the overall cost by the number of servings in the bag. This will give you a price per serving that you can compare to your current food.
While we're not advising you to opt for the most inexpensive food available, there is also no reason why you'd have to pay premium prices if you didn't want to. You also want to check the ingredients to make sure there aren't any filler items like corn, meat by-products, or wheat.
Flavors
Some dogs love the taste of anything that they're given and others are pickier with their palette. If your dog is part of the latter, you might want to make sure that they're going to like the flavor of the food before bulk buying for the next year. 
Either pick a primary flavor that you know they love or opt for a smaller sized bag that won't break the bank if it goes to waste. Another option is to opt for a variety of flavors to offer your dog. Doing this will ensure that you at least have one flavor (hopefully!) that your dog will enjoy and eat. 
Conclusion for Best Dog Food with Vitamins and Minerals
We've sorted through several different dog foods to help you find the ones with the most important vitamin and minerals. Most of the time, you won't have to give your dog a vitamin supplement if they eat the correct dog food. All of the dog foods on our list are packed with nutrition including vitamins and minerals to help your dog stay healthy.
Frequently Asked Questions

How do you know if your dog is getting the right vitamins and minerals? 
If your dog is losing weight, seems more lethargic than usual, or dramatically changes in personality, it could be an indication of a lack of nutrients in their diet. If their coat isn't as shiny as it used to be or their skin is beginning to flake, you might want to look into changing diets. 
In our article above we have looked at the different vitamins and minerals that can benefit your dog's health. We've also shown where you can find these nutrients.
The good news is that many of them are found in similar ingredients, such as whole grains and green vegetables.  To help your dog with their vitamin and mineral consumption, you can check the ingredients in their foods. If it is all-natural and fortified with nutrients they should be getting enough vitamins and minerals in their diets. 
You can use the list of vitamins and minerals and where to find them above to compare with the dog foods you're looking for on the market. Our list will allow you to ensure that the food you buy is full of vitamins and minerals rather than filler ingredients. 
Do dogs need vitamin supplements? 
The FDA states that the majority of dogs receive a balanced diet from dog foods that can be found on the market.  As long as the food you're feeding your dogs has an impressive looking ingredient list, you should be fine without supplements. 
However, if you're feeding your dog homemade meals they might need to be fed supplements as well. Your veterinarian might also suggest a multivitamin or supplement if needed. Bear in mind that some dog supplements are better than others in their quality and effectiveness.
Garrett loves animals and is a huge advocate for all Doodle dog breeds. He owns his own Goldendoodle named Kona. In addition, he volunteers at the Humane Society of Silicon Valley, where he fosters dogs and helps animals. Garrett enjoys writing about Doodles and believes that dogs can teach humans more about how to live than humans can teach a dog.
Why Trust We Love Doodles?
At We Love Doodles, we're a team of writers, veterinarians, and puppy trainers that love dogs. Our team of qualified experts researches and provides reliable information on a wide range of dog topics. Our reviews are based on customer feedback, hands-on testing, and in-depth analysis. We are fully transparent and honest to our community of dog owners and future owners.