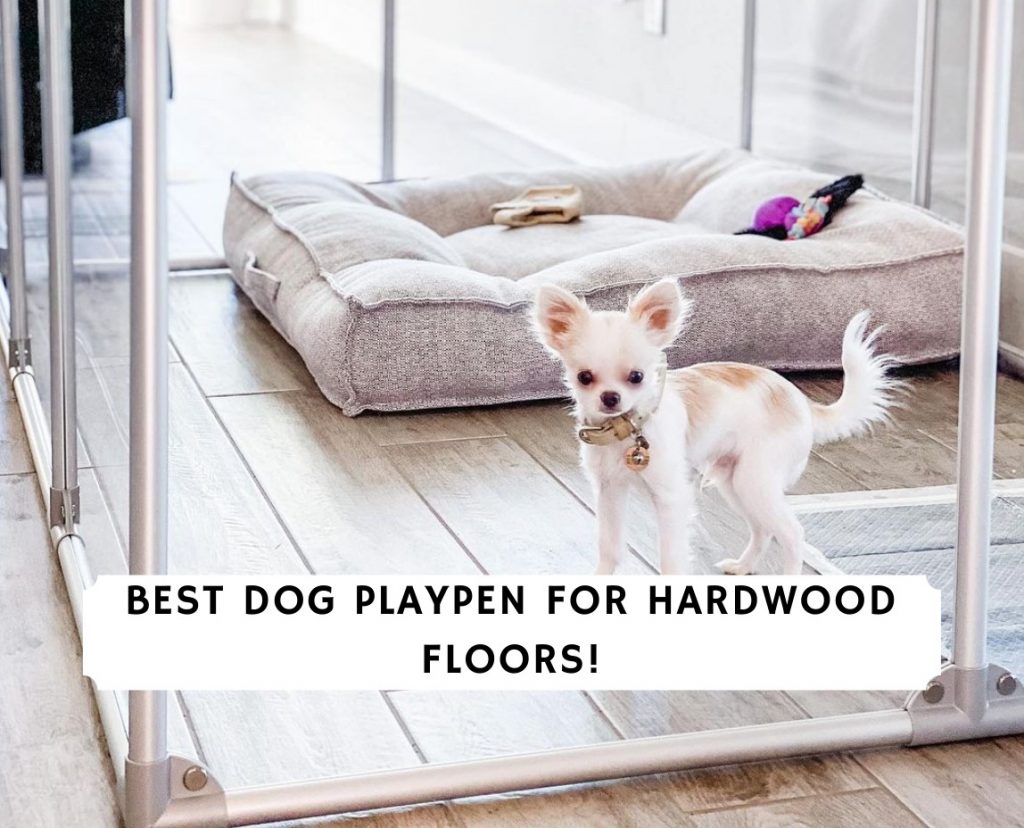 There is nothing worse than moving something across the floor and looking down to find scratches and scrapes on your beautiful hardwood floors. Your new puppy is awesome and you want them in a confined space without scratching your floor. In addition, you want a sturdy dog exercise pen that won't tip over or easily be moved.
So what dog playpen for hardwood floors is best? We scoured the market to try to find some really great options and we think you will be pleased with what we came up with. These options are perfect for your hardwood floors and won't leave you cringing when they move around. We even tried several of these dog pens on our hardwood floors and had great results!
In a rush? Here are the top picks!
Product
Best Overall
My Pet Playpen
Runner Up
Unipaws Playpen
Budget Pick
MidWest Folding Playpen
Image
The 9 Best Dog Playpen for Hardwood Floors
Finding a solution online can always be a challenge. If you Google an item, you will find pages upon pages of options and then still find your mind spinning from all of the options. Thankfully, you don't have to do that!
We were able to narrow down the top 9 picks for exercise pens on your hardwood floor so you know which ones are truly the best. No more hours of searching and reading only to still be confused.
In the following reviews, you will find comprehensive overviews of each puppy pet playpen as well as a list of pros and cons to accompany each product. When we finish, we hope you will feel fully informed to make a decision.
Our first dog playpen is certainly a winner. It's plenty large for a play area for 1 dog or multiple dogs. This is an 8-panel freestanding exercise pen that even has a pet door you can lock when you want to. It does not have a top so be aware that a dog or puppy may decide to jump over it.
This octagon playpen for your dog measures to cover almost 35 square feet of space so there is plenty of room to move around. It stands 26 inches tall, which is high enough to contain most dogs.
You can choose from 4 or 6 panels if you prefer something smaller.
These materials are sturdy and durable and it shouldn't scratch your hardwood floors because the underneath is simple plastic that is smooth. The bottom has skid-resistant pads to help which also makes the playpen stay in place. However, you can always place it on a mat or rug to ease your mind. This option was made in the USA and can be folded up for portability or storage as well.
Here is another really great dog pen for hardwood floors by Unipaws. This option is really nice because it can be totally customized to meet your needs. If you want a long and narrow exercise pen or a circular playpen, then you can set it up either way. This particular option is 6 panels and you can buy additional panels or smaller sizes to expand or reduce your optimal size.
This is a freestanding playpen that comes assembled and ready to use. There are no wall attachments that you have to contend with. Set it up wherever you like and set it up however you like and you are totally good to go! This freestanding puppy playpen is sturdy and won't knock over because of the legs attached to the panels!
Unipaws has a lockable door that fully opens so you and/or your dog can easily walk in or out of the pen as needed. This is incredibly versatile with hinges that rotate 360-degrees to give you whatever angle and setup that you need. It's sturdy and solid with a wooden frame and bottom that has rubber pads so your floors will be totally protected.
If you have a dog that tends to be a jumper, this might be a good option for you to actually contain them. This pen is 30 inches tall so it adds some extra height and would be a good solution if your puppy constantly tries to escape. You can actually choose up to 48 inches high for large dogs.
This is a pretty neat playpen because you can actually connect it to a wire kennel, which makes it really versatile and useful and gives your dog the safe space and room to play when needed. These aren't as large in overall width and diameter as some of the other exercise pens on our list, but they do have a decent amount of movement space.
This is a wire puppy pet playpen so you may want to consider using a rug or mat underneath. However, it's supposed to be gentle on your hardwood floors. It even has ground anchors in case you want to use it outside. The materials are durable and long-lasting and you get a full latching door.
This particular option by Tespo is best for small animals or small dogs. It's not very tall so a jumping dog may be able to find its way out. However, it is nice and large overall so there is plenty of space for your dog to move around as needed. This particular option is 12 panels and it measures 28 inches in height.
You can get this particular pen in clear, blue, and pink. It's a simple connector that assembles into plastic bases that are anti-slip. The connectors are safe for hardwood floors, but you can always add a rug underneath if you feel you need to.
You can easily expand this is into large spaces if you feel as though the normal side isn't quite big enough for you. The Tespo exercise pen is stable enough to expand up to 20 square feet overall. This company also offers a 100% satisfaction guarantee so if you don't like it, they stand behind their product and will give you a refund.
By the way, as far as expansion goes, you can even make this playpen taller by adding panels on top!
The IRIS playpen one is another really great option for hardwood floors. This comes in an 8-panel set that is designed to be circular to get the very best setup. It has a small doggy door area with a door that opens outward and latches. The exercise pen for your puppy is made of durable plastic which is sturdy, reliable, and won't scratch your hardwood floors.
You can choose between white or black. They even have a set that comes with an additional two panels so you can expand if you need to give your dog more room to run around. Moreover, this is a safe and sturdy structure that is easy to set up. The walls measure 34 inches in height and the diameter with 8 panels is about 63 inches.
This is a plastic but sturdy pen. The plastic materials will be gentle on your hardwood floors. You can fold this playpen for puppies up and put it away or even move it outside if you need to. There are also non-skid rubber feet to help protect your floors a bit more.
This next option is another simple metal option that is tall and sturdy. You can choose from several different height options depending on your needs. The heights range from 24 to 48 inches. The interior is not overly spacious but it does give plenty of room to play.
You can purchase this particular playpen with or without a door – the choice is totally up to you. If you choose the playpen with a door, the door is a full panel size so it's easy to use and walk through as needed. These are also stackable so you can use more than 1 and combine them for height or overall size.
This is a great exercise pen option that can also be folded away easily. It's an indoor or outdoor solution that is made with sturdy and durable materials that won't fall apart easily. In addition, the doors have sturdy slide latches and you also get some ground anchors that can be useful outdoors.
This doesn't have any padding on the bottom so you may need to consider a mat or rug to protect your hardwood floors appropriately.
The Yaheetech puppy playpen option works on hardwood floors and is a more fancy option. It's quite large and can be expanded as well. This exercise dog pen option is great for indoors or outdoors. You can choose from 24, 32, or 40 inches and you can also expand as the panels can be connected.
You can also choose how many panels you get and there are 8, 16, or 32 panels to choose from so it's very customizable. You can set it up to however you like for your needs, whether you like circular or you want a square or some other angle to be set up.
This pen is about 40 inches high when set up. It's straightforward to set up and it is stable and sturdy as well. Additionally, you need absolutely no tools for assembly or adjustment to setup this playpen. It is made of high-quality iron materials and it doesn't have rubber feet so you may need a mat to protect your floor or you may just need to add feet.
This puppy pet playpen is large and is designed for multiple puppies to play at once when fully expanded. You can choose from 8 or 16 panels, depending on your size needs. You can set it up to be square, rectangular, or circular, depending on what you want or need. You can also expand the dog playpen as well.
The panels are quite easy to put together. The fence stands 32 inches high so you have quite a bit of height to keep your puppy contained if they decide to jump. This is made with heavy-duty metal material that is absolutely durable and sturdy. It will even stand up against the weather if you use it outside.
The exercise puppy pen is so easy to use and setup. It's very versatile and you can even fold it up flat. It's unclear whether or not it has non-skid feet to protect your hardwood floors but with a playpen like this, those are very easy to add as needed. You can also use a mat or a rug if you need to.
For our final option, we bring to you a simple yet sturdy gate that looks a lot like a baby gate but it is in circular form. It works quite well for indoor containment, has a full-sized gate for entry and exit, and will be gentle on your hardwood floors.
This is a 6-panel dog playpen for hardwood floors. You can use it in the circle form or you can transform it into a gate-style pen. You can also expand it as each panel is modular. This is a simple but durable option. It's very convenient to use and is steady and safe for your pet at all times.
The materials are steel and it's convenient to just walkthrough for both humans and dogs. This comes complete with a user manual and it will work effectively to contain your puppy!
How to Choose the Best Dog Playpen for Hardwood Floors
As you prepare to pick out your dog pen for hardwood floors, we have some recommendations to consider before you make a decision. We share these tips and features to look for so that you can make an informed decision and hopefully get the truly best option in the end.
Size
One very important factor that you will want to consider is the size. Not only should you consider the size of the pet you plan to use this pen for but you should consider the size of the pen and whether the size can be adjusted.
Make sure to check out the total dimensions. You will want to look at the height and the interior measurements and determine what size you truly need to meet your specific needs. If your dog is a great jumper then you will definitely want to consider an option that is larger than 30 inches.
Materials
Another thing to be mindful of is the materials that the pen is made from. For example, some of the wire ones do not have protective bases for your hardwood floors. While these can still be really great options, you will want to make sure that you are aware. If your dog tends to push the exercise pen around on your floors, it may scratch your wood.
In this instance, you can add your own protection to the base to protect your floor or simply put a mat underneath.
Conclusion for Best Dog Playpen for Hardwood Floors
Choosing a dog playpen for your hardwood floor shouldn't be a complicated task. At the end of the day, you likely just want a containment system that segregates your dog from the rest of your house. In addition, you want a dog playpen that won't easily scratch your hardwood floors. We hope that you can use this guide to help you choose the right option for your home.
Other articles you would like:
Garrett loves animals and is a huge advocate for all Doodle dog breeds. He owns his own Goldendoodle named Kona. In addition, he volunteers at the Humane Society of Silicon Valley, where he fosters dogs and helps animals. Garrett enjoys writing about Doodles and believes that dogs can teach humans more about how to live than humans can teach a dog.
Why Trust We Love Doodles?
At We Love Doodles, we're a team of writers, veterinarians, and puppy trainers that love dogs. Our team of qualified experts researches and provides reliable information on a wide range of dog topics. Our reviews are based on customer feedback, hands-on testing, and in-depth analysis. We are fully transparent and honest to our community of dog owners and future owners.