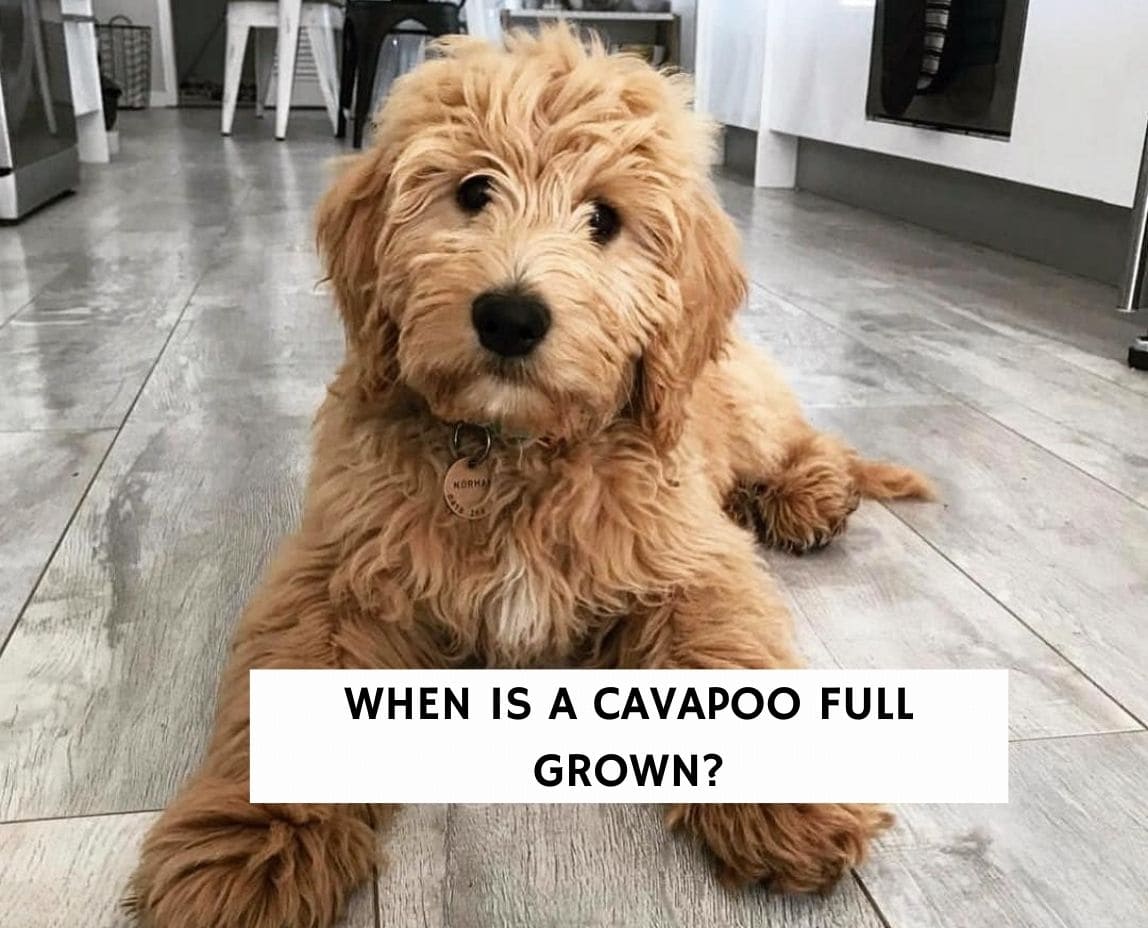 Knowing when a Cavapoo is fully grown is essential to help you understand the do better. First, they are naturally small breeds of dogs, and some could think that they are undergrown. However, a usually Cavapoo does not grow beyond fifteen inches.
We have gathered information on how the growth process works and what you should expect. Check out this article for all the information you may need.
Before scrolling down this guide "When is a Cavapoo Full Grown," check out these related guides: Cavapoo Size Guide and How Big Do Cavapoos Get?
How Big Do Cavapoos Get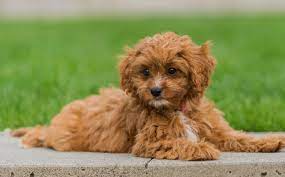 | | | |
| --- | --- | --- |
| Cavapoo Size | Height in Inches | Weight in Pounds |
| Teacup Cavapoo | 8 | 5-15 |
| Toy Cavapoo | 10 | 10-12 |
| Mini Cavapoo | 12-13 | 12-20 |
| Standard Cavapoo | 15+ | 25+ |
Cavapoos are categorized as small breed dogs with their weight ranging between 12–25 pounds and their height ranging between 9–14 inches. Their beautiful and cuddly size is a result of crossbreeding either a Miniature or Toy Poodle. Although they are generally small, a Cavapoo will grow depending on the parent poodle.
They are considered to have attained full size after 12 months. However, their size may be affected by the parent's genetics, nutrition, physical activity, and health, among other factors. When contrasted to bigger breeds, the Cavalier King Charles Spaniels attains full maturity after a very short period. For instance, poodles take the shortest period to mature. Typically, both mini and toy take approximately 6–7 months to attain maturity.
The other smaller breeds may also mature after a short period, but on average, all Cavapoos mature fully after one and a half years.
Between 7–9 months, a Cavapoo starts experiencing heat which can go up to two months. A female Cavapoo is ready to give birth at this age. However, it is not recommended to give birth at this particular time.
Although the small breeds may attain full size in between 7 and 8 months, they may not be sexually or mentally mature. A Cavapoo sexual maturity precedes both physical and mental maturity.
Fully Grown Cavapoos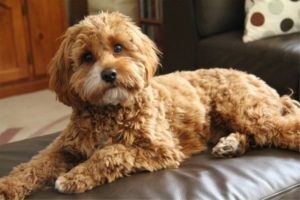 As a rule of thumb, puppies are described to be grown when they get to one or two years. At this point, they are regarded as adults. However, the process that deals with a puppy's maturation is a variant that has to be treated based on certain things.
Since maturity can only be correctly determined from dog to dog, it considers their size, breed, socialization, and sexual maturity. Cavapoos are typically breeds of dogs that are categorized as small. Considering this, they get fully grown by the period they are on their first birthday.
On your own, you would begin to realize that when your puppies are reaching the ages of four to six months, they change. You would see a noticeable increase in the bulk of their weight just before any real size growth begins to set in.
An important thing to note when your Cavapoo begins to undergo growth is sexual maturity. Unlike another growth pattern in your Cavapoo's body, this is measured differently. So while increasing size and weight, it is not a sign that you should get them into socialization.
Cavapoos witness their first estrous cycle at least six months old. The estrous cycle is the heat period that signifies that they are sexually matured, and without this happening, it is not advisable to breed them.
A six-month-old Cavapoo is still considered a puppy because it may not be fully grown in size. So, ensure that they are fully grown, and then they have gotten sexually matured before they are allowed to socialize. With this, you can prevent a puppy from parenting another puppy.
Related: How Much Does a Cavapoo Cost and Do Cavapoos Bark a Lot?
Cavapoo Growth Chart
Birth to 2 weeks
This is the most delicate phase of all Cavapoos. At this stage, the Cavapoos are vibrant since they cannot see, hear and are usually toothless. Also, they have no autonomy since they acquire everything from their mother, including food, comfort, and warmth. Since their muscles are not fully developed, they cling to their mothers for support. Always ensure they get the optimal temperature at this stage, as it is essential for their survival.
3 Weeks to 3 Months
During this phase, your Cavapoos tend to experience drastic changes. They stop depending entirely on their mothers since they start hearing and seeing. Also, they no longer need that much support as their muscles start getting more robust.
At this stage, their nourishment no longer comes from the mother as they start weaning. They develop some teeth and start learning to make bark-like sounds.
4 Months to 6 Months
Between these months, the Cavapoo puppy will undergo teething. The male Cavapoo is slightly bigger than the female Cavapoo at six months. At this time, your Cavapoo can now feed on full-grown puppy food, which makes it experience a dramatic increase in physical growth. They are now more playful, energetic, pleasant, and friendly.
7 Months to 9 Months
This is the sexual maturity stage for your Cavapoo. At this stage, the female Cavapoo will start ovulating and enter the heat cycle of 8 weeks. Although they are fully mature to give birth, they shouldn't do so at this age.
10 Months to 12 Months
This is the stage in which your Cavapoo is exceptionally active and wants to explore its environment. This is a very sensitive stage since it is the learning stage. If you do not instill the right behaviors in your Cavapoo, you may start experiencing troubles with your Cavapoo. Therefore, ensure you are alert during this phase to ensure your puppy grows with its best behavior.
Adult Cavapoo Size
A Cavapoo gets to adulthood after attaining two years. At this age, Cavapoos are vibrant, athletic, loving, and possess a whole curly coat. Until they are two years, they will not stop growing muscles. Be sure to train your Cavapoo social maturity at this time.
The Growth Process of a Cavapoo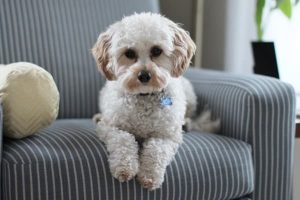 Neonatal Stage: This is between the birth of the Cavapoo and the next two weeks when they are still getting formed. Here the puppies are blind, toothless, and even deaf, so they are concerned about getting fed and staying farm. But if the needs are not satisfied, they would surely cry out.
Transitional Stage: Here, the Cavapoo is within the first two to four weeks of their birth, and their senses are beginning to set in. Their ears are now opened, they can see, and they are now learning to yelp or make a sound that could pass for a bark. At this stage, they get a little independence from their parent and can act on their own.
Socialization Period: The first four to twelve weeks of the Cavapoos age learn how to socialize. They are also weaned while eating the right dog food at this stage. This is what plays a significant role in the physical build of the puppy at this stage.
Adolescence Period: The first six to twelve months of the Cavapoo's birth age is where maturity begins to set in but majorly physically. Even though they've reached the peak of their weight and height but sexually, they could still be immature.
Related: Are Cavapoos Hypoallergenic and Common Cavapoo Health Issues.
When Will Cavapoos Stop Growing?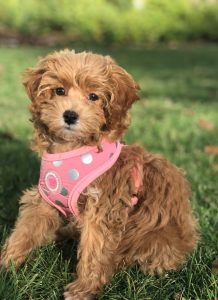 Usually, Cavapoos get to full size after 12 months. However, only their physical growth in height ceases after one year. Cavapoos mental and emotional development may prolong while their weight makes it take a bit longer to finish yet.
As a rule of thumb, every dog has a unique growing and development phase and may experience different milestones. Since it is not easy to establish how much of each dog's parents' genetics will transfer, different dogs will have different time frames of developing physically, mentally, and emotionally.
Some Cavapoos may stop growing before this time frame, and others may cease growing after this period. Numerous factors, including diet, health, environment, exercise, genetics, and sleeping habits, affect the entire process.
Smaller dog breeds complete their growth faster compared to other large-sized dogs. The Cavalier King Charles Spaniel may stop growing by the time it gets to twelve to eighteen months of age.
Although most Cavapoos may stop growing at around 18 months on average, most Cavapoo will stop growing in their own time. However, this doesn't change how charming this mixed breed is.
Find a Cavapoo Breeder: Best Cavapoo Breeders in the United States.
Cavapoo Sizes: Teacup, Toy, Mini, and Standard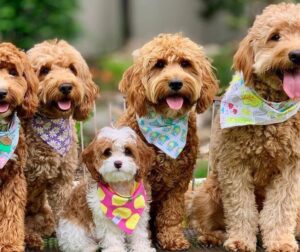 Cavapoos come in various sizes, including Toy, Mini, Teacup, and Standard. The most imperative thing in determining the size of a Cavapoo is which Cavalier King Charles and Poodle are applied to breed.
Teacup Cavapoo
Teacup is not a common name among Cavapoos since the name is relatively new. Compared to all Cavapoos, Teacup Cavapoos are the smallest, with a size of a standard-sized sheet of paper. They weigh between 5 to 10 pounds and have a height of about 8 inches.
Teacup Cavapoo is a crossbreed of a Toy Poodle and smaller Cavalier King Charles Spaniel. The size of a Teacup is not advisable since breeding very tiny Cavapoos puppies generally bring about some health complications as time progresses.
Toy Cavapoo
These are the smallest of all Cavapoos breed and are attained by crossbreeding the Tiny Cavalier King Charles Spaniel with the Tiny Poodle. They reach half of their adult weight when they are about 3.5 months old and attain full maturity at around 7.5 months to 11 months.
The Toy Poodle has a height of about 10 inches and weighs between 10 to 12 pounds, and the Cavalier King Charles Spaniels weighs between 13 to 18 pounds and has a height of about 12 to 13 inches.
So, when is a Toy Cavapoo full grown? You can predict your Toy Cavapoos size using the Puppy Growth Chart and Weight Prediction Calculator. For your Toy Cavapoo, you can apply this simple formula:
Adult weight = weight at 15 weeks old multiplied by 2. For instance, assume your Toy Cavapoo weighs 6 pounds at 15 weeks. You will multiply the 6 pounds by 2 to get 12 pounds. This is the estimated full-grown adult weight of your Toy Cavapoo.
A toy Cavapoo attains maturity when about 12 inches tall at the shoulder and weighing between 7 to 13 pounds. A small-sized Toy Cavapoo can cope well in smaller environments since they do not like roaming about or even doing exercises. Therefore, if you reside in an apartment or a condo, a smaller-sized Toy Cavapoo can be the perfect pet for you.
Mini Cavapoo Size
The Mini Cavapoo is bigger than its Toy Cavapoo counterpart. It is a crossbreed of a Mini Poodle and a Cavalier King Charles Spaniels. The Mini Poodle has an average height of approximately 15 inches at the shoulder and weighs between 12 to 20 pounds.
In comparison, the Cavalier King Charles Spaniels weighs about 13 to 18 pounds with an average height of 12 to 13 inches.
So, how big do Mini Cavapoos get? Well, Mini Cavapoos get to half of their adult size when they get to 3 to 5 months. The Mini Cavapoo can grow up to 12 to 16 inches tall at the shoulder and add weight up to 15 to 30 pounds when fully grown. However, Mini Cavapoos can be smaller or bigger than these sizes due to genetics, gender, size, and weight of the parent's breed, among other factors.
An overwhelming majority of people love Mini Cavapoos since they aren't too tiny and not too huge. Also, they can live with families that have allergies since they are hypoallergenic and their coat does not shed. Whether you live in an apartment, a condo, or a bungalow, you can comfortably live with a Mini Cavapoo as they adapt well in almost all environments.
Standard Cavapoos
Among all Cavapoo breeds, Standard Cavapoo is the biggest as it weighs approximately 40 to 70 pounds and has a height of over 15 inches. However, when procreated with a Cavalier King Charles Spaniels, a Standard Cavapoo can weigh between 20 pounds and goes above 30 pounds with a height of about 18 inches.
Standard Cavapoos cannot thrive in all environments since they require an immense space to roam around and exercise. Therefore, if you buy a Standard Cavapoo, ensure you have enough space for it.
F1B Cavapoo Full Grown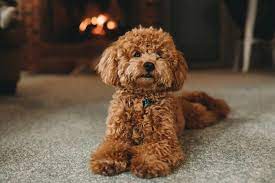 The F1, F1 B, and F2 are all mixed breeds and not Cavapoos only. They represent the generations of hybrid puppies bred from particular parentage mixes.
F1 B Cavapoo refers to the first breed of puppies with a single purebred Poodle parent or one purebred Cavalier King Charles Spaniel Parent and a single F1 Cavapoo parent. Therefore, you will have more of a poodle compared to the Spaniel Puppy generation.
A full-grown F1 B Cavapoo can weigh between 9 to 25 pounds, while their height may range between 9 to 14 inches. Regardless of the generation, Cavapoos come in different sizes.
Conclusion For "When is a Cavapoo Full Grown"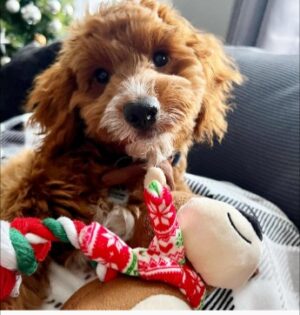 Cavapoo is supposed to reach the peak of their age when they get to their first year's birthday. Here their weight has brought the most it could get, and the height is also the most. Sexually, they can be categorized as grown to at this age.
If this guide "When is a Cavapoo Full Grown" helped you, check out these other articles:
Watch the Cavapoo grow from a young age to adulthood by watching "Puppy Growing 8 Weeks to 1 Year – Cavapoo" down below: