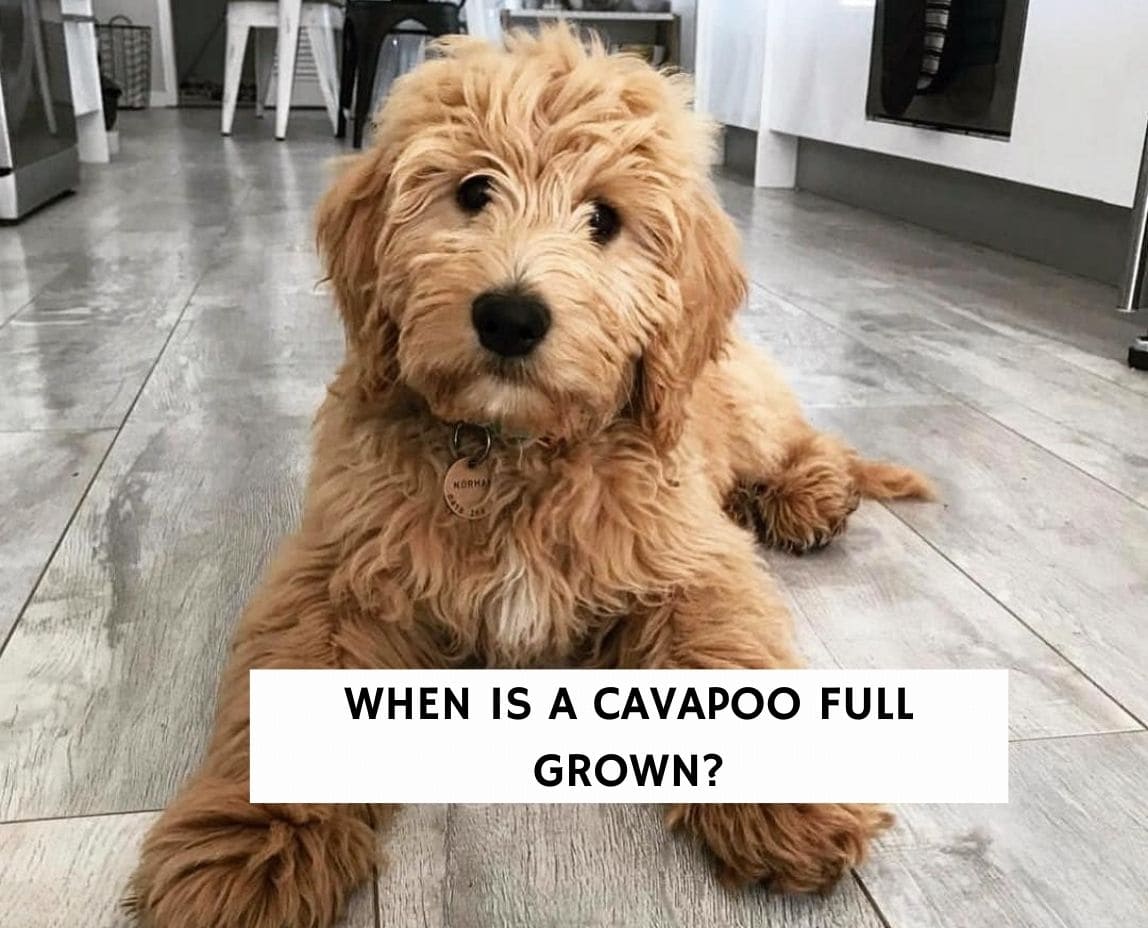 When is a cavapoo full grown? Knowing when a cavapoo has reached his full height and weight is essential to caring for your pup. They are naturally small breeds of dogs, and some could think that they are under-grown. However, a cavapoo does not usually grow much bigger than 15 inches.
We have gathered information on how the growth process works and what you should expect. Check out this article for all the information you need to determine whether your cavapoo is full grown, and how to care for your pup's nutritional and other needs.
Before scrolling down this guide "When is a Cavapoo Full Grown," check out these related guides: Cavapoo Size Guide and How Big Do Cavapoos Get?
How Big Do Cavapoos Get?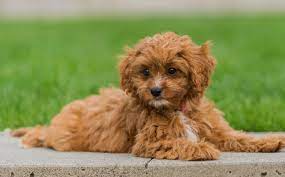 | | | |
| --- | --- | --- |
| Cavapoo Size | Height in Inches | Weight in Pounds |
| Teacup Cavapoo | 8 | 5-15 |
| Toy Cavapoo | 10 | 10-12 |
| Mini Cavapoo | 12-13 | 12-20 |
| Standard Cavapoo | 15+ | 25+ |
Cavapoos are categorized as small breed dogs, with their weight ranging between 12–25 pounds and their height ranging between 9–14 inches. Their beautiful and cuddly size is a result of crossbreeding either a miniature or toy poodle with a Cavalier King Charles spaniel. Although they are generally small, your cavapoo's parents have a lot to do with how large your dog will be when fully grown!
Cavapoos are considered to have attained full size after 12 months. However, their size may be affected by the parent's genetics as well as the dog's nutrition, physical activity, and health, among other factors.
When compared with bigger breeds, the Cavalier King Charles spaniel attains full maturity after a very short period. For instance, poodles take the shortest period to mature. Typically, both mini and toy take approximately 6–7 months to attain maturity.The other smaller breeds may also mature after a short period, but on average, cavapoos mature fully after one and a half years.
Between 7–9 months, a Cavapoo starts experiencing heat which can last up to two months. A female cavapoo is ready to produce puppies at this age. Note that this isn't recommended – most vets recommend you wait until your pup is around a year old before allowing her to have puppies.
Although the small breeds may attain full size between 7 and 8 months, they may not be sexually or mentally mature. A cavapoo's sexual maturity precedes both physical and mental maturity.
Fully Grown Cavapoos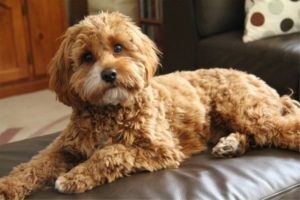 As a rule of thumb, puppies are considered fully grown at one to two years. At this point, they're regarded as adults, but the maturation process can vary from dog to dog. There are quite a few factors that come into play! The overall size of the breed, the dog's socialization, and his genetics are all factors that affect your dog's size. 
Cavapoos are considered small dogs, so they're generally considered "fully grown" by their first birthday. Again, your pet's genetics will come into play. For instance, if your dog inherited their poodle parent's genes, he or she may grow to be larger than other cavapoos of the same age. 
You'll notice your dog's growth spurts and plateaus, and most dog owners typically know when a cavapoo is full grown. Between four and six months, you'll see a noticeable increase in their weight, then your pup will hit a growth spurt in height, too. 
Cavapoos witness their first estrous cycle at least six months old. The estrous cycle is the heat period that signifies that they are sexually matured, and without this happening, it is not advisable to breed them. However. sexual maturity doesn't necessarily mean that your dog should be socialized as such. Talk to your vet about the right time to breed and socialize your cavapoo puppy!
A six-month-old cavapoo is still considered a puppy because it may not be fully grown in size. So, ensure that they are fully grown, and then they have gotten sexually matured before they are allowed to socialize. By doing this, you can prevent a puppy from parenting another puppy.
Related: How Much Does a Cavapoo Cost and Do Cavapoos Bark a Lot?
Cavapoo Growth Chart
Birth to 2 weeks
This is the most delicate phase of all cavapoos. Mother is especially important to a dog's development at this age, as puppies are typically blind, deaf, and toothless! They have very little autonomy, meaning everything they need they get from their mother. Food, comfort, and warmth are basic needs provided by Mom, and puppies cling to their mother because their muscles aren't fully developed. Maintaining an optimal body temperature is critical at this stage. 
3 Weeks to 3 Months
From three weeks to three months or age, your cavapoo will undergo some big changes! He'll have a bit more autonomy, as vision and hearing are now more developed. His muscles are growing, too, and your pup will start bouncing and playing more. You'll notice that your fur baby is weaning, and that he's developing teeth. And just listen to your puppy try to bark! 
4 Months to 6 Months
Your cavapoo will begin teething between four and six months of age. Males at this age are slightly bigger than females, but both sexes can now eat full grown puppy food. This is going to help your puppy increase body weight and you may notice a growth spurt in your puppy's height, too. Puppies at this age are playful, energetic, and friendly. 
7 Months to 9 Months
Between seven and nine months, your cavapoo will reach sexual maturity. Females will begin ovulating, and will enter heat cycles. Your female cavapoo is physically capable of giving birth, but remember that it's still too early for her to do so. 
10 Months to 12 Months
This is arguably one of the best puppy stages! Between ten and twelve months of age, your puppy will be quite the little explorer! This play and exploration is super important, as this is how your puppy learns about his world! Is your cavapoo full grown? Not necessarily – there's still time to train and teach your dog, and this is a critical time to do so. Teach your dog his manners during this time, and continue working on commands (and tricks!) with your dog. 
Adult Cavapoo Size
A cavapoo gets to adulthood after reaching two years of age. At this age, cavapoos are vibrant, athletic, loving, and possess a full curly coat. Until they are two years old, a cavapoo will not stop growing muscles. Be sure to continue to socialize your dog with other animals, and ask your vet if breeding is a good option for your pup. 
The Growth Process of a Cavapoo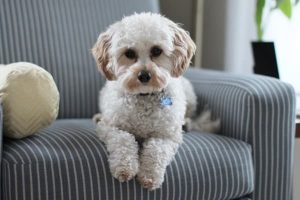 Neonatal Stage: This stage occurs between the birth of the cavapoo and the next two weeks when they are still getting formed. Here the puppies are blind, toothless, and even deaf, so they are concerned about getting fed and staying farm. But if the needs are not satisfied, they would surely cry out.
Transitional Stage: Here, the cavapoo is within two to four weeks of age, and his senses are beginning to set in. His ears are now opened, he can see, and he is now learning to yelp or make a sound that could pass for a bark. At this stage, cavapoos get a little independence from their parent and can explore a little on their own.
Socialization Period: Between four to twelve weeks of age, cavapoos learn how to socialize. Puppies are also weaned and transitioned to puppy food at this stage. Check with your vet for dietary options – quality nutrition is essential to a puppy's growth at this age.
Adolescence Period: From six to twelve months of age, your cavapoo will begin to fully mature. That said, puppies this age may still be sexually immature. While your dog may enter heat cycles, breeding isn't usually recommended. Ask your vet for more information specific to your unique puppy.
Related: Are Cavapoos Hypoallergenic and Common Cavapoo Health Issues.
When Do Cavapoos Stop Growing?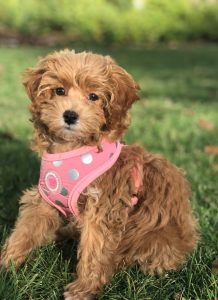 So, when is a cavapoo full grown? Usually, cavapoos reach their full size after 12 months. However, this only refers to your puppy's physical growth! Your dog will continue to emotionally, socially, and sexually mature even after reaching his full physical size.
Each dog has a unique set of milestones he'll achieve. You can work with your vet to mark out these milestones if you're interested in watching your puppy grow! Remember that a lot of your pup's growth will depend on his or her genetics, so if you have information about the dog's parents this could be helpful. 
Although most cavapoos may stop growing at around 18 months on average, this will vary from dog to dog. Your puppy is unique, and his growth will reflect that!
Find a Cavapoo Breeder: Best Cavapoo Breeders in the United States.
Cavapoo Sizes: Teacup, Toy, Mini, and Standard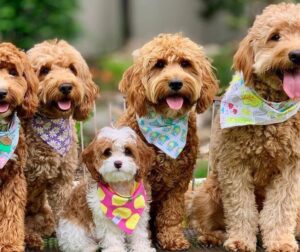 There are four types of cavapoos: toy, mini, teacup, and standard. The most important factor in considering the size of a cavapoo is to look at this or her parents. In this section, we'll take a quick look at the different cavapoo sizes. 
Teacup Cavapoo
Teacup cavapoos aren't common, and the term "teacup cavapoo" is a relatively new term. That said, they do exist, and the teacup cavapoo is the smallest of the varieties. They're about the size of a standard piece of paper, and they weight between five and ten pounds when the cavapoo is full grown. 
The teacup cavapoo is a crossbreed of a toy poodle and smaller Cavalier King Charles spaniel. Generally speaking, teacups are produced by continuously breeding the "runts" of each litter, and this can carry health complications. Therefore, breeding – and purchasing – this variety is not advised.
Toy Cavapoo
Toy cavapoos are another small variety of cavapoo. They're produced by breeding a Cavalier King Charles with a toy poodle, and a toy cavapoo full grown will weigh between 13 and 18 pounds. They'll typically reach a height of 12 or 13 inches.
You can predict your toy cavapoo's size by using a specific formula. You'll just need to take your pup's weight at 15 weeks of age and multiply it by two. Of course, the diet, exercise, and other factors will also come into play, but this calculation will give you a general guideline. 
Because of their size, the toy cavapoo is an excellent companion for seniors and those who live in smaller spaces. They do need exercise, but just throwing a ball down the hall for your pup to fetch can suffice in most cases. 
Mini Cavapoo
The mini cavapoo is bigger than its toy cavapoo counterpart. They're produced by crossing a mini poodle and a Cavalier King Charles Spaniel. The mini poodle parent is around 15 inches tall and weighs between 12 and 20 pounds. The other parent, the Cavalier King Charles spaniel, weighs between 13 and 18 pounds and measures about a foot tall. 
So, when is a mini cavapoo full grown? Well, the mini cavapoo will reach about half his adult size when he is around three to five months old. Therefore, you can multiply his weight at this age by two to estimate his full size as an adult. 
Dog people love mini cavapoos since they aren't too tiny and not too huge. Also, they can live with families that have allergies since they are hypoallergenic and only shed minimally. Whether you live in an apartment, a condo, or a bungalow, you can comfortably live with a mini cavapoo as they adapt well to almost all environments.
Standard Cavapoos
Among all cavapoo varieties, the standard cavapoo is the biggest as it weighs approximately 40 to 70 pounds and has a height of over 15 inches. However, when crossed with a Cavalier King Charles spaniels, the standard cavapoo can weigh between 20 and 30 pounds with a height of about 18 inches.
Standard cavapoos prefer a bit more space than their smaller counterparts. You'll need to make sure you have the space to give your pup the exercise he needs to thrive. 
F1B Cavapoo Full Grown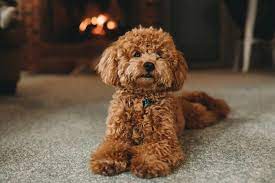 The F1, F1 B, and F2 are all mixed breeds and not cavapoos only. They represent the generations of hybrid puppies bred from particular parentage mixes.
F1 B cavapoo refers to the first breed of puppies with a single purebred poodle parent or one purebred Cavalier King Charles spaniel parent and a single F1 cavapoo parent. Therefore, you will have more of a poodle compared to the spaniel puppy generation.
A full-grown F1 B cavapoo can weigh between 9 to 25 pounds, while their height may range between 9 to 14 inches. 
Conclusion For "When is a Cavapoo Full Grown"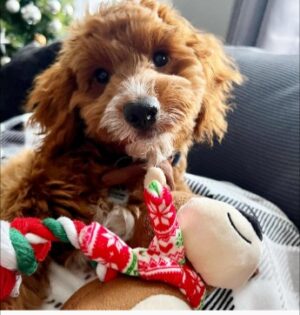 Most cavapoos reach their ultimate height and weight at around a year old. However, that doesn't mean that your cavapoo will be sexually or socially mature. Speak with your vet about when to breed, spay, or neuter your dog, and remember that your puppy is unique! Enjoy him as he grows, no matter what size your full grown cavapoo grows to be!
If this guide "When is a Cavapoo Full Grown" helped you, check out these other articles:
Watch the Cavapoo grow from a young age to adulthood by watching "Puppy Growing 8 Weeks to 1 Year – Cavapoo" down below: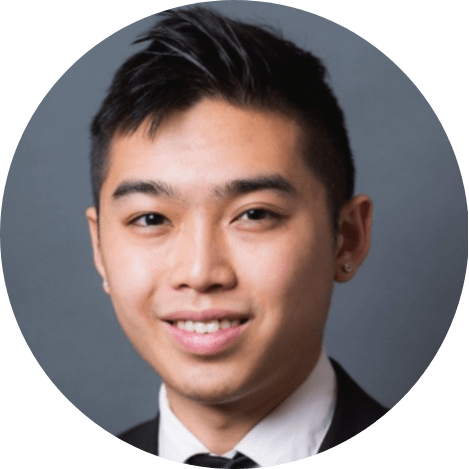 Andy is a full-time animal rescuer and owner of a toy doodle. When he's not saving dogs, Andy is one of our core writers and editors. He has been writing about dogs for over a decade. Andy joined our team because he believes that words are powerful tools that can change a dog's life for the better.
Why Trust We Love Doodles?
At We Love Doodles, we're a team of writers, veterinarians, and puppy trainers that love dogs. Our team of qualified experts researches and provides reliable information on a wide range of dog topics. Our reviews are based on customer feedback, hands-on testing, and in-depth analysis. We are fully transparent and honest to our community of dog owners and future owners.