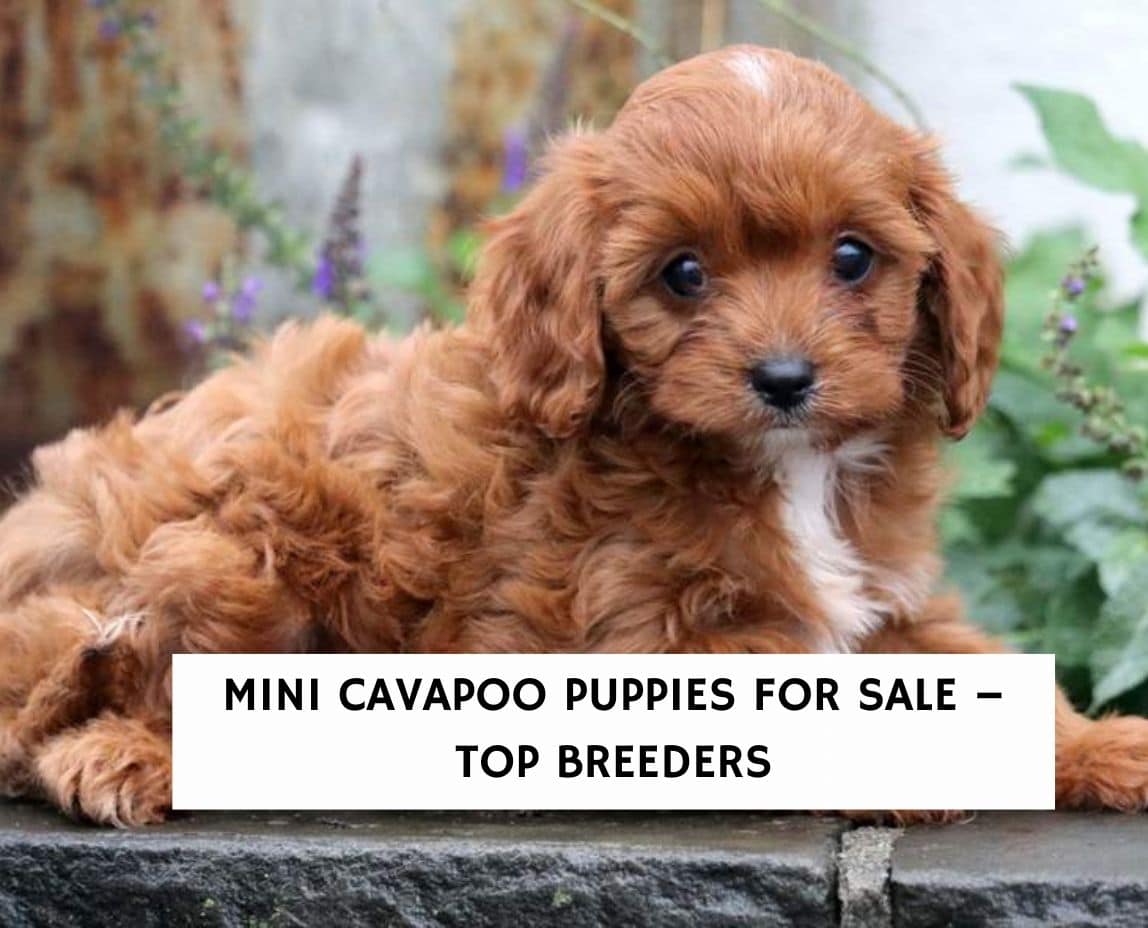 When you make the decision to add a new puppy to your family what happens when you like two different dog breeds? While you may choose to go with one over the other, depending on the breeds you like, a designer dog breed may be the best option, combining both your favorite breeds together. However, when looking for designer breeds, such as a mini Cavapoo, it is important to make sure you find a reputable breeder that focuses on the health and well-being of the dogs and puppies and not a puppy mill. Here we introduce you to the miniature Cavapoo and offer tips on finding a reputable breeder with mini Cavapoo puppies for sale.
Before scrolling down this list, check out these recommendations: 11 Best Cavapoo Breeders in the U.S.!
Meet the mini Cavapoo Puppy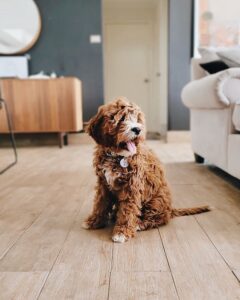 Do you like Poodles? Do you like Cavalier King Charles Spaniels? If the answer is yes, the Cavapoo may be the perfect designer breed for you. The Cavapoo, also known as the Cavoodle or Cavadoodle, brings together the Cavalier King Charles Spaniel with a Poodle. While the Cavalier breed standard is uniform when it comes to size, the Poodle can vary from toy to standard. For this reason, a Cavapoo can range in size from the teacup, toy, or mini to medium and standard.
The mini Cavapoo is the most popular size for the Cavapoo. It comes from breeding between a mini Poodle and a Cavalier King Charles Spaniel. When full-grown, these puppies will average between 13 and 25 pounds and stand between 12 and 16 inches. Because they are mixed with Poodle, these miniature Cavapoo puppies are considered hypoallergenic and non-shedding, making them perfect for those with allergies. These adorable puppies can thrive anywhere, making them great for apartments or large homes with yards.
Top mini Cavapoo Breeders in the United States
Here we provide a list of some of the top mini Cavapoo breeders in the United States. While we may not list a breeder in a state near you, the information provided above can help in your local search. In addition, many of these breeders are willing to work out puppy transportation no matter where you live. Read our conclusion at the end to figure out how to pick the best Cavapoo breeder and what to look for when choosing a breeder. In general, you'll want to make sure that they offer a health warranty, have great customer support, and care about the health of their puppies.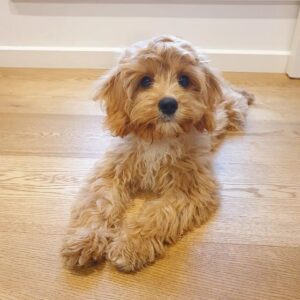 Located in Ohio, Premier Pups is a network of miniature Cavapoo breeders that provides the perfect puppy to families looking for a companion pet. Even if the adopter is located outside Ohio, they can provide safe transportation directly to your home.
The whole team here is dedicated to the health and well-being of the Cavapoo puppies so that new owners get the best ones from a host of breeds available on this platform.
From their first day to the day they leave for their new home, their mini Cavapoo puppies are given 24/7 attention through the on-site staff. The in-house vet checks the Cavapoo puppy thoroughly before they are on their way.
The parent dogs are examined properly before being allowed to breed. In case there is a genetic disorder detected after the puppy turns 8 weeks old, Premier Pups will cover you with a 10-year health guarantee. This 10-year health guarantee is the longest in the industry.
Premier Pups has also given our blog breeders $250 off with coupon code 'WLD250'.
Breeder Information:
If there isn't a Cavapoo breeder listed in your state or a nearby state, your search for the perfect new Cavapoo puppy is far from over. PuppySpot offers you a unique solution and is a network of the best Cavapoo breeders all around United States. At PuppySpot, dog breeders are carefully screened for healthy and good breeding practices, guaranteeing there are no puppy mill breeders. Once breeders pass the screening process, they can list available puppies based on the breed for you to view. There are pages and pages of adorable mini Cavapoo puppies for sale for you to search and find the perfect puppy face. Once you find the perfect puppy, PuppySpot connects you with the breeder and they work together to arrange puppy transportation right to your door. You can feel confident knowing your new Cavapoo puppy comes from a responsible breeder and PuppySpot backs that up with a 10-year health guarantee against congenital and genetic conditions.
Additionally, PuppySpot has its own airline to privately transport your Cavapoo directly to you. So it doesn't matter where you live, you will get your Cavapoo to your doorstep. They also gave our readers an exclusive discount code. When you use code "WLD100" you save $100! It's definitely worth it to check out their website and use the discount code!
Breeder Information:
Location: Nationwide
Phone: (866) 269-1056
3. Northwest Doodles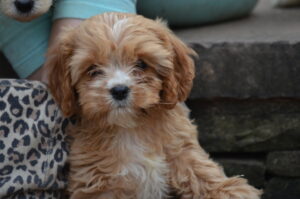 Northwest Doodles is a small breeder owned and operated by Rhonda and Judy on a 5-acre farm in Arlington, Washington. Rhonda had the vision to begin breeding when she was unable to find a reputable breeder to add another Pomapoo to her family. She brought in her friend Judy, a veterinary technician of over 25 years, and Northwest Doodle was created. They specialize in Miniature Poodles, Cavapoos, and Pomapoos. When it comes to Cavapoos, they specialize in the brown phantom coloration, with the average cost ranging between $3800 and $4000.
All of their breeding dogs are genetically tested to maintain a healthy breeding line. Puppies all undergo vet checks, are microchipped, vaccinated, and dewormed. They come with a complete health record and a 1-year health guarantee. They begin early neurostimulation with the puppies at two weeks of age and all puppies are litter box and crate trained and have begun grass potty training at the time of adoption.
Breeder Information:
4. Crockett Doodles
Crockett Doodles began when Dr. Nathan Crockett had a hard time finding a reputable breeder for a Goldendoodle to add to his family. After this difficult search, they decided they wanted to become the kind of breeder they had such a hard time finding. A breeder with family-raised, healthy, and happy puppies. Because they want all their puppies raised in a family environment, when they decided to grow and expand, they recruited friends and family to raise and house their additional dog breeds, allowing them to be raised in a family setting. They now raise a variety of Doodle breeds, including Cavapoos.
They focus on the health of their dogs as well as the socialization. This is why they believe that family-raised puppies make all the difference. They offer an outstanding 3-year health guarantee when you feed your puppy their recommended food. Unlike many breeders, they understand life can change and they offer a full refund on puppy deposits should you change your mind. They have breeding partners in many states and offer puppy ground delivery, as well as a Puppy Flight Nanny Service for air transportation.
Breeder Information:
Location: Main Location in Greenville, South Carolina Additional locations in New York, Iowa, California, Pennsylvania, and more.
Email:

[email protected]
5. Cavapoo Kennels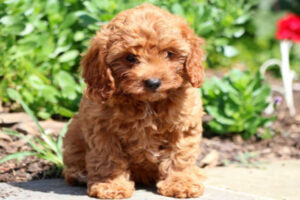 After learning there were no Cavapoo breeders in their area, the owners of Cavapoo Kennels spent years researching and studying the breed before starting their breeding program, which is now a true family affair. They believe in providing transparency to all their potential puppy parents and post daily updates on their puppies and litters. And when you take your puppy home, you are never alone. You become a member of their puppy family and they are there to answer questions at any time.
They begin puppy and crate training at 5 weeks of age and by the time your puppy is ready to join your home they are sleeping through the night without accidents. They provide you with their regular puppy routine in order to help make the transition to your home easier. They also begin potty training between 5-6 weeks of age. Every miniature Cavapoo puppy for sale receives individual attention from the family to work on socialization without overwhelming the puppy with their littermates. Their goal is to have all puppies excited and enthusiastic about new situations.
Breeder Information:
6. Divinity Grace Cavapoos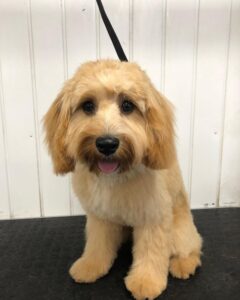 Located in Northern California, Divinity Grace Cavapoos is a small family-based breeder owned and operated by Shaylin Bateman. She specializes in raising healthy, happy, well-socialized, and adorable Cavapoo puppies. All their breeding dogs are DNA tested and their breeding program focuses on health and temperament first and foremost. Breeding dogs are also registered with the American Kennel Club (AKC) and the Continental Kennel Club (CKC) and all of their Cavapoo puppies are available for registration with the CKC.
Puppies are raised within the family home and well-socialized before they are ready to become a new member of your family. All mini Cavapoo puppies undergo veterinary checks and their first puppy vaccinations. They provide a 1-year health guarantee against any genetic and life-threatening illnesses.
Breeder Information:
Finding a Reputable Cavapoo Breeder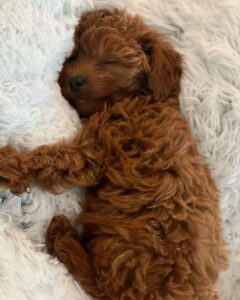 Unfortunately, the popularity of designer dog breeds makes them prime targets for puppy mills or breeders that focus on frequent breeding to turn a monetary profit. These breeders do not put the wellbeing and health of the dogs as a priority, and you risk getting a new puppy with potential health conditions. A reputable breeder tests their breeding dogs for genetic conditions, helping to ensure their puppies are all healthy. Here are some things to consider when looking for a mini Cavapoo breeder:
Meet the Breeder – Before considering a puppy, meet with the potential breeder. See where and how the puppies are raised and observe how the dogs and puppies interact with the breeder. Is the area clean and relatively odor-free? Are the puppies social and outgoing with the breeder? If a breeder offers to meet you somewhere else, this is often a sign of a puppy mill breeder.
Ask Questions and Be Prepared to Answer Questions – A good breeder will have a vast knowledge of the breed and will be able to answer your questions. In addition, a good breeder looks for a good fit for their puppies, so they are likely to have questions for you as well.
Meet the Breeding Dogs – Reputable breeders have the breeding dogs on-site, so you are able to meet the parents. This helps to give you an idea of what to expect from your growing puppy when it comes to size and temperament.
Ask about Health History and Health Guarantees – All puppies should undergo a veterinary check and the breeder should provide you with copies of their health records, including vaccination records. In addition, these breeders will often offer health guarantees against any genetic or congenital conditions. These guarantees can range from one year to 10 years.
Frequently Asked Questions
What are the best mini doodle breeds?
Check out a video we made below to find the best mini doodle breeds.
How much should a Cavapoo puppy cost?
The Cavapoo is a crossbreed of the Cavalier King Charles Spaniel and the Poodle. Cavapoos are known for their low-shedding coats and their friendly, intelligent dispositions.
Expect to pay $1200 and upwards ($5000 PLUS) for a Cavapoo puppy from a reputable breeder. We Love Doodles adds that The Cavapoo is a cross between a King Charles Cavalier Spaniel and a Toy Poodle, costing between $1,200 and $2,000. The generation of the Cavapoo will help to determine the price with some Cavapoo breeders.
The location of the breeder and the time of year may also affect Cavapoo pricing. We Love Doodles adds that Often, Cavapoo puppies are bought in the warmer months, leaving winter puppies at lower prices. However, this isn't always the case; it depends on supply and demand.
They also add that there are some instances where a pup or adult dog costs less depending on the breeder or if you can adopt from a Cavapoo rescue. Cavapoos are popular companion dogs and make excellent family pets.
Cavapoos can range in size from Toy (10-15 pounds) to miniature (15-25 pounds) to standard (25-40 pounds). When purchasing a Cavapoo, you should always look at the breeder's reputation and get the following:
Health Guarantee (typically 1 or 2 years)
Microchip
First Vaccines
Deworming
A small bag of the dog food they eat for a smooth transition
Toys or blankets with the mother's scent on them
What is the rarest Cavapoo color?
The Cavapoo dog breed is a cross between a miniature or toy Poodle and a Cavalier King Charles Spaniel. This crossbreed inherits the physical and personality traits of both parents.
The solid black coat is the rarest and does not include any splashes of color. All-black coloring is considered rare in the breeding world because it's typically a recessive gene from the Poodle.
What is the best Cavapoo to buy?
All Cavapoo types are lovely, but you should consider your lifestyle and living space before you buy. A Mini Cavapoo may be the best option for you if you live in an apartment or small home.
They are also suitable for people with allergies because they don't shed as much as other dogs. Toy and Teacup Cavapoos are the smallest of the bunch and are perfect for those who want a lapdog.
Is there a mini Cavapoo?
Yes, the mini Cavapoo does exist. The Cavapoo (AKA Cavoodle or Cavadoodle) is a cross breed between a Cavalier King Charles Spaniel and a Poodle.
The mini Cavapoo is bred by crossing a Cavalier King Charles Spaniel and a Miniature Poodle. The mini Cavapoo typically weighs between 10 and 18 pounds and stands 12 to 14 inches tall.
Micro (5-10 pounds)
Teacup Cavapoo (8-15 pounds) breeding a Toy Poodle with a Cavalier King Charles Spaniel
Toy (13-25 pounds)
Mini (20-30 pounds)
Standard (9-25 pounds)
How much is a Toy Cavapoo?
Expect to pay $1500 and up for a Cavapoo puppy from a reputable breeder. Cavapoos that fall in the smaller size (toy and teacup Cavapoos) will be on the higher end of the price range.
You may be able to find a Cavapoo for less if you're willing to adopt from a shelter or rescue organization, but be prepared to pay anywhere from $300 to $500 in adoption fees. We Love Doodles has a list of rescues for Doodle breeds and reputable breeders.
Cavapoos and Labradoodles are two of the most popular Doodle breeds. They are both crosses between a Poodle and another breed, but the Cavapoo is a cross between a Cavalier King Charles Spaniel and a Poodle. At the same time, the Labradoodle is a cross between a Labrador Retriever and a Poodle.
Both breeds are known for their intelligence, friendliness, and trainability, but the Cavapoo is typically smaller than the Labradoodle and doesn't shed as much.
What is a ruby Cavapoo?
A ruby Cavapoo is a Cavapoo with a reddish-brown coat that can range from light gold to a deep red and everything in between. Rubies are the second rarest Cavapoo coat color after black and may be more expensive. The ruby Cavapoo is highly sought after, especially if they have markings of white on its head, chest, feet, or end of its tail.
You will also like: