The Cavapoo is a loyal, loveable, and friendly hybrid dog. It combines the Poodle's comedic exuberance and hypoallergenic properties with the Cavalier King Charles Spaniel's affection and nose for prey.
They're smaller than other popular Doodle-type dogs, making them the ideal choice for pet owners in search of a hypoallergenic dog that does well in small spaces.
Here are several facts about the Cavapoo adult dog, from their history to health problems.
Other articles you would like: Cavapoo Dog Breed Guide and Cavapoo vs. Cockapoo.
1. Cavapoos Have a Long and Decorated History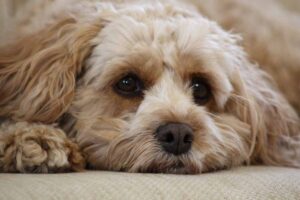 Let's start with the history of the Cavapoo. It stretches back hundreds of years, partly because of how long their purebred ancestors have been around.
The Poodle began life as a duck-retriever. And despite the association with France, Poodles originated in Germany. Their name comes from the German for 'to splash.' It's not particularly dignified, but given the Poodle's propensity for clownish behavior, that's apt.
Cavapoos get the other half of their DNA from the Cavalier King Charles Spaniel. The breed only acquired official status in 1945, but they're much older than that.
You only have to start examining Renaissance artwork to realize how old the Cavalier King Charles Spaniel is. The royal association inherent in their name links them to Charles II. Historians know him for the Restoration of the English monarchy, but he also had a predilection for Spaniels.
In particular, the affectionate, long-eared Cavalier Spaniel was doing duty keeping royal laps warm on chilly carriage rides during English winters.
So, that's where the Cavapoo's ancestors hale from, but what about the Cavapoo itself?
The Cavapoo first appeared in Australia in the 1950s. After the successful creation of the Labradoodle cross-breeds, people began looking for a way to make similarly hypoallergenic but smaller-sized dogs.
The Poodle was famous for its hypoallergenic fur and had several sizes, so it was the natural candidate for the hypoallergenic parent. Likewise, the affectionate, easily-trained Cavalier King Charles Spaniel was the natural choice for the other parent.
Despite originating in the 1950s, their status as a mixed breed prevented the Cavapoo from achieving the recognized breed status of their purebred parents.
By the 1990s, the Cavapoo was as popular as any hybrid dog breed. In 2009, the Cavapoo received the International Designer Canine Registry.
2. Cavapoos Have Several Names
There are a variety of names for adult Cavapoos. Cavapoo isn't even the most common of these. This hybrid dog is better known as the Cavoodle. But people also refer to it as:
3. There Are No Breed Standards for Cavapoos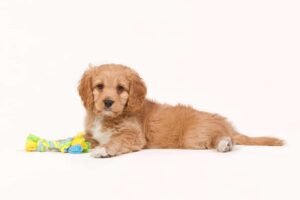 Because the Cavapoo isn't a recognized or registered breed, there aren't breed standards the way there are for certified Poodles or Cavalier King Charles Spaniels.
This also stems from the fact that, as inevitably happens with cross-bred dogs, there is an incredible amount of variety between puppies in the same litter. This is true irrespective of the dog's generation.
Depending on what genes are dominant, you may see dogs with curly, straight, or wavy coats in the same litter.
4. Cavapoos Can Have Different Coat Types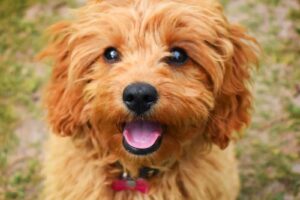 Which leads, naturally, to a discussion of Cavapoo coats. As with many dog breeds, they come in a variety of colors and color combinations. But they also vary across coat types.
Because Poodles and Cavalier King Charles Spaniels have such different coat patterns, there is a high degree of variation in Cavapoo puppies.
Curly Coat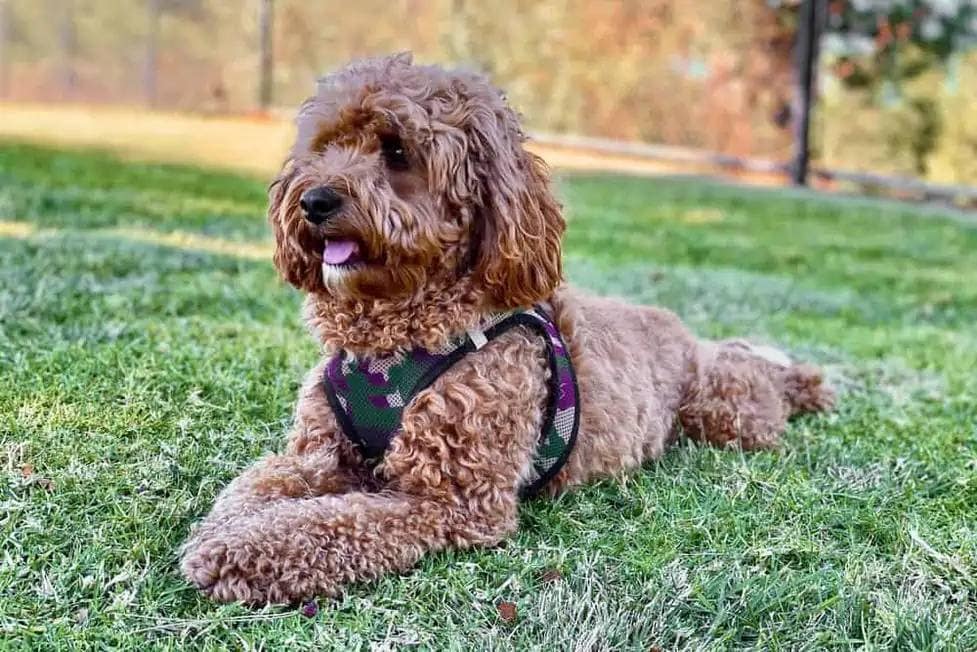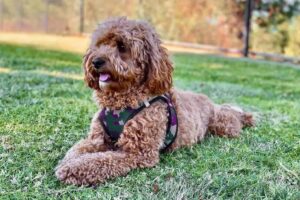 The classically hypoallergenic coat associated with the adult Cavapoo is the curly coat. This comes from their Poodle parents and is extremely low-shedding. It's ideal for dog owners with allergies who are looking for a small dog.
Wavy Coat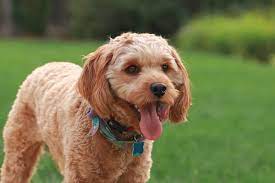 Another coat you sometimes see on Cavapoo adults is a wavy coat. It combines the woolly Poodle coat with the Cavalier King Charles Spaniel's longer, softer coat. This coat is less hypoallergenic than the curlier, Doodle-style coat. However, it still has significantly less dander than a Cavalier King Charles Spaniel's natural coat.
Hair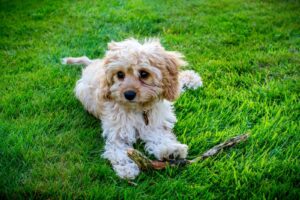 It may sound like splitting hairs, but there's a difference between dogs with hair and dogs with fur. Fur is denser and shorter. It also naturally stops growing and frequently consists of two coats.
Conversely, dog hair can grow indefinitely. It's finer than fur and longer. Because it doesn't stop growing, it doesn't shed as much or often as fur, which is what you want in a hypoallergenic mix like Cavapoos. But it requires regular maintenance to keep a Cavapoo adult's hair looking healthy.
5. Cavapoos Can Vary in Size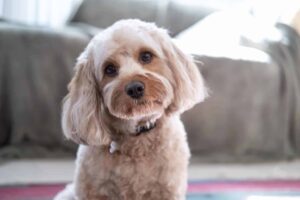 Cavalier King Charles Spaniels are medium-sized dogs. But Poodles come in several sizes. And while the original intention in cross-breeding the Cavalier King Charles with a Poodle was to create a smaller hypoallergenic canine mix, it's possible to find Cavapoos in the usual Poodle sizes. These include:
The notable exception is the Toy Poodle. These diminutive Poodles seldom get bred with Cavalier King Charles Spaniels. That may surprise Poodle devotees, given the popularity of the Toy Poodle.
But that worked to the detriment of the Toy Poodle. The demand for this dainty dog was so high that many non-certified breeders overbred it, resulting in a variety of health complications.
So, when trying to introduce suitable hybrid vigor and minimize health problems, Cavapoo breeders steer clear of the Toy Poodle.
6. Cavapoos Make Excellent Hunters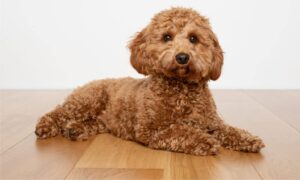 The Cavapoo cross is the offspring of two notorious hunting dogs. The result is that despite their small size, they have an exceptionally high prey drive.
Combined with the Poodle's natural energetic temperament, the result is an adult Cavapoo that enjoys chasing everything from balls to sticks to rabbits.
Encouraging this behavior is an excellent way to keep your Cavapoo adult dog active. But it also runs the risk of them pursuing prey like squirrels or birds.
7. Cavapoo Adult Dogs Are Small Dogs With Big Appetites
Partly, that prey drive stems from the fact that an adult Cavapoo is highly food-motivated. They love to eat, and they aren't fussy about what constitutes food.
That, combined with their people-pleasing personalities, makes Cavapoos easy to train. Even Cavapoo adult dogs train fast, provided you have treats on hand to build positive associations with the command of the moment.
8. Cavapoo Adults Need Routine Grooming
Because Cavapoos often inherit the Poodle's curly coat, they require significant amounts of grooming.
Without it, a Cavapoo adult's coat can develop mats and tangles. These mats make for more than poor aesthetics. They can be painful for your dog. Mats wind tightly around the skin and, in extreme cases, can affect circulation.
Untreated, they can also cause sores and skin lesions that may lead to secondary infection.
It's possible to groom your adult Cavapoo at home, but it takes time and practice to do a good job. Novice groomers or first-time dog owners may benefit from seeking out a professional groomer's assistance.
Cavapoo adults with wavy coats require less grooming and maintenance than those with curly coats but still benefit from routine grooming.
9. Cavapoos Are Prone to Certain Health Issues
One of the benefits of crossbred dogs like the adult Cavapoo is that they have fewer health problems than their purebred contemporaries.
That's due largely to a process called hybrid vigor. It ensures a widening of the gene pool and reduces the chances of health problems cropping up.
That said, the deeper you get into the generations of any dog breed, even a hybrid like the Cavapoo, the more likely you are to see health problems emerge.
There are a few health issues common to Cavapoos, and these include:
Ear Infections
Heart Disease
While the first two are self-explanatory, a luxating patella is veterinarian speak for a mobile knee joint. It's a common problem in small dogs, and a classic indication that your Cavapoo adult dog has luxating patella is the 'bunny hop.'
Typically, your Cavapoo will appear to hop on one of its hind legs. This happens when the knee joint slips out of its socket and continues until it slots back into place.
10. Cavapoo Adult Dogs Can Develop Separation Anxiety
We've talked a lot about the benefits of this Poodle-Spaniel mix. But one of the disadvantages is that both purebred parents have a propensity to develop separation anxiety.
Typically, a dog becomes anxious after:
Moving house
Losing a loved one
Acquiring a new family member (e.g., pet/baby)
But it can also happen when an energetic dog, like the Poodle or Cavalier King Charles Spaniel, is under-stimulated. That energy has to go somewhere, and it often ends up going into destroying your sofa or inappropriate elimination.
Cavapoos inherit this trait from both sides of the family, which makes it vital that you ensure they get enough attention. If you can't be home all day, a dog sitter or walker can help minimize canine separation anxiety.
Conclusion 10 Facts About Adult Cavapoos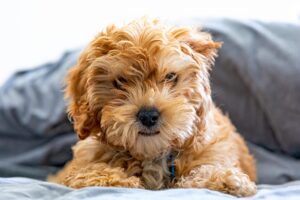 Funny, affectionate, and loveable, adult Cavapoos make wonderful pets. They are keen to please and devoted to their humans. All they ask is your undivided love and attention in return. But we have confidence that one look at those wide, liquid eyes will convince you that's not a difficult thing to give.
Whether you bring home a puppy or adult Cavapoo, we have confidence you'll have found a friend for life.
Other articles you would like:
Want to learn more about adult Cavapoos? Check out the video below:
Garrett loves animals and is a huge advocate for all Doodle dog breeds. He owns his own Goldendoodle named Kona. In addition, he volunteers at the Humane Society of Silicon Valley, where he fosters dogs and helps animals. Garrett enjoys writing about Doodles and believes that dogs can teach humans more about how to live than humans can teach a dog.
Why Trust We Love Doodles?
At We Love Doodles, we're a team of writers, veterinarians, and puppy trainers that love dogs. Our team of qualified experts researches and provides reliable information on a wide range of dog topics. Our reviews are based on customer feedback, hands-on testing, and in-depth analysis. We are fully transparent and honest to our community of dog owners and future owners.