Cockapoo vs. Cavapoo – which one is better? When it comes to choosing the right breed of dog for you and your family, you've got some important questions to ask. And with so many great breeds out there, you can undoubtedly find a dog that is just right for your lifestyle.
Among the many popular types of dogs includes hybrid breeds that involve a Poodle in the breeding process. This type of hybrid or mixed breed is often called a Doodle. Doodles can be big or small, depending on the parent breeds involved in the mix.
They share similar characteristics, such as being very friendly, loyal, and energetic. They also tend to have coats that do not shed all that much, making them excellent options for families with allergy concerns.
With Doodles coming in different sizes, you can easily find a dog that fits the space you live in. When your space is smaller, you can find a Doodle that is small enough to still be happy and healthy even in smaller rooms.
Two of these smaller Doodle breeds include the Cockapoo and the Cavapoo. In addition to being very fun to say, these breeds are friendly, have coats that are easy to snuggle in, and an agreeable personalities. While they may look very similar, some essential differences to note.
In understanding these differences, you can be better equipped and prepared to choose the right small Doodle dog for you and your family. To help you get to know these fun and loveable breeds, we share some essential things about each breed.
Before scrolling down this Cockapoo vs. Cavapoo guide, check out these other comparisons: Cockapoo vs. Poodle and Cockapoo vs. Goldendoodle.
Cockapoo and Cavapoo's Breeding History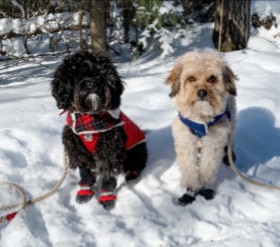 In understanding the Cavapoo and the Cockapoo, it's essential to know where these two breeds come from. As they share a Poodle parent, much of their differences come in the other parent bred with the Poodle.
For example, the Cavapoo mix a Cavalier King Charles Spaniel and a Poodle. The Cockapoo, on the other hand, is a mix between a Cocker Spaniel and a Poodle.
Like both parents, aside from the Poodle, are a type of Spaniel, there are certainly a lot of similarities between these two breeds. Based on strong breeding history, either dog can be a versatile and friendly family pet perfect for all ages.
Related: Best Cockapoo Breeders in the United States and Best Cavapoo Breeders in the United States.
Size
One of the minor differences between the Cavapoo and the Cockapoo is the potential size they can reach once they are adults. The Cocker Spaniel tends to be larger than the Cavalier King Charles Spaniel.
As a result, Cockapoos may be slightly larger than the Cavapoo. Again, the parents involved in the breeding process are the key indicators for the puppy's size. Additionally, the size between these breeds will also depend on Poodle's size used in the breeding process.
Poodles can come in three main sizes: Standard, Miniature, and Toy. Therefore, this component of a dog's genetic history is an essential indicator in determining the size of the Cavapoo or Cockapoo puppy. Generally, Cavapoos can reach a weight somewhere between 9 to 25 pounds.
Their height also stretches between 9 to 14 inches tall. On the other hand, the Cockapoo can weigh 12 and 25 pounds. They can also be a bit taller, ranging from 9 to 18 inches tall.
Other factors that influence the exact size of the Cockapoo is whether the Cocker Spaniel parent is an American or English Cocker Spaniel, as they also have differing sizes.
While these differences are minor, they still may play a factor in deciding what dog is right for you. In either case, these dogs are of a small to medium size, which can be great for smaller living environments.
Related: When is a Cockapoo Full Grown and When is a Cavapoo Full Grown?
Appearance
In addition to their size, knowing about their appearance is also essential in deciding on the right dog for you. Both the Cockapoo and Cavapoo have very similar appearances.
The Cavapoo can come in various coat colors, including brown, cream, gold, and chocolate. Cockapoos can also come in many different colors. These include chocolate, black, cream, or even apricot.
Some Cockapoos can even have unique markings on their coat, such as a tuxedo look that can make them even more adorable. Both the Cockapoo and the Cavapoo can have coats that vary greatly depending on how much "Poodle" they have in them. Their coats can range from soft and wavy to tight and curly.
This balance comes in the difference between the Cocker Spaniel and the Cavalier King Charles Spaniel coats. These dogs do not have non-shedding coats. Therefore, if they have less of a Poodle coat and more of their other parent breed genes, their coat may shed more.
They also can have a coat that is just like the Poodles. Or, they can have a coat that much more resembles either the Cocker Spaniel or the Cavalier King Charles Spaniel. Regardless of what kind of coat they have, be prepared to put in some work with their coat.
As with most Doodle varieties, both the Cavapoo and Cockapoo require regular grooming to prevent mats from developing in their already curly hair. If they have a more wavy coat, the grooming may not be as frequent. However, you should still be ready with a brush or comb as well as the name of a great groomer for your dog.
Related: Types of Cockapoo Colors and How Big Do Cavapoos Get?
Personality
A common trait among many Doodle varieties is their friendly and active personalities. Because of their Poodle influence tends to be great family dogs and do well around small kids and strangers.
The Cockapoo is generally very happy and always up for a good time. They are highly sociable and love being around people and other types of activity.
They are intelligent due to both the Cocker Spaniel's and the Poodle's smarts, and they are very people-centered and are happy whenever they can be around people. One thing to note about the Cockapoo is that they may be more prone to barking than the Cavapoo.
With their high energy level, they may choose to respond by barking, whether out of habit or intentionally. Thankfully, there are some ways you can adjust their behavior to make them stop barking or at least lessen the amount that they bark.
The Cavapoo is similarly very friendly and gentle. They are great with kids and have grown in popularity because of that. Similar to Cockapoos, they love being around people and are social dogs. They are happy wherever and whenever they can be around you and other family members.
Like Cockapoos, their extreme desire for people and receiving love and affection may also make them more easily develop separation anxiety when you are not around. Keep in mind that it can be pretty difficult to fully predict what kind of temperament and personality they will have with most all hybrid breeds.
They could have a personality more like either the Cavalier King Charles Spaniel or the Cocker Spaniel. Or, their personality could more closely resemble that of the Poodle. Or, it could even be a complete balance between the two breeds.
Training
With both breeds' eagerness to please, training can come pretty quickly for Cockapoos and Cavapoos. The relationship you establish with both breeds can be monumental in the effectiveness of your training.
Using positive reinforcement and regular practice can help them become strong and well-behaved dogs. As with dogs that seek to please their owners, be sure not to be too stern or demanding from them.
As they learn a new skill, they will desire to follow your commands to the best of their ability. So give them time and be patient as they learn how you want them to behave.
Related: Do Cavapoos Bark a Lot?
Exercise
With both the Cavapoo's and Cockapoo's high amounts of energy, both breeds require at least some kind of exercise every day. From a simple walk to a game of fetch in the backyard or even the living room, you can satisfy their need for activity quite easily.
Keeping them active can prevent negative behavior and habits from developing, especially if they suffer from separation anxiety when you are not around. Exercise also helps keep them healthy and prevents obesity or other types of health concerns.
In addition to physical exercise, it's also essential to keep both the Cavapoo and Cockapoo active with their minds. Give them puzzles or games to figure out to keep them thinking. Both breeds are very intelligent and may surprise you with how smart they are.
Life Expectancy
As for most small to medium-sized dogs, their life expectancy tends to be a bit higher than dogs of a larger size. Additionally, as both the Cavapoo and the Cockapoo are hybrid breeds, they also have a decreased likelihood, however slight, from purebreds due to intricate breeding practices.
As a result of their size and general good health, both the Cavapoo and Cockapoo tend to have long lifespans. The Cavapoo has an average life expectancy range between 10 and 13 years. The Cockapoo similarly has an average life expectancy range between 10 and 14 years.
Related: Common Cockapoo Health Issues.
Cost
As is the case with most Doodle varieties, both the Cockapoo and Cavapoo come at a high price range. Cockapoos can cost anywhere from about $1,000 to $2,500 per dog.
Similarly, Cavapoos can be anywhere from $1,200 to $2,000 for a puppy. This high cost is often due to the popularity of this breed and its rarity. So for a cute dog like a Cockapoo or Cavapoo, be sure you're ready to pay for them.
Related: How Much Does a Cockapoo Cost and
Conclusion For "Cockapoo vs. Cavapoo – Dog Breed Comparison"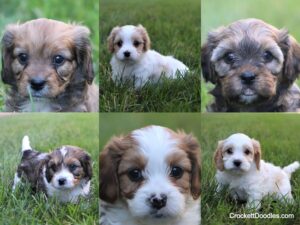 Among the Doodle varieties, there can be a lot of differences between breeds. However, with the Cockapoo and the Cavapoos, there are many similarities in both appearance and temperament that can make both great options for your family and lifestyle.
Especially for those in smaller living environments, their smaller size than other Doodle varieties can make them the perfect fit. Both the Cockapoo and Cavapoo are very friendly and love to receive affection and attention. Wherever you are, they want to be there.
Before taking the next step and getting the perfect dog for you and your family, be sure you do your thorough research of what type of pet is proper for you. Look around at local breeders in your area and ensure they have both you and your future dog's interests in mind.
With the right approach and a house full of love for a dog, you can be ready to welcome home a new Cavapoo or Cockapoo puppy. You certainly can't go wrong with either Doodle mix with their loveable personalities.
For more guides similar to this Cockapoo vs. Cavapoo guide, you can check out:
You can learn more about these two comparisons by watching "Cavapoo vs. Cockapoo – Compare Two Poodle Mix Breeds" down below: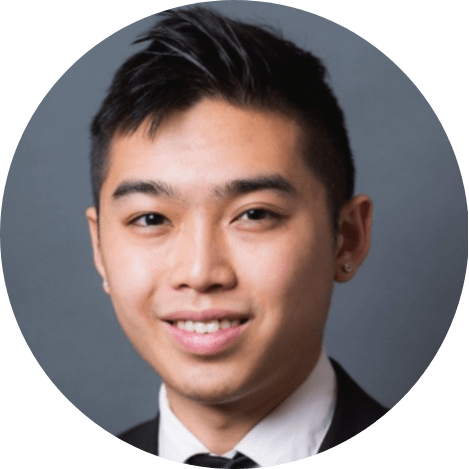 Andy is a full-time animal rescuer and owner of a toy doodle. When he's not saving dogs, Andy is one of our core writers and editors. He has been writing about dogs for over a decade. Andy joined our team because he believes that words are powerful tools that can change a dog's life for the better.
Why Trust We Love Doodles?
At We Love Doodles, we're a team of writers, veterinarians, and puppy trainers that love dogs. Our team of qualified experts researches and provides reliable information on a wide range of dog topics. Our reviews are based on customer feedback, hands-on testing, and in-depth analysis. We are fully transparent and honest to our community of dog owners and future owners.