As with any other Doodle breed, Cockapoos have a lot of color options to choose from. Since the Poodle comes in 10 different standard colors and the Cocker Spaniel comes in 9 colors, the coat color combinations are virtually limitless. Not only are there standard color options but then there are special and more rare coat colors to be familiar with as you choose your Cockapoo colors.
When you are ready to make a decision, the beauty of each Cockapoo color is significant. Whether you have a preference or not, you will think they are all adorable dogs in their fluffy, nonshedding, and hypoallergenic coats. Which, by the way, might actually make it even harder for you to actually settle on a color choice!
In this guide, we will share with you the most common types of Cockapoo colors with some examples and pictures. When we finish, you might just have a clear picture of what's out there and be one step closer to choosing your favorite Cockapoo color. Let's take a look!
Common Cockapoo Color Options
The Cockapoo is a breed that is designed from Cocker Spaniels and Poodles. Since Cocker Spaniels can come in bi-colored coats or even tri-colored coats there are some common and rare coat colors.
In general, Cocker Spaniels are rarely a single solid color, although there are black or blue roan solids. The AKC has some specific colors listed as acceptable for that breed. This is typically why you will see Cockapoos with a dominant color and a more recessive color.
Here are some of the most common types of Cockapoo Colors that you will see:
Parti Cockapoos
Phantom Cockapoos
Merle Cockapoos
Cream Cockapoos
Apricot Cockapoos
Red Cockapoos
Chocolate Cockapoos
The actual color combinations can vary quite a bit. It is nearly impossible to truly predict the color of a Cockapoo puppy, but you can certainly make an educated guess based on the parent coat colors. However, it's very difficult to predict the recessive coat colors.
Why Are There So Many Cockapoo Colors?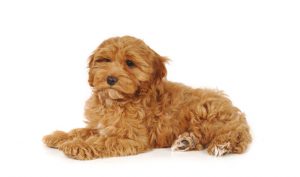 When you mix two unique breeds together, you must first understand that they will bring their own unique colors to the drawing board. In addition, Cocker Spaniels have unique color patterns and shades which make it difficult to predict the coat color of a puppy.
You must consider that some of these will rear as the dominant coloring, leading to a unique color for your Cockapoo. However, every dog carries recessive genetic traits which contain various colors. This is why it's common to see multi-color Cockapoo litters.
In addition, the AKC lists 10 standard Poodle colors which are black, white, apricot, cream, sable, blue, grey, silver, brown, red, or black/white. When you combine the Poodle and the Cocker Spaniel, you just might end up with some beautiful color combos in the end.
Solid Cockapoo Colors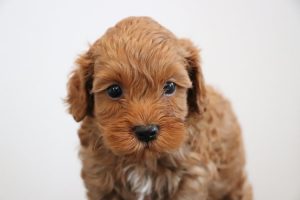 Interestingly enough, solid Cockapoos are some of the most common coat colors. This is the easiest to breed because there isn't a lot of planning required to get the colors just right. Here are some solid colors that you might see.
Red Cockapoos
Apricot Cockapoos
Black Cockapoos
Chocolate Cockapoos
Cream or white Cockapoos
Red Cockapoos are the most popular color overall, with black Cockapoos being a close runner-up. The red coat color is a gorgeous color that really stands out and people search for red Cockapoos quite stringently.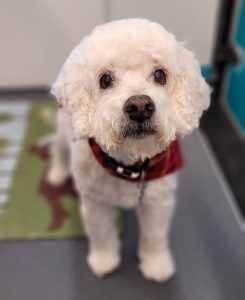 When a Cockapoo is a solid color, they might have some other color markings on their coat but it will be minimal. You might notice things like a white chest or collar area, possibly some white on a paw or on the ear.
These are still considered solid cockapoos unless the markings are specific to fall into another category. We will talk about some of those specific categories later in the guide.
Parti-Colored Cockapoos
Another popular color variation for the cockapoo is what is referred to as parti-colored. A parti-colored Cockapoo is multi-colored in obvious color variations. They might have a dominant color but the other colors on their coats will also be largely dominant rather than just some minor splashes that blend.
Parti-colored Cockapoos can be bi-colored, but it is also possible that they will have three different colors.
Parti-colored is just a fancy term for multi-colored. You might also hear bi or tri-colored as the explanation, but theses primarily all fall into the same category. The colors involved can vary depending on the colors of the parents that were bred to create the Cockapoo puppies.
Phantom Cockapoos
You may or may not have heard of phantom Cockapoo coloring before. This is another popular combination for Cockapoos. People love the phantom coloring because it's slight peek-a-boos of color that don't really stand out unless you're rubbing your dog's belly.
How is phantom coloring different from parti-colored Cockapoo? Good question. Both are a multi-colored Cockapoos, but parti-colored dogs are multi-colored with patterns and colors spread over their body that stand out in more than one color combination.
With phantom Cockapoos, the two colors are located on certain parts of their body. The Cockapoo will have a primary color and then there will be phantom colors on their chin, throat, chest, eyebrows, legs, paws, and tail.  Finally, phantom Cockapoos also tend to have phantom traces of another color on their chin and lightly around their eyes as well. The colors are the same pattern as a Doberman Pinscher dog breed.
Phantom coloring typically has black, chocolate, or red as the dominant color with the phantom color being something lighter like white, cream, tan, or apricot markings. Phantom cockapoos can be tri-colored but the term mostly refers to how the colors present themselves.
Merle Cockapoos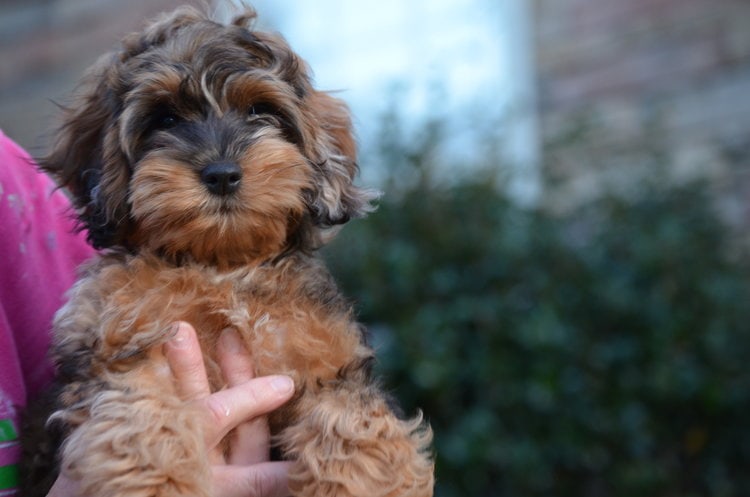 In the Cockapoo breed, merle coloring is somewhat rare. It is a gorgeous coloring that is often underrated in the Cockapoo world. However, many people actually stray from breeding merle Cockapoos because you can't breed a merle to a merle, or the dog will be blind or deaf.
This is known as a double merle and it leads to detrimental health issues that are specific to double merles. This is the only style that you can't double breed like that and it has to do with the merle trait being heavily dominant.
Cockapoo merles are rare and any litter that produces a merle will most likely never have more than 25% merle pups in it, regardless of whether or not a parent of the breed is a merle parent. In other doodle breeds, merle tends to take over but not as much as with Cockapoos.
Merle Cockapoos tend to have color swirl patterns that are like a marbled effect to some extent. They will probably have a mixture of 2-3 colors. There are both blue merle and red merle cockapoos.
Merle will not present in cockapoos the same way it does with say an Aussie doodle or an Australian Shepherd. The colors will swirl differently and be completely random as to how they are patterned and placed when merle is dominant.
Cockapoo Color Special Terms
We've shared some of the primary categories and just want to share with you a few standard terms that you might hear as well as what those terms mean when you do hear them. These are not necessarily their own categories but are terms you might hear related to the color of a cockapoo.
Some coat color terms to be familiar with are as follows:
Black Tuxedo Cockapoo – Tuxedo coloring could be self-explanatory. This means that the dog is dominantly black but may have a burst of color on the chest area, kind of like the shirt that is worn under a tuxedo! A Black Tuxedo Cockapoo will be primarily black with a white chest.
Red Tuxedo Cockapoo – This is the exact same as the Black Tuxedo but red is the dominant color. The tuxedo color might be tan or white for a Red Tuxedo Cockapoo.
Conclusion for Types of Cockapoo Colors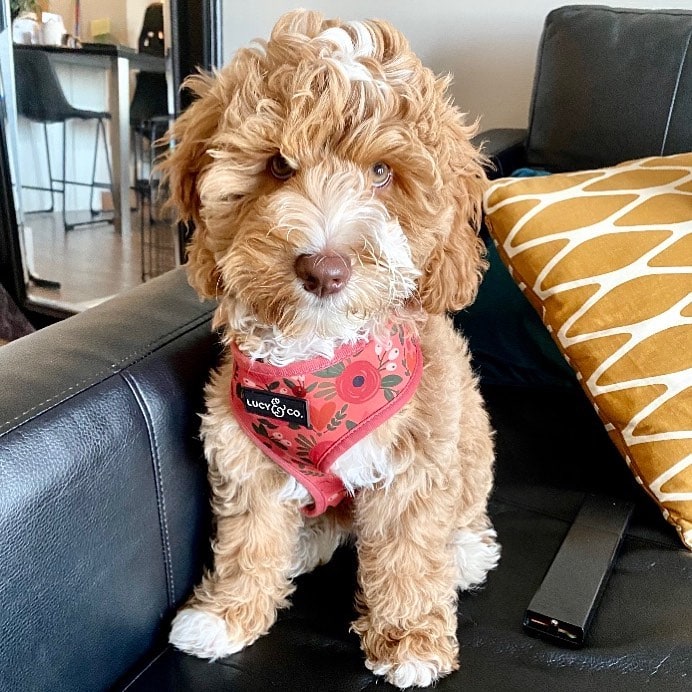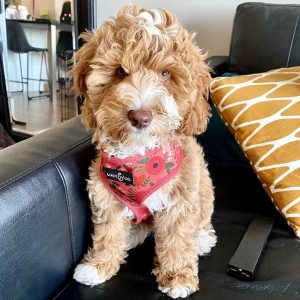 You will find all types of Cockapoo colors out there on the market and highly depends on the adult dog colors. Many of a Cockapoo's colorings are unique and you can't really go wrong with any color.
Cockapoos are so much fun and they come with a mostly nonshedding and hypoallergenic coat. What color of Cockapoo are you considering for your family?
Other articles you might like:
Garrett loves animals and is a huge advocate for all Doodle dog breeds. He owns his own Goldendoodle named Kona. In addition, he volunteers at the Humane Society of Silicon Valley, where he fosters dogs and helps animals. Garrett enjoys writing about Doodles and believes that dogs can teach humans more about how to live than humans can teach a dog.
Why Trust We Love Doodles?
At We Love Doodles, we're a team of writers, veterinarians, and puppy trainers that love dogs. Our team of qualified experts researches and provides reliable information on a wide range of dog topics. Our reviews are based on customer feedback, hands-on testing, and in-depth analysis. We are fully transparent and honest to our community of dog owners and future owners.