I recently met a dog owner of a 2-year-old double merle Aussie Doodle who was deaf and visually impaired due to the double merle breeding practices.  This person had inherited the dog from a rescue since the previous breeder didn't want to take care of the animal due to its special needs.  This caused me to do a ton of research on how dogs get to be a double merle.  In addition, I also explored the probabilities and downsides of being a double merle.
The merle-colored Australian Shepherds, Great Danes, Corgis, and Border Collies all have a unique and signature look because they are usually multi-colored.  Many new pet owners seek out this multi-colored look, but there are downsides and risks that dogs can be a double merle.  If you're a breeder, keep in mind that two merle dogs should not be bred together or there is a chance of developing a dog that has the double merle gene.  Many breeders have also been reproducing this dog due to the high demand and low probability of getting a double merle.
What is a Double Merle Dog?
In order to understand the meaning of a double merle, it's important to know what a merle dog is. Essentially, a merle dog is a specific coat pattern that consists of several different potential colors including blue, red, tan, white, brown, or black.  You'll commonly see the merle pattern on Australian Shepherds, Border Collies, Great Danes, or Dachshund dogs.
In order to get the merle color, you have to dilute the normal base color of a solid coat.  For instance, for a tri-color merle Aussie, you are essentially diluting the color black to get the famous patches, patterns, and shades of color.
The problem starts to arise when a merle pattern is diluted too much.  This is what people refer to as the double merle gene.  Once the black color gets diluted too much, you start noticing white or pink-colored skin on a dog (particularly Australian Shepherds).  This is essentially how double merle dogs start to become blind or deaf because the merle gene doesn't only affect the outside coat color.  You'll notice lots of pink and white skin around their nose, eyes, and face.  You may also notice that their eye colors turn a lighter colored blue.
How does a dog become a Double Merle?
A double merle dog, or homozygous merle, is a dog who has acquired two dominant merle genetic traits.  These dominant merle genes come from each parent dog.  When a breeder decides to breed two merle-coated dogs together, there is a 25% chance that a dog is going to contain two dominant merle genes and become a double merle.  There are different cases and probabilities of becoming a double merle depending on what generation of offspring a dog is, but this is the most obvious use case.
To summarize in a statistical way, a merle dog has two genes which are a dominant merle color denoted by a capital "M" and a recessive merle gene denoted by a lower case "m".  If two merle dogs are bred together, 50% of the offspring will be merle (Mm), 25% of the offspring will not be merle (mm), and 25% of the offspring will be double merle (MM).  Thus, if you breed two merle dogs together there is a 25% chance that your dog will be a double merle which typically results in blindness and deafness depending on the severity of the dilution.
In general, you should never be breeding two merle-colored dogs together.
The Downsides of a Double Merle Dog
Since the merle gene not only dilutes the coat color of a specific dog, but it also dilutes other genetic traits, there are severe downsides of a double merle dog.  Some of the most common downsides are listed below:
Deafness and complete hearing loss.  Because of the diluted pigments, you will often see double merle Aussies that are deaf and can no longer hear.  There are two types of deafness: bilaterally deafness and unilaterally deafness.  Bilaterally deafness means that the dog is completely deaf and can longer hear.  Unilaterally deafness means that the dog can hear from one ear, hear sound pitches, or other things.  There is a possibility that a double merle will be bilaterally deaf, unilaterally deaf, or not deaf at all.
Blindness and other vision impairment.  Most of the time, a double merle dog will have some sort of blindness or vision impairment.  Since the merle doesn't only dilute the coat color, but it also dilutes the eyes and pigments of the eyes.  Blindness can definitely range in double merle dogs from slight vision impairment to completely blind.  Sometimes their eyes will be all white and virtually nonexistent.  There are several different types of vision impairment.
There are certainly more downsides than deafness and blindness in a double merle, but these are the most common downsides.  Unfortunately, these special needs dogs, they often times are euthanized or sent to shelters where they don't get adopted.
How do you Prevent Double Merles?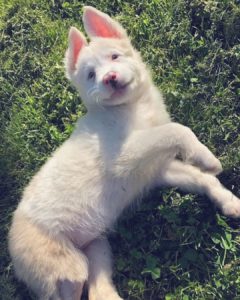 In order to prevent double merle dogs, you should not breed two merle dogs together.  For the most part, the merle gene is a dominant trait.  This is why almost all the dogs who carry a merle gene (Australian Shepherd, Border Collie, Dachshunds, Corgis, etc.) have a multi-colored coat.  Typically, it is very obvious when your dog has a merle gene.  Any two merle dogs should never be breed together.
If you're worried about potentially breeding two merle dogs together, there is genetic testing that you can do to verify whether or not your dog has a merle gene.  If you're looking for a genetic test for your dog, you'll want to look if the "M allele of the PMEL gene" is present.  This is also called the M Locus test.  If you're buying a merle dog, you should verify that your breeder has done some form of genetic testing to prevent two dominant merle genes.
Why do People still Breed Double Merles?
There are a couple of reasons that you see double merle dogs still.  First, the breeder simply didn't know that a double merle dog was possible.  Second, there is a high demand for the merle color coat so many breeders will risk taking the chance of not having a double merle dog.  In this case, these are not good breeders.  If you ever see a litter of Australian Shepherds, Great Danes, or Border Collies with white coats you should definitely be wary because that is not a reputable breeder.
In addition, before purchasing a dog with merle coloring, make sure that the breeder is reputable.  You should definitely ask to see the parents to verify that they are not both merle.  In addition, you can ask for the genetic testing of the parents to make sure that the M locus doesn't appear on both dogs.  It's important that you don't buy a dog from a breeder who is potentially breeding double merles.
What happens to Double Merle puppies?
Unfortunately, if a double merle puppy isn't killed or abandoned it will almost always end up in a shelter or rescue.  However, there are cases where shelters won't accept special needs dogs because they almost never get adopted or rescued because they are difficult to care for.  It's completely understandable that most people would not want to adopt a deaf and blind dog.
Some shelters and rescues dedicated to double merles:
Conclusion for Double Merle Dogs (2020) – Aussie, Great Dane, Border Collie
Unfortunately, double merle dogs are often the case of negligent breeder practices because the demand is high for merle-colored dogs.  For these types of dogs, they will forever live a life where they are going to be mostly blind and dead which is a series of unfortunate events.  Before you purchase a dog of merle coloring, we suggest that you inspect the parent dogs to verify that they aren't both merle.  In addition, you should make sure that the breeder has done genetic testing to verify that the dogs aren't both carriers of the merle gene.  It's quite unfortunate that there are a lot of double merle dogs.
Other articles you might like:
Garrett loves animals and is a huge advocate for all Doodle dog breeds. He owns his own Goldendoodle named Kona. In addition, he volunteers at the Humane Society of Silicon Valley, where he fosters dogs and helps animals. Garrett enjoys writing about Doodles and believes that dogs can teach humans more about how to live than humans can teach a dog.
Why Trust We Love Doodles?
At We Love Doodles, we're a team of writers, veterinarians, and puppy trainers that love dogs. Our team of qualified experts researches and provides reliable information on a wide range of dog topics. Our reviews are based on customer feedback, hands-on testing, and in-depth analysis. We are fully transparent and honest to our community of dog owners and future owners.