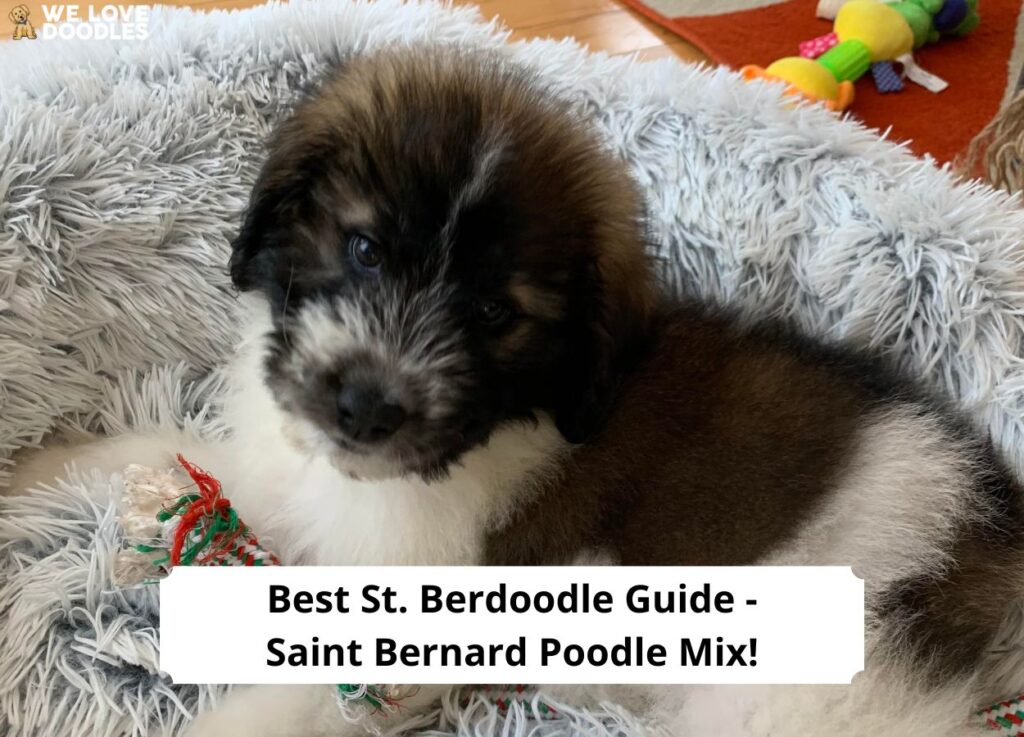 A St. Berdoodle is a dog breed that's growing in popularity, and it's exactly what its name implies: a St Bernard poodle mix. In different parts of the world, you may hear the dogs referred to by different names. The St. Berpoo, for instance, or the Saint Berdoodle, are two commonly used monikers for this large dog breed. 
No matter what you call the designer dog in your locality, you're in for a treat when you choose to adopt! The dogs don't shed much, making them somewhat hypoallergenic and perfect for families with allergy sufferers. They're friendly, smart, and playful as well, and they tend to get along with older children.
What's more is the St Bernard poodle mix is adorable! They look like large teddy bears, and they're just as cuddly! Are you thinking of adding a St. Berdoodle to your family? Read on to learn more about the breed and about caring for the dogs.
Are you interested in watching a video on the Saint Berdoodle? We made a video below to describe this dog breed.
Other doodle breeds you also might like are the Huskydoodle, Chow Chow Poodle, or the German Shepard Poodle mix.
What is a St. Berdoodle?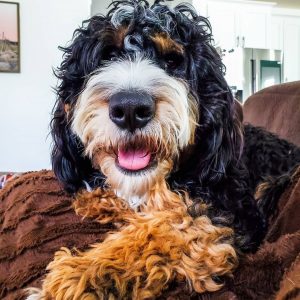 The St. Berdoodle is a crossbred dog that is a mix of two very famous dog types: the Saint Bernard and the poodle. The Saint Bernard and the poodle are just about polar opposites in regards to personality and character, but they mix to make one of the softest and cutest dog breeds in the world. This designer breed is commonly known as the St. Berdoodle.
The St. Berdoodle is one of the largest doodle breeds in the world, which makes them excellent companions for owners in a large living space who prefer a large dog. Because they are bigger in size, Saint Berdoodles will require a lot more exercise than a smaller poodle. Make sure that you have a large enough living space and that you're prepared to care for a big dog!
St. Berdoodle Background
The specific origin of the St. Berdoodle is unknown, but the dogs have started to become incredibly popular over the last few years. The St Bernard poodle mix is just one of many doodle breeds, which are known for their intelligence, hypoallergenic coats, and striking appearance. This is one of the largest doodle breeds.
Saint Bernard Background
The Saint Bernard originated in 1600s Italy and Switzerland. The pups were created as rescue dogs for a hospice of Italian monks. When fog or snow developed on the border of Italy and Switzerland, the St. Bernard was tasked with searching for lost travelers. These St. Bernards are heroes! Their lifesaving efforts are, in part, a reason the breed gained traction elsewhere in the world.
Despite their extremely large size – usually between 140 and 200+ pounds – these dogs are extremely friendly towards strangers. The dog breed stands 28 to 35 inches tall and with white, tan, and black coloring.
Poodle Background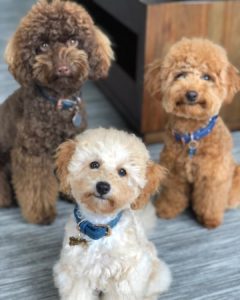 Poodles originated when a certain type of wolf was domesticated – but the poodles we know today would likely never survive in the wild!
The earliest known poodles are thought to have lived in the 15th century, as German art portrays the breed. Since then, the poodle has "evolved" from a searching, farming, and guard dog to the fluffy, smart pets they are today.
Poodles love to swim, and they've been used to retrieve objects and animals from the water during hunting. The poodle is, according to the American Kennel Club (AKC), the most popular dog breed on the planet!
There are more than ten official coat colors of the poodle, and the dogs are bred in toy, mini, medium, and standard varieties.
The St. Bernard Poodle Mix
This St Bernard poodle mix is an extremely big doodle dog! Because they're a designer dog, Saint Berpoos aren't recognized by the AKC. However, there are several major establishments, such as the Saint Berdoodle Community, that set breeding guidelines and standards for the dogs.
The three most popular sizes of St. Berdoodle are:
Mini Saint Berdoodle Size
The mini St. Berdoodle is one of the most common sizes. "Mini" St. Berdoodle may seem a bit ironic because the Saint Bernard parent is so giant. However, generally speaking the dogs are actually lighter than 40 pounds when fully grown. They only grow to a height of around 20 inches, too, making them a "manageable" breed for those in average-sized homes.
Medium Saint Berdoodle Size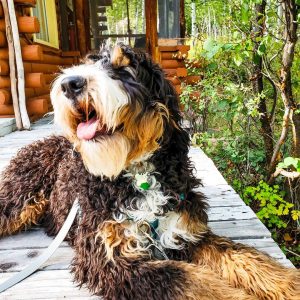 A medium St Bernard poodle mix is the perfect middle ground for those who want a larger dog … but not too large! A medium St. Berdoodle is usually 40 to 70 pounds and measures around 23 inches tall. A smaller poodle and a female (typically smaller) St. Bernard are mated to produce medium St. Berdoodle puppies. 
If you have a back yard and want a dog that only sheds minimally, the medium St. Berdoodle may be a good fit for you.
Standard Saint Berdoodle Size
The largest of the St. Berdoodles is the standard. They usually weigh over 70 pounds, but it's not uncommon for the dogs to reach a weight topping 100 pounds! The height of these dogs is around 25 inches or more. You already know that St. Bernards can grow to be very large, but you may not know that poodles can, too! Because of the combination of these genes, your standard St. Berpoo can grow to be huge!
Saint Berdoodles don't need an excess of exercise, but we strongly recommend that you only adopt one if you have a very large space for your dog to explore, and that you're willing to commit time to walking and playing with your dog.
Saint Bernard Poodle Mix Colors
St Bernards come in three colors and poodles come in ten standard colorations. For that reason, St Bernard poodle mixes come in many different shades!
It's difficult to predict which colors your pup will exhibit simply by observing the parents. However, it's likely that you'll get one of the following variations:
Brown, Black, and White St. Berdoodle Color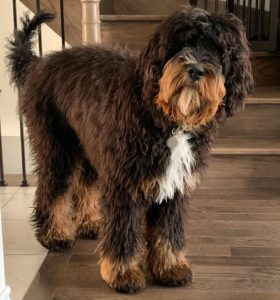 St Bernard poodle mix pups that are brown, black, and white are very common. The color scheme is reminiscent of a St. Bernard, but the pups don't shed as much and are considered hypoallergenic. Dogs with this color combination will typically display black and brown with white patches on the chest. Their little eyes, noses, and toenails will usually be black, making them super cute!
Multi-colored dog colors are in high demand which makes this St. Bernard and Poodle mix special!
Black and Brown St. Berdoodle Color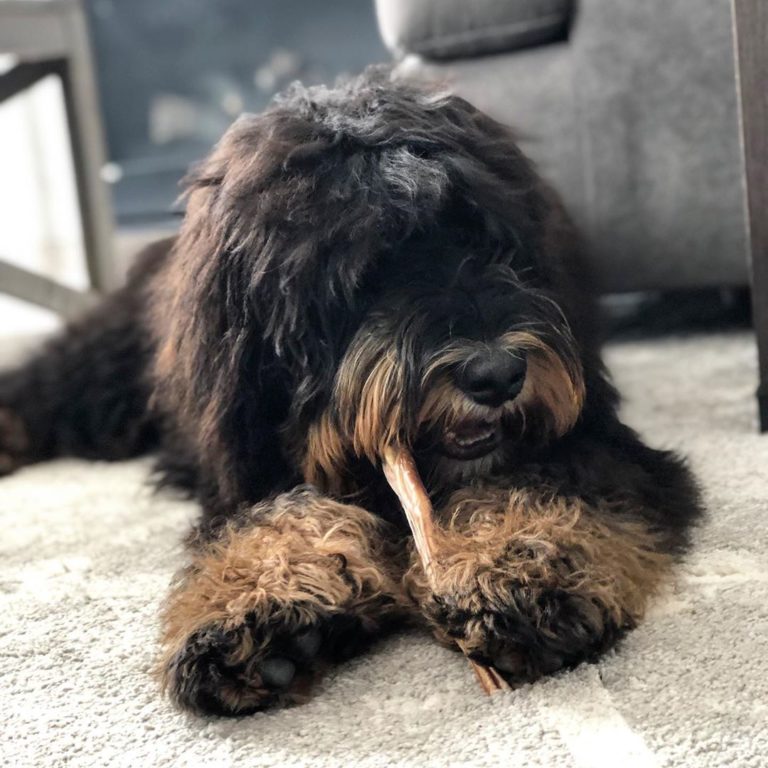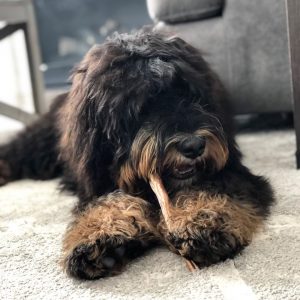 A black and brown St. Berdoodle color scheme is another that's fairly popular. Because the St. Bernard's colors are usually dominant, black and brown St. Berdoodles are common.
Brown and White St. Berdoodle Color
A brown and white Berdoodle is actually common when you a breed a Saint Bernard with a lighter colored Poodle like white. Since black is a recessive genetic color, it's more common to see the lighter colors like a brown and white show on a St. Berdoodle. However, this coloring is very rare if you don't use a lighter colored Poodle to breed with a Saint Bernard.
St. Berdoodle Grooming
St. Berdoodles are typically low-shedding, but they'll still need grooming! Plan to wash your dog no less frequently than every eight weeks, keeping in mind that you can certainly bathe him more frequently!
Your dog may inherit the curly hair of the poodle or the straighter hair of the St. Bernard. Both types will require brushing, though you may find that straight hair is more prone to mats and tangles. Brush your pup with a pin brush, then remove any dead hairs with a slicker brush.
Check out our grooming guides throughout the We Love Doodles website to give you a better idea of how to tame tangles and even give your dog a haircut!
St Bernard Poodle Mix Lifespan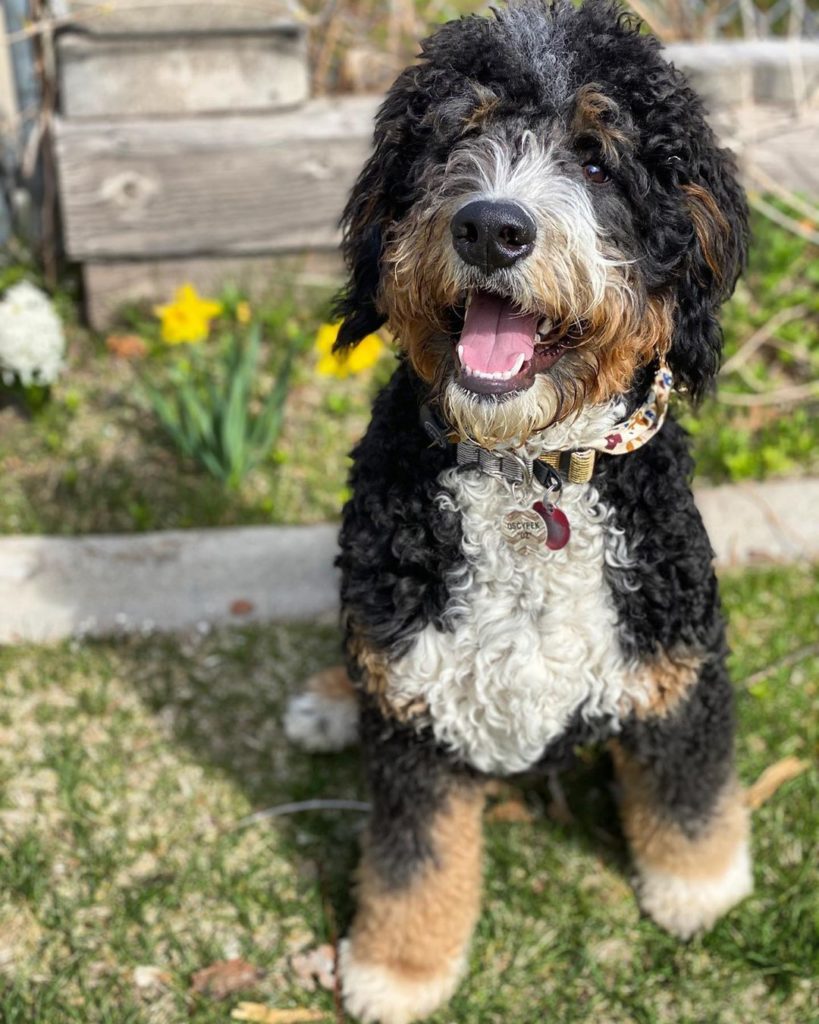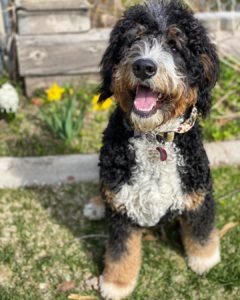 Poodles and St. Bernards are both healthy dog breeds, generally speaking, and your St Bernard poodle mix should have a lifespan of over ten years. However, since your St. Berdoodle is a large breed, he's more susceptible to health problems like hip dysplasia or other joint issues.
That said, this designer breed inherits a positive trait called Hybrid Vigor. This just means that the dog won't usually inherit all of the known genetic issues of its purebred ancestors, making him more likely to live longer than his poodle or St. Bernard parents are expected to.
Saint Berdoodle Generations
Are you curious about the numbers and letters that follow your dog's breed? You may have seen F1 or F1b on your pup's papers. Well, the letter "F" represents filial which simply implies the Saint Berdoodle is a crossbred pet as opposed to a purebred. The number (1 or 2 or 3) is the generation of the St. Berdoodle. The letter "B" represents backcrossed, which implies that the dog was breed back to a 100% Poodle. The genetic percent of each St. Berdoodle Generation is listed below:
F1 St. Berdoodle: 50% Poodle and also 50% Saint Bernard.

F1B St. Berdoodle: 75% Poodle and 25% Saint Bernard.

F1BB St. Berdoodle: 87.5% Poodle and 12.5% Saint Bernard.

F2 St. Berdoodle: 50% Poodle and 50% Saint Bernard.

F2B St. Berdoodle: 62.5% Poodle and 37.5% Saint Bernard.

F2BB St. Berdoodle: 81.25% Poodle and 18.75% Saint Bernard.

F3 St. Berdoodle or Multi-generation St. Berdoodle: Several generations of St. Berdoodle breeding typically backcrossed to the Poodle.
If this is confusing to you, please reference our Labradoodle Generations Guide! We do a deep-dive into the generations of doodle dogs, making it easier for you to understand the dog you're adopting. In general, people usually want to acquire a St. Berdoodle dog that has heavy poodle genetics. These dogs tend to be more hypoallergenic and lower-shedding than dogs with heavy St. Bernard genes.
Should I get a St. Berdoodle pet dog?
St Bernard poodle mix pups are pleasant, clever, and easy-going. They're usually pretty allergen-free, and the dogs are super smart and trainable! The St. Berdoodle comes in quite a few colors, and many St. Berpoos truly do look like mini versions of their St. Bernard parent!
The dogs are appealing to many dog lovers, but it's important that you understand what you're getting into before you adopt. The dogs are large, which means they'll need a lot of space to exercise and explore. They don't shed much, but they still require grooming to keep them looking healthy and sharp.
Do your research and talk to your breeder before you commit to buying a St. Berdoodle. Ensure that you can care for your dog so as to avoid heartbreak later!
Conclusion for St. Berdoodle Guide – Saint Bernard Poodle Mix (2023)
St. Berdoodles look like multi-colored teddy bears and have extremely gentle personalities. This makes the St Bernard poodle mix an excellent pet for households that have a family and kids. Additionally, this type of dog is ideal for people with animal allergies and desire a dog that does not shed hair everywhere. Generally, these are really charming pets that are nonaggressive and large in stature. St. Berdoodles are a great option for most households!
Want to learn more about the Saint Berdoodle? Check out the video below:
Frequently Asked Questions
Do St. Berdoodles shed?
In general, St. Berdoodles are very light shedders. If you obtain a Saint Bernard and poodle mix that has a considerable amount of poodle traits then it is most likely that they will not shed in any way. Discuss with your breeder which generation of St. Berdoodle they are and make sure that they have a majority of poodle genetics.
Are St. Berdoodles hypoallergenic?
St. Berdoodles are a mostly hypoallergenic dog breed due to the fact that it acquires hereditary qualities from the Poodle. Nonetheless, no pet is 100% hypoallergenic, yet the St. Berdoodle is as close as you can obtain to a dog that is going to be hypoallergenic. So if you have mild pet allergic reactions a St. Berdoodle might be the right pet dog for you.
Are St. Berdoodles smart?
St. Berdoodles are very wise. They get genes from the poodle, which is one of the most intelligent dogs types on the planet. Thus, they are very smart and easy to train dogs.
Garrett loves animals and is a huge advocate for all Doodle dog breeds. He owns his own Goldendoodle named Kona. In addition, he volunteers at the Humane Society of Silicon Valley, where he fosters dogs and helps animals. Garrett enjoys writing about Doodles and believes that dogs can teach humans more about how to live than humans can teach a dog.
Why Trust We Love Doodles?
At We Love Doodles, we're a team of writers, veterinarians, and puppy trainers that love dogs. Our team of qualified experts researches and provides reliable information on a wide range of dog topics. Our reviews are based on customer feedback, hands-on testing, and in-depth analysis. We are fully transparent and honest to our community of dog owners and future owners.