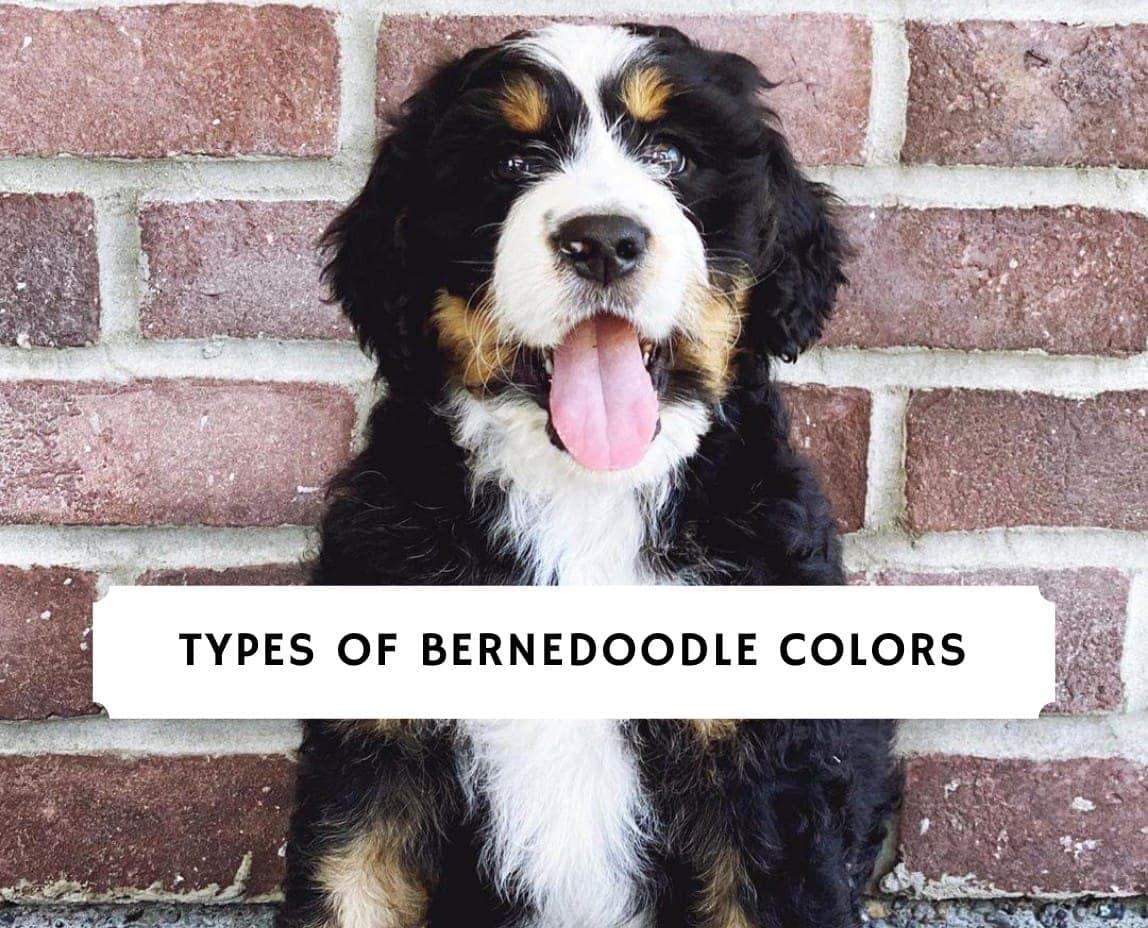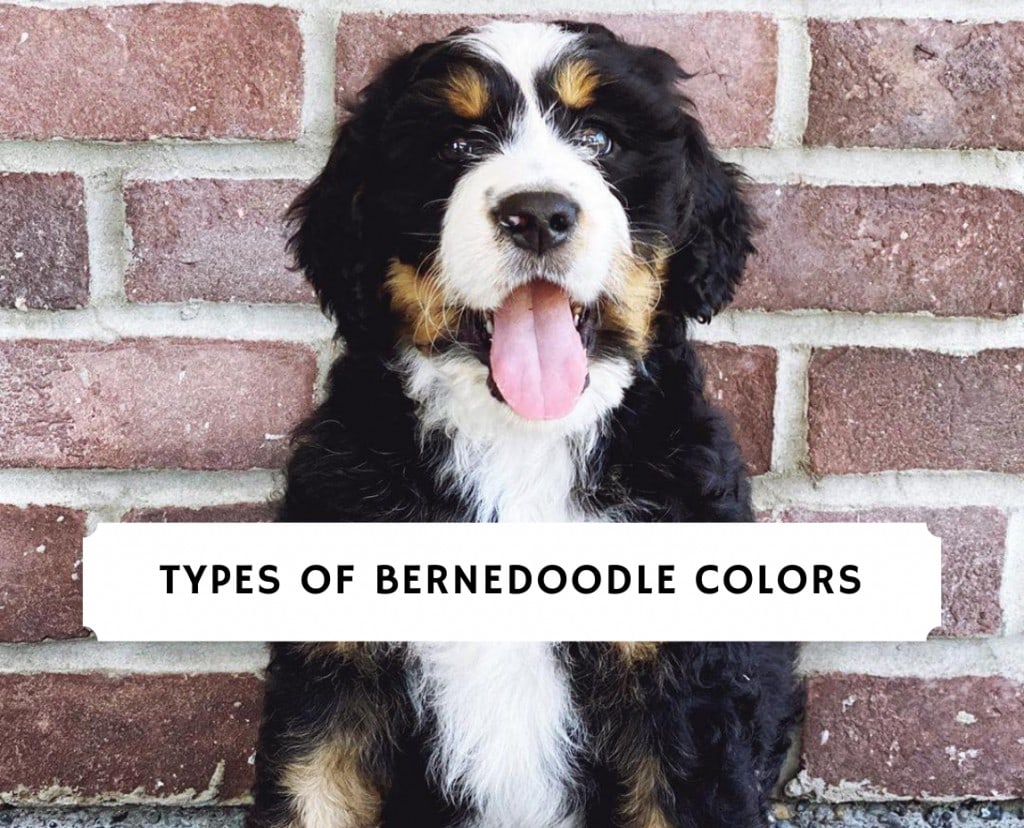 Bernedoodles are adorable pups with a fluffy, soft coat that's considered hypoallergenic. They don't shed much, and their Poodle traits make them great companions for those who are allergic to pet dander. Bernedoodle colors will vary based on the parentage and genes of the dogs, and we'll talk about that in this guide!
The dogs are a cross between a Bernese Mountain Dog (a Berner) and a Poodle, giving them unmatched intelligence and a fun personality. The designer dogs are playful, clever, loyal, and oh-so sweet. 
Fun fact: the Poodle comes in ten different coat colors as defined by the AKC. The standard Poodle colors are Apricot, Black, Blue, Brown, Cream, Gray, Red, Silver, Silver Beige, and White. As you can imagine, there are seemingly infinite color combinations that your Bernedoodle can display! Let's take a look!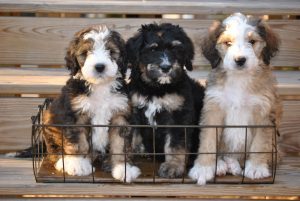 Black and White Bernedoodle Color
Black and white Bernedoodles often have small patches of white located near their nose and chest. Sometimes the white fur patches can show up on their paws making it look like they are wearing boots!
Since each dog is unique, black and white Bernedoodles from the same litter can have white spots located in different areas. It all depends on heredity and the genes that get passed along to each individual puppy. The black color in a Bernedoodle is typically a recessive gene which is why you will usually see Bernedoodles that are tricolor or multicolor.
Merle Bernedoodle Color
A merle colored coat is often inherited when one parent has the same coloring or holds a recessive gene. The coloring of merle varies but you will see Bernedoodles that have red, brown, black, and white markings. Alternatively, the merle Bernedoodle color will be blue, grey, and white. Breeders often avoid mating two merle colored Bernedoodles due to dominant genes causing hereditary defects. Research has revealed that many dogs with both parents featuring a merle colored coat are often born with deformities such as blindness and deafness.
MerleBernedoodle colors are rare and, as such, have recently been growing in popularity. However, the merle color isn't part of the Bernese Mountain Dog or Poodle family. If you see a merle colored Bernedoodle than it is likely coming from the misclassification of a purebred Poodle.
Black Bernedoodle Colors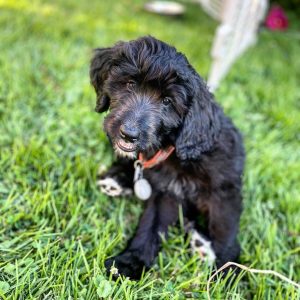 Bernedoodles that have an all-black coat are unique but often difficult to find. A solid black coat originates from a recessive gene found in one or both of the parents. This coat is rare and most of the time is only found in one puppy out of an entire litter. The fluffy all-black coat creates a unique look that makes a Bernedoodle look like a cute little bear.
In order to get a pure black Bernedoodle, both parents will need to carry a recessive black gene. The chances of a pure black Bernedoodle are rare and in many cases, you will see white colored spots on the bottom of their feet.
Tricolor Bernedoodle Colors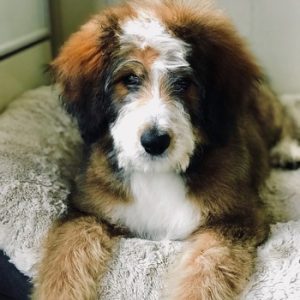 Bernedoodles that have a tricolor coat often inherit their coloring from their Bernese Mountain Dog parent. Tricolor coats are unique and can include any colors from the list below. 
Black
White
Brown
Apricot
Red
Cream
Sable
Tan
A combimation of any three of these Bernedoodle colors is possible, but obviously this depends upon heredity.
The tri-color Bernedoodle is by far the most sought after color of this dog. Typically, the white will be on the Bernedoodle's chest, feet, or snout. You'll see a combination of darker colors like black, brown, or apricot along the rest of the body. When people think of a Bernedoodle, they are typically thinking of a tricolored black, brown, and white coloring that comes from the Bernese Mountain Dog.
Sable Bernedoodle Color
Bernedoodles that have a sable colored coat are born with either a dark brown or solid black coat. This means if you choose your pet as a puppy thinking they will remain this solid color their entire life you might be surprised down the road!
The sable coat begins to appear as your Bernedoodle grows older and the solid color begins to fade. You will usually see the original coat coloring around the ears of the Bernedoodle, but the rest of the body will begin to fade into lighter shades of coloring.
So, you might be wondering how to be sure your solid black Bernedoodle will turn into a beautiful sable adult later in life. To best determine your Bernedoodle colors, it's a good idea to ask the breeder about your pup's parents! Typically you can figure out if your Bernedoodle has sable colored genetics by doing a hereditary test, but these can be pricey. 
Phantom Bernedoodle Colors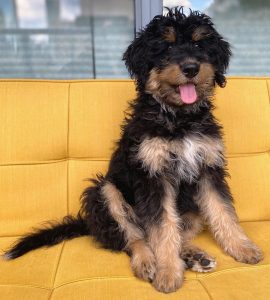 Phantom colored Bernedoodles are rare and feature two colors in specific areas on the body. The color placement is often compared to other dog breeds such as the Manchester or Yorkie. Generally, there is a primary color that covers a majority of the dog's body while the secondary color is found near the lower part of the legs, near the eyes and on the muzzle of the nose. 
Usually, phantom coated Bernedoodles have a black and tan color combination, but this can vary as the coloring is totally dependent on the dog's ancestry. If you're looking for a phantom colored Bernedoodle, you can do so when your dog is a puppy. The phantom coloration of your dog will never change as he grows. 
Chocolate Bernedoodle Color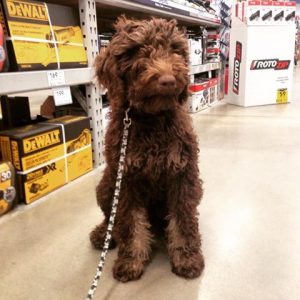 Chocolate colored Bernedoodles feature a rich mahogany color that's solid all over the body. The color is possible due to a recessive black or silver gene in one or both of the parents. The chocolate-colored coat remains the same color throughout the dog's entire life. Some chocolate Bernedoodles have small patches of other colored hair in various areas on their body, but these are visible during puppyhood so you will know exactly what the coat will look like from the very beginning. 
Rare Bernedoodle Colors
The coat colors mentioned above are common for Bernedoodles but there is a seemingly infinite number of colors that can appear due to genetics. All dogs have their own ancestry that can include recessive color traits that hide under dominant genes. Suddenly, one or more pups in a litter can have unique multi-color coats that don't appear on their siblings or parents!
These rare coats are beautiful and these special dogs often get scooped up right away by loving pet parents. If you are looking for a Bernedoodle that has multi-coloring be prepared to pay more than you would for dogs with common color coats. Breeders oftentimes set their puppy pricing based on the characteristics of the dogs. 
Color Coat Changes
Bernedoodle puppy coats go through a clearing or holding phase. The holding phase means your puppy keeps the same color coat throughout their entire life without any changes while the clearing phase lightens or fades the coat. Sometimes during the clearing phase, the coat can become quite dull too. 
These phases start when your Bernedoodle starts to develop their adult coat. This is also the same time frame when you will notice that color will hold in specific areas of the coat more than others. The most common area for coats to hold color is around the muzzle and ears. 
If you are looking for a specific color Bernedoodle and you don't want their coat color to change, you need to choose a puppy that has a slightly darker coat color than you want. This way when your dog begins to grow their adult coat the lighter hue will turn into the exact color you wished for in the first place. 
What color will my Bernedoodle puppy be when he grows up? 
As we mentioned, there's quite a wide range of Bernedoodle colors, and there's no guarantee that your puppy's color will be the color he maintains when he's an adult! 
The only way to provide a 100 percent guarantee of coat color is to give your dog a DNA test. These can be time-consuming and expensive, though, so most puppy parents simply don't bother. Obviously, you won't love your companion less if his fur changes color later in life! 
If, for some reason, the Bernedoodle's coloration is important to you, you can arrange for a DNA test with the breeder or have one performed at a vet's office. The test will give you a closer examination of the puppy's specific genes, including the phenotype and genotype. 
A DNA test also shows the variety of alleles that are present and reveals whether they're recessive or dominant. Alleles come in pairs such as a B dominant black allele and a B recessive black allele. For example, if two black Bernedoodles mate, their offspring typically comes out brown or some combination of the recessive and dominant alleles. 
Generally, most pet parents take a good look at the mother and father of the puppies when they meet the breeder. You can also ask questions about the coloring of the father if he is not present during your visit. 
Bernedoodle Personality Traits
While you might be focused on the color of the coat and the soulful eyes of a Bernedoodle, it's also good to know they have the following awesome personality traits: 
Loyal
Laid back
Gentle
Good watchdog
Excellent with children
Playful
Lovable
Fun and goofy at times
How to Pick Out a Bernedoodle Puppy 
It's super exciting to pick out a Bernedoodle puppy to welcome into your family. These adorable fluffy coated dogs are sweet and loyal, and it's a huge step to invite a new family member into your home!
Many pet parents begin the process of picking out a puppy by choosing whether they prefer a boy or girl dog. There are pros and cons to each one so this decision needs to be carefully made. 
If you have a clear idea of the color you want your Bernedoodle to have, you will be able to pick out your pup quickly when you see the entire litter playing together. Remember, though, that his coat may fade or change color over time. It it's super important to you, check with the breeder for DNA testing options. A responsible breeder will have information about the parents and will be willing to share that information with you. 
Conclusion for Types Of Bernedoodle Colors
There are several different types of Bernedoodle colors including tricolor, black, chocolate, sable, and phantom. The colors on this breed vary because there are several colors of the Poodle and the Bernese Mountain Dog. Combining these two different breeds results in a veritable rainbow of Bernedoodle colors!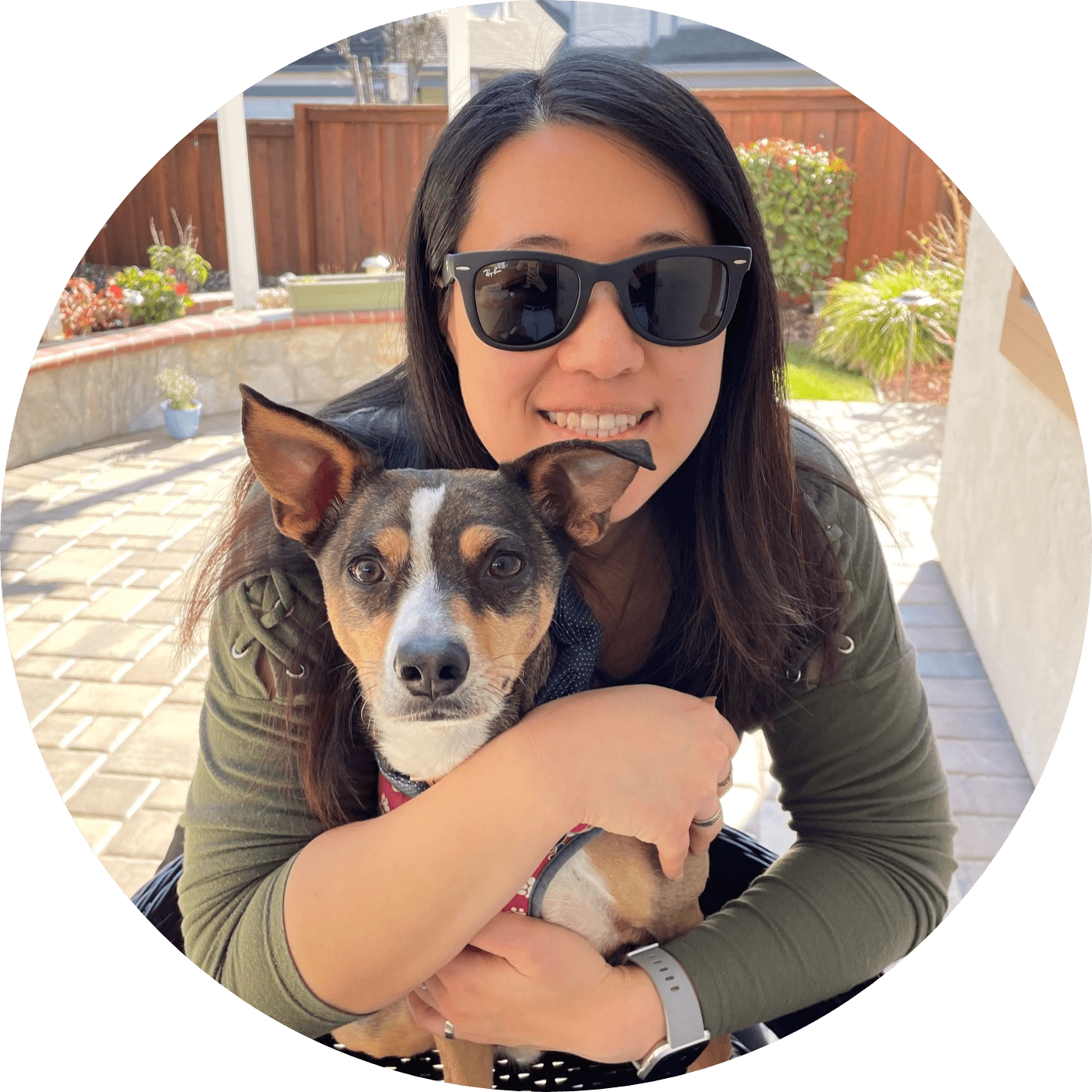 Dr. Sabrina Kong graduated from the Royal Veterinary College in England in 2016 and has been working at a small animal clinic in Northern California since then. She grew up in the Bay Area and got her bachelor's degree from Cal Poly San Luis Obispo. She also became a Certified Canine Rehabilitation Practitioner through a program at the University of Tennessee.
When she isn't in the clinic taking care of her four-legged patients, she enjoys traveling and trying new foods with her friends and her three-legged dog, Apollo. She adopted Apollo from her clinic when he was a puppy with numerous health issues. Dr. Kong truly cares about taking care of animals.