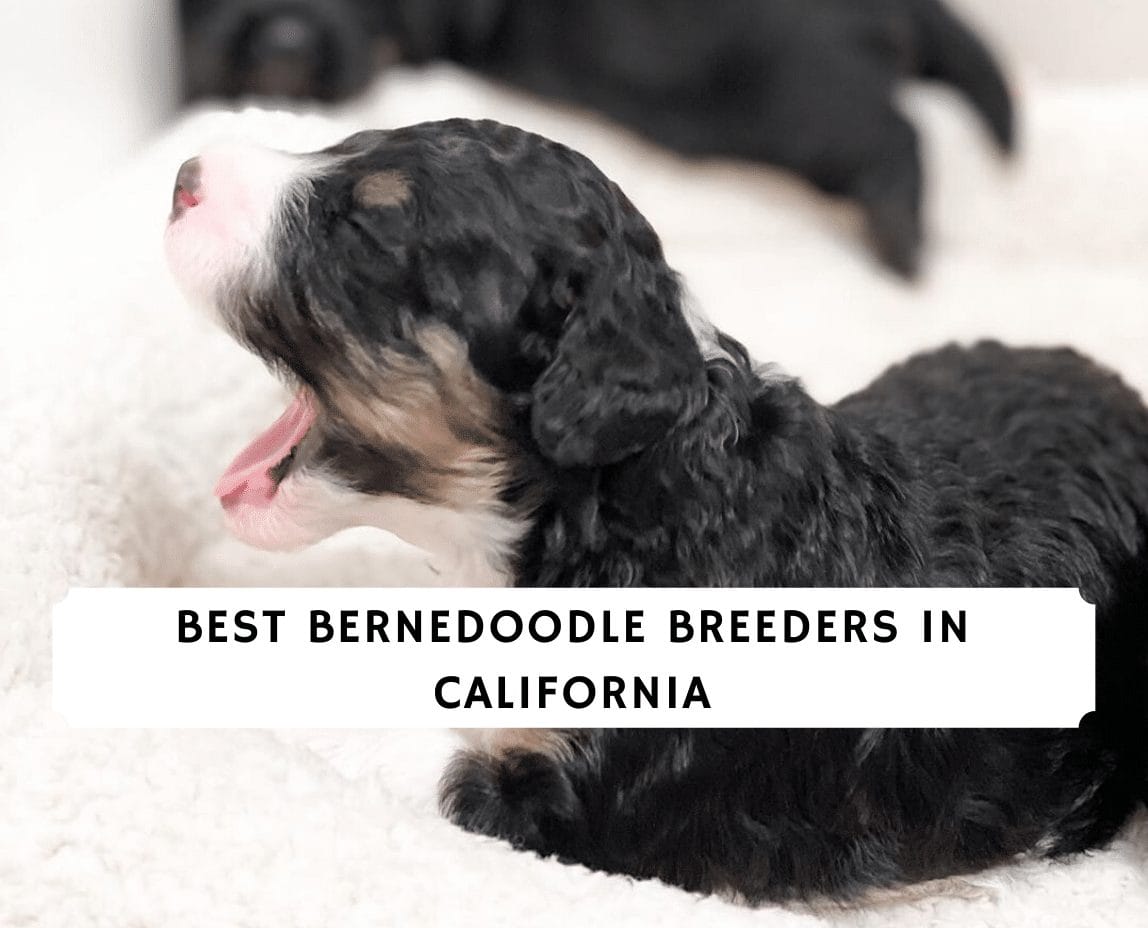 The Bernedoodle is a hybrid, or mixed breed, dog with genetic parentage from the Bernese Mountain Dog and Poodle. Bernedoodles are not only simply adorable but are also highly intelligent, friendly, and able to be both calm and placid while also enjoying a lively lifestyle. The clown-life goofiness of the poodle and the easy-going, loyal nature of the Bernese Mountain Dog is generally mixed to provide a loyal companion dog that seeks plenty of human interaction and love. Bernedoodles are great with children and will likely make the perfect pet for your family.
If you're looking for the best Bernedoodle breeders in California then we've got you covered. Below we have created a Bernedoodle Breeders Guide list for California to help you find your future Bernedoodle puppy. With all dog breeders, it is important to find a reputable breeder for the future addition to your family. Responsible breeders will breed for both temperament and health, as well as physical qualities and characteristics.
Do not be offended if a breeder interviews you as much as you interview them – this shows that they care about where their beloved dogs are being homed. As Bernedoodles are a hybrid breed, there can be a lot of variance in the size, temperament, and coloring of the puppies. We recommend that you make your choice of Bernedoodle based on a good temperament fit with your family rather than for physical traits and appearance.
1) Shady Oaks Bernedoodles
If you've done some research looking for a quality Bernedoodle puppy then you've most likely come across Shady Oak Doodles. Based out of San Diego, Ca Shady Oak Doodles takes breeding Bernedoodles to a whole new level. Not only do they go above and beyond with the health testing they perform on dogs in their breeding program but they have a deep understanding of canine coat genetics. Understanding coat genetics is really important when trying to create the perfect low to nonshedding, hypoallergenic Doodle.
Shady Oak Doodles is made up of two families who both love Doodles and aim to produce only the highest quality puppies possible. Their large, extensive guardian program allows them to have enough dogs in their program to be able to be very selective when it comes to the health, temperament, and overall structure of the dogs they choose to breed. All dogs live as individual pets in homes with families where they receive only the best quality care.
Shady Oak Doodles has spent years perfecting their multi-gen Bernedoodles. Genetic coat testing allows them to understand and know exactly what each litter is going to produce. They've also worked hard to keep a higher percent of Bernese Mountain Dog in each of their lines.
Shady Oak is the only breeder we've found who chooses not to get too far ahead of themselves when it comes to keeping a long waitlist. They take a $100 appointment deposit that claims an appointment to come meet a puppy in person. That deposit is always refundable in person at your appointment if the puppy doesn't turn out to be what you hoped for. The actual purchase of puppies is done in person, at a litter appointment when you get to spend time with the puppy you claimed. This appointment is held at their home. They also have a wonderful flight nanny who deliveries puppies in cabins to most major US airports. Shady Oak has puppies living in homes all over the US as well as in Canada, Mexico, France, and Hong Kong.
Wanting training for your new puppy? Shady Oak has you covered. They work directly with an amazing private trainer who offers multiple options for puppy board and train programs. Heel House K9 is also based out of San Diego but trains puppies for families all over the world including therapy-specific dogs. The partnership between Shady Oak, Heel House K9, their Vet ECLAP, and a private professional groomer makes having your puppy trained for you a wonderful experience.
If you're looking for a high-quality Bernedoodle puppy in Southern California give Shady Oak's owner Becca a call and I'm sure she'd love to help you. A quick glance at their Google business reviews shows Shady Oak definitely goes above and beyond for their client's overall experience.
Bernedoodle Breeder Details:
Whether you're a fan of the Bernedoodle dog breed or not, you've probably stumbled across the American Kennel Club (AKC). Well – the American Kennel Club authorizes PuppySpot and provides each dog parent with a registration package if they are a purebred. PuppySpot deserves to be on the top of our list because of the strong reputation it has. This is a family-friendly website with a community of trusted breeders around the country, which means the chances of you coming across a puppy mill is slim to none.
If you want to adopt more than one Bernedoodle, but prefer two different breeds, then you'll find them here since they have multiple breeds. You can choose an age range for your Bernedoodle companion or gender. Additionally, if you want a specific coat color of the Bernedoodle dog breed, then you'll likely find it navigating PuppySpot. You can also choose your size whether you're looking for a mini, medium, or standard Bernedoodle puppy in Texas.
In case you're uncertain, here's what you need to know about this marketplace. PuppySpot is USDA licensed, which means that they have to check to ensure that every breeder is licensed before the listing of any dogs. With constant check-ins on the breeders and having zero tolerance for puppy mills, you're much safer to start your search on PuppySpot than a simple Google search. Additionally, with PuppySpot, you don't have to wait a long time on a puppy wait list. They have puppies that are available for you to take home now.
Bernedoodle Puppy Information:
Generation: All generations including F1, F1B, F2, F2B, and Multi-Gen Bernedoodle Puppies
Size: Miniature, Medium, Standard Bernedoodle Puppies
Bernedoodle Breeder Details:
Bernedoodle Puppy Information:
Generation: All generations of mini Bernedoodles
Size: Miniature Only
Bernedoodle Breeder Details: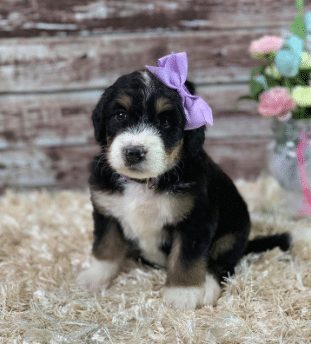 Woodcreek Ranch Bernedoodles offer transparent breeding lineage with their selection of purebred Bernese Mountain Dogs and Poodle dams and studs. All of their adult dogs have been Hip and Elbow certified by the Orthopedic Foundation for Animals as well as genetic tested for DM and VWB. Puppies are hand-reared in a loving home for well-socialized puppies. Contact them to see if you qualify to be a permanent guardian parent for one of their adult breeding dogs.
Woodcreek Ranch Bernedoodles is located in Wildomar, California. This is a Bernedoodle breeder in southern California that is south of Los Angeles and north of San Diego.
Bernedoodle Puppy Information:
Generation: F1, F1B, Multi-Gen Bernedoodle Puppies
Size: Medium, Standard Bernedoodle Puppies
Bernedoodle Breeder Details:
Contact: Marie
Location: Wildomar, California (Southern California)
Phone: 1-951-805-8718
Email: wcrbernedoodles@outlook.com
Website: www.wcrbernedoodles.com
Since 2007, Cedar Creek Bernedoodles have been breeding and raising Bernedoodle puppies in the foothills of the Sierra Nevada in Northern California. They offer an enriched early learning environment for dogs, whether your puppy is at Cedar Creek for the first eight weeks of life, or whether they take part in their extended Puppy Starter Camps.
The emphasis of this Bernedoodle breeder is on health, length of life, and good orthopedics. They offer a 24-month health guarantee. All adult dogs are thoroughly health screened before entering their breeding program. Note that puppies will need to be picked up or hand-delivered in person as they will not allow for unaccompanied flights.
This Bernedoodle breeder is located in northern California approximately 3 hours from San Francisco and 1.5 hours from Sacramento.
Bernedoodle Puppy Information:
Generation: F1 and F1B Bernedoodle Puppies
Size: Mini, Medium, and Standard Bernedoodle Puppies
Bernedoodle Breeder Details:
Location: Paradise, California (Northern California)
Email: cedarcreekbernese@gmail.com
Website: www.cedarcreekpuppies.com
Facebook: www.facebook.com/cedarcreekbernesendoodles
River Doodles is a family operation. Puppies are home reared for provided with oodles of love and attention in a playful environment. Early socialization, with lots of stimuli, will ensure a well-adjusted pet. All breeding adults have a Paw Print Genetics Health Test Medallion and have full health screening. All puppies have a two-year health guarantee. This family also breed Goldendoodle puppies and have a ranch in Arizona.
playful environment – lots of stimuli and socialized with other dogs
River Doodles Bernedoodle puppy breeder is located in Brea, California. This is approximately 30 minutes from Los Angeles and 30 minutes from Orange County. Also, it's about 1 hour north of San Diego.
Bernedoodle Puppy Information:
Generation: F1, F1b and F2 Bernedoodle Puppies
Size: Mini, Medium, and Standard Bernedoodle Puppies
Bernedoodle Breeder Details:
Contact: Kelly
Location: Brea, California (Southern California)
Email: kelly@riverdoodles.scom
Website: River Doodles
Facebook: Facebook Page
Blue Skye Doodles raise their Bernedoodle puppies to be part of the family, receiving lots of love and attention as well as handling, and a variety of sight and sound stimuli. This breeder has a lot of experience raising service and therapy dogs and recommends their Bernedoodles and Aussie Mountain Doodles for this purpose.
Blue Skye Doodles Bernedoodle dog breeder is located in sunny San Diego, California. This is convenient for many people located in Southern California. It's about 2 hours south of Los Angeles and 1 hour south of Orange County, California.
Bernedoodle Puppy Information:
Generation: F2 and F3 Bernedoodle Puppies
Size: Mini, Medium, Standard Bernedoodle Puppies
Bernedoodle Breeder Details:
Location: San Diego, California (Southern California)
Phone: 951-240-1071
Website: Blue Skye Doodles
Email: blueskyedoodles@gmail.com
Teddy Bear Love is serious about breeding Bernedoodles. With over 25 years of breeding Bernedoodle puppies, these guys know what they are doing, so much so that they offer an unprecedented five-year health guarantee and a lifetime of support to their extended Bernedoodle family. The puppies grow up inside their home and are well socialized with other dogs, children, and other family pets which enables them to have a smoother integration into your own home.
Bernedoodle Puppy Information:
Generation: F1, F1B, Multi-Gen Bernedoodle Puppies
Size: Medium, Standard Bernedoodle Puppies
Bernedoodle Breeder Details:
What are the types of Bernedoodle?
The Bernedoodle, or Bernese Mountain Poo, has been successfully bred since 2003. The gentle and loyal nature and size of the Bernese Mountain dog marry well with the extended lifespan, intelligence, and hypoallergenic coat of the poodle.
The teddy bear appearance of the Bernedoodle comes in black, black & white, black & brown, or tri-color which is a mixture of all three colors. Bernedoodles come in three sizes: Standard, Mini, and Toy depending on the size of Poodle that the Bernese Mountain Dog is bred with. Mini and Toy Bernedoodle puppies tend to have more energy than the Standard Bernedoodle variety, though this is dependent on the temperament of the parents.
Type: Standard Bernedoodle
Height: 23-29 inches at the shoulder
Weight: 50-90 pounds
Lifespan: 12-15 years
Type: Mini Bernedoodle
Height: 18-22 inches at the shoulder
Weight: 25-29 pounds
Lifespan: 17 years on average
Type: Tiny/Toy Bernedoodle
Height: 12-17 inches at the shoulder
Weight: 10-24 pounds
Lifespan: 18 years on average
How to choose a Bernedoodle Breeder in California
If you are local to California, there are quite a few different Bernedoodle breeder options for you to consider. Unfortunately, you will need to be aware of puppy mills and backyard breeders since Bernedoodles have become increasingly popular in the last decade. Here are 3 Top Tips to choose a Bernedoodle breeder in California:
Do a lot of research – There are dozens up dozens of Bernedoodle breeders in California and sadly, not all are reputable. You need to know what you are looking for, and not to feel in any way pressured into purchasing a puppy that is not to your liking. 
Contact Bernedoodle breeders – We encourage you to ask a lot of questions of each Bernedoodle breeder that you contact. You should be able to visit their kennel and either see pictures or meet the parents. If puppies are younger than 8 weeks, you should certainly be able to meet the mother of the litter. Reputable breeders will be happy to answer any of your questions and should have questions for you in return!
Ask for medical history and health checks of the parents – Any reputable breeder will have a medical history for both parents, as well as a recommended vaccination schedule for the Bernedoodle puppies.
Where do you find a Bernedoodle Breeder in California
There are several Bernedoodle breeders in the state of California. We have researched for you several Bernedoodle breeders in both southern and northern California, but always recommend that you continue to interview your choice of a breeder to find your best Bernedoodle puppy. Since 2017, breeders can be part of the United Bernedoodle Registry to maintain and document the pedigree as well as the health, reputation, and breed standards.
What does F1, F1B, and F2 mean with breeding Bernedoodles or doodles?
​F1 Bernedoodle – This is a first-generation cross between a purebred Bernese Mountain Dog and a purebred Poodle. The F1 cross is considered the healthiest, as the puppies have the least likelihood of inheriting genes for common inheritable diseases.
F1B Bernedoodle – This is a backcross in which a Bernedoodle is bred with a Poodle. The attributed puppy is therefore genetically 1/4 Bernese Mountain Dog and 3/4 Poodle. F1B puppies are the most likely to be hypoallergenic and non-shedding. 
F2 Bernedoodle – This is a second-generation cross, in which an F1 Bernedoodle is crossed with another F1 Bernedoodle. Though this provides for more consistency in puppies, this also provides for more genetic problems associated with purebred dogs since the hybrid vigor diminishes.
F3 or Multi-Generational Bernedoodle – This is produced by breeding an F2 Bernedoodle with another F2 Bernedoodle.
Conclusion for Bernedoodle Breeders in California
Bernedoodles are a sought-after breed for good reason. There is no doubt that your Bernedoodle will turn heads in every dog park and will have passers-by asking many questions about your walking teddy bear. They are ridiculously cute, loyal, and loving dogs that merge well into a family that is ready to shower them with attention. The tight curls from the poodle heritage allow for many allergy sufferers to home this breed due to the lack of shedding and low dander.
The Bernese Mountain Dog heritage provides for a calm and placid companion that will enjoy snuggles in front of the television. If you are considering getting a Bernedoodle, then you should highly consider our list of best Bernedoodle breeders in California. We have done our research to ensure that all of our entries are legitimate breeders and not puppy mills.
Garrett loves animals and is a huge advocate for all Doodle dog breeds. He owns his own Goldendoodle named Kona. In addition, he volunteers at the Humane Society of Silicon Valley, where he fosters dogs and helps animals. Garrett enjoys writing about Doodles and believes that dogs can teach humans more about how to live than humans can teach a dog.
Why Trust We Love Doodles?
At We Love Doodles, we're a team of writers, veterinarians, and puppy trainers that love dogs. Our team of qualified experts researches and provides reliable information on a wide range of dog topics. Our reviews are based on customer feedback, hands-on testing, and in-depth analysis. We are fully transparent and honest to our community of dog owners and future owners.