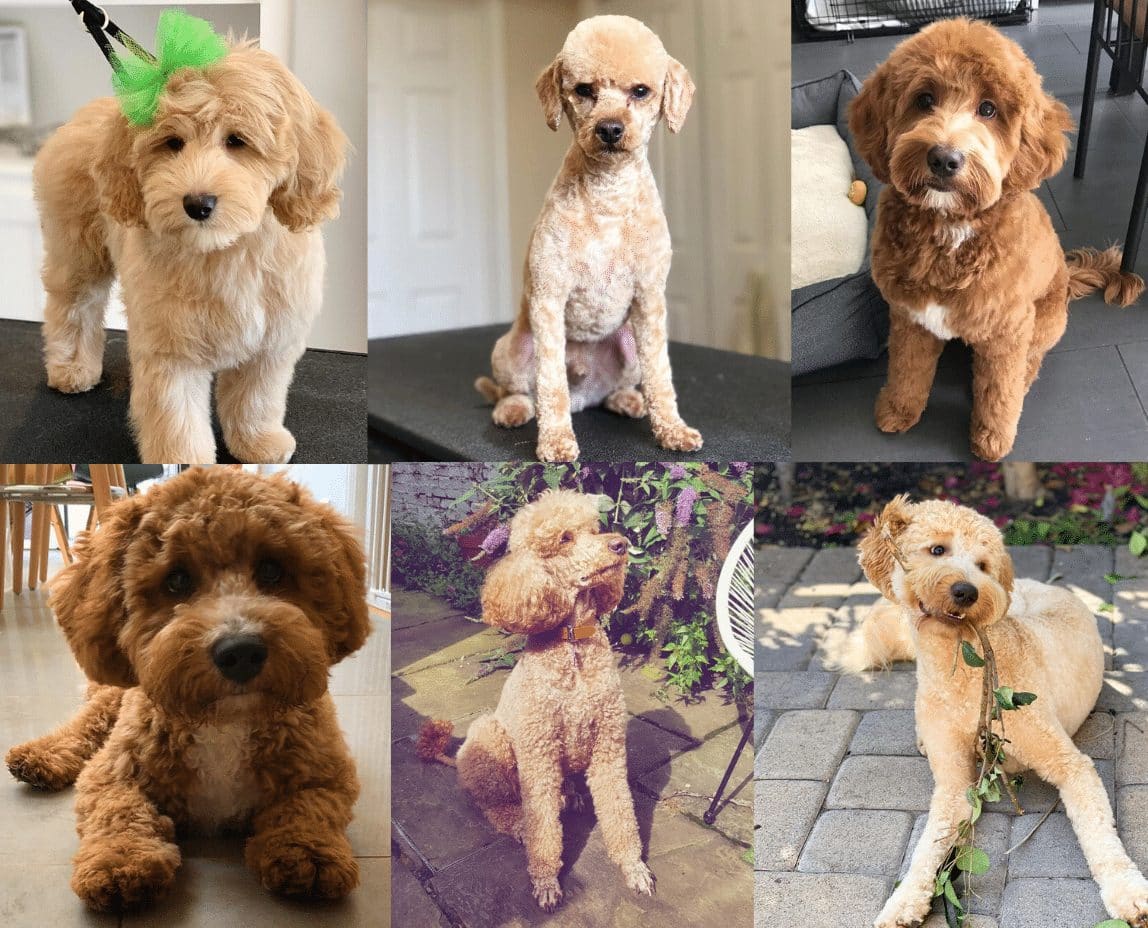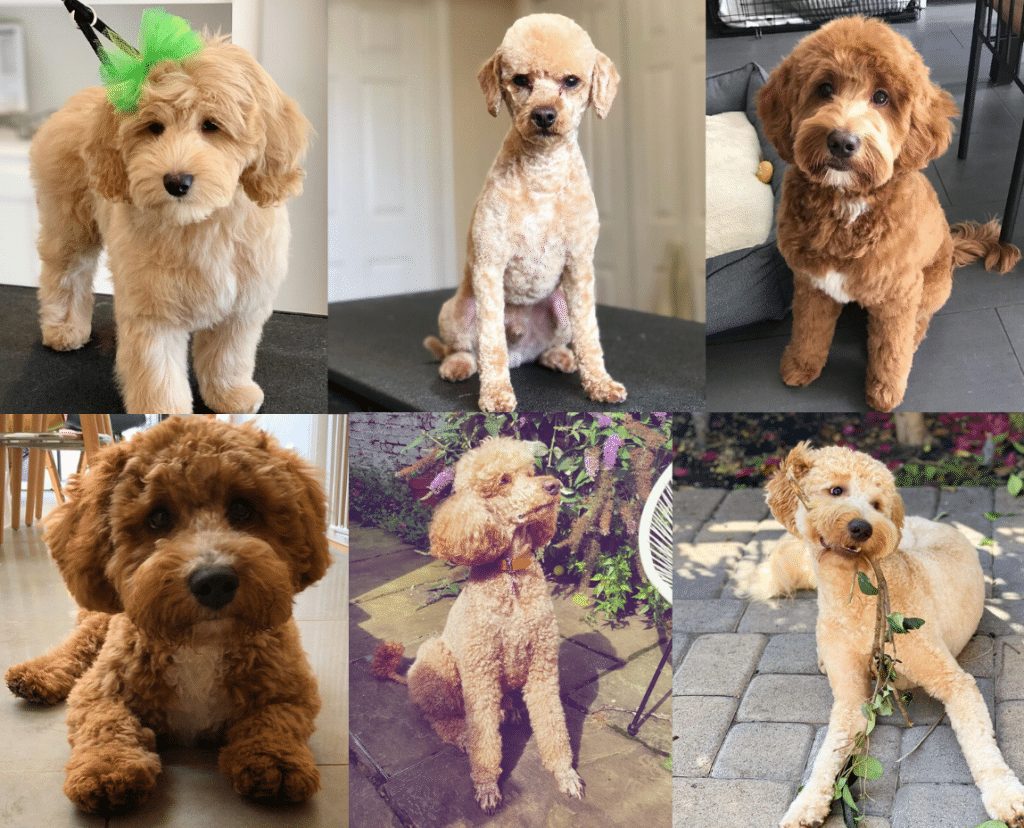 Labradoodles are a popular dog breed, and it is easy to see why! These lovable, friendly dogs make great family pets with their loyal, friendly nature and cute labradoodle haircuts. The crossbreed was initially developed in Australia to be a guide dog and to try to create a hypoallergenic dog breed. The result is an intelligent and sociable dog that fits easily into most families.
Despite their initial breeding intention, these dogs are mostly hypoallergenic and nonshedding. This means that they don't shed a lot of fur, but that you need to regularly groom your labradoodle which includes giving them haircuts every 5-12 weeks. Below are the Best types of Labradoodle Haircuts as well as some dog grooming advice.
We've created a video on the most popular styles of Labradoodle Haircuts. Watch it below:
Essential Grooming Tools
In order to have a successful grooming session, you need the right tools! Below are the tools that we use to make grooming easy.
Grooming A Labradoodle
Luckily, Labradoodles are extremely low shedding dogs so you won't be vacuuming the floor and cleaning the dog fur off your clothes every day. However, you need to take care of your labradoodle's coat which means that you will have to regularly brush him and give him haircuts in order to prevent mattes from occurring. You should be brushing your dog at least three times a week with an appropriate brush, and you should also be giving him regular haircuts every 5-12 weeks to keep his coat in order and free from tangles. This means that you should find a groomer or consider shaving your dog yourself. If you want to shave your own dog, read our comprehensive guide called Shaving a Goldendoodle.
Labradoodle Haircut Styles
When it's time to take your dog to the groomers for a haircut you will probably be researching the best Labradoodle haircuts! Don't worry, there are several haircuts to choose from and we will break down the various styles.
Any good dog groomer will be able to offer you advice about your dog's coat and which type of Labradoodle haircut would work best.
Labradoodle Puppy Cut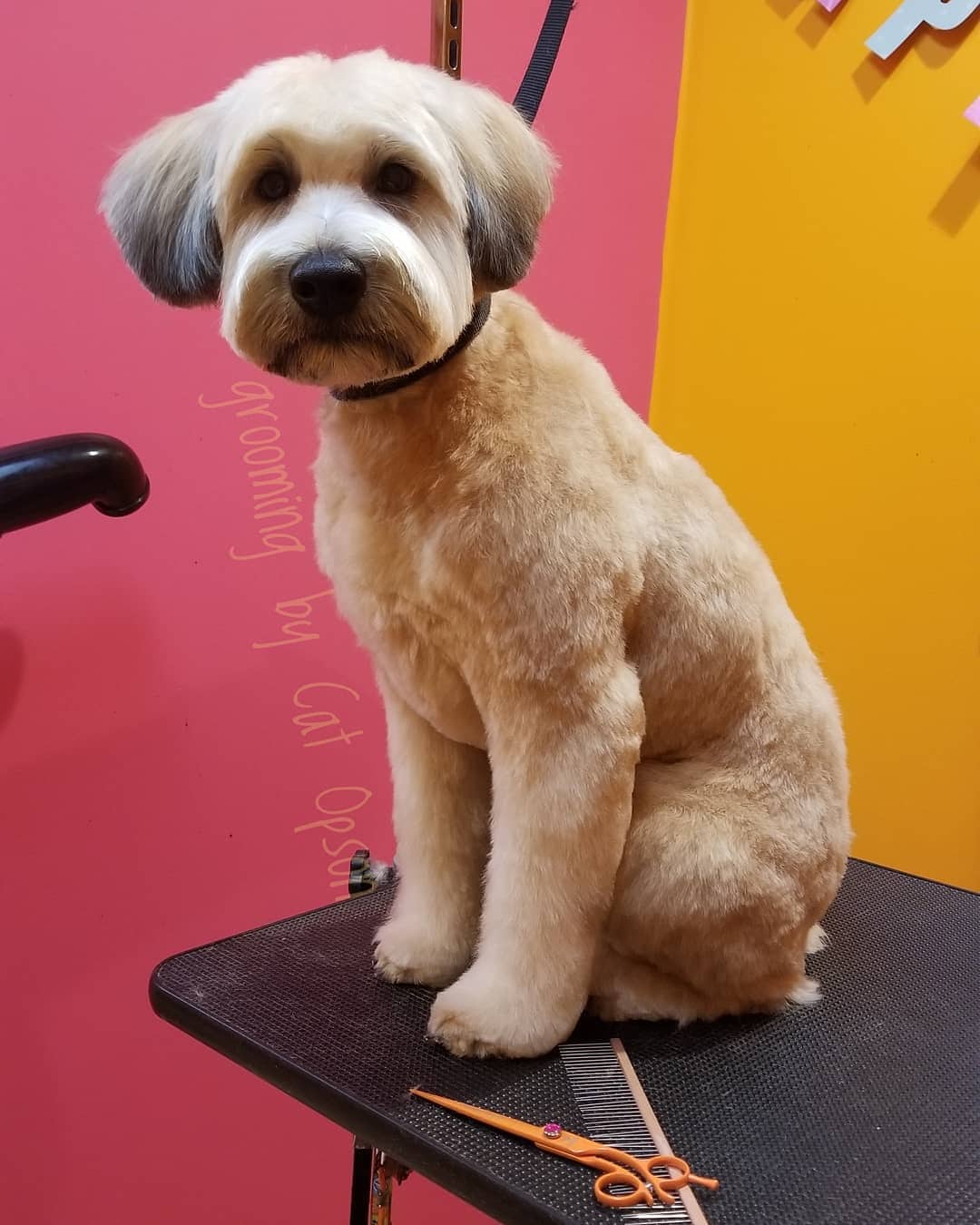 This cut is the most popular type of Labradoodle haircuts. The Labradoodle puppy cut can vary slightly from groomer to groomer, but in general, they all look the same. This Labradoodle hairstyle originates from the Poodle Dog Show World where the cut is used to give Poodles their signature round head shape.
The puppy cut works well on most long-haired dogs and the hair is cut to relatively the same length all over the body (anywhere from 1/2 inch to 1 inch in length). The length is chosen to most match the length and style the dog would have naturally when it was a puppy. This is what gives it the puppy name! The Labradoodle puppy cut is intended to make the dog look as cute and puppy-like as possible.
The Labradoodle puppy cut is a popular hairstyle that allows you to go for several weeks without mattes and without giving your dog another haircut. It's actually relatively easy to do so you should consider getting some dog hair clippers and doing it yourself. You'll save yourself a lot of money over the long term!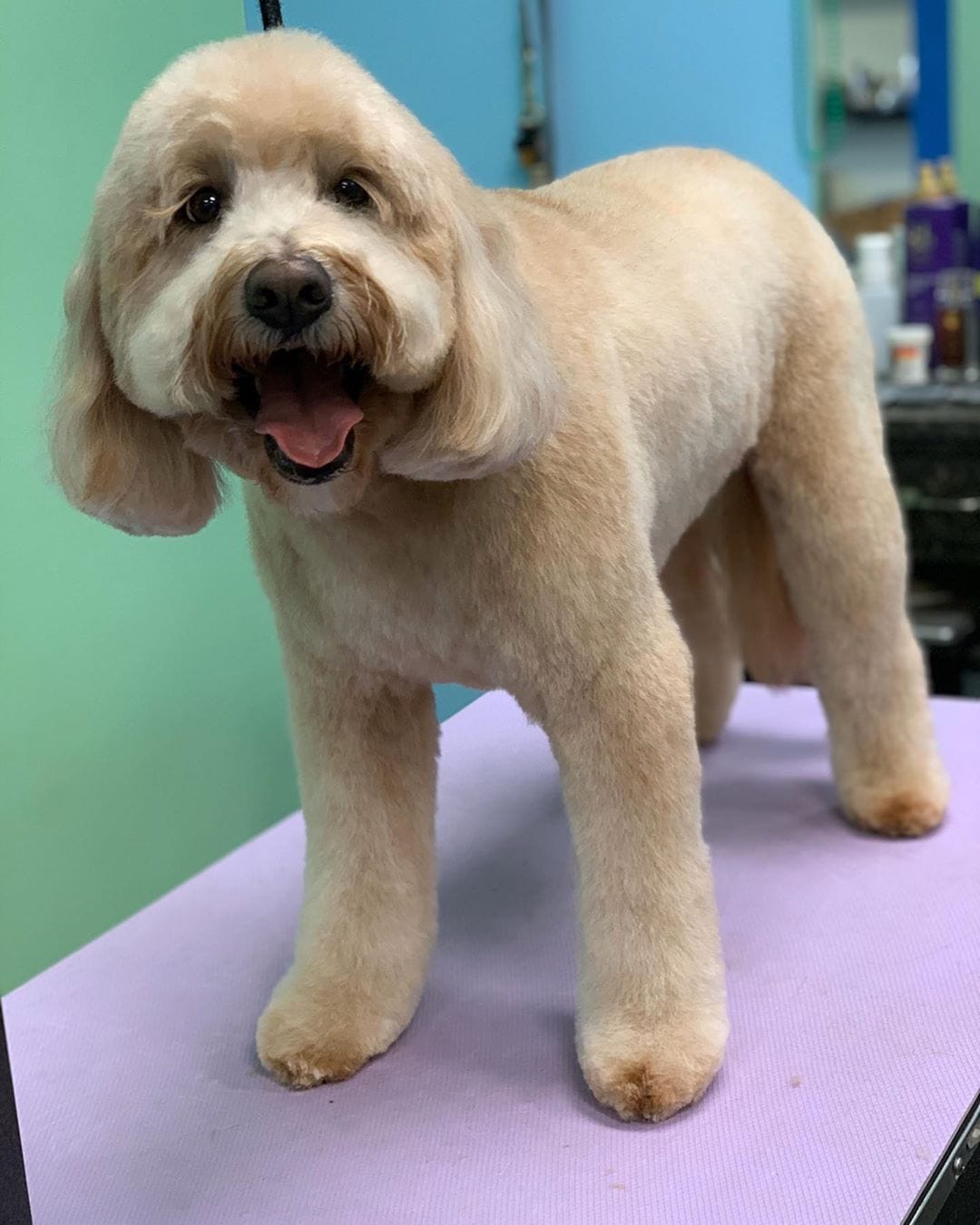 Labradoodle Teddy Bear Cut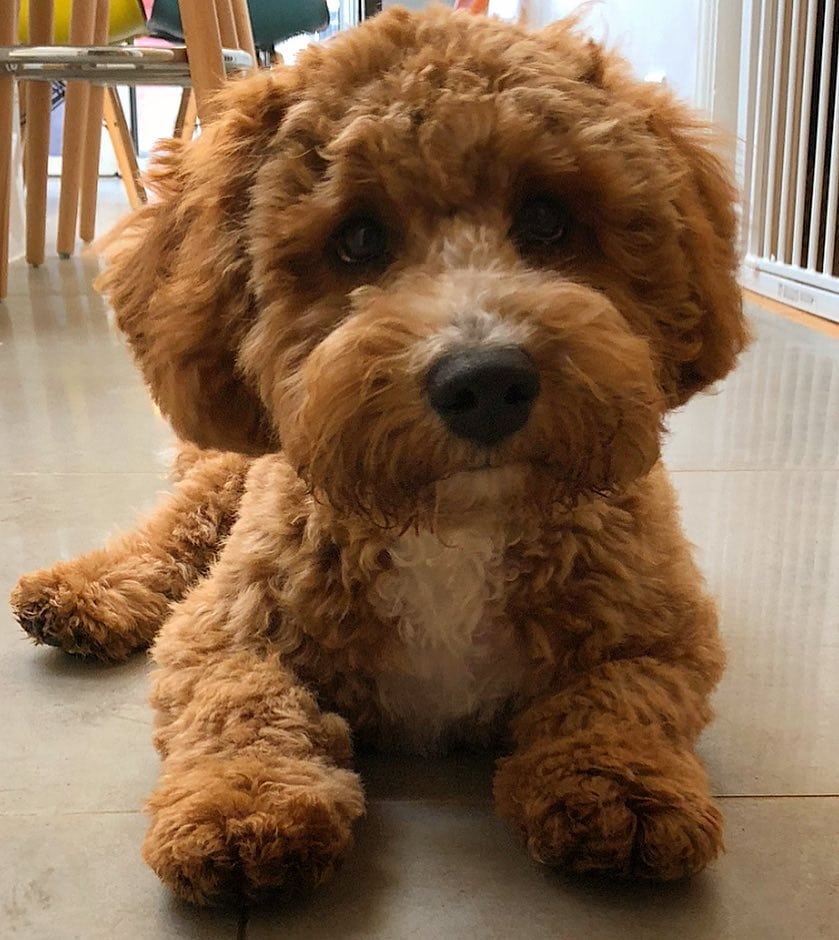 The Labradoodle teddy bear cut is similar to the puppy cut, but takes a little bit more maintenance since the hair is slightly longer. The general concept of the Labradoodle teddy bear cut is that the body hair is clipped to be fairly short while the hair around the legs and face is left longer and clipped in a more rounded style. The benefit of this cut is that it gives your pooch a cute teddy bear look and makes them look more puppy-like again. Perfect for a family companion dog like a Labradoodle.
The Labradoodle teddy bear cut works brilliantly for longer haired dogs and a for Labradoodle with curly fleece or even wavy long hair. This is one of the best types of Labradoodle haircuts if you want your dog to look cute, but will require a decent amount of grooming since the hair is a little long.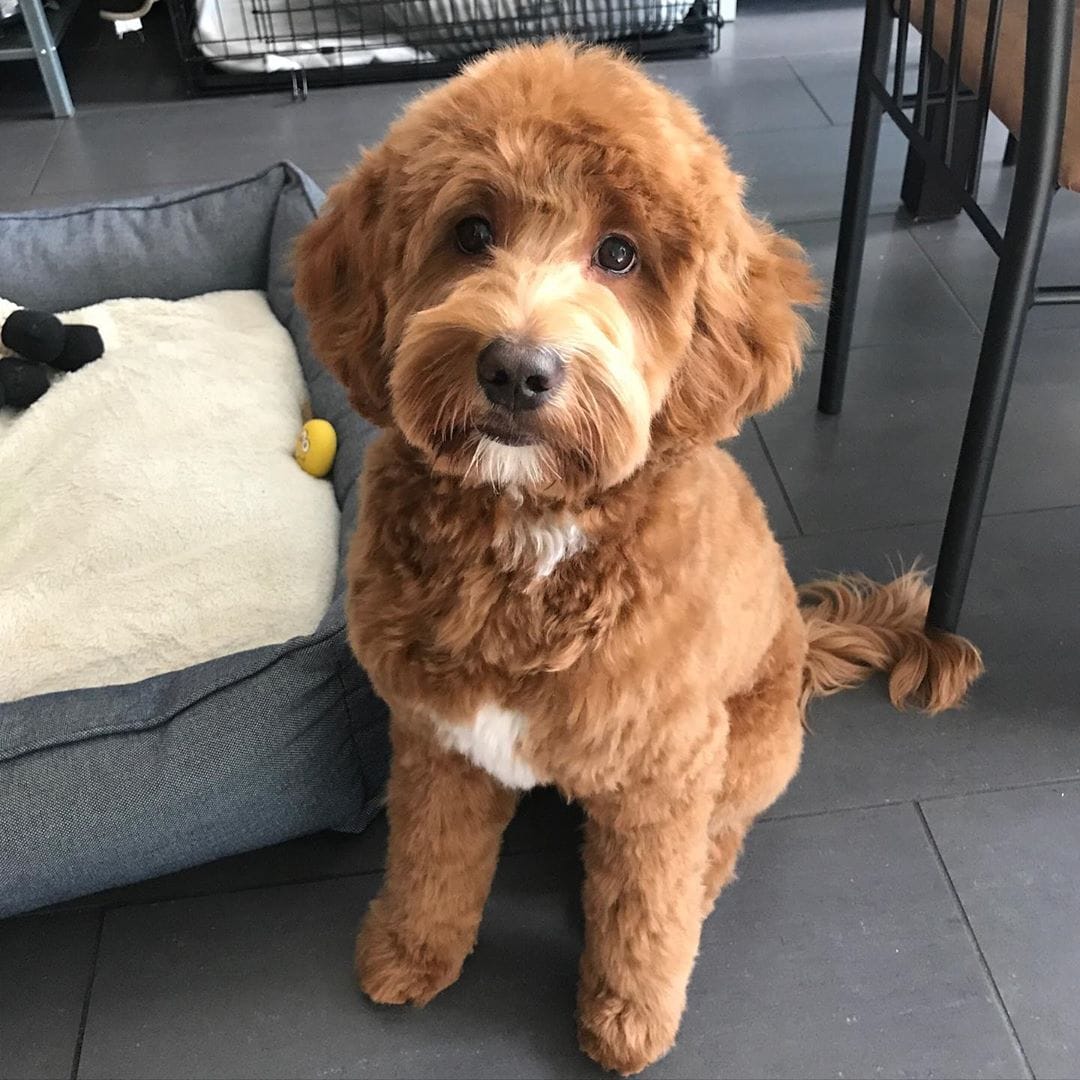 Labradoodle Lamb Cut
The Labradoodle lamb cut is the perfect combination of short and manageable body coat length which helps with easy grooming and maintenance by reducing the number of hair tangles your dog will get. The legs are left with longer hair giving them an adorable fluffy look while the body and head are cut short. However, the ear hair is left a little bit longer to make your Labradoodle look like a puffy lamb.
The Labradoodle lamb cut works great for doodles with Poodle types of coats as the style was designed for curly, short-haired dogs. This could be the best Labradoodle haircut style for your pup if you have a curly-haired dog.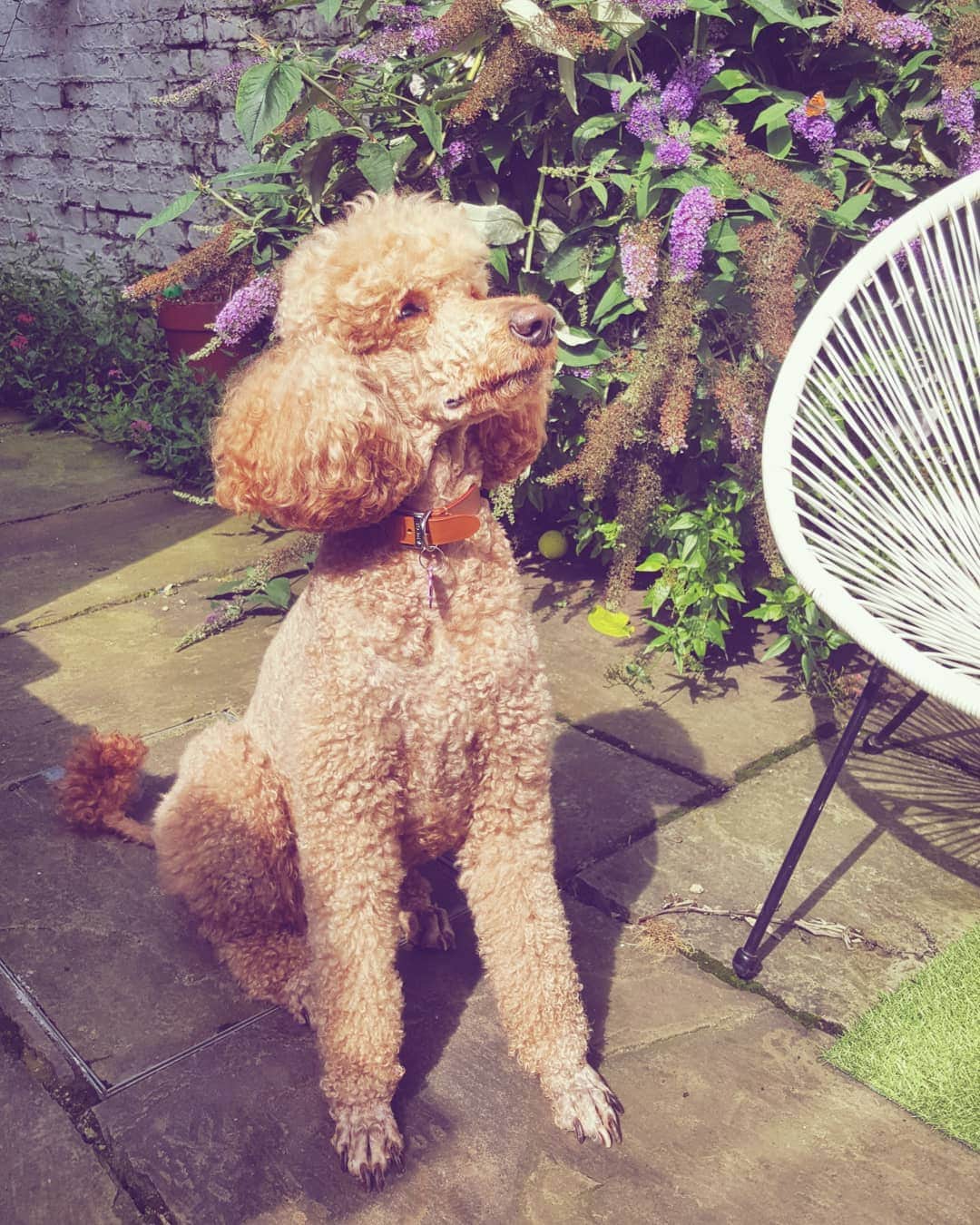 Labradoodle Kennel Cut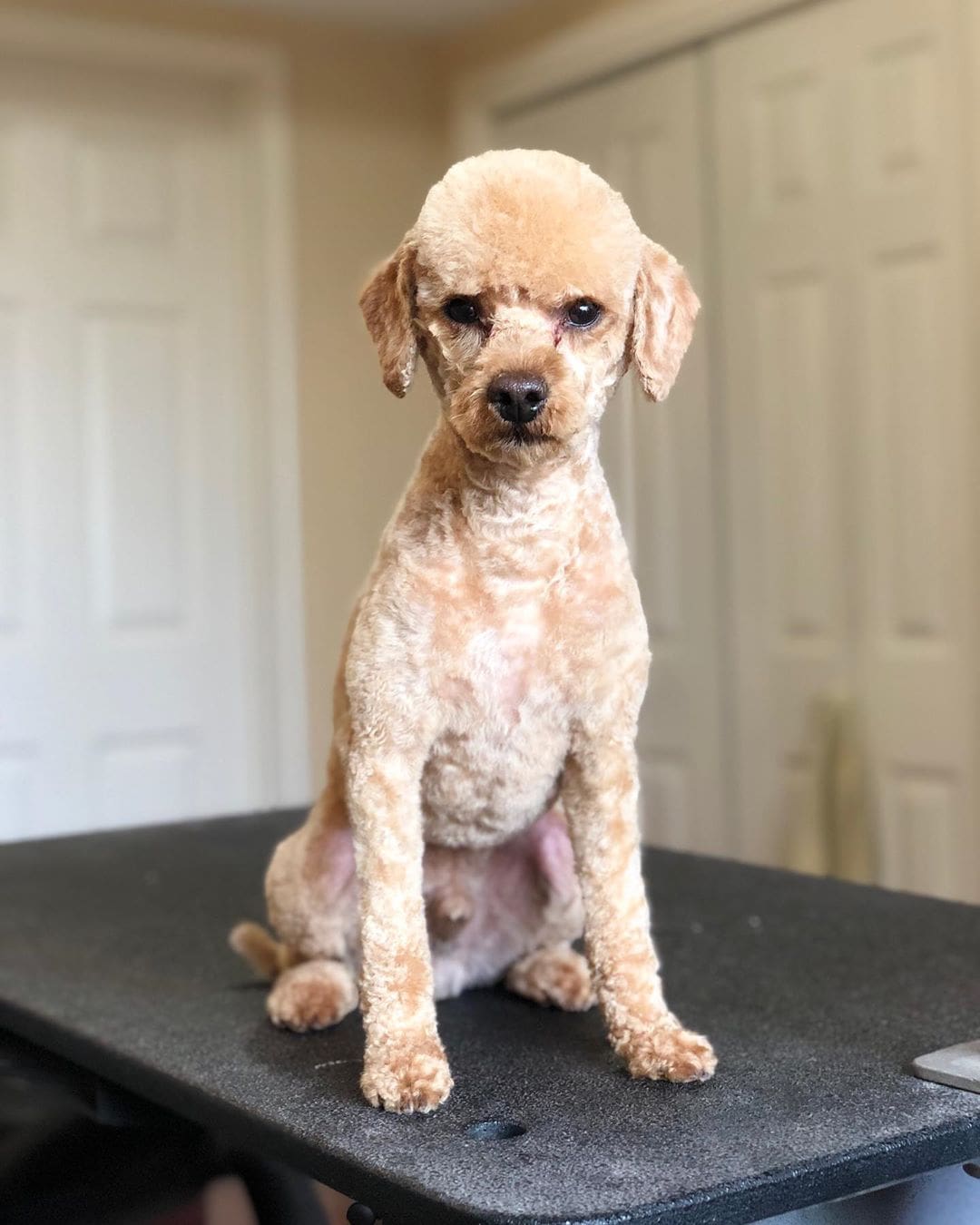 If you are looking for a simple, effective, and easy to manage cut then the Labradoodle kennel cut is the haircut for you. This is the perfect cut for summer months when your pooch could do with a little help keeping cool, but it can be a bit extreme for many dog owners. Mind your climate and keep your dog's comfort in mind before you select this haircut.
The Labradoodle Kennel Cut is a shave rather than a trim, and the coat is pretty much shaved all around, leaving only half an inch of hair or less all over the body. It can be stylish too, though, and often suits Labradoodles with severe mattes and tangles.
Owners often choose the Labradoodle kennel hairstyle at the start of summer when the weather heats up and dogs are more prone to feeling the heat. Owners then let the style grow out slowly over summer so that by the cooler months of autumn and winter your Labradoodle's coat will be back in all its long-haired glory. Just in time to help keep them warm in winter! This is the best Labradoodle haircut if your dog has mattes or if it's summertime!
Labradoodle Lion Cut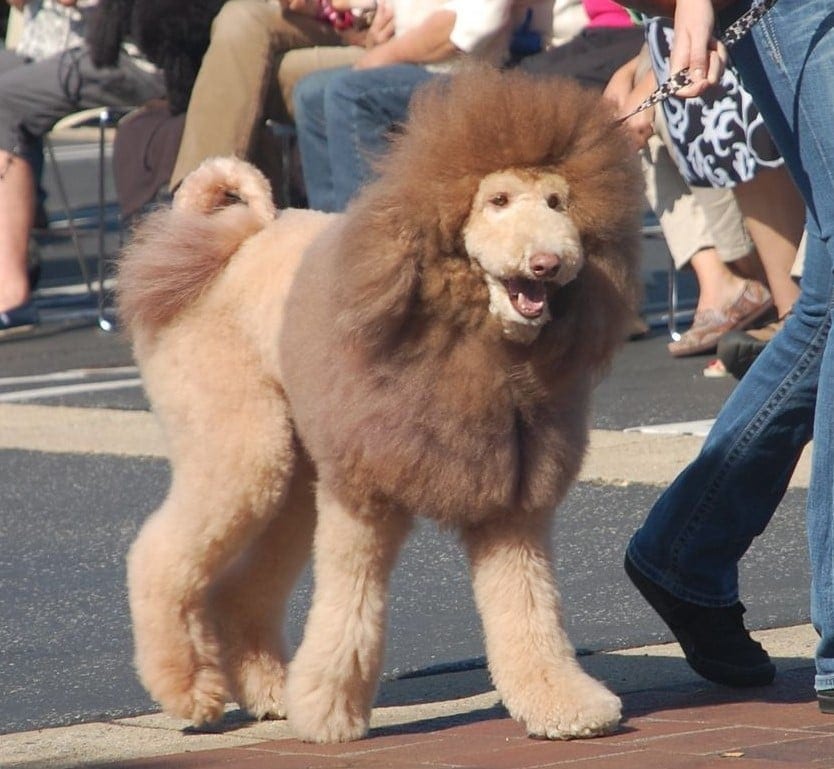 The Labradoodle lion cut is by far the most trending type of Labradoodle haircuts. If you're interested, we also wrote an in-depth guide called The Cutest Lion Cut Dog Photos. Since Labradoodles already look like cute teddy bears, you can easily transform them into lions by shaving their bodies and legs while growing out the hair on their heads and tails! Some Labradoodle owners also keep the hair long on the bottom of their Labradoodle's legs. This is one of the most unique and fun haircut types and is sure to get you a lot of attention — in a good way of course!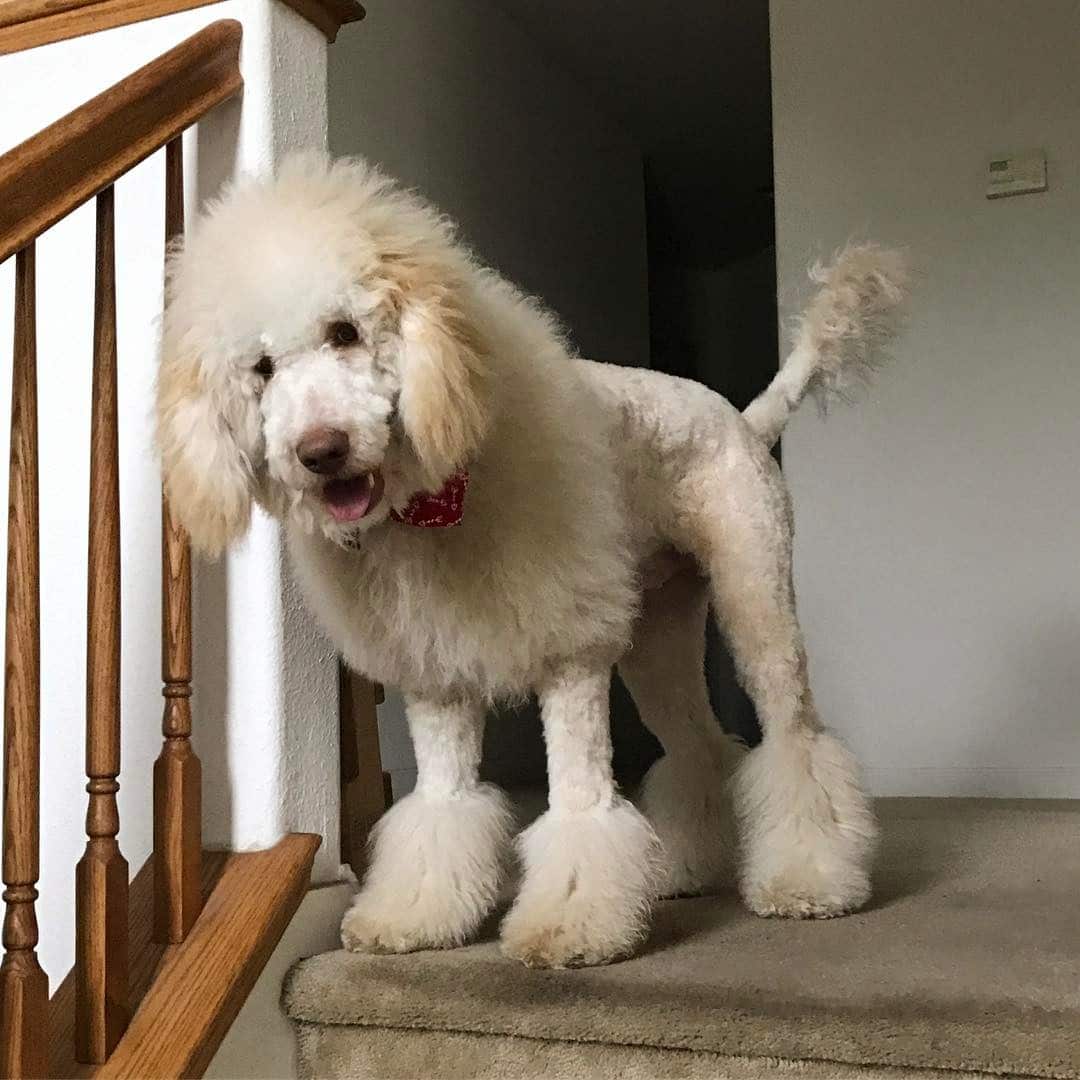 Short Clip Labradoodle Haircuts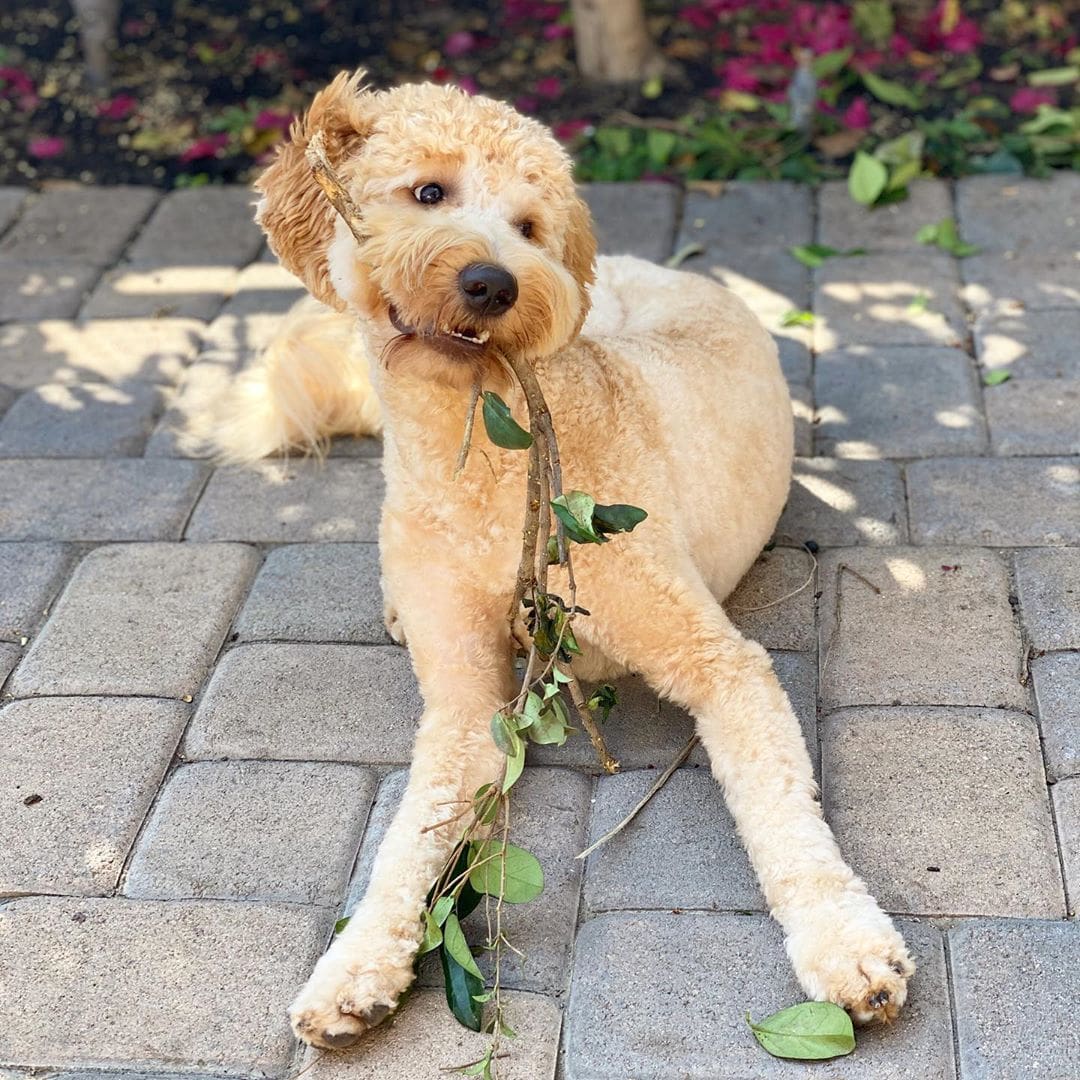 The short clip Labradoodle hairstyle is exactly what it sounds like! This haircut is simple and easy to do and manage. The hair is cut to about one inch in length all over the body. This helps to minimize the dirt and debris your dog can pick up, and is perfect for reducing the amount of hair matting and tangles the Labradoodle suffers with.
This short Labradoodle style can also help with the amount of brushing your dog will need, and it's the perfect cut for summer when the weather is warmer. Dogs with long fluffy coats can start to overheat in hot weather. You will need to take them to the groomers for regular maintenance trims to keep their hair neat and tidy.
You can learn to give your dog this haircut yourself, but giving a dog a haircut isn't always easy if your dog tends to move around a lot! Consider bringing your dog to a groomer, or investing in a grooming hammock for your dog.
If you want to avoid too many groomer trips then you can always choose to have the short clip and let it grow into the long clip before getting it cut back again.
Long Clip Labradoodle Haircuts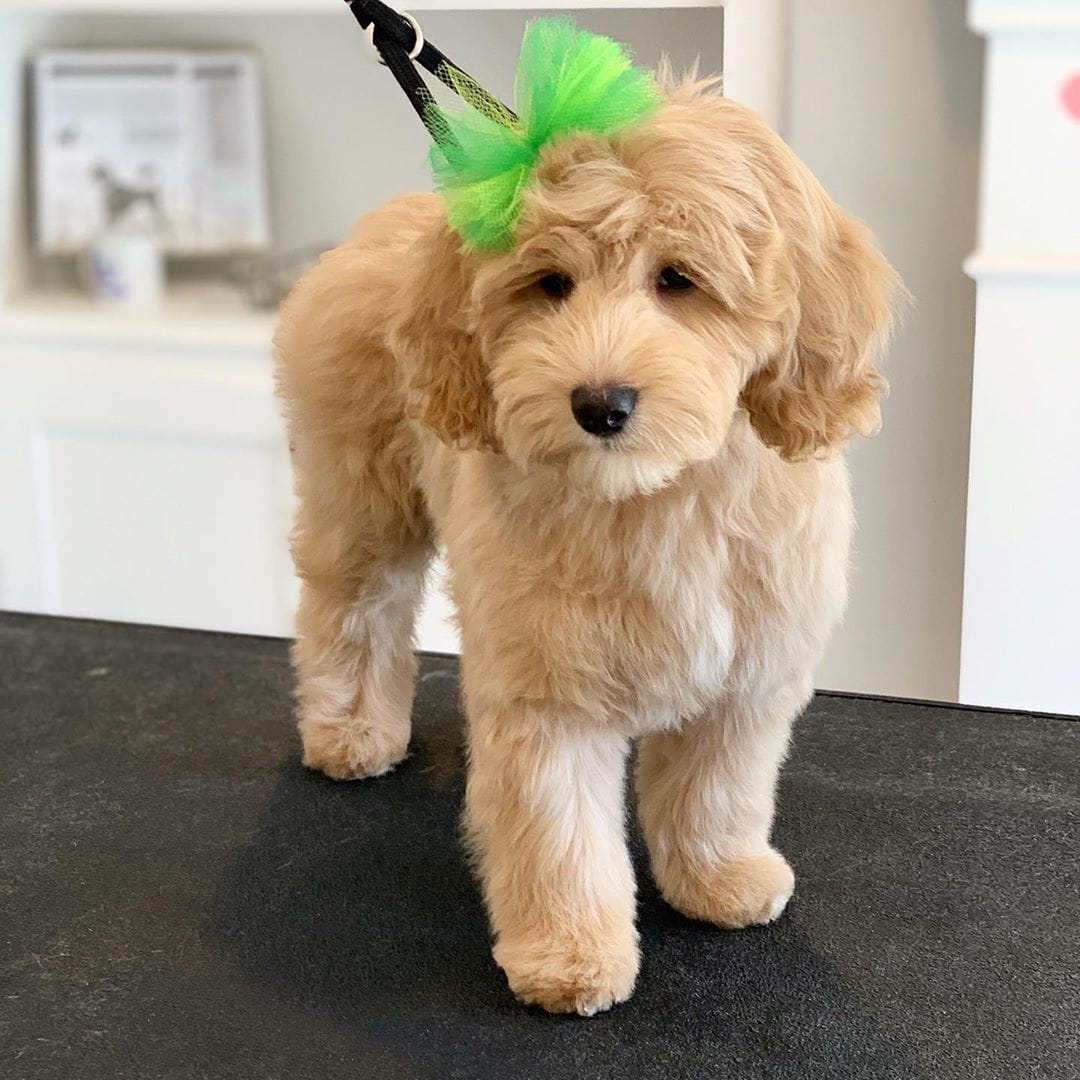 The opposite of the short clip is the long clip Labradoodle haircut and, essentially, it's the same clip but longer! The cut is kept to the same length all over the body and head but longer than in the short clip hairstyle. The hair is cut to usually about one to two inches so that the dog gets to keep its shaggy look and any curl or wave is emphasized for extra cuteness. This is a great cut if you want an easy hairstyle but want to keep your dog looking like the cute fluff ball she is!
You will need to brush a dog with this hairstyle a little more often. The longer the hair, the more dust it collects, which leads to more tangles. A good brush two to three times a week should sort this out.
What Is A Labradoodles Coat Like?
As with many crossbreeds, a Labradoodle's coat can vary from dog to dog which may dictate which style of Labradoodle haircut you choose. Their coat, size, coloring, traits, and characteristics can differ a lot between dogs. The traits that are most dominant and will show through in your dog will depend on each dog's parents and genetic history. It can be a little bit of a lottery with a Labradoodle, but that is half the appeal of a crossbreed dog such as this.
A Labradoodle often falls into three categories of coat:
A fleece coat which is a soft covering of hair that is either straight or wavy. This is a textured coat that is soft and fluffy to touch and is the most sought after Labradoodle type. Everyone loves a pooch that is soft and fluffy to cuddle up with. This is considered one of the easier Labradoodle coats to take care of but it will still require regular grooming to keep it neat, tidy, and tangle-free.
The second type of coat is a wool coat. This comes from their Poodle ancestry and some dogs are more Poodle like than Labrador like in their coat appearance. This hair feels more like a Poodle with short, wiry hair that grows close to the body in tight curls. This type of coat takes more grooming and management and will require regular brushing and grooming and the odd hair cut too.
In some cases, your Labradoodle will have hair! A hairy Labradoodle is most like it's Labrador ancestors, taking after the loyal breed that gives the dog its sociable and loyal nature. The hair can vary in length and type and can be straight or wavy. These often have the shaggy appearance people often associate with the Labradoodle breed. This type of hair needs regular grooming as it is prone to tangles, but a good brush two to three times a week should help.
Conclusion for Labradoodle Haircut Styles
Labradoodles are excellent assistant dogs and since have become a firm favorite for families and dog lovers. These dogs love to be around people and will always be at their happiest when they are kept well brushed and groomed. There are many different types of Labradoodle haircuts and we hope that this article helped you decide which haircut to get for your dog!
Other articles to read:
You can also check out video on the Best Labradoodle Haircuts below:
Frequently Asked Questions
What to tell the groomers at a labradoodle haircut?
When you go to the groomers to give your labradoodle a haircut, make sure you have the following prepared:
How often do Labradoodles need haircuts?
Labradoodle hair grows quite fast since it doesn't shed. We usually give our Goldendoodle a haircut every 8 to 12 weeks. I notice that mattes start to form after 6 weeks, so if you don't regularly brush your dog then you should take them to the groomers more often for a haircut. This will prevent them from having to get completely shaved down.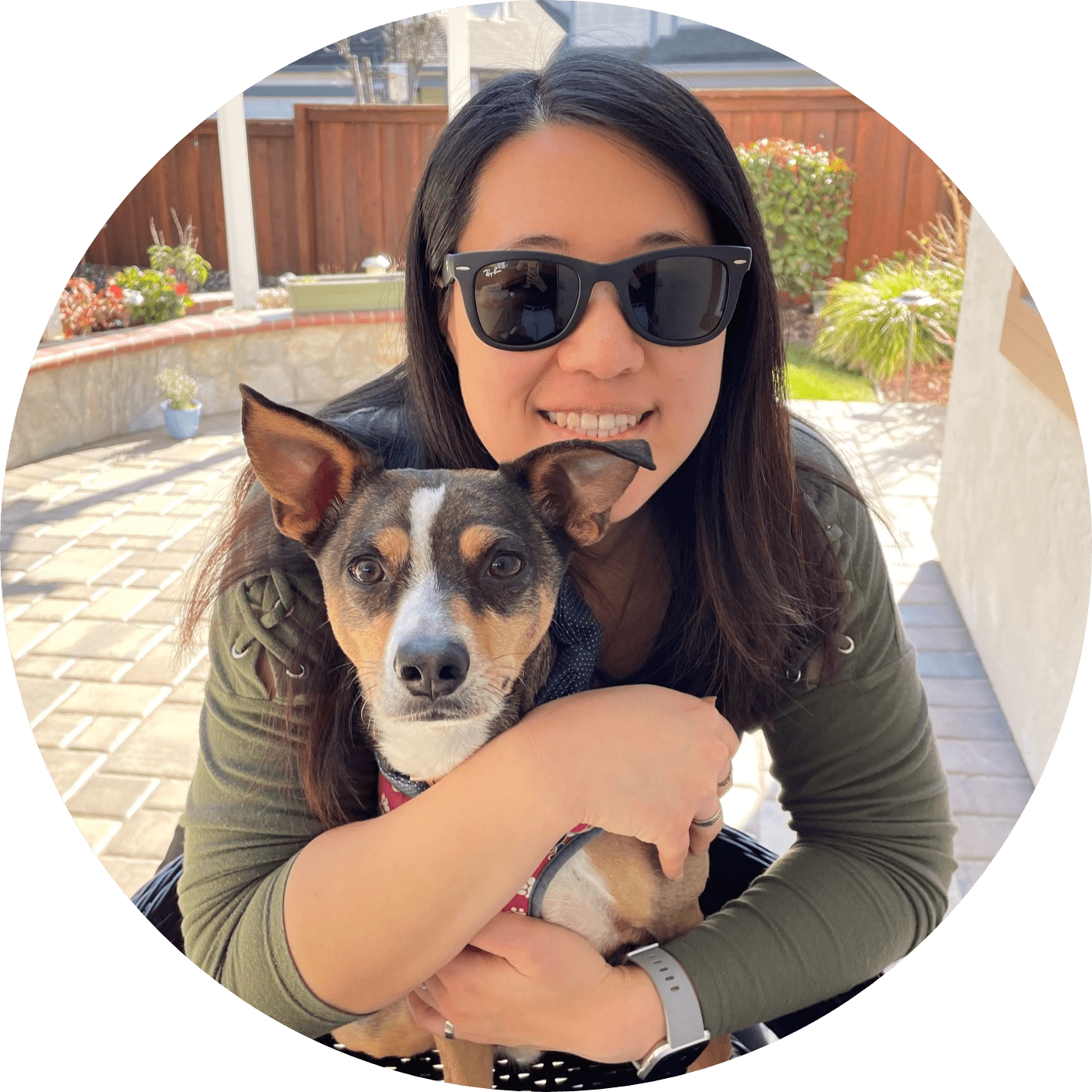 Dr. Sabrina Kong graduated from the Royal Veterinary College in England in 2016 and has been working at a small animal clinic in Northern California since then. She grew up in the Bay Area and got her bachelor's degree from Cal Poly San Luis Obispo. She also became a Certified Canine Rehabilitation Practitioner through a program at the University of Tennessee.
When she isn't in the clinic taking care of her four-legged patients, she enjoys traveling and trying new foods with her friends and her three-legged dog, Apollo. She adopted Apollo from her clinic when he was a puppy with numerous health issues. Dr. Kong truly cares about taking care of animals.