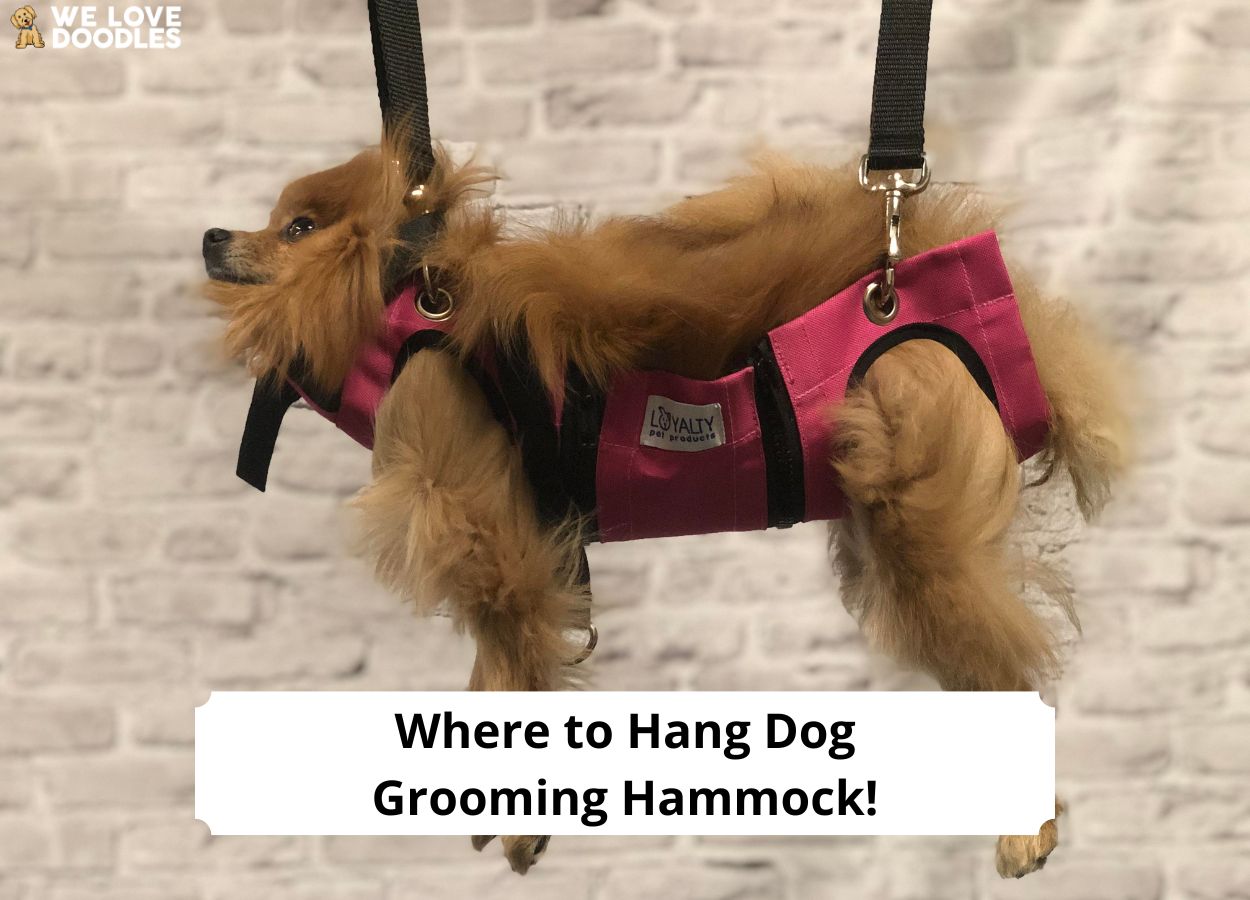 A dog grooming hammock can be hung to a ceiling or a wall with the help of hooks on each of its sides. Above all, wherever you decide to hang your dog grooming hammock, there should be a table underneath.
These hammocks lift a dog off the ground so it may be safely groomed. Because grooming hammocks keep the dog calm and allow professionals to groom hard-to-reach regions like the underbelly or aggressive or scared pups easily, they are widespread.
Lately, this item's popularity has also caught the attention of pet owners who want to save themselves or their dogs from the stress of having to visit a professional dog groomer.
Deciding on the best grooming hammock and introducing it to your dog takes some patience and a few tricks. To speed up the process, we've developed a guide to help you with this ingenious invention.
Before you scroll further down this guide, "Where to Hang Dog Grooming Hammock," consider: 3 Best Bernedoodle Grooming Tips! (2023) and How Long Does Dog Grooming Take? (2023).
How to Hang a Hammock
Dog grooming hammocks that allow pet owners to effortlessly comb and wash their furry companions have to be attached to a strong structure like a wall. There are a few instructions you should keep in mind for hanging a hammock safely and properly.
Choose a location based on what is convenient in your home and where your dog likes to spend most of its time. Specify the hammock's size and then use a pencil or any other easily erasable tool to record the height you prefer.
Drill two holes in the wall where the markings are, then install screws in each one. Employing the available hooks, dangle the hammock from them.
Which Hammock Will Be The Right Choice For Your Dog?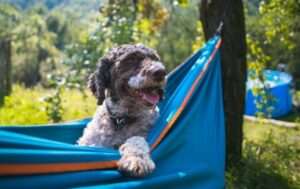 There are a few factors to take into account while selecting the perfect hammock for your dog. Your dog's size should be your first consideration. Dogs come in a variety of sizes, so you should measure yours accurately. Measure your dog's center front leg to its center rear leg when it is standing.
Your hammock must be able to fit your dog's size if it's a big dog. For instance, you will need to make considerable alterations to a regularly purchased hammock if you have a Great Dane at home. The dog's weight is also important; if your dog is heavy, you will need a hammock that is more durable and can support its burden.
Finally, you should think about the breed of dog you own. Some dogs are more comfortable inside hammocks, while others thrive outside. If you have a little or moderately sized dog, a hammock inside should be suitable. They are ideal for tiny places as they are portable and light.
How to Help Your Dog Get Used to The Hammock
It might be challenging to convince your dog to unwind on a hammock. Dogs can take a while to become acquainted with the hammock because they can be reluctant to explore new things. With patience and the tricks we are sharing with you, you can help your dog feel at ease while they adjust to the hammock.
Begin by introducing your dog to the hammock progressively at first. Set it in a room that is open and accessible to your dog, and let them discover it at their speed.
You should employ positive reinforcement techniques to increase your dog's usage of the hammock. You can also try luring your dog into the hammock with a food or toy if they appear anxious or afraid.
Should You Consider a Grooming Hammock?
A grooming hammock could be a great purchase if your dog enjoys getting groomed. For both you and your dog, grooming hammocks make the procedure more convenient and relaxing. Are you on the fence? If so, you could be debating whether the expense is justified.
There are a few particular factors to take into account. For instance, how frequently should your dog be groomed? A grooming hammock might not be necessary if your dog simply needs a brief brush once each week.
On the other hand, a grooming hammock can help you save time and energy if your dog requires a more complete grooming every week or two. Dogs naturally have a need to groom and tidy themselves. They frequently lick and chew on their fur and as a result, can cause it to tangle which in turn causes skin problems.
How much room you have available is another factor to take into account. If your home is compact and you don't have much storage space, a grooming hammock might not be the ideal choice
How Should Dog Grooming Equipment be Stored?
The right way to store damp items is to wait for them to be completely dry. Even a tiny bit of moisture can cause bacteria to grow or rust to form.
You should be able to locate the equipment you need the most, so sort your dog grooming equipment in the right order.
If a folding table is going to be put away, it should always be done so in a location that can be shielded from falling glass. As soon as you can, fold the table to prevent pieces from colliding with one another and causing wobbles later.
How to DIY a Dog Grooming Hammock
While dog grooming hammocks are available to buy online or at most pet retailers, you may not find something you like and want to make a DIY grooming hammock. However, before you do so, make sure that you have experience building something from scratch and that the hammock you build is sturdy enough. Otherwise, you might be putting your dog at risk.
With those considerations in mind, you can start by picking the fabric. The best textiles to use include fleece, terry cloth, microfiber, or canvas. For small to medium dogs, these materials will hold up well.
For larger dogs, stronger weight fabric is preferable. Consider using a sturdy synthetic material that offers your larger dog comfort. Use a durable skin-friendly material with little to no stretch. If the hammock stretches too far, your dog may twist or deform it, forcing you to create a new one.
You'll need a yard of cloth for a bigger grooming hammock and 3/4 of a yard for a smaller one. Depending on your needs, you may make adjustments. To start off, you will need to fold the fabric in half.
Moving forward, you have to cut circles out of the cloth to create four openings. Given that they will stretch, make the holes reasonably tiny. Stitch around the hammock in addition to the leg openings to strengthen it. To ensure that the hammock is stable as you stitch it, use heavy-duty thread.
You will then need to sew straps or flaps for the hammock. Although their dimension is adjustable, you'll want the material that extends up the sides of the hammock to measure enough to cover your dog entirely. You will need to place solid hooks on the surface where the hammock will hang.
To hang a hammock with hooks buried at the top, you'll need fasteners. To withstand the burden of the hammock and your dog, make sure the fasteners are made of sturdy material like steel. Lastly, you will have to position your pet cautiously. Your pet should be suspended in the air with its head. Before using the DIY hammock for the first time, you should test it out adequately. Make sure it is secure and workable.
How Should You Use a Dog Grooming Hammock?
Grooming hammocks are a preferred grooming method. In essence, they are a type of hammock that you may use to cool your dog off after a wash. In the winter, they are also an excellent way to keep your dog dry and tidy.
The use of dog grooming hammocks is plain and easy. Simply wet your dog down, hang them up in the hammock, and let them air dry. Your dog's skin and fur will dry out in the hammock, and it will also help keep them from becoming sick.
To start, spread it out on a flat surface where your dog typically sits. Afterward, put your dog in the hammock's middle. Put your dog's front legs in the hammock first, then gently put their rear end in if they are apprehensive about being in the hammock.
Once they are in the hammock, use the attached flaps to secure your dog, then fasten the snaps and attach them to the hooks. Your dog is now ready.
Frequently Asked Questions
Do grooming hammocks work?
So long as your dog is comfortable and reasonably relaxed in the hammock, yes! Smaller breeds are a particularly good fit for grooming hammocks.
Why do groomers keep dogs for so long?
Groomers can easily take a few hours depending on the dog's breed, time of year, and how long it's been since the last grooming session. They need to put in a lot of work to be thorough, and it can be easy to underestimate the time commitment.
How do you handle an aggressive dog during grooming?
Certain dogs may require a muzzle and a restraining loop to keep them stable during grooming.
Conclusion for "Where to Hang Dog Grooming Hammock"
A dog wiggling and moving during grooming is one of the biggest problems owners face. Dogs can make it hard to carry out even simple tasks like giving a bath or trimming nails but there is a hack for everything under the sun now.
Dog grooming hammocks, after dogs themselves, can be man's best friend. Having finished this guide, you should be able to buy or make, hang, and use your new dog grooming hammock.
If you find this guide, "Where to Hang Dog Grooming Hammock," helpful, you might also like:
You can learn more about where to hang your dog grooming hammock by watching the "Hound Hammock Unboxing and Demo | Dog Grooming" down below:
Garrett loves animals and is a huge advocate for all Doodle dog breeds. He owns his own Goldendoodle named Kona. In addition, he volunteers at the Humane Society of Silicon Valley, where he fosters dogs and helps animals. Garrett enjoys writing about Doodles and believes that dogs can teach humans more about how to live than humans can teach a dog.
Why Trust We Love Doodles?
At We Love Doodles, we're a team of writers, veterinarians, and puppy trainers that love dogs. Our team of qualified experts researches and provides reliable information on a wide range of dog topics. Our reviews are based on customer feedback, hands-on testing, and in-depth analysis. We are fully transparent and honest to our community of dog owners and future owners.