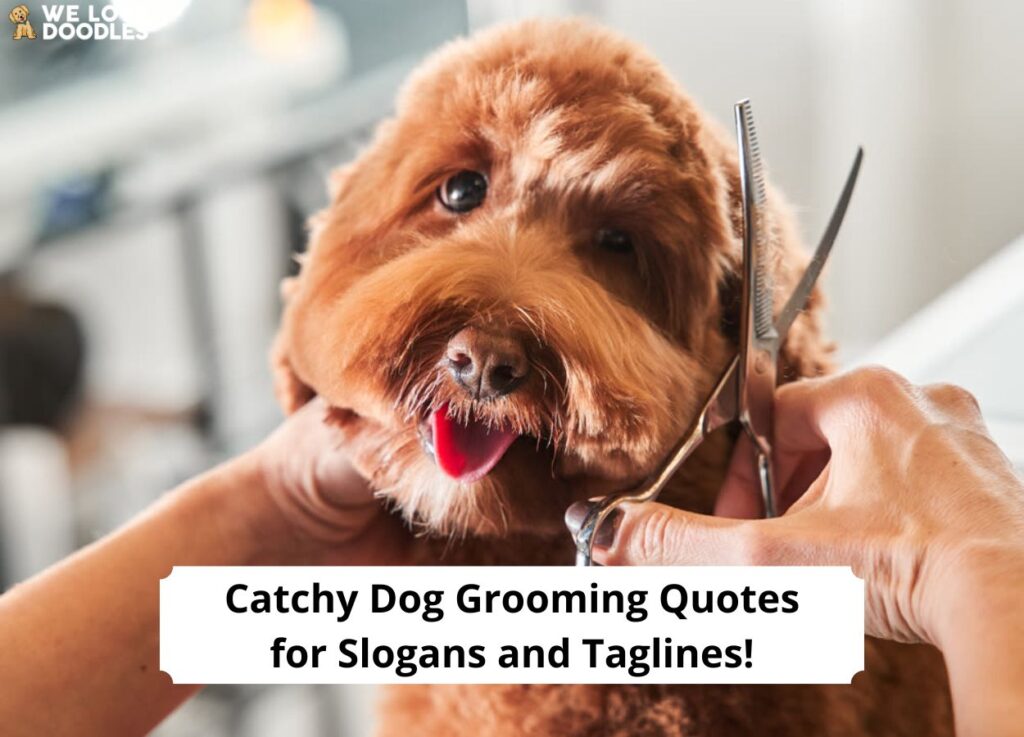 When it comes to customizing your dog grooming business, good slogans and taglines are essential to catching the eye of customers. Quotes are an ideal source to draw from when it comes to the source material. So, read on to discover some catchy dog grooming quotes you can use as slogans and taglines.
Before you scroll down this guide, "Catchy Dog Grooming Quotes for Slogans and Taglines," check out these other articles from our team at We Love Doodles: 50+ Old Dog Quotes That Will Make You Smile! (2023) and The Best Goldendoodle Quotes: Funny, Inspirational, and Birthday! (2023).
Cute Dog Grooming Quotes
Whether you groom a giant St. Bernard or a tiny Pomeranian, you likely think every puppy who comes through your doors is adorable. So let your clients know cuteness is welcome by adding one of these sweet quotes to your advertisements or store.
A dog is the only thing on earth that loves you more than you love yourself. – Josh Billings
Scratch a dog, and you'll find a permanent job. – Franklin P. Jones
My little dog – a heartbeat at my feet. – Edith Wharton
Happiness is a warm puppy. – Charles Shultz
A dog is the only thing on earth that loves you more than he loves himself.– Josh Billings
Did you know that there are over 300 words for love in canine? – Gabriel Zevin
Love – that which biologists, nervous about being misunderstood, call 'attachment '- fuels the bond between dog and master or mistress. – John Bradshaw
I think dogs are the most amazing creatures; they give unconditional love. For me, they are the role model for being alive. – Gilda Radner
Old dogs, like old shoes, are comfortable. They might be a bit out of shape and a little worn around the edges, but they fit well. – Bonnie Wilcox
Dogs do speak, but only to those who know how to listen.- Orhan Pamuk
Hounds follow those who feed them. – Otto von Bismarck
You know, a dog can snap you out of any kind of bad mood that you're in faster than you can think of. – Jill Abramson
Life is a series of dogs. – George Carlin
There is no psychiatrist in the world like a puppy licking your face. – Ben Williams
Dogs leave pawprints on our hearts. – Author Unknown
A dog is the only thing that can mend a crack in your broken heart – Judy Desmond
Funny Dog Groomer Quotes
If your business is light and fun, humor can be a particularly great way to connect with your clients. Humorous quotes are attractive and functional in several contexts. Select from these quotes as they provide a wry look into life with canines.
Some of my best leading men have been dogs and horses. – Elizabeth Taylor
Anybody who doesn't know what soap tastes like never washed a dog. – Franklin P. Jones
What do dogs do on their day off? Can't lie around – that's their job. – George Carlin
A dog teaches a boy fidelity, perseverance, and to turn around three times before lying down. – Josh Billings
To err is human — to forgive, canine. – Author Unknown
No one appreciates the very special genius of your conversation as much as the dog does. – Christopher Morley
A dog desires affection more than its dinner. Well – almost. – Charlotte Gray
If you are a dog and your owner suggests that you wear a sweater, suggest that he wear a tail. – Fran Lebowitz
I'm a lot less cranky when it's just me and my dog. – Bob Peterson
Everyone thinks they have the best dog. And none of them are wrong. – W.R. Purche
When an 85-pound mammal licks your tears away and then tries to sit on your lap, it's hard to feel sad. – Kristan Higgins
Even the tiniest Poodle or Chihuahua is still a wolf at heart. – Dorothy Hinshaw
Some of our greatest historical and artistic treasures we place with curators in museums; others we take for walks. – Roger A. Caras
Every dog has his day unless he loses his tail, then he has a weak end. – June Carter Cash
I wonder if other dogs think poodles are members of a weird religious cult. – Rita Rudner
Feisty Quotes About Dog Grooming
Some dogs have zesty personalities, especially during a grooming session. So honor these feisty pets with these quotes that embrace the sassy side of our furry friends. These quotes are ideal for your business if you want to invoke opinionated pups everywhere.
What counts is not necessarily the size of the dog in the fight – it's the size of the fight in the dog. – Dwight Eisenhower
The average dog is a nicer person than the average person. – Andy Rooney
The better I get to know men, the more I find myself loving dogs. – Charles De Gaulle
Dogs never bite me. Just Humans – Marilyn Monroe
The greatest pleasure of a dog is that you may make a fool of yourself with him, and not only will he not scold you, but he will make a fool of himself too. – Samuel Butler
Money can buy you a fine dog, but only love can make him wag his tail. -Kinky Friedman
Dogs are great. Bad dogs, if you can really call them that, are perhaps the greatest of them all. -John Grogan
No matter how little money and how few possessions you own, having a dog makes you feel rich. – Louis Sabin
Histories are more full of examples of the fidelity of dogs than of friends. – Alexander Pope
Thoughtful Quotes About Dog Grooming
As man's best friend, dogs earn a lot of contemplation from humans. Above all, these quotes consider the bigger role of dogs in the lives of humans. Choose one of these quotes if your business provides an overall caring and calm atmosphere.
Dogs are not our whole life, but they make our lives whole. – Roger Caras
Dogs do speak, but only to those who know how to listen.– Orhan Pamuk
Everything I know I learned from dogs. – Nora Roberts
Every dog must have his day. – Jonathan Swift
All his life, he tried to be a good person. Many times, however, he failed. For after all, he was only human. He wasn't a dog. – Charles M Schulz
Petting, scratching, and cuddling a dog could be as soothing to the mind and heart as deep meditation and almost as good for the soul as prayer. – Dean Koontz
If I have any beliefs about immortality, it is that certain dogs I have known will go to heaven, and very, very few persons. – James Thurber
I have found that when you are deeply troubled, there are things you get from the silent devoted companionship of a dog that you can get from no other source. – Doris Day
The bond with a true dog is as lasting as the ties of this earth will ever be. – Konrad Lorenz
If dogs could talk, perhaps we would find it as hard to get along with them as we do with people. – Capek
The world would be a nicer place if everyone had the ability to love as unconditionally as a dog. – M.K. Clinton
Dogs have a way of finding the people who need them and filling an emptiness we didn't ever know we had. – Thom Jones
I care not for a man's religion whose dog and cat are not better for it. – Abraham Lincoln
The poor dog, in life the firmest friend. The first to welcome, foremost to defend. – Lord Byron
We can judge the heart of a man by his treatment to animals. – Immanuel Kant
A dog will teach you unconditional love. If you can have that in your life, things won't be too bad. – Robert Wagner
Novelty Quotes About Dog Grooming
These phrases are not from a specific person. Instead, many of them are fun plays on words that aim to include dogs and grooming specifically. Other phrases can apply to dog grooming even if they do not explicitly mention dogs or grooming.
Cleanliness is next to dogginess.
Rub a dub dub, a pup in a tub.
We do it fur you.
A pawsome groomer.
Nothing is im-paw-sible. Not even bath time!
Bath time doesn't have to be ruff.
Water you doing, pup?
Wash away your troubles with some bubbles.
I'm paws-itively in love!
Thanks fur letting me give you a bath.
Let's get this bubble bath pawty started.
Bath time was a breeze, I Shih Tzu not.
I woof spending time with you… even if it's bath time.
Shake it off.
Frequently Asked Questions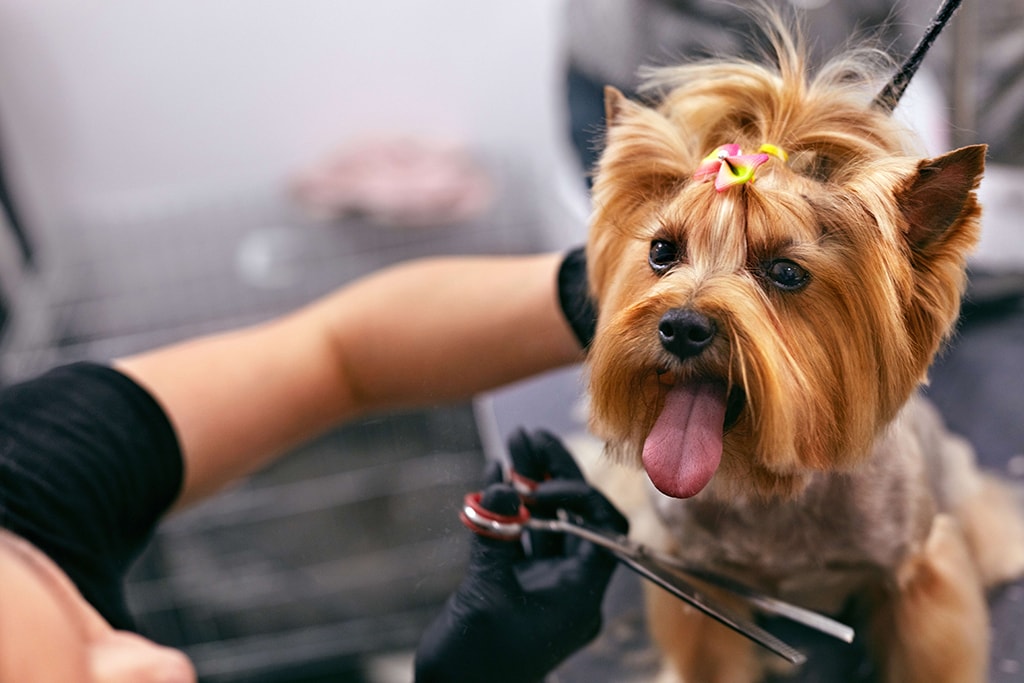 With all that said, here are a few of the most commonly asked questions regarding advertising for dog grooming.
How do I advertise my dog grooming?
There are several particularly effective ways you can advertise your dog grooming business. It's often a good idea to utilize multiple methods for advertisements. For instance, you can bring in customers with a beautiful website, online ads, loyalty programs, local print advertisements, and partnerships with pet stores and veterinarians. Don't discount the value of a good referral!
Where should I use dog grooming slogans and taglines?
You can use these quotes, slogans, and taglines anywhere in your advertising materials. Place these quotes and slogans in your store, on newsletters, on print and online advertisements, on a website, in literature for the business, and within SEO articles. You'll grow in due time.
Where do dog groomers earn the most money?
Groomer salaries have a big range across the United States. Generally, pet groomers earn the most on the East and West Coast in states like New York, Virginia, California, and Washington.
Conclusion for "Catchy Dog Grooming Quotes for Slogans and Taglines"
Above all, these fun quotes should make a good slogan for your dog grooming business. Whether you try to create a more professional atmosphere or want your business to be fun, playful, and relatable, there is bound to be a quote for you.
Get creative when choosing catchy quotes and use them to reinforce your dog grooming brand.
If you enjoyed this guide, "Catchy Dog Grooming Quotes for Slogans and Taglines," try these other quote roundups:
If you want to learn more dog quotes, watch "Best Dog Inspired Quotes – Motivational and Inspirational Thoughts" down below:
Garrett loves animals and is a huge advocate for all Doodle dog breeds. He owns his own Goldendoodle named Kona. In addition, he volunteers at the Humane Society of Silicon Valley, where he fosters dogs and helps animals. Garrett enjoys writing about Doodles and believes that dogs can teach humans more about how to live than humans can teach a dog.
Why Trust We Love Doodles?
At We Love Doodles, we're a team of writers, veterinarians, and puppy trainers that love dogs. Our team of qualified experts researches and provides reliable information on a wide range of dog topics. Our reviews are based on customer feedback, hands-on testing, and in-depth analysis. We are fully transparent and honest to our community of dog owners and future owners.