Are you wondering what these funny dog breeds are? Whether that best friend is a human or an animal, a little humor goes a long way. So today, we will look at the funniest dog breeds.
There are plenty to choose from when it comes to funny dog breeds. Of course, all dogs have quirks that make them funny somehow. However, some dog breeds are known for being universally amusing.
Before scrolling down this list of funny dog breeds that will make your day, check out these other lists: Cutest Dog Breeds and Dog Breeds with Big Paws.
Funny Dog Breeds That Will Make Your Day
We should look at what criteria we used to determine our picks before looking at these funny dogs. There are two categories that these dogs fall into. They are either funny-looking, or they have funny personalities. Most of the dogs on our list are lucky enough to fall into both categories.
Find a Dog Breeder: Best Dog Breeders in California and Best Dog Breeders in Texas.
1. French Bulldog
First, we have one of the most meme-able dog breeds: the French Bulldog. These unique-looking dogs were initially bred as bullfighting dogs. However, they quickly became a companion breed to people of all different walks of life.
French Bulldogs became so popular because their peculiar appearances made them fantastic icebreakers. Now French Bulldogs are one of the most popular dog breeds globally.
French Bulldogs are known for their short and stout body and squished face. This stocky body gives these dogs an almost comical appearance. However, it's their infamous smile that makes these dogs one of the funniest around.
French Bulldogs have vast mouths that naturally form a smile when happy. This mischievous grin adds to the French Bulldog's comical demeanor. However, it is not just their smile that makes French Bulldogs so funny.
These dogs are incredibly expressive in other ways as well. French Bulldogs are extremely friendly and love meeting new people. Sometimes this excitement is expressed comically, such as hopping around and shaking their butt.
In many cases, this excitement may also cause a less desirable, but equally as comical, reaction: gas. Frenchies are highly gassy dogs who are not afraid of a bit of flatulence once in a while (or all the time).
2. Daschund
Daschunds are dog breeds on our list who have the perfect combination of funny personalities and funny looks. These dogs were initially bred to hunt badgers, rabbits, and foxes, which is why they are so low to the ground.
Eventually, these dogs retired from hunting and became full-time companions to families worldwide. These dogs have comically short legs along with absurdly long bodies. It was causing them to look more like a caricature than an actual dog.
Because of their shape, Dachshunds are also known as Weiner Dogs or Sausage Dogs. You have to develop a sense of humor with looks and names like that, which is precisely what Daschunds did. Dachshunds have extraordinarily playful and mischievous personalities.
These prominent personalities, combined with their appearances, often elicit a chuckle where other dogs might get in trouble. But that's the beauty of Dachshunds; they are charming dogs who know how to trick you into being entertained.
Dachshunds love to stare at you, steal your spot, and sleep in strange positions. Sometimes they even revert to their hunting days and stalk their humans. These behaviors make Daschunds one of the funniest dog breeds around.
2. Brussels Griffon
Originating in Belgium, the Brussels Griffon is one of the unique dogs on our list. These little puppies were bred in the 1800s to hunt mice and rats. This was important to keeping vermin out of the stables on farms.
Eventually, these little puppies transitioned to companion dogs, but they kept many of their hunter traits. Therefore, Brussels Griffons are playful and energetic dogs.
Identifying a Brussels Griffon is extremely easy as they have some of the most distinctive features of any dog breed. First, these dogs have a notoriously severe-looking faces, making them look like they just smelt something awful.
These human-like facial expressions make these dogs truly comical to be around. Making their frowning face even more distinct is their facial hair. Brussels Griffons have long beards and mustaches making them look like distinguished (but grumpy) old men.
Adding to these appearances is a sense of self-importance that can be comical in its intensity. Their history as hunters gives Brussels Griffons the idea that they are much more significant.
These dogs only weigh about 8-10 lbs, but they act like they are the size of a lion. The Brussels Griffon's tendency to take itself a little too seriously, paired with its unique appearance, makes it one of the funniest dog breeds around.
Related: Best Short-Haired Hypoallergenic Dogs.
3. Bull Terrier
Next up, we have the beautiful Bull Terrier. These dogs have an unmistakable egg-shaped head that makes them both adorable and a little bit funny. Bull Terriers were initially bred to be fighting dogs.
However, they quickly became fashionable companions. Therefore, these dogs are highly devoted to their owner and love to play and entertain. Bull Terriers are known for their egg-shaped head that slopes down at the nose.
This shape, paired with the pointed ears and tiny eyes, gives these dogs a comical appearance. Of course, it doesn't help that their bodies are rarely proportionate to their head. So, this exaggerates the distinctive shape of their head.
Along with their looks, Bull Terriers have entertaining personalities. The key to helping your Bull Terrier develop its sense of humor is to socialize and train it from an early age.
A well-trained Bull Terrier is playful, mischievous, and entertaining without aggressive or disruptive. Bull Terriers love to play games, so get ready for some goofy fun with these dogs.
4. Pug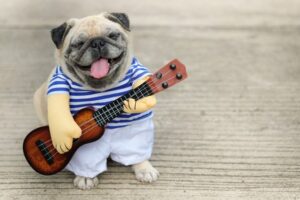 One of the most distinctive dog breeds globally, Pugs are known for their silly personalities and quirky appearances. Pugs are an ancient breed with their roots reaching back to 400 BC.
These dogs were bred to be companions to royalty and have kept that royal air about them to this day. Pugs pack a lot of personality into their tiny bodies. Weighing approximately 14-18 lbs and standing only 10-13 inches tall, Pugs are natural entertainers.
These dogs are known for their squished face with the iconic black mask around their nose and mouth. These dogs have an endearing appearance that is hard to resist.
In addition to their classic mask, Pugs have wrinkles on their face that make them highly expressive. Their feelings are blatantly displayed on their faces, making for genuinely comical situations. They love entertaining others, so if your Pug can make you laugh, it will.
Related: Best Pug Breeders in New Jersey.
5. Pembroke Welsh Corgi
The Pembroke Welsh Corgi is another dog breed that is always up for a good time. These dogs got their beginnings herding cattle in Wales. This high-energy job has left modern Corgis with a need for activity and a lust for life.
Therefore, Corgis are entertaining little dogs who love to please their owner with their antics. Even when Corgis are not trying to be funny, they are. Have you ever seen the look of disapproval a Corgi can give?
Well, it might not be funny to the person receiving the look, but it sure is funny to the rest of the people watching it. This look of absolute disgust combined with adorable fluffy butts and smiling faces make Corgis one of the most entertaining dog breeds around.
Related: Best Corgi Breeders in the United States.
6. Siberian Husky
It is a bit of an enigma on this list, Siberian Huskies are not typically described as funny-looking, but their personalities are hilarious. These dogs originated in Northeast Asia, bred to be sled dogs.
This has affected the bread as they continue to be highly energetic and love snow. This love of snow can lead to pretty funny situations like arguments with your dog. Arguing with your dog may seem pointless.
Usually, they do not talk back.  But, that does not apply to Siberian Huskies. These dogs are highly vocal, so they have no problem telling you what they want. You might not understand, but that does not stop Siberian Huskies from telling you anyway.
The subsequent interaction is one of the funniest ones you can have with any dog. But, of course, the loud expression of their feelings might be less comical if it was infrequent.
However, Siberian Huskies have many opinions and therefore have a lot to say. This, along with their hilarious facial expressions, make Siberian Huskies one of the most outgoing and entertaining dog breeds around.
7. Golden Retriever
Another dog that is purely on our list for its personality, Golden Retrievers, are a naturally goofy dog with great tempers and a fun-loving personality.
Golden Retrievers are rumored to have originated from Russian circus dogs, so it is no surprise that they have an entertaining and funny demeanor. These dogs are known for their long, luscious locks that make them highly regal-looking.
However, when a Golden Retriever smiles, you know a goofy personality is hiding behind all those good looks. This good-natured expression reflects this dog breed's eagerness to please its owners. Golden Retrievers will do anything to get their owner to smile.
This is what makes these dogs appealing to so many people. Golden Retrievers make excellent companions because they care so much about their loved ones.
This desire to please others combined with a playful personality makes Golden Retrievers funny dogs who are always willing to play and get a laugh from their loved ones.
Related: Best Golden Retriever Breeders in the United States.
8. English Bulldog
Last on the list of funny dog breeds is the English Bulldog. English Bulldogs are another one of the most popular breeds in the world. They are known for their stocky body, squished face, and good temper. Said to have originated from ancient war dogs, English Bulldogs have maintained their courageous temperament for many years.
However, despite their reputation as big and burly bruisers, English Bulldogs also have quite a sense of humor. Although not as in-your-face humorous as some of the other dogs on our list, English Bulldogs have a more refined, dry wit to them.
Their squishy face and overall tired appearance make these dogs extremely entertaining. This general unimpressed expression, combined with their short and wide stature, really gives these dogs the appearance of a grumpy old man. However, despite their appearance, these dogs are calm and loving.
So, it is the fact that they are happy dogs that make their unhappy appearance even funnier. Combine this with the fact that Bulldog's love to have a good time (did you know they love to skateboard?), and you have the perfectly modest but hilarious entertainer.
Related: Best English Bulldog Breeders in the United States.
Conclusion For "Funny Dog Breeds That Will Make Your Day"
As you can see, funny dog breeds come in different shapes and sizes. Some dogs are funny because of how they look, while others are natural entertainers who like to put on a show.
Some dogs are blessed with the perfect combination of comical looks and silly personalities. What makes a dog funny is subjective, however. So, regardless of the breed you choose, you will find unique quirks about your dog that will bring a smile to your face for years to come.
If you enjoyed this article, "Funny Dog Breeds That Will Make Your Day," check these out:
You can check out these funny dog breeds by watching "Top Funniest Dog Breeds" down below: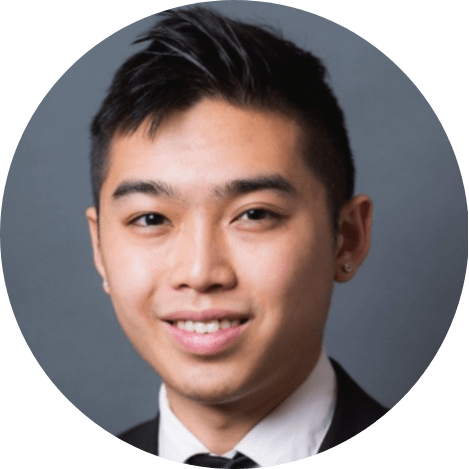 Andy is a full-time animal rescuer and owner of a toy doodle. When he's not saving dogs, Andy is one of our core writers and editors. He has been writing about dogs for over a decade. Andy joined our team because he believes that words are powerful tools that can change a dog's life for the better.
Why Trust We Love Doodles?
At We Love Doodles, we're a team of writers, veterinarians, and puppy trainers that love dogs. Our team of qualified experts researches and provides reliable information on a wide range of dog topics. Our reviews are based on customer feedback, hands-on testing, and in-depth analysis. We are fully transparent and honest to our community of dog owners and future owners.