Beauty is in the eye of the beholder, and so is cuteness. We all have differences in opinions as to what we deem as adorable and cuddly. Yet, we can't all help but agree that the pups mentioned here are some of the cutest in the world! So, if you're thinking about what kind of dog may be a good fit for you and your family, is exceptionally adorable and friendly, here is a list of the top ten cutest dog breeds to have. 
Before scrolling down this list, check out these similar dog breeds: Dog Breeds that Look Like Polar Bears!
10. Dalmatian
We all know that these adorable pups became extremely popular after the movie 101 Dalmatians. But other than their animated depiction, how can you know what these dogs are really like? Here is what you need to know about this adorable spotted puppy. Dalmatians are extremely beautiful and energetic. However, they are quite a bit of work. This breed is one of the highest energy breeds, so if you're more of a stay-at-home person, you may want to reconsider. 
If you're the type that goes out for a daily run, then having a Dalmatian would be perfect since they would make a great jogging partner.
This kind of cute dog breed is relatively easygoing, active, and is not aggressive, so there is no problem having them around children. However, Dalmatians tend to be shy with strangers, so it takes some time for them to warm up to guests. Despite seeming independent, these dogs love to be part of a pack. So make sure you make them feel like part of the family. If you leave them alone for too many hours, they can develop separation anxiety. 
One interesting thing to know about Dalmatians is that Dalmatian puppies are not born with spots. So if your Dalmatian ever has babies, don't panic. Their first spots appear when they are about two weeks old. So what's cute, great for a family, and spotted? Dalmatians! 
9. Samoyed
Have you ever wondered what it would be like to hold a cloud puff in your arms? Allow us to introduce you to the Samoyed. This adorable dog is known for its incredibly soft white fur. 
Samoyed's are medium-sized elegant looking dogs. They also always seem to be smiling, so this dog is great if you like taking selfies with your pet! 
These dogs are very friendly and energetic, so make sure you spend enough time playing with them. They are also great dogs if you have children since they love being around people. Make sure you can walk them at least three times a day since they do get bored easily.
Samoyed's are quick learners. They are considered a very intelligent breed and are quite obedient. However, these dogs don't like to be left alone for too long. If they are, they may develop behavioral issues and become quite destructive. 
Samoyed's do very well with families since the more people they are around, the happier they are. 
So don't hesitate and get yourself a little family cloud of happiness. 
8. Saint Bernard
If you're a 90's kid, you'll definitely remember the series that touched hearts: Beethoven. This movie series depicted the story of an affectionate St. Bernard that gets adopted by a large loving family. 
Some people may feel this dog is too large and droopy to be considered cute. But those characteristics all add to the Saint Bernard's charm, not to mention how well-behaved and friendly these dogs are. 
These dogs are known as legendary rescuers. In the past, Saint Bernards were used to helping rescue people who were lost and stranded. It's no wonder they're known as 'saints.' The only reason to hold back from getting this adorable dog is that they are quite the heavy 'drooler.' So if you are not the type who likes slobbery kisses, you may want to hold off.  
If you have a big family, this dog will keep the children occupied since they are excellent at a sport like activities and love people. Despite their size, they are indoor dogs and love being at home. It's good if you can take them out for a daily walk, but they won't mind spending a day in the house either.
As long as they feel useful to the family, this dog is happy. I mean, if you haven't already, watch Peter Pan and see how Nana (the Saint Bernard) took care of the Darling children. 
7. Dachshund
The Dachshund, also known as the 'The Sausage Dog,' is such a cute and inquisitive pup to have around. They have an excellent sense of smell and are great for tracking.
Dachshunds are very playful and friendly dogs but are incredibly protective of those with whom they create a strong bond. These dogs adapt quite well to life in an apartment. However, they do need physical activity to keep themselves in shape. 
Dachshunds are pretty fast learners, so you won't have to worry about them being difficult to train. They suffer when alone for extended periods, so be sure to dedicate time to play with them. 
What are you waiting for?! Get yourself a little sausage for you and your household. 
6. Beagle
If any dog can win you over with its heartwarming gaze, it's the Beagle. This dog with long, droopy ears and a charming face is a great dog to have. These dogs loved to be cuddled and held. When you are home, they want to be with you all the time, so they'll even follow you to the bathroom. These dogs are quite energetic and very vocal.
If you don't mind having a dog that will openly express how they feel, then the Beagle is perfect for you. Like many highly intelligent dogs, Beagles are a bit stubborn. You must take time to discipline them, or you'll have a donkey instead of a dog for a pet. If you live alone and hate feeling lonely, the Beagle is a great dog to have because it will not leave your side. (Literally). 
5. Golden Retriever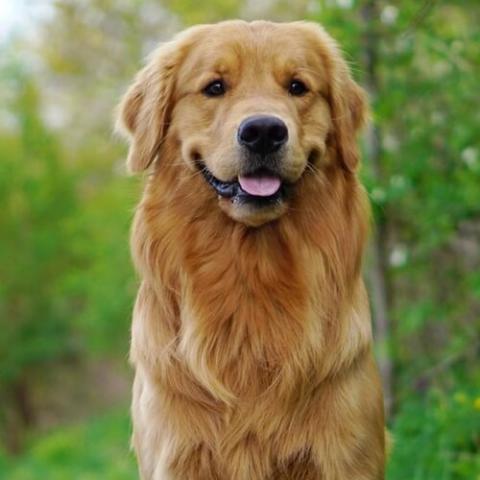 The popularity award goes to the Golden Retriever. These dogs are extremely popular, cute, and are the staple dogs when it comes to happy family pictures. Additionally, this dog is one of the friendliest dogs you may ever come across. Golden Retrievers are not afraid of new faces, so feel free to have friends and family over often.
They are relatively calm and are always eager to please. Their goal is literally to make you happy. Their demeanor and loving nature make them a great asset to the family and an excellent friend for your kids. They love being outdoors, so make sure that you can go on frequent walks with them. Are you planning on starting a family? Do you already have a growing family? Then this dog will be a cute addition. 
This small cheerful dog with the cutest curly hair will instantly put a smile on your face. This fluffy blacked-eye pup is energetic and also full of mischief. They are great family companions that adapt well to living in an apartment. They rarely bark, so you won't have to worry about neighbors complaining. Just make sure to take them on walks and give them enough playtime, and they will happily adapt to small quarters. 
If you or anyone in your family has a slight dog allergy but still wants a pet, this may be the dog for you. They shed very little, and even if there is no such thing as a hypo-allergenic dog, the Bichon comes quite close. 
Make sure you regulate their food intake since Bichons tend to gain weight quickly. As tempting, it may always be to give treats to this super cute, cuddly puppy, make sure not to overdo it. If you live in an apartment and have been trying to find yourself a little companion, the Bichon is the dog for you. 
The cutest miniature breed that you can get your hands on is this Yorkshire Terrier. This sweet and beautiful dog loves company and is ideal for people that have mild allergies. If you never had a dog before, this dog is excellent for first-time owners since they are very intelligent and easy to train. 
Make sure you brush them regularly since they have long hair. It's essential to pay attention to Yorkies' facial hygiene since food can often get caught in their little 'stache. 
If you've always wanted to dress your dog up in cute outfits, the Yorkshire is the best dog for this. Not only will they look super adorable with little boots and a coat, but the Yorkie will highly appreciate it since they tend to feel cold quickly. 
2. Pembroke Welsh Corgi
 Not only cute but known to be great with children, everybody's favorite little dog from Wales, the Pembroke Welsh Corgi! These dogs are incredibly athletic and affectionate without being overly needy. They have a very calm temperament, which makes them a pleasure to have around. 
Corgis don't grow much and tend to stay pretty small and low to the ground. They do bark a lot, so if you live in an apartment, your neighbors may not be too thrilled. However, this means that they are just excellent watch-dogs. What's cute and cuddly and also loved by the Queen of England? The Corgi. 
1. Pomeranian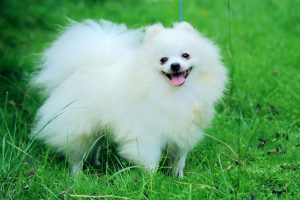 There's no denying that one of the most popular 'toy' dogs in the world is the Pomeranian. These dogs always stay small and fluffy, so it's important to make sure you brush them often. Pomeranians tend to be extremely affectionate and love being held. This dog is perfect for families, but they need several walks and lots of attention. So make sure that everyone is willing to put in the time. 
Despite their fluffy exterior, these dogs tend to get cold easily, so make sure to get them little coats during the cold season. 
Conclusion for Cutest Dog Breeds
The cutest dog breeds are definitely subjective. However, we gave you 10 different dog breeds of all sizes to help you find a cute puppy! That brings us to the end of top cutest dogs! Which dog breed is your favorite?
You will also like:
Garrett loves animals and is a huge advocate for all Doodle dog breeds. He owns his own Goldendoodle named Kona. In addition, he volunteers at the Humane Society of Silicon Valley, where he fosters dogs and helps animals. Garrett enjoys writing about Doodles and believes that dogs can teach humans more about how to live than humans can teach a dog.
Why Trust We Love Doodles?
At We Love Doodles, we're a team of writers, veterinarians, and puppy trainers that love dogs. Our team of qualified experts researches and provides reliable information on a wide range of dog topics. Our reviews are based on customer feedback, hands-on testing, and in-depth analysis. We are fully transparent and honest to our community of dog owners and future owners.