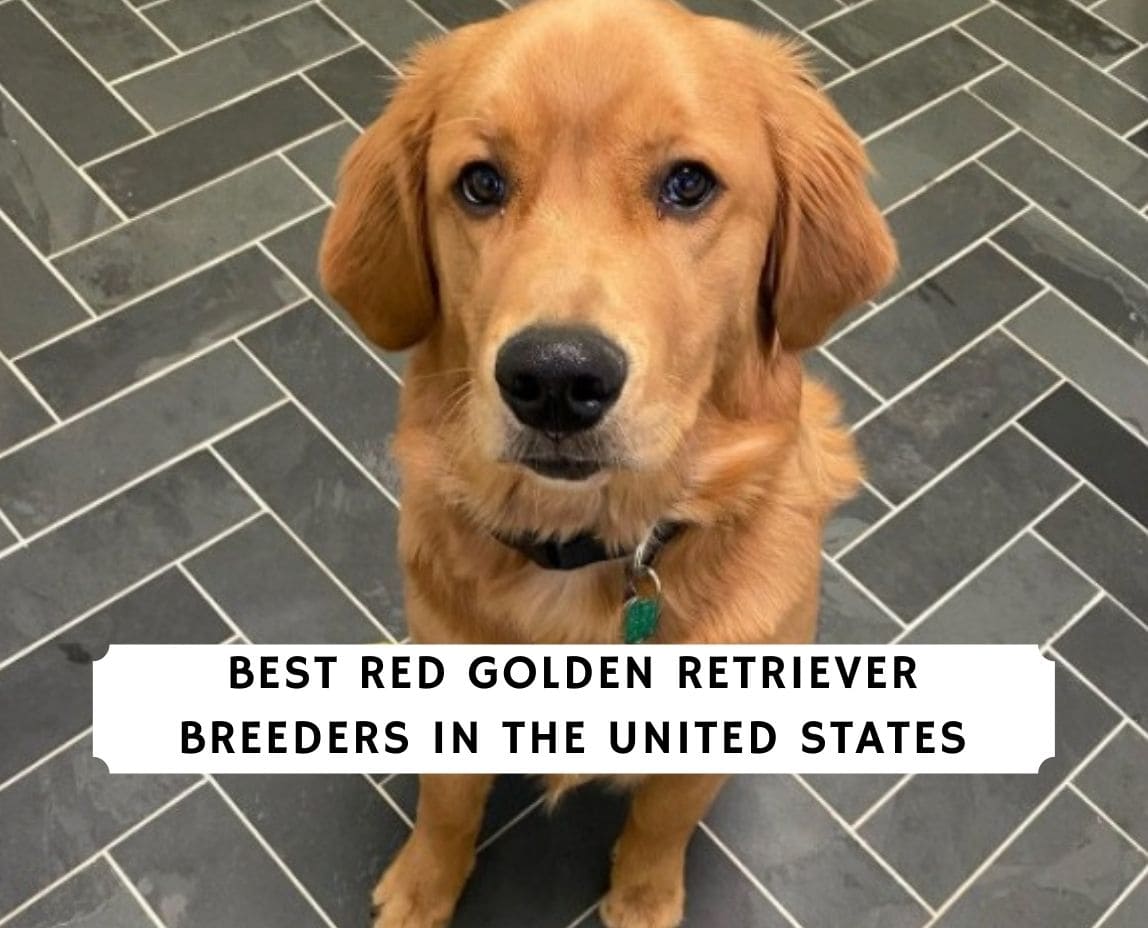 It's always exciting to add a new family companion, but finding suitable and trustworthy Red Golden Retriever breeders in the United States can be tricky. To many people, bringing home a Golden Retriever will undoubtedly create everlasting memories. Golden Retrievers are one of the perfect family companions and hunting dogs.
Before scrolling down this list of Red Golden Retriever breeders in the United States, we think you might like our other recommendations: Best English Golden Retriever Breeders in the United States and Best F1 Goldendoodle Puppies For Sale.
Red Golden Retriever Puppies For Sale in the United States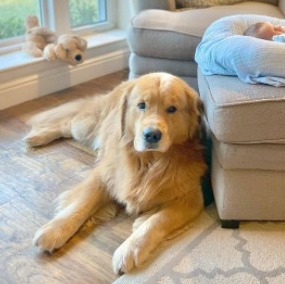 It's always wise to bring home a Red Golden Retriever from a reputable breeder. If you're purchasing your Red Golden Retriever from an unknown breeder, there's a chance that you're supporting puppy mills without knowing. Our team recommends you do your research before making any purchasing decisions. We present a list of the best Red Golden Retriever breeders in the United States, with all that aside.
You can get started in advance with our dog product recommendations: Best Dog Bed For Separation Anxiety and Best Dog Toys For Separation Anxiety.
1. Ridley's Red Retrievers
First on the list of Red Golden Retriever breeders in the United States is "Ridley's Red Retrievers." If you're looking to adopt a mahogany Red Golden Retriever puppy, this might be the right breeder for you. Located in Myerstown, PA, Ridley's Red Retrievers is one of the best breeders in the United States. They are known for producing large-boned, healthy Red Golden Retrievers.
Their program integrates a healthy Goldendoodle bloodline for families with allergic members to have the most suitable fur buddy. Ridley's Red Retrievers have excellent therapy and service dogs. Whichever one you need, you're sure of getting all the necessary qualities to suit your family's needs. This breeder takes care of their dogs to keep them healthy and happy.
Ridley's Red Retrievers Details
2. My Golden Retriever Puppies
My Golden Retriever Puppies is one of the best breeders in the United States. Puppies from this breeder come with a vet-signed copy of the genetic health certificate, AKC registration paperwork, as well as vaccination and deworming records. This team of family breeders is known for producing two or three litters every year. All the dogs from My Golden Retriever Puppies love to play and socialize. They also enjoy raising the puppies and running around to burn their energy.
This breeder requires you to visit their home before you can purchase a Golden Retriever. You're sure of going home with a healthy and happy fur buddy. Their Golden Retrievers can fare well with airline travel. Puppies from My Golden Retriever Puppies get proper attention and care from the airport personnel at the local airport (CLE) before their flight. If you live in Millersburg, Ohio, this breeder might be the best place to get your Golden Retriever puppy.
My Golden Retriever Puppies Details
3. SwanSun Golden Retrievers
Established in 1980, SwanSun Golden Retrievers is a highly experienced breeder. The founder has held many roles in different Golden Retriever clubs. After serving as secretary in the Inland Empire Golden Retriever Club, he joined the Golden Retriever Club Of America. All the puppies at SwanSun participate in early obedience training, which makes them perfect family pets.
This breeder also served as the Director of Training in the Lilac City Dog Training Club for about three years. Their dogs are often well-adjusted and good-natured. Many dogs from this breeder hold obedience titles. SwanSun is home to beautiful dogs that are good at rally and obedience training. This award-winning breeder won the AKC's Breeder of Merit award in 2015. If you are looking for a well-adjusted Golden Retriever puppy, this breeder might be the one for you.
SwanSun Golden Retrievers Details
4. Greenfield Puppies
Located in Lancaster, Philadelphia, Greenfield is known for breeding  AKC-recognized dogs. Their Golden Retrievers make excellent family companions and enjoy playing games like waterfowl. Greenfield is home to many Golden Retrievers with a gentle spirit and great discipline. Their dogs have good temperaments and make great hunting dogs and family companions. Greenfield Golden Retrievers are perfect for people who are not sporty because they are among the most pleasant and loyal breeds out there.
They are eager to please and knowledgeable, making it relatively easy to train them. Although they can be mouthy, Golden Retrievers of this behavior early will give you an ideal fur buddy when you break. This breeder ensures that all of their dogs are vet checked and have health clearances for specific medical conditions before moving to their forever homes. It's advised to begin obedience training as soon as you bring home your new puppy. With one from Greenfield, the training process will be easy.
Greenfield Puppies Details
5. Northwest Goldens
This breeder is one of the best you can find in the United States. Located in Washougal, WA, Northwest Goldens aims to provide healthy and happy Golden Retrievers. Also known as Wood Duck Retrievers, this breeder is passionate about goldens. They aim to improve the breed by providing care, love, and attention to their puppies. Their dogs are great at hunting and being in-house pets. Northwest Goldens has everything you need, a service dog, search and rescue dog, or hunting and show dog.
Northwest Goldens Details
6. Katian Kennel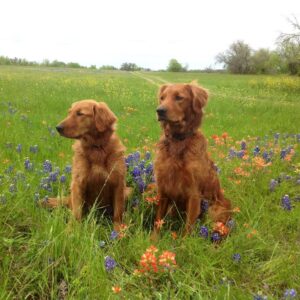 This breeder relocated from southeast Texas to central Texas (just Northwest of Austin or North of Giddings) due to Hurricane Harvey (2017). Katian Kennel is known for producing well-trained dogs that excel in hunting and competition. Many dogs from this breeder are titleholders. If you need a dog that knows how to mind his or her manners in the house, Katian Kennel might be your best option.
This breeder takes pride in producing well-socialized Golden Retrievers. All the dogs have plenty of time for free play in a fenced backyard and supervised free play in other parts of the property. They spend time checking on the goats in their pasture, the ducks in their aviary, and trailing all of the rabbits, deer, squirrels, and other wildlife that are on the property. Katian Kennel is also good at duck hunting and competitive athletics. They make strong contenders in field trials, hunt tests, obedience, and agility. This breeder makes sure that all dogs get vet checked and have all the required documents before shipping them to their forever homes.
Katian Kennel Details
7. Lancaster Puppies
Although Lancaster is not technically a breeder, we added it to this list because it connects potential owners to only the most reputable Golden Retriever breeders in town. They make the process of puppy finding easier by connecting buyers and sellers. They aim to simplify puppy search, provide information about the breed, and promote the health and wellness of dogs. This might be the perfect place to begin your Golden Retriever puppy search.
Lancaster Puppies also offer puppy-related items for caretakers and puppy owners, as well as stud dog services. They ensure that all their puppies are safe, healthy, social, and come from legitimate breeders. All of the puppies listed on their site are kept under sanitary conditions and well-fed. Lancaster Puppies is made up of a team of dedicated individuals who love sending beautiful puppies to beautiful homes.
They ensure that all the listings on their site are appropriately scanned for scams on fraudulent content. Once they discover a dishonest breeder, they investigate, remove the ads, and then ban them when necessary. If you're looking for trustworthy breeders that obey the law, Lancaster Puppies might be the right place to begin your search.
Lancaster Puppies Details
8. Bounderhill Goldens
Last on the list of Red Golden Retriever breeders in the United States is "Bounderhill Goldens." Located in Stuyvesant, New York, Bounderhill Goldens is one of the best Golden Retriever breeders the state has to offer. It's home to some of the healthiest and happiest puppies in the country. They make sure that all the dogs get the care and attention they need. All the puppies at Bounderhill Goldens are vet checked and have health clearances for specific health issues.
If your newly adopted puppy is afflicted with a genetic health condition of the elbows, hips, heart, or eyes and cannot perform, you can return it to the breeder. Bounderhill Goldens will now have their vet confirm the health issue. If the condition is approved, you will receive back the purchase price of the puppy minus $500. You'll also pay the cost of shipping the puppy back to the breeder. You can also opt to keep the puppy. In this case, you'll be required to provide written proof of spaying or neutering.
Before you can purchase a puppy from this breeder, you need to pay a non-refundable deposit of $200. Bounderhill allows potential dog owners to choose puppies in the order of deposit received. As the date of your pick-up draws nigh, this brother will have the puppy examined by a licensed vet to determine whether he or she has any injuries or diseases. They will provide you with all the necessary dog documents. Your newly adopted puppy will get all of his or her first immunization shots and deworming.
Bounderhill Goldens Details
Conclusion For The "Best Red Golden Retriever Breeders in the United States"
Before bringing a new Golden Retriever home, you must consider a few things. Your choice of a breeder matter as it can determine whether you end up with a healthy dog. Make sure you choose a reputable Golden Retriever from whom to get your new pal. We are happy to help, and you can select from our list!
For Red Golden Retriever-related articles, check out:
You can learn more about raising Golden Retrievers by watching "What It's Like Owning a Golden Retriever" from TmarTn2 down below: