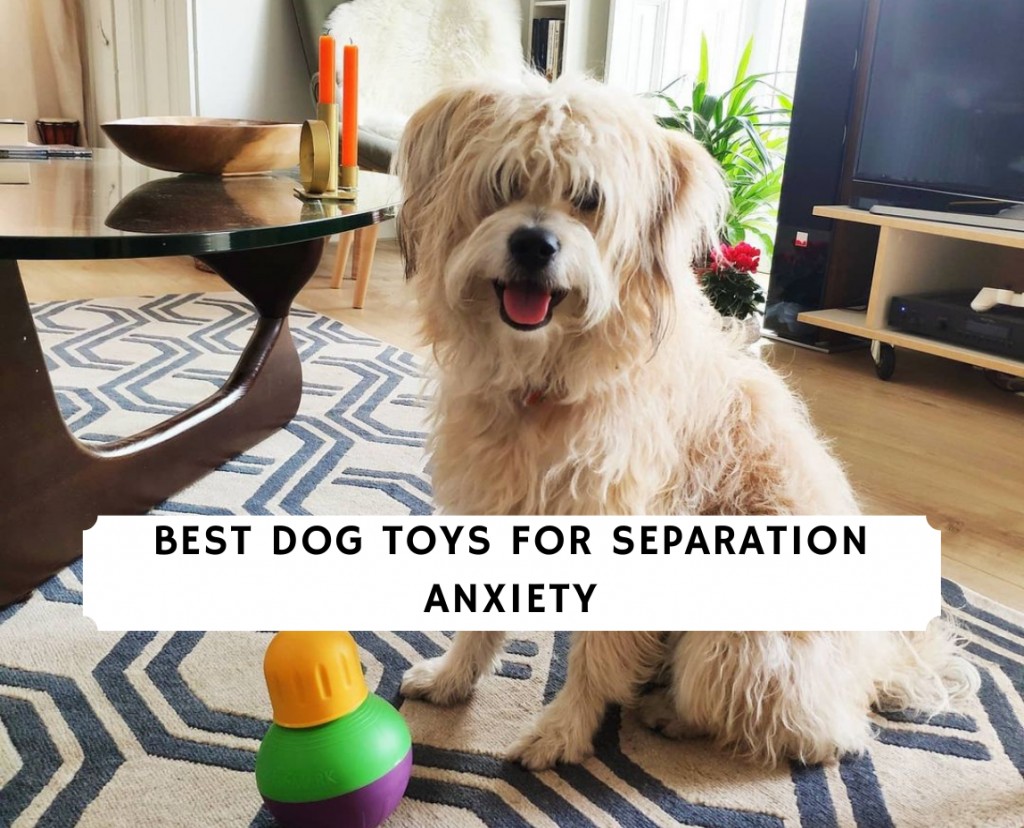 Separation anxiety is common in dogs in varying degrees because they are used to being in a pack. When you leave them home alone, your dog thinks that you are abandoning them and feel lonely without their pack for protection. Separation anxiety is an issue that is not solved quickly, but there are toys you can get to help relax your dog when they are alone.
Severe separation anxiety can be challenging and you may not know what to do. Chances are your dog is howling or crying when you leave them alone and you may be getting noise complaints. In this article, we'll discuss how to help by combining various options to help with separation anxiety.
While many of us enjoy purchasing numerous dog toys each week, there are some tips that you need to keep in mind when purchasing the best dog toys for dog separation anxiety. With that said, you should always consult with your veterinarian for severe separation anxiety, so that your dog can get treated with conventional medication. You'll also be able to rule out any possible health issues that could be contributing to behavioral issues.
In a rush? Here are the top picks!
Product
In-Ground Fence
Bob-A-Lot
Image
What is Separation Anxiety in Dogs?
Dog toys are a great way to help your dog while you ease back into a routine. Understanding if your dog is stressed out when you leave home allows you to engage in a behavior modification program, and to manage your absences with the use of interactive dog toys that will keep your dog mentally stimulated.
Research demonstrates that there's a high correlation with specific anxiety-driven conditions that link to a chemical imbalance. Combining dog medications with behavior modifications in most cases helps dogs to live a better life.
Dr. Nicholas Dodman BVMS, DACVB, President of the Center for Canine Studies, in his book, Dogs Behaving Badly, explains that "actual destruction engaged in by dogs with separation anxiety involves doors, moldings, rugs in front of doors, windows, blinds, an owner's personal effects, or random targets such as pillows and shoes."
Dodman goes on to add that "many people attempt to prevent destructive behavior by confining their dog in the cellar, behind a kiddie gate, or in a crate. The result is to focus the dog's attention on the barrier in front of it, and that becomes the place where the damage is directed." Dodman explains that confining your dog only worsens the dog's panic and hysteria. What you need is some behavior modification dog toys that help with separation anxiety.
The Best Dog Toys for Separation Anxiety
We've reviewed the best dog toys for separation anxiety to help you keep your dog relaxed. With all the different shapes, sizes, and functions, choosing dog toys to help with separation anxiety may seem difficult because of the many awesome brands to choose from.
If you're like us, crazy about dog toys, you'll probably want to purchase them all!  Keep in mind that just like children, dogs need plenty of different dog toys that need to be cleaned and disinfected regularly.
Now for the fun part! Our top dog toy picks for dogs with separation anxiety! These will keep your furry best friend busy and stave off mild yet problematic separation anxiety.
There's not enough that can be said about this awesome dog-friendly camera with dog treat features! With over 12,521 positive ratings, this product is a hit! Priced right, it also features a 160-degree wide-angle lens to view your dog day or night. This is a real-time smart alert camera that's great for dogs suffering from separation anxiety. You can see in real-time if your dog needs help which also helps you to identify separation anxiety through patterns such as constant pacing or licking! In addition, the Dog Activity Alert will let you when it detects dog movements like your dog jumping on furniture or chewing on cords.
In addition to knowing when your dog might be in danger, the Furbo Dog Camera has treat tossing functionality. Although this may seem to be pricey, it's definitely worth the cost since it also features a person alert, and lets you know if anybody comes into contact with your dog.
This is probably one of the best gifts for the holidays, also featuring a barking sensor, mic and speaker, and more! It just makes sense for all pet parents to have this product at home, even if your dog is not prone to separation anxiety.
Features
Takes selfies of your dog and watch them in real-time
Detects all dog movements in real-time like jumping on the couch or destructive chewing
Emergency alerts, making this perfect for dogs with separation anxiety
90-day free trial of cloud recording, smart alerts, and a daily doggie diary
1080p full HD camera and night vision with live stream video
Easy-3-step set up
Pros
Affordable price point for all the features
2-way audio with a barking alert
Sends push notifications to your smartphone in real-time
You can talk to your dogs (voice control) via the app to calm them down
You can toss a treat to your dog via the Furbo iOS or Android App
Livestream video
Night vision
Stranger danger alert
Offers you a "doggy diary" so that you get to see what your pooch has been up to while you're away!
Cons
This price is a little high, but we consider this a great investment.
The Awoof Pet Snuffle Mat is a unique dog training mat that allows for your dog to find snacks or small toys hidden in the mat. It helps to train your dog's smell and keep him busy. The AWOOF is beneficial for distraction and can be used to prevent boredom. In addition, it can help ease mild separation anxiety and behavioral issues. You can hide your dog's favorite treats inside the snuffle mat. It's an interactive feed game used to combat excessive biting or destruction in the home if your dog is prone to separation anxiety.
Priced very affordably, the AWOOF can be alternated with other interactive dog toys for optimal mental stimulation. Another fun gift for the holidays, with over 2,850 positive ratings, you can't go wrong with the AWOOF dog separation anti-anxiety sniffing pad that encourages foraging in pets!
Features
Slow food anti-mite bowl
Non-slip cloth bottom
Dual-use design
Machine washable
PB belt adjustment storage
Interactive feed game
Pros
Affordable
Easy-to-clean
Encourages sniffing
Slow food anti-mite bowl
Non-slip cloth bottom
Eco-friendly felt cloth PB belt adjustment storage
Cons
Will only distract your dog temporarily
The Zendix chew toy helps dogs with separation anxiety and features one granular ball connected to a suction cup that can fix on a smooth surface. This design is not only a good toy for dogs, but it is also suitable for you to play tug-of-war with your pets.
Formulated with non-toxic rubber, it also features two layers of granular surfaces that benefit dental care. This is a super durable dog chew toy for small, medium, and large dog breeds. The Zendix dog chew toy is brightly colored, and also has a dog treat dispensing ball. It great if you can fill it with treats and let your dog play with it while you're gone.
Features
High-quality non- toxic rubber dog toy for separation anxiety in dogs
You can play tug-of-war by holding the suction cup and allowing your dog to hold the ball.
 Granular surface helps prevent tooth decay by cleaning action on teeth.
Priced affordably
A good gift toy for the holidays
Pros
May help to relieve anxiousness and boredom
Brightly colored
Beneficial for dental health
Relieves boredom
Made with non-toxic rubber
Cons
The suction cup may not work well with really strong dogs
Another fun and brightly colored interactive dog toy that will be effective as a dog separation anxiety toy is the Bob-A-Lot. This is an adjustable dog treat toy featuring a large chamber to fit complete meals if necessary. The weighted bottom wiggles and provides hours of mental stimulation and physical activity. The bottom chamber fits about 3 cups of kibbles and features adjustable openings at the top and bottom.
The StarMark Hot Bob-A-Lot Interactive Dog Toy features a small and large size for most dog breeds. Starmark dog toys to help with separation anxiety are developed by experts and performance tested by dogs at the Starmark Animal Behavior Center. This product has over 10, 855 positive reviews, and also makes for another perfect Fido Holiday Gift!
Features
Designed by dog experts, and performance tested
Priced to sell out during the holidays
Two sizes: small and large
Over 10,855 positive reviews
Large bottom chamber to allow for up to 3 cups of kibble
Pros
Adjustable dog treat dispensing toy
The large chamber can fit up to 3 cups of kibble
Weighted bottom wobbles
Starmark is trusted as a brand for its high-quality pet products
May foster natural hunting and foraging behaviors thus easing separation anxiety in some dogs
Can combine with Starmark dog treats for optimal fun!
Cons
Some dogs may push the Bob-A-Lot very hard, so you need to make sure nothing can break on your floors
An old time favorite that pet parents always go back to and keep purchasing every few months, the KONG can be stuffed with your dog's favorite filling and then frozen to last up to hours of fun. Not only does the fabulous Kong help ease separation anxiety in dogs, but also when frozen helps with teething as well as cooling their gums and easing pain. What's great about the Kong is that it's available in all different sizes for all dog breeds from small to XX-large.
The Kong works well as a fetch toy as well because it bounces. The unique shaped Kong provides mental and physical stimulation and is one of the most favored dog chew toys in the United States. This is an awesome dog holiday gift in multi-pet households, especially for large breed pups!
With over 26,328 positive ratings, the Kong leads by way of dog toy popularity, most especially for dogs that suffer from separation anxiety. This toy may be beneficial in preventing destructive digging, chewing, boredom, excessive barking, and more! This is definitely one of the best dog toys to help with separation anxiety.
Features
Designed by dog experts, the Kong is both a chew toy and food puzzle dog toy.
Priced to sell out during the holidays
Multiple sizes
Over 10,855 positive reviews
Large bottom chamber to allow for up to 3 cups of kibble
Made in the United States
Pros
Available in many different sizes all the way up to XX-Large for giant-sized dog breeds
Made from non-toxic rubber that does well frozen and is safe when chewed aggressively
An ultra-durable toy that can be stuffed, bounced, chewed, and frozen.
Kong is trusted as a brand for its high-quality pet products
Helps dogs with separation anxiety
Complimentary dog-friendly smoothie recipe
Priced right all year round!
Over 26,328 positive ratings
Cons
Although this is not a dog toy, the Thundershirt has definitely been proven to help with separation anxiety and storm phobia in dogs. This product features XX-small sizes for toy dog breeds and runs all the way to XX-large for giant-sized dog breeds.
It comes veterinary approved, and is not only safe and comfortable but is also very affordable. This is a drug-free way of helping your dog stay calm during fireworks, thunderstorms, natural disasters, and more! The patented design works by applying gentle and constant pressure when worn. This helps to relieve stress and anxiety in your dog.
Features
Designed by dog experts
Drug –free calming method
Features an array of sizes for all dog breeds
Over 18,448 positive reviews
Veterinary approved and recommended
Comfortable, lightweight, and safe
Pros
Made from durable, breathable soft fabric
Features adjustable torso flaps
Sized from XX-small to XX-large to meet all dog breed size requirements
Machine washable
Priced well
Over 80% effective in calming pets that suffer from separation anxiety
Features over 18, 448 positive reviews
Cons
Not a dog toy, but a good alternative
The Calhnna features vibrant colors to captivate your pooch! The dog puzzle toy is a fun way to slow down meal times to improve digestion and prevent bloat as well as being an interactive and entertaining dog enrichment toy.
This toy features a treat dispenser that is easy to wash. It also has a durable dog treat ball that is resistant to breaking apart. This is a fun way to keep your pooch entertained and to strengthen your dog's cognitive skills. Priced extremely affordably, the CALHNNA Pet IQ Intelligent dog separation anxiety toy also helps to improve digestion and may help to prevent bloat.
Features
Brightly designed to engage pets
Durable dog puzzle toy that can be used as a slow feeder
Stable with a spinning base
Over 331 positive reviews
May help to prevent boredom and separation anxiety
Made with PVC durable material
Non-toxic
Pros
A multifunctional dog puzzle toy
5 different treat compartments
Features environmentally friendly PVC material
Anti-slide rubber pads at the bottom to prevent skidding
Beginner-friendly
100% back money-back guarantee
Suitable for both cats and dogs
Cons
Only suitable for small or medium-sized dogs
Dogs love these, and with over 16, 663 positive reviews, Premium Care Calming Dog Treats are a good choice for dogs suffering from separation anxiety and stress. The product adds that it helps 99% of dog-related anxieties with their natural calming treats shown to alleviate symptoms of stress and anxiety. Whether your dog suffers from separation anxiety, weather-related woes, exhibits other types of nervous behavior, or is simply hyperactive then Premium Care can help put your dog at ease.
The duck flavored calming treats relieve your dog of any stress or anxiety using natural ingredients like organic Passion flower, chamomile, valerian root, l-tryptophan and organic ginger root.  It also promotes relaxation with Organic Passion Flower to boost your pup's mood, L-Tryptophan to help reduce destructive outbursts and aggression, and Valerian Root to decrease hyperactive behaviors like pacing, scratching, chewing, and paw licking. Another great product to always have at home in case of a separation anxiety emergency or even a natural disaster.
Features
Uses natural ingredients like hemp seed oil, chamomile, and organic passion flower
Priced well
Dog approved flavor
Helps with aggressive, hyperactive, and anxious dog behaviors
100% money back guarantee
Pros
Features 125mg of organic hemp seed oil
Features 75 mg of organic hemp protein powder
All natural ingredients
GMP certified facility
95% positive reactions in blind testing
Made in the United States
New formula that is more potent
Priced affordably
Effective in reducing separation anxiety, aggression, and hyperactivity
Cons
Not a dog toy, but works great on dogs with separation anxiety
How to Choose a Dog Toy for Separation Anxiety?
When it comes down to choosing the best dog toy for separation anxiety, you'll need to take into consideration that dog toys are designed for pet interaction, durability, safety, value, fun, and sustainability.
Dog toys evolved from simple dog toys to complicated designs, and use a variety of raw materials and different processes. Dog toys need to be gentle on teeth, yet strong enough for strong-chewing dogs, and easy to wash. They also need to be mentally stimulating and are a terrific way of keeping your puppy or adult dog mentally stimulated for hours at a time.
Apart from being used for training, teething, comfort, and play, interactive dog toys also teach dogs how to find a treat. You'll have several options when purchasing the best dog toys for dogs with separation anxiety. These are as follows:
Interactive dog toys
Soft treat holders
Hard rubber toys like the Kong
The Buster cube or Nina Ottosson dog food puzzles.
Before choosing dog toys for your pooch, you'll need to take your dog's age, breed, and safety of the toy into consideration. You can do this by opting for eco-friendly dog toys that do not use the following:
No plastics
No synthetics
No dyes
No Phthalates
Phthalates affect the endocrine system and are endocrine disruptors. They cause plenty of damage to the kidneys and liver, as well as to the respiratory and reproductive systems in people and animals. Phthalates are a group of chemicals that are used during the manufacturing process to soften plastic and vinyl.
It's a toxic chemical that makes products more flexible. This chemical is found everywhere, most especially in children's toys and dog toys.
PET is Non-Toxic to Pets
PET or pet resin is used as a moisture barrier in bottling and packaging and is also sometimes made into an engineering plastic when added to glass fiber or carbon nanotubes to increase PET's strength.
It's colorless and resembles a semi-crystalline. PET forms an effective barrier against water. It also yields a powerful strength to weight ratio, and is shatterproof, bacteria proof, and does not shatter if dropped.  PET is used in recyclable plastic. Health officials say that this is a safe plastic to use in dog toys.
Signs of Separation Anxiety
These can range from mild to severe, and left unaddressed will usually get worse. The American Veterinary Medical Association (AVMA) adds that "Separation anxiety has several distinct forms based on a mixture of emotional and motivational states. About 20 percent of dogs are affected. Consistently across studies, 15 percent of dogs aren't responding to medication, and 15 percent aren't responding to behavioral treatment."
AVMA explains that many conditions are accompanied by signs that a primary caregiver can misinterpret as separation anxiety. "As clinicians, we have to look for a differential diagnosis," says Dr. Daniel Mills, Professor of Veterinary Behavioral Medicine at the University of Lincoln School of Life Sciences, U.K.
"Signs that could be interpreted as pre-departure anxiety include an immediate reaction to the owner's departure, urination and vocalization, reaction to noises when alone, signs of poor frustration tolerance, a perceived strong bond with a single person or object, and overly enthusiastic greetings when the primary owner returns.
However, Dr. Mills said, there are many theoretical reasons besides separation anxiety for such signs, from frustration and fear to external events and pain," AVMA.
 Dr. Dodman via Claudia Bensimoun, adds that during COVID-19 "Many people are finding their dog is super happy now that they're home all day with them," says Dr. Dodman.
"However, all good things come to an end – and all bad things, too, we hope, when it comes to COVID-19. The day will come when owners go back to work and the lonely life resumes for dogs as before. Many dogs will take this in stride – but not all of them!"
"Pet parents need to recognize the signs of separation anxiety or canine depression. If your dog is stressed out, obvious symptoms include fearfulness, aggression, or destructiveness, but other signs may not be as clear. If your dog is restless, sleeping more than usual or his appetite has changed, these may be red flags. Watch out for uncharacteristic behaviors, and don't ignore them if they arise," says Dr. Dodman.
Dr. Dodman explains that some sensitive dogs may go into a type of owner withdrawal syndrome – basically exhibiting some or other degree of separation anxiety," Dr. Dodman explains. "We see separation anxiety rear its ugly head when owners who have been home with a lengthy illness or injury are fit to go back to work. Separation anxiety can occur or reoccur following almost any perturbation in living arrangements, which is what will happen to some dogs when the stay-at-home orders are lifted following COVID- 19."
He also says that separation anxiety can take a more subtle form, such as moping. But it can also be severe, manifesting in the form of vocalization, destructive behavior, house soiling, and more. There's no program that will guarantee that susceptible dogs will not be affected, but there are some things that may help. Dr. Dodman recommends the following tips to calm negative stress reactions in dogs that are anxious post-lockdown.
Regular exercise
Low key departures and arrivals
Environmental enrichment
Practice independence training at home
Conclusion for Best Dog Toys for Separation Anxiety
Most dogs experience some sort of separation anxiety when you leave them home alone. After all, they are pack animals and believe that they will have safety in numbers. When you leave a dog by themselves you'll notice them howl, bark, or destroy objects in your house. One way to help this is to get them dog toys for separation anxiety.
Other articles you might like:
If dog toys don't help with you dog's separation anxiety, you can also check out this video:
Garrett loves animals and is a huge advocate for all Doodle dog breeds. He owns his own Goldendoodle named Kona. In addition, he volunteers at the Humane Society of Silicon Valley, where he fosters dogs and helps animals. Garrett enjoys writing about Doodles and believes that dogs can teach humans more about how to live than humans can teach a dog.
Why Trust We Love Doodles?
At We Love Doodles, we're a team of writers, veterinarians, and puppy trainers that love dogs. Our team of qualified experts researches and provides reliable information on a wide range of dog topics. Our reviews are based on customer feedback, hands-on testing, and in-depth analysis. We are fully transparent and honest to our community of dog owners and future owners.