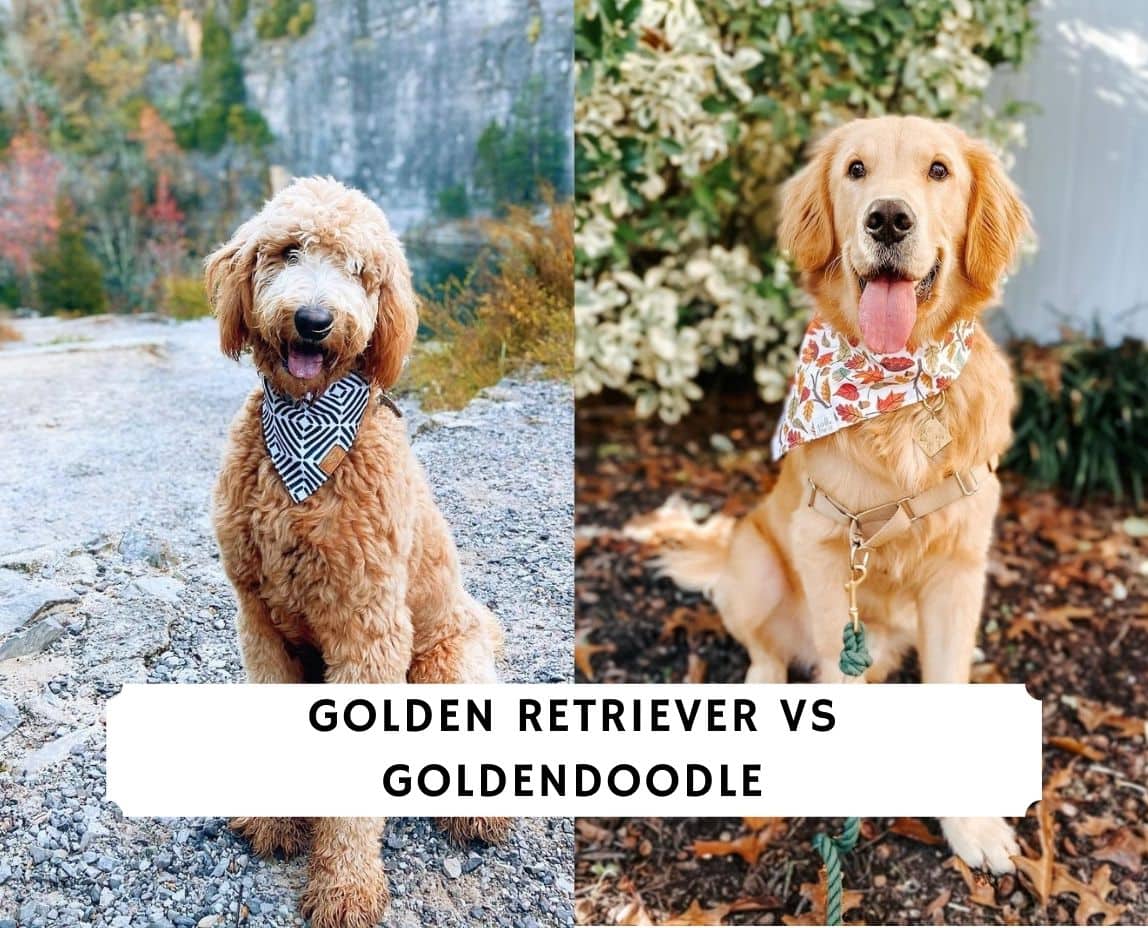 Are you searching for a large to a medium-sized dog that can make a great addition to your family? Both the Golden Retriever and the Goldendoodle are often considered wonderful candidates for a family-friendly four-legged friend perfect for all ages. From morning runs to playtime with the kids, both these breeds fit in well with a variety of families and lifestyles.
Both breeds share a lot of similarities. After all, the Goldendoodle is a mix between the Poodle and the Golden Retriever. These similarities make both breeds very popular dog breed options. However, these two breeds also bring some differences in both physical appearance and temperament.
But what exactly are those differences and how similar are they? As you explore which breed is right for you and your family, we're here to help. Next, we explore these two popular dog breeds.
We'll compare them both on their physical appearance and overall personality and temperament. Through this comparison, you'll be able to get a better sense of which breed best fits your lifestyle and family.
Here is a very quick rundown of the differences between a Golden Retriever vs Goldendoodle:
Goldendoodles are more hypoallergenic and nonshedding because they inherit genes from the Poodle. A Golden Retriever will shed a lot more.
However, you will need to groom a Goldendoodle a lot more because they don't shed hair. Expect frequent brushing and haircuts every 8 to 12 weeks.
Goldendoodles come in a variety of coat colors and multi-colors. After all, the Poodle has over 10 standard coat colors. On the other hand, you'll typically only see the Golden Retriever in 3 different coat colors.
Golden Retrievers will have a flat or straight coat. Goldendoodles have a straight, wavy, or curly coat depending on the genetics they inherit.
Golden Retrievers are often considered more loyal and easygoing than a Goldendoodle. This is helpful when you're training a puppy.
Other articles you would like: Goldendoodle Rescues for Adoption.
What is the Golden Retriever?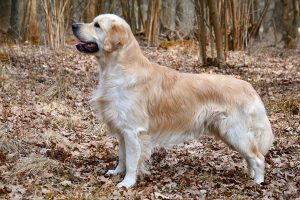 When it comes to the most popular dog breeds, the Golden Retriever will easily come to mind. Recognized by the American Kennel Club in 1925, this breed has been delighting and bringing joy to families. Since then, the popularity of the breed took off in the 1970s as President Gerald Ford had a Golden Retriever in his family.
In fact, the American Kennel Club ranks the Golden Retriever as the third most popular dog breed. Their popularity has also led them to be included in a variety of movies and television shows.
Golden Retrievers are included in the sporting dog group, which means they are active, alert, and intelligent instincts for hunting and locating. This is evident in the Golden Retriever's desire for activity and loyal attention to its family and people. For both active individuals and families with kids, the Golden Retriever offers qualities and an appearance that can make a great fit. They also have a very easygoing personality and warm up to strangers quickly.
What is the Goldendoodle?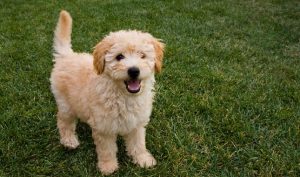 The Goldendoodle shares many similarities with the Golden Retriever. As a mixed breed between a Poodle and a Golden Retriever, it does not have exact breed standards. Introduced in the 1990s, this designer breed has grown in popularity for their adorable appearance and lovable personality.
The parent dogs determine what kind of puppy will result, both in size and in temperament. Goldendoodles may be miniature, medium, or standard, based on the size of the Poodle.
Like other dogs in this category, the Goldendoodle loves to be active and engaged with its family. These characteristics align well with the Golden Retriever in temperament and intelligence.
Golden Retriever vs Goldendoodle Size: Which is Bigger?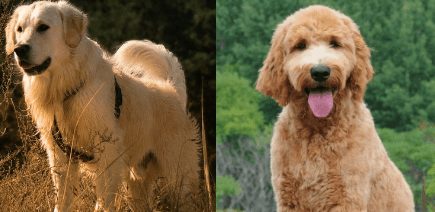 With the breeding mixed with a Poodle, the Goldendoodle may have a slightly smaller or larger size than the Golden Retriever. However, their size is determined by their parent dogs' size. For example, a mix of a Miniature Poodle with a Golden Retriever will produce a much smaller Goldendoodle than a mix including a Standard Poodle. In general, a Goldendoodle will have longer legs than a Golden Retriever and often times be taller, but might not necessarily weigh more.
Goldendoodles have a height measured at the shoulder between 13 and 24 inches tall. Their weight ranges based on the parent dogs but may range from 40 to 50 pounds, while larger Goldendoodles can weigh up to 90 pounds. Goldendoodles come in three standard sizes: mini, medium, and standard. You can read more in our article titled Goldendoodle Sizes.
Golden Retrievers tend to have a more consistent height and weight range, in accordance with the breed standards. A male dog will have a height between 23-24 inches tall and a weight between 65-75 pounds. A female dog will have a height between 21.5-22.5 inches tall and a weight between 55-65 pounds.
Other factors that influence a Golden Retriever or Goldendoodles size is their parents' size and health. The dog's activity level, food consumption, and overall well-being may also factor into the exact size of the Goldendoodle or Golden Retriever.
Golden Retriever vs GoldendoodleTemperament: How do they behave?
Another key consideration when choosing which breed is right for you is the breed's temperament or how they interact and behave in different social settings. Both the Golden Retriever and Goldendoodle are known for being gentle, friendly, and trustworthy. These key characteristics make them such great options for owners, especially those with small children.
Golden Retrievers are described as being very energetic and lively. They are extremely friendly to all, including kids, strangers, and other dogs. When they bark, it is more of an act of welcoming rather than a protective or defensive stance. You'll rarely see Golden Retrievers ever be aggressive if they are properly socialized.
Golden Retrievers' temperaments are even and consistent, making them easy to trust in new situations. Especially when their young, they carry a lot of energy that is most often channeled in running and playing outside.
The temperament of the Goldendoodle can't always be guaranteed, as the parent dogs influence what kind of dog will result. However, most often, Goldendoodles share similar characteristics of an agreeable and social personality.
Like the Golden Retriever, they are playful, energetic, and affectionate toward their family. Their Poodle characteristics may come in their high levels of intelligence. Goldendoodles may also have a love for being in the water and playing outdoors.
Golden Retriever vs Goldendoodle Life Span: What's Their Life Expectancy?
Both the Golden Retriever and the Goldendoodle have similar life spans. While Golden Retrievers characteristically have a life span between 10-12 years, Goldendoodles may live up to 15 years.
Lifestyle factors and other hereditary characteristics may play a factor in how long the dog will live. Ensuring the dog gets enough exercise, eats well, and receives regular preventative care and treatments can help extend the life expectancy to its fullest.
Golden Retriever vs Goldendoodle Health: Are They Prone to Health Conditions?
As with all dog breeds, there are certain health conditions that affect breeds at different levels. For Golden Retrievers, they may be more prone to concerns such as hip dysplasia or heart conditions.
Their eyes, ears, and teeth should also be checked regularly for signs of infection or cataracts as those conditions are also typical concerns for the Golden Retriever. The National Breed Club recommends regular health tests like those for hip, elbow, and cardiac health.
For Goldendoodles, health concerns may arise from those characteristics of either Golden Retrievers or Poodles. Some have noted that the genetic variation in a mixed breed may actually lower the risk of developing diseases. This is a genetic feature called "Hybrid Vigor" which means that a mixed dog breed will be more healthy than their parent dog breeds. This is due to the fact that purebred dogs are inbred over and over to the same bloodlines and keep passing along the same genetic diseases.
Being mindful of health concerns from both the Goldendoodle and Golden Retriever such as eyes, hips, and heart. These health conditions may be more problematic than in other dog breeds.
Golden Retriever vs Goldendoodle Appearance: What do They Look Like?
Both the Golden Retriever and Goldendoodle share a bright coat that's soft and cuddly. They're both built to be active and work hard. Yet their soft and smooth coats make them great cuddlers and playtime friends. While Golden Retrievers tend to align with breed standards, Goldendoodles may come with much more diversity in their appearance and coats.
Coats of Golden Retrievers range from almost white to darker caramel. They have strong legs and a furry tail. In addition, the large head and ear position makes them appear attentive and ready for the next adventure.
Goldendoodles may be more diverse in their appearance. They may have a coat that's more like a Golden Retriever or a coat that's more curly like a Poodle. Their coats come in a range of colors, including apricot, cream, gray, brown, and light tan. Goldendoodles also can have multi-color coats like parti, tuxedo, or even merle. The parent dogs, particularly the Poodle, will help determine what type of coat the Goldendoodle has.
Golden Retriever vs Goldendoodle Grooming: How Much Grooming do They Require?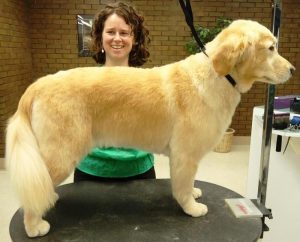 Part of caring for your Goldendoodle or Golden Retriever is ensuring their appearance is in great shape for their health. Both the Golden Retriever and Goldendoodle share similar grooming practices that are easy to follow and not too intensive. However, the Goldendoodle definitely requires more grooming than a Golden Retriever.
lang="EN">Golden Retrievers require only weekly brushing and occasional baths to keep their coats healthy and beautiful. Their coats shed only seasonal, which may affect the process of bathing as needed.
For example, when they're shedding heavily, Golden Retrievers may need to be brushed at least daily to keep their coats healthy and not overwhelmed by the loss of hair. During shedding periods, it's also helpful to bathe the dog and allow their coat to fully dry before brushing. In other seasons, grooming the Golden Retriever is occasional and not a high requirement.
The Goldendoodle has the added benefits of the hypoallergenic and nonshedding characteristics of the Poodle. While not always the case, the Goldendoodle may be hypoallergenic, a key for families with those concerned with pet allergies. They usually require brushing every other day and regular baths. They also benefit from regular teeth brushing and ear exams to ensure they're free from health concerns. You will also need to give your Goldendoodle a haircut every 6-12 weeks to prevent their fur from matting and tangling.
Goldendoodle vs Golden Retriever Training: Can They be Easily Trained?
As both the Golden Retriever and Goldendoodle are known for being agreeable and friendly. Thus, they are eager to please when it comes to training. Whether through obedience training or other instructions, both the Golden Retriever and the Goldendoodle will be receptive toward training. Their high levels of intelligence make them less stubborn and more willing to be trained and try new things.
Golden Retrievers especially have also been known to be trained for rescue operations and other social services. In whatever setting they're in, they most often are intent on being friendly and supportive of the mission at hand. Goldendoodles can be slightly more stubborn than a Golden Retriever. Sometimes they will listen and understand a command, but they won't choose not to obey.
Conclusion for Golden Retriever vs Goldendoodle
Both the Golden Retriever and the Goldendoodle offer a wide collection of great characteristics and personality traits that may be perfect for you and your family.
With high levels of energy, beautiful appearances, and agreeable personalities, either breed makes a great family friend for all ages. In general, a Goldendoodle will be a less shedding Golden Retriever. However, they will require more grooming and may not be as obedient as a Golden Retriever. In addition, Goldendoodles come in a large variety of sizes and colors while the Golden Retriever is standardized by the AKC purebred standards. Use this comparison to provide some insight into which breed makes the most sense for you and your family.
Other articles you might like:
Garrett loves animals and is a huge advocate for all Doodle dog breeds. He owns his own Goldendoodle named Kona. In addition, he volunteers at the Humane Society of Silicon Valley, where he fosters dogs and helps animals. Garrett enjoys writing about Doodles and believes that dogs can teach humans more about how to live than humans can teach a dog.
Why Trust We Love Doodles?
At We Love Doodles, we're a team of writers, veterinarians, and puppy trainers that love dogs. Our team of qualified experts researches and provides reliable information on a wide range of dog topics. Our reviews are based on customer feedback, hands-on testing, and in-depth analysis. We are fully transparent and honest to our community of dog owners and future owners.