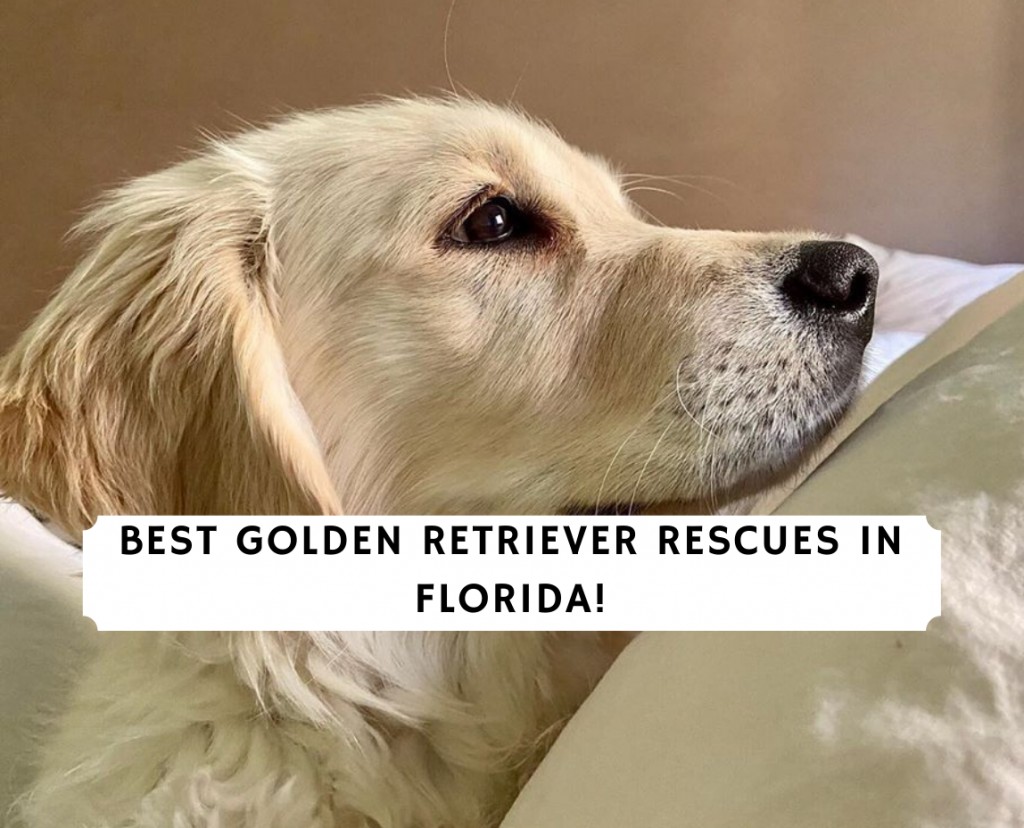 Golden Retrievers are one of the most popular dog breeds in the United States and across the world. They're incredibly loyal, playful, and get along with almost anyone. Because Golden Retrievers are so popular, there are tons of breeders that try to keep up with the demand.
Unfortunately, several Golden Retrievers end up in shelters across the country for various reasons. If you're looking to add another dog to your family, especially a Golden Retriever, consider visiting a local  rescue to see if there are any seniors, adults, or puppies up for adoption.
For this article, here is the list of the best Golden Retriever rescues in Florida where you can find Golden Retriever or Golden Retriever mixed breed that is eagerly waiting for a new home. We will preface this article by saying that most of the time when you rescue or adopt a Golden Retriever they are going to be an adult dog of 2+ years old. Also, the current demand for rescuing Golden Retrievers is very high due to COVID and a plethora of people working from home.
Other articles you might like: Goldendoodle Rescues for Adoption and Best Dog Rescues in Florida.
1. Golden Retriever Rescue of Mid-Florida
The Golden Retriever Rescue of Mid-Florida is perhaps the most prominent rescue and adoption organization in Florida. It all started with a Golden Retriever named Charlie who needed double hip surgery in 1991.
When two members of the local breed club Mid-Florida Golden Retriever Club (MFGRC) raised more than enough money for Charlie's surgery, they decided to help more Golden Retrievers in need. Soon enough, a Rescue Committee was founded as part of the MFGRC.
The GRRMF has saved thousands of Golden Retrievers in Florida since 1991 and has helped these Golden's find their forever home. Besides pure-bred Golden Retrievers that were surrendered for adoption or rescued from the streets, dog lovers can also find mixed breeds like the Goldendoodle. The group offers in-depth details about each dog that is up for adoption, so families would know a little about their history. This Golden Retriever rescue covers the west coast of Florida from Gainesville to approximately the Sarasota area. They do not cover Big Bend, the Panhandle, or South Florida.
If you're not ready to adopt a Golden Retriever in Florida, you can always sign up to be a foster parent or volunteer. This allows you to get a feel of what owning a rescued Golden Retriever would be like. At the end of the day, rescued dogs are vastly different than buying a puppy because they likely come with traumatized backgrounds or abandonment issues.
To adopt a Golden Retriever from this dog rescue in Florida you will need to fill out an extensive application. In addition, you will need to have a fenced yard, phone interview, home visit, and approved veterinarian. While it's quite an extensive process to adopt a Golden Retriever, they like to verify you will care for the life of the dog.
Golden Retriever Rescue Details
2. G.R.E.A.T. (Golden Retriever Emergency Assistance Team) Rescue of NE Florida
Established in 2000, GREAT (Golden Retriever Emergency Assistance Team) has been helping hundreds of dogs find homes and families. This non-profit organization rescues Golden Retrievers and mixed Golden Retriever breeds who are surrendered, found on the streets, or in hazardous environments. They then rehabilitate all of their dogs and get them re-homed.
GREAT also invites individuals and families to sign up to foster the Golden Retrievers they have to help them transition better to a life with their new families. Becoming a foster parent means that you open up space for other Golden Retrievers to come into the facility. You will also get to experience what it is like to own one of these rescue dogs.
As of now, GREAT has helped over 1,100 Golden Retrievers find families that will love and care for them. They need all the help they can get to connect Golden Retrievers to the right family. You can volunteer, donate, adopt, or become a foster parent today.
Golden Retriever Rescue Details
3. Everglades Golden Retriever Rescue (EGRR)
Since 2002, the Everglades Golden Retriever Rescue (EGRR) has been operating from Vero Beach to Key West in Florida. The Golden Retrievers with Everglades are either surrendered or rescued from dire situations. This organization then spends time and money to rehabilitate the dogs before they adopt them out to loving families.
The EGRR is a private all-volunteer and non-profit organization that helps poor Golden Retriever in Florida get treatment for various health problems, including heartworm. These rescued dogs are rehabilitated, fostered out to volunteers, and connected with their new families.
EGRR dogs that are up for adoption have in-depth details about them that also include their temperament and personality making it easy for people to discern whether the dog would fit their family and their homes. EGRR also stocks merchandise and gifts, including a yearly calendar and all proceeds from sales go to the upkeep of the dogs they rescue. EGRR only services these areas of Florida: Alachua, Baker, Bradford, Clay, Columbia, Duval, Flagler, Marion, Nassau, Putnam, St Johns, Suwannee, Union, and Volusia counties.
Like most Golden Retriever rescues in Florida, the process to adopt one of these dogs is quite rigorous. First, you'll fill out an application that is active for 6 months and you'll need to go through an interview. Next, the organization will attempt to match you with an available dog. If a dog is available, they will have you meet with them to see if you're a good fit.
Golden Retriever Rescue Details
4. Florida All Retriever Rescue
For dog lovers looking for Retriever dogs, including Golden Retrievers and Labrador Retrievers, Florida All Retriever Rescue (FARR) is the non-profit organization you should check out.
They help all Retrievers who need a home throughout Florida. Before sending the dogs in their care to new families, FARR ensures all their dogs are spayed/neutered as well as heartworm tested and up to date with their vaccines. They truly care for all their rescued Retrievers and want them to live long and happy lives.
FARR is also open to people who want to foster rescued Retrievers to help them get used to a loving family and help in their transition from being homeless to having one. In general, when you foster a dog, you can expect to take care of the dog for a few days all the way to a couple depending on how fast the organization can find a match. The group does thorough background checks of families applying for adoption to ensure that their dogs will be well cared for.
Golden Retriever Rescue Details
5. Gulf Coast Golden Retriever Rescue (GCGRR)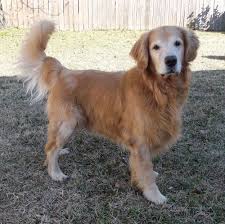 Gulf Coast Golden Retriever Rescue (GCGRR) was set up by volunteers with a passion for helping Golden Retrievers find better homes in Florida. Having previously worked with other Golden Retriever rescue groups, this group came together to create the ultimate Golden Rescue organization in the Gulf Coast.
With years of combined experience and knowledge in handling rescues, GCGRR volunteers devote their time to ensure no Golden is left on the streets or in dire situations. All the dogs they rescue are immediately provided with quality food, a safe place, and immediate medical attention.
Families who can no longer care for their Golden Retrievers have the option of surrendering their dogs to GCGRR, provided they are within the group's jurisdiction. People can also volunteer to foster the dogs that are up for adoption. For people who want to adopt a Golden, the organization has complete details on their website.
Golden Retriever Rescue Details
Why are Golden Retrievers Put Up for Adoption?
Golden Retrievers are incredibly popular and actually rank third on American Kennel Club's breed popularity. So why would Golden Retrievers ever be up for adoption? Below are some of the most common reasons why Golden Retrievers need to be adopted:
The owners have passed away. One of the most common reasons is that their previous owners have passed away, and they have no immediate family available or willing to adopt the canine member. Surviving family members, neighbors or friends usually call local rescue groups to surrender the animal and they are rehabilitated and taken care of until someone adopts them. In addition, if an owner becomes sick they may no longer be able to care for a dog.
The owners have to move away. While it's easy to move with a dog, some families cannot bring their dogs with them, either because they have to move abroad, and it can be challenging to process the required papers, or they will be moving somewhere where pets are not allowed. Either way, families often have to unwillingly surrender their dogs to rescue groups to at least give them high chances of finding a forever home that will care for their needs. Moreover, rescue groups will continuously care for these dogs as long as they are under their care.
Accommodations are not pet-friendly or have limitations. Another reason why families tend to give up Golden Retrievers for adoption is that they've had to move to a new place that is not pet-friendly or has limits.
Owners can't keep up with their dogs. Due to their retriever blood, Golden Retrievers are energetic and require daily exercise to ensure they are in their best shape. Exercising every day also helps them release most of their energy and makes them tamer at home. However, this could be a problem for elderly pet owners who are not able to keep up with that need. Goldies tend to get destructive if not exercised often, which is something an elderly pet owner may not be able to handle.
Taking care of a Golden Retriever is expensive. Caring for a pet does not come cheap. You'll have to spend on their grooming needs, their medical needs, and any special dietary needs. Some owners may be unable to keep up with the expenses and would instead give up their dogs so they could find families that are better equipped to care for them.
Conclusion Best Golden Retriever Rescues in Florida
We've given you a list of some of the best Golden Retriever rescues in Florida. These volunteer groups are passionate about keeping Golden Retrievers off the street, keeping them healthy, and finding them good homes. We hope this information helps you find a loving pet that bonds with your family. Good luck!
Garrett loves animals and is a huge advocate for all Doodle dog breeds. He owns his own Goldendoodle named Kona. In addition, he volunteers at the Humane Society of Silicon Valley, where he fosters dogs and helps animals. Garrett enjoys writing about Doodles and believes that dogs can teach humans more about how to live than humans can teach a dog.
Why Trust We Love Doodles?
At We Love Doodles, we're a team of writers, veterinarians, and puppy trainers that love dogs. Our team of qualified experts researches and provides reliable information on a wide range of dog topics. Our reviews are based on customer feedback, hands-on testing, and in-depth analysis. We are fully transparent and honest to our community of dog owners and future owners.