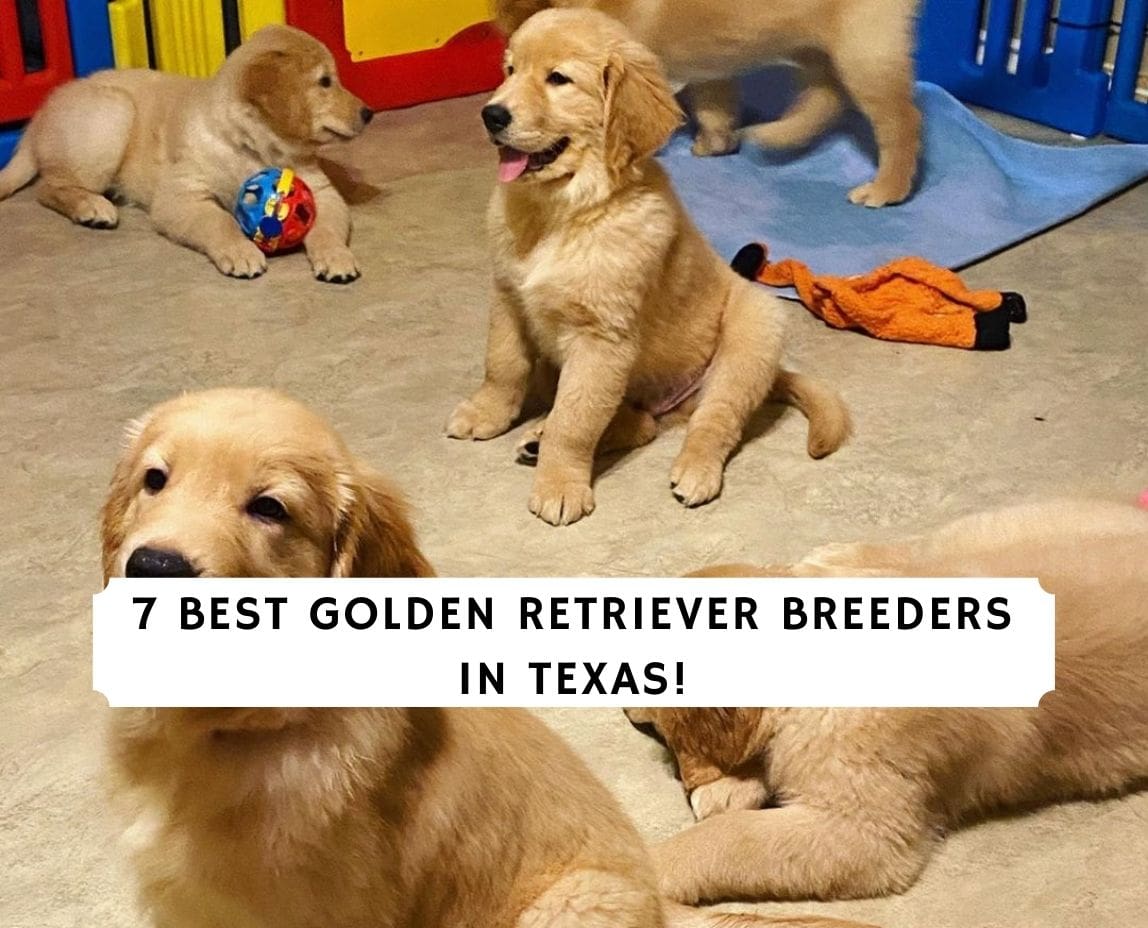 The Golden Retriever is the 3rd most popular dog breed according to the American Kennel Club (AKC). Their loving personality, loyalty to their owners, and high intelligence make them one of the most sought-after dogs, especially in the big state of Texas. 
However, one of the major problems with such a popular dog breed is that you will find a ton of puppy mills and backyard breeders that are simply trying to make money. These are Golden Retriever breeders that won't health check the parent dogs, won't provide a health guarantee, and won't let you tour their facilities. Often, you'll purchase a Golden Retriever for a cheaper initial price, but the medical issues later on in life end up costing you a ton of money.
If you're looking for Golden Retrievers for sale in Texas, we've put together one of the most comprehensive breeder lists. We've done our own independent research to verify that these Golden Retriever breeders in Texas aren't puppy mills or backyard breeders. However, we always suggest that you do your own research and ask the breeder lots of questions as practices may change over time. 
Other articles you might like: Goldendoodle Breeders in Texas.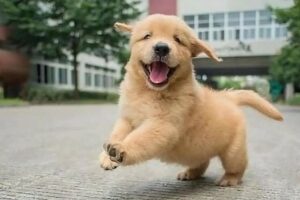 Golden Retrievers are one of the most popular dogs in Texas. The downside is that if you contact any reputable breeder, there is going to be a waitlist of 3+ months. Additionally, there are a ton of scams going on asking you to put a large deposit down on a puppy. The reason that we recommend PuppySpot is that it screens all their breeders to make sure they are registered and asks them an array of questions. Their process is fully backed by the American Kennel Club (AKC), which helps rule out all backyard breeders and puppy mills. 
Additionally, since PuppySpot has a network of reputable breeders, they will have puppies available on their website. You can sort by age, coat color, size, price, and gender to find the perfect Golden Retriever puppy in Texas. If the puppy is not located in Texas, they will fly your Golden Retriever out to you safely via their own airline. We highly recommend checking out PuppySpot if you don't want to be put on a waitlist.
2. Alpha Golden Retrievers Texas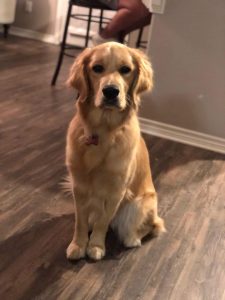 Raised in a country setting, Alpha Golden Retrievers are a highly regarded breeder in Texas that raises well socialized with puppies. Located in Sealy, Texas in Austin County, Alpha Golden Retrievers are AKC Certified which helps verifies they aren't a puppy mill.
The Golden Retriever puppies bred at Alpha are raised in a clean and healthy atmosphere. Most of their puppies are purchased before birth and there is usually a waiting list. So if you want one of these Golden Retriever puppies in Texas, you'll likely have to wait a few months.
However, Alpha Golden Retrievers does not just sell to just anyone. They always make sure their dogs are going to be well taken care of and loved for their entire life. They do an interview with anyone interested in purchasing a Golden Retriever puppy to make sure they are going to the best home possible and will never end up in a rescue.
A Golden Retriever puppy purchased from Alpha is set firmly at $3,250. Breeding rights can also be purchased for an additional price of $550 if you're interested in starting your own Golden Retriever breeding program. As required by the breeder, the puppies will be microchipped before purchasing.
When purchasing a puppy from Alpha Golden Retrievers Texas, you will also be given a certificate for 30 days of pet insurance from AKC once the puppy is registered.
In addition, Alpha Golden Retrievers Texas does not ship their puppies and they must be picked up from them in Sealy, Texas. When picking up your new Golden Retriever puppy, they will come with their first set of shots, dewormed three times, and come with all appropriate and needed documentation.
3. Texas TLC Goldens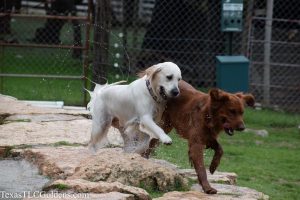 Located just 26 miles north of San Antonio, Texas TLC Goldens is a conveniently located breeder that is small town-owned and operated. They are also an AKC Golden Retriever Breeder that is registered.
Texas TLC prides itself on the love and care they give to their Golden Retriever puppies in Texas. Their dogs are not just pets, but they are companions and part of their family. This means that their puppies are well socialized and on their 3-acre homestead farm. Texas TLC prefers to meet new prospective owners in person before you can purchase a Golden Retriever puppy from them to make sure their dogs are going to the best homes.
Pricing for these Golden Retriever puppies in Texas is $1,800 for an American Golden Retriever and $2,000 for an English Crème Golden Retriever. A 3.5% discount is offered to cash buyers as well as a military veteran discount for those veterans who have been deployed. A $300 deposit is required to be put on their waiting list.
When picking up your new puppy from Texas TLC Golden Retrievers, you will also receive a welcome kit that includes a collar, leash, dog food, and care instructions. The Golden Retriever puppy comes microchipped, already with their initial shots, and with their birth, weight, and worming records. Texas TLC also offers a Puppy Guarantee until the end of their 26th month of age.
4. Goldenwind Golden Retrievers Texas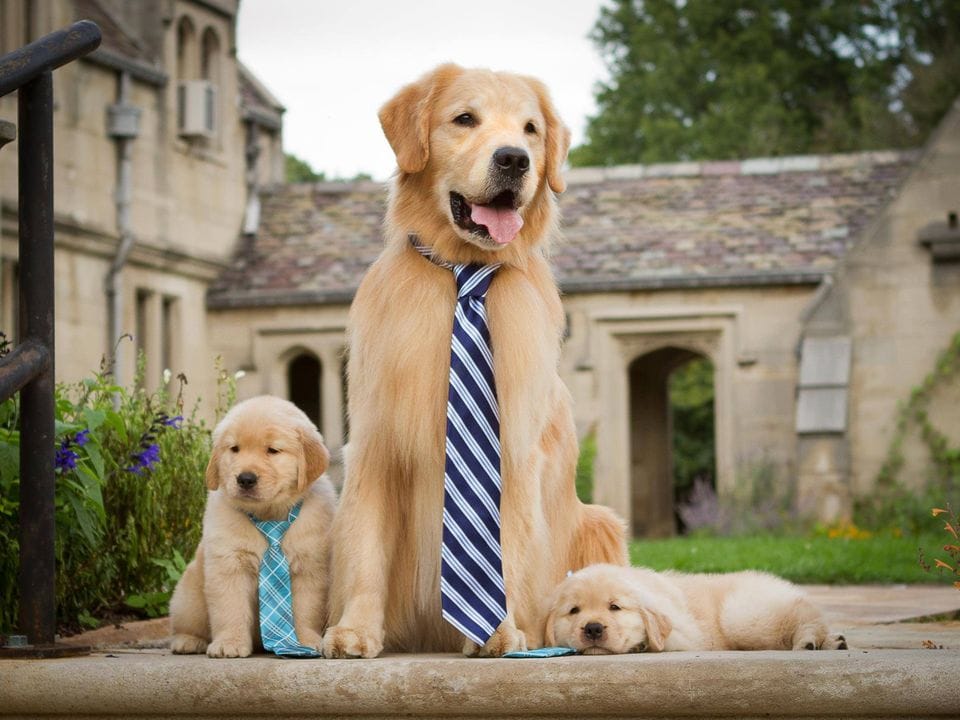 Goldenwind Golden Retrievers Texas is a member of the Golden Retrievers Club of America, adhering to their code of ethics, as well as an AKC Breeder of Merit. Breeding since 1997, they have become one of the top Golden Retrievers breeders in Texas over the last 23 years.
Goldenwind makes sure they give their puppies the care and attention needed which means this is a full-time job for them. When a litter is born, Goldenwind makes sure their puppies are the center of attention in the family and become well-socialized dogs.
In addition, they have bred Golden Retrievers that have gone on to become AKC title dogs, including titles such as Show Dog Hall of Fame, Outstanding Dam, and many more. They have many credentials and affiliations as well as partnering with other breeders. If you buy a Golden Retriever puppy from this breeder in Texas, you'll be getting a dog with championship bloodlines.
The puppies purchased from Goldenwind Golden Retrievers are priced at $3,000. When picking up your puppy, they also include an AKC Limited Registration and a spay/neuter contract. Goldenwind Golden Retrievers Texas does not ship puppies so you will have to come pick it up.
To purchase a Golden Retriever puppy from them, you must request an essay question, where they then send invites to customers based on the responses. Only those with invites can then be invited to a mandatory meet and greet with the dogs. If all goes well, a prospective owner can purchase one of their Golden Retriever puppies for sale in Texas. This is all done to ensure the dogs are going to the best families for them where they will be properly cared for and loved.
5. Carmel Bliss Golden Retrievers Texas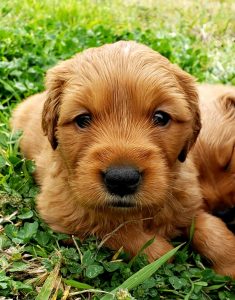 Carmel Bliss Golden Retrievers are a small breeder that focuses on producing healthy, talented, and athletic Golden Retrievers puppies in Texas. Located just outside of Dallas, Texas, their breeding dogs have been thoroughly health tested genetically and orthopedically with a variety of different methods. They have checked the parent dogs' hips, heart, elbows, and eyes which means they are OFA and Pennhip certified and cleared.
Carmel Bliss has been breeding Golden Retrievers for over 15 years. Puppies from past litters have gone on to become hunters, service dogs, therapy dogs, and loved family members. These are one of the older Golden Retriever breeders in Texas.
They make sure that each puppy is introduced to early neurological stimulation and desensitized to a variety of different sounds, textures, people, and positions. This allows the Golden Retriever puppies to enter your home with less anxiety and stress.
Area training is also started before the puppies open their eyes. This enables the Golden Retriever puppies to consistently go to the bathroom over a tray with a grate over it so they stay clean and have strong associations with specific smells.
Carmel Bliss Golden Retriever puppies can be purchased for $2,500 with breeding rights for an extra $500. They also offer a guardianship program for $1,000 if you agree to them breeding your dog. Deposits to purchase one of their dogs are $500 and are part of the full purchase.
6. Weatherby Goldens Texas
Located in southeast Texas, Weatherby Goldens are known for breeding English Crème Golden Retrievers that are highly regarded as beautiful and intelligent with superb conformation.
Weatherby Golden Retrievers are raised on their 15 acres of wooded area where the dogs can explore and play. This keeps the adult Golden Retrievers well exercised and happy. All of  Weatherby's Golden Retrievers are registered with the AKC, imported from Europe, and carry champion bloodlines. Their canines are not just pets, but cherished family members.
AllWeathby's Golden Retriever puppies are dewormed, have their first set of shots, microchipped provided, and their AKC registration papers when picked up after purchase. To reserve a puppy from an upcoming litter, Weatherby requires a $500 deposit.
Their Golden Retriever puppies are lovingly hand-raised at Weatherby Goldens. They also make sure that the whelping mother is comfortable and as stress-free as they give birth to their puppies. The breeders will be with the mother until the very last puppy is born. 
During the first 2 weeks, the Golden Retriever puppies have little contact with anyone except for the breeders, their mother, and their littermates.  This allows their immune system to mature and limit the amount of stress. the dog receives 
As the puppies move to the weaning stage, Weatherby will introduce the new Golden Retriever puppies to potty training so by the time they are ready for their new home they will be familiar with the sounds, smells, and ruckus of a household. 
Their Golden Retriever puppies in Texas will also be comfortable being around other dogs as well as cats. Weatherby Goldens guarantees that their puppies are beautiful, healthy, well-socialized balls of joy and ready to be active members of the family. This is one of the most reputable Golden Retriever breeders in Texas.
7. AKC Golden Retriever Puppies Builtonlove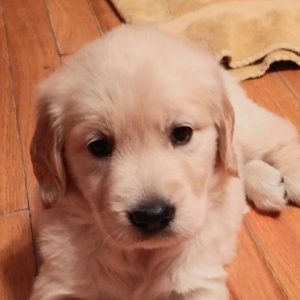 Located southeast of Dallas in Tool, Texas, AKC Golden Retriever Puppies Builtonlove are hobby breeders. They are best known for their Golden Retrievers puppy's gentle temperaments, joyous personalities, and beautiful light golden colors.
As their name suggests, Builtonlove's puppies are AKC registered. The parents are on site with their puppies and they suggest any persons interested in buying one of the Golden Retriever puppies in Texas to come and visit them. Their dogs are home-raised and given personal attention each and every day. You can tell this is an ethical Golden Retriever Breeder in Texas.
Their puppies are priced at $1,500 and they only take cash. The Golden Retriever puppies come with their AKC registration papers, first shots, deworming documentation, and parent pedigrees.
Address: 1809 Cox Rd, Tool, Texas 75143
Phone: (903) 288-1518
Conclusion for Best Golden Retriever Breeders in Texas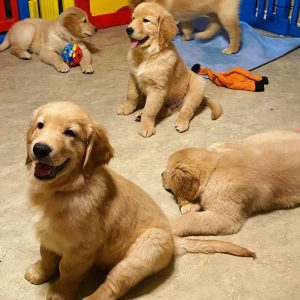 Since Golden Retriever puppies in Texas have become so popular, several puppy mills and backyard breeders are trying to sell cheap dogs. We highly recommend that you use our list to only buy from reputable Golden Retriever breeders in Texas. While you may pay a larger upfront cost, you can almost guarantee that your puppy will be healthy and happy.
Other articles you might like:
Garrett loves animals and is a huge advocate for all Doodle dog breeds. He owns his own Goldendoodle named Kona. In addition, he volunteers at the Humane Society of Silicon Valley, where he fosters dogs and helps animals. Garrett enjoys writing about Doodles and believes that dogs can teach humans more about how to live than humans can teach a dog.
Why Trust We Love Doodles?
At We Love Doodles, we're a team of writers, veterinarians, and puppy trainers that love dogs. Our team of qualified experts researches and provides reliable information on a wide range of dog topics. Our reviews are based on customer feedback, hands-on testing, and in-depth analysis. We are fully transparent and honest to our community of dog owners and future owners.