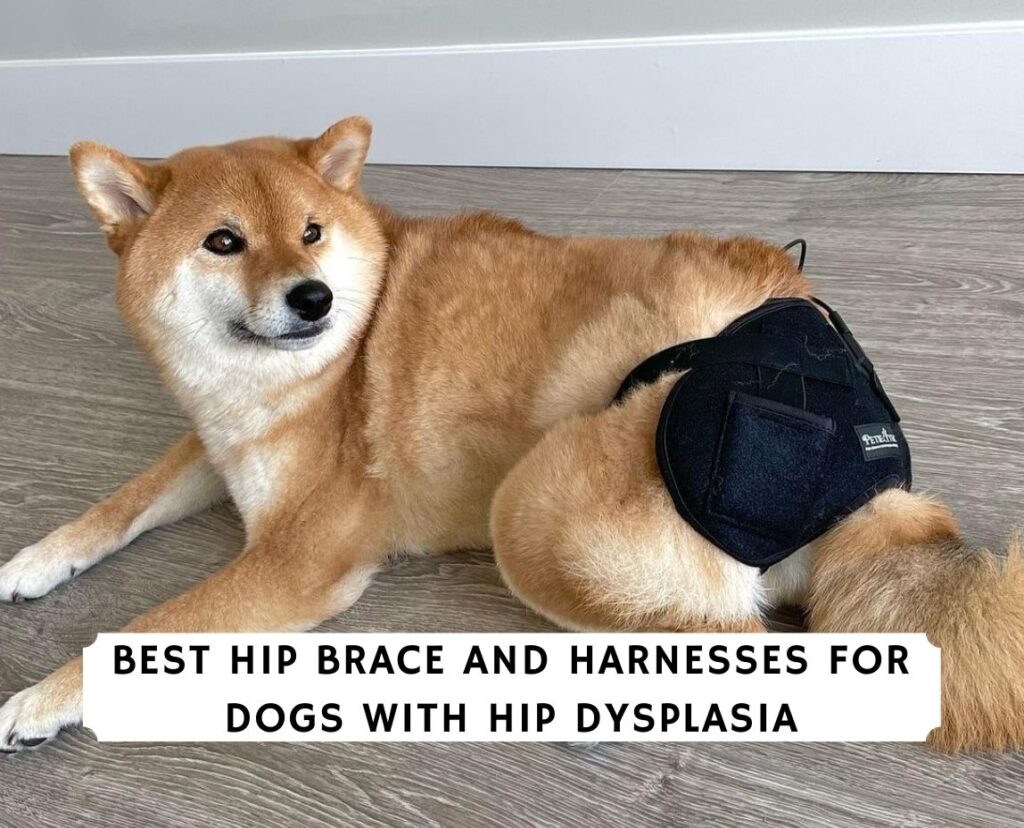 If you have a dog with hip dysplasia, you know how painful and debilitating it can be. You may also know that there is no cure for this condition. However, some treatments can help your dog feel more comfortable and improve their quality of life. This buying guide for the best hip braces for dogs with hip dysplasia will help you find the right product to help your pet. 
The takeaway with hip braces for dogs with hip dysplasia is that some pets adapt right away to the dog mobility brace, and others may take more time to adjust. It may take some dogs up to 2-4 weeks to completely adjust to the hip dysplasia harness when walking and running. You'll usually see results with gait changes or physical changes within a few weeks. 
In a rush? Here are the top picks for hip braces and harnesses for dogs with hip dysplasia.
Product
Best Overall
GINGERLEAD Dog Support & Rehab Sling Harnesses
Runner Up
Ortocanis Hip and Back Brace, for Dogs with Hip Dysplasia
Editor's Choice
Walkin' Hip-EEZ Dog Hip Brace Support Harness System
Image
The Gingerlead dog support and rehab sling harnesses are padded lifting aids with a leash that offer comfort and control to assist old or disabled pets safely recovering from knee, TPLO, hip, or back surgery. Made in the U.S.A., these harnesses feature adjustable straps and a comfortable padded belly band that helps evenly distribute your dog's weight. 
The leash is also adjustable to customize the fit for your dog, and the harness includes a D-ring for attaching a leash or I.D. tag. The Gingerlead is available in four sizes to fit most dogs and comes with a one-year warranty. This is one of our top picks because it is adjustable, affordable, comfortable for your dog, and made in the U.S.A. 
You can't go wrong with the Gingerlead dog support and rehab sling harness! This hip dysplasia harness for dogs is recommended for recovery from TPLO / cruciate, hip or back surgery, physical therapy to assist senior dogs suffering from arthritis, degenerative myelopathy or vestibular disease, and disabled pets needing help with mobility or balance. This product has over 2,500 positive reviews.
Features
Affordable

Recommended by veterinary hospitals

Over 2,500 positive reviews

Supports dogs up to 250 lbs.

Seven size options

Machine washable

It does not bunch up

Detachable leash

Helps dogs recover from reconstructive hip surgery for severe hip dysplasia. 

Black durable nylon pack cloth

Padded for comfort with an integrated leash

Adjustable for height

Made in the us
Ortocanis Hip and Back Brace is an excellent way to help your furry friend with hip dysplasia or osteoarthritis. This brace offers complete coverage of the hips and lower back, providing support and stability for your dog. This brace can be used with mild to moderate hip dysplasia. It's also effective for dogs with arthritis. 
The Ortocanis dog brace works by keeping the hip joint warm, helping to reduce inflammation and pain. In addition, it increases oxygen circulation and the production of elastin, a protein that improves the elasticity of the joint.
The brace is adjustable to find the perfect fit for your pup, and it's made from breathable material to keep your dog comfortable. Plus, the Orthocanis Hip and Back Brace is easy to put on and take off, so you can give your dog the support they need without any hassle. To ensure a good fit, you'll need to measure your dog's chest circumference.
Sizing
Size Small: between 18-25 inches' chest circumference

Size Medium: between 21-26 inches

Size Large: between 27-37 inches
Features
3 sizes

Black nylon

Suitable for hip dysplasia & arthritis

Helps with limping & fatigue ( back legs)

It increases the bond between the femur head & the acetabulum.
The Walkin' Hip-EEZ Dog Hip Brace is a support harness system that helps provide joint support for dogs with hip dysplasia and other conditions affecting the hip joint. This brace is made from a lightweight, breathable material that is comfortable for your dog to wear. 
It features adjustable straps that allow you to customize the fit, and it also has a padded belly band for added comfort. This brace is easy to put on and take off, and it is machine washable for easy care. 
The brace works by combining compression and a feeling of lift to support a pet's hip joint, helping to alleviate pain. The Hip Eez is good for hip dysplasia, arthritis, conformational deformities, post-surgical procedures, etc. As usual, work together with your veterinarian and discuss what plans work best for your furbaby.
Features
Suitable product for ambulatory pets with hip pain.

Features comfortable neoprene with touch-fastener closures 

Crafted with supportive neoprene panels

Safe, secure & easily adaptable

Designed for dogs with arthritis, hip dysplasia & similar conditions.

Interchangeable attachments for different functions sold separately

Four sizes from small (15-24 lbs.) and leg size 8″ to extra-large (80 lbs. or larger) and leg size 19″ or larger

Vet inspired brace

Easily connects to a standard chest harness to keep it in place
The Pet Safe Care Lift Rear Support Harness is an easy-to-use lifting aid that helps your dog move easily. The comfortable, breathable material and easy-to-adjust straps make this harness an excellent choice for older dogs or those with mobility issues. 
The built-in handle and shoulder strap provide support for lifting your dog, and the reflective trim ensures safety in low-light conditions. Choose from small, medium, or large sizes to find the perfect fit for your pet. This harness provides a convenient and safe way to improve mobility for older, injured, or invalid dogs or those recuperating from surgery. 
It also features front and rear sections, which can be used independently or in combination for maximum lifting assistance. If only the back section is used, you must put it on for each use. This harness works well for assisting pets upstairs, into vehicles, onto furniture, and going outside for walks or potty breaks.
Features
Three sizes

Provides your dog with rear support

Adjustable sizing

Machine washable

Breathable mesh material

Unique design reduces stress by lifting hips & abdomen together.

A Pet Safe product
Coodeo Dog Back Brace is a must-have for any dog owner! This back brace is designed to help dogs with arthritis, IVDD, and other back problems. It helps relieve pain and provides support during surgical recovery and rehabilitation. The back brace also prevents further injury and helps keep your dog healthy and active. 
Coodeo Dog Back Brace is made of high-quality materials and is adjustable to fit all dogs. It is comfortable to wear and easy to put on and take off. The back brace is also machine washable for easy care.
Features
Five sizes from small to xx-large

Specially designed for dogs with back problems such as VIDD, arthritis 

8 high-quality and powerful plastic strips to provide strong support 

Comfortable & breathable

Reflective strips on the brace for outdoor activities at night.

Built-in D-ring is used to connect the leash

6-point adjustment for a better fit.
Harnesses are a great way to help your dog with mobility issues. The Walkin' Lift-n-Step Dog Harness is a full-body support harness that allows dogs with arthritis, senior dogs, and pets recovering from surgery. 
This harness features adjustable straps and a padded chest plate for comfort. It also has a built-in leash attachment for added safety. The Walkin' Lift-n-Step Dog Harness is available in small, medium, and large sizes to fit most dogs. This harness helps dog's recuperation and eases the transition to a less active lifestyle.
Features
Affordable

Two-color options

Five sizes

Crafted with a comfortable padded nylon material

Adjustable straps

Body lift sling harness is designed for dogs with arthritis.

Offers front & end body support
Mobility brace
You can encourage your furbaby to walk around with the mobility brace by rewarding him with treats and plenty of praise until he gets used to it. Wearing a brace is only one part of treatment for hip dysplasia, and you should always have a multi-step treatment plan approach for the best outcome. 
This means working together with your veterinarian and possibly using joint supplements, a pain management plan, having structured exercise, or even seeing a canine rehabilitation therapist. 
Adequan injections 
Adequan injections for dogs with hip dysplasia are also a good option combined with hip dysplasia dog braces. Hip dysplasia braces should be removed before bed and used only under direct supervision. Opt for the size closest to your pet's weight or size measurements when choosing the best size. You may not find one that's precisely your pet's measurements.
What is CHD?
Hip dysplasia (CHD) is a common condition in dogs that can cause pain and mobility problems. While there is no cure, there are ways to manage hip dysplasia and help your dog lead a happy, healthy life. One way to do this is by using a hip brace. 
Hip dysplasia is an abnormal hip joint development in large dog breeds. It's characterized by a loose joint and subsequent joint disease (osteoarthritis). A few things affect the occurrence of hip dysplasia in dogs. These include excessive growth, hereditary factors, exercise, and nutrition.
Symptoms
Symptoms vary, and lameness can be mild, moderate, or severe. It's often worse after exercise. Dogs may walk with a bunny type of gait. Symptoms of hip dysplasia include the following:
Lameness in the hind end

Loose or unstable hip joint

Reduced range of motion

Grating sound during a full extension

Pain & stiffness in the hind legs

Difficulty moving

Muscle loss in the thigh area
Hip braces for support & stability
Hip braces can provide support and stability to the joint, helping to reduce pain and improve mobility. For example, a study published in N.I.H. explains that "Joint changes characteristic of CHD are also associated with environmental factors such as nutrition, exercise, and the process of skeletal ossification. The condition affects essentially all breeds, with an estimated prevalence ranging from 1% to 80%, according to the Orthopedic Foundation for Animals (O.F.A.)
It appears to occur at a relatively high rate in large-bodied and brachycephalic dogs and those with high body length to height ratios." The study adds that many theories explain joint degeneration, but joint laxity and irregular or delayed endochondral ossification are most popular. 
The study adds two general behaviors associated with CHD: Lameness in dogs younger than a year that increases with activity or trauma and abnormal gait activity with hind limb muscle atrophy in older dogs.
Genetics
Genetics play a role in CHD susceptibility, but many other factors such as nutrition and weight gain can contribute to the development of the condition.
While there is no cure for hip dysplasia, there are ways to manage the condition and help your dog lead a happy, healthy life. One way to do this is by using a hip brace. Hip braces play a role in CHD. 
According to V.C.A. Hospitals, "The mode of inheritance in most breeds is incompletely understood but probably involves multiple genes. There is a clear familial predisposition in some breeds, such as the Old English Sheepdog, Newfoundland, Golden Retriever, Labrador Retriever, and Standard Poodle."
The study in N.I.H. says that while diagnosis and treatment of CHD are essential to individual patient care, prevention by selective breeding will help hinder the presence of a debilitating condition in dogs.
Genetic screening
If you're wondering about genetic screening and your pup, the O.F.A. created the Canine Health Information Center (CHIC)by partnering with participating parent clubs to research and maintain information on the health issues prevalent in specific breeds. 
The O.F.A. has established a recommended protocol for breed-specific health screenings. According to this protocol, tested dogs get the CHIC number and certificate. A dog receives this certification if he's been screened for every disease recommended by the parent club. You can visit the CHIC Program to learn more about the recommended screenings by breed.
Joint disorders in dogs
Some joint disorders in dogs, like arthritis, affect the joint membranes themselves, while other types of joint disorders will affect cartilage, tendons, bursae, and the fluid within the joint. For example, joint diseases may be present from birth (congenital) or result from an injury to the joint, immune-related conditions, infections, or abnormal development.
Hip braces for CHD
Hip braces can provide support and stability to the joint, helping to reduce pain and improve mobility. For example, a study published in the Journal of Veterinary Internal Medicine found that "Dogs wearing a non-weight-bearing orthopedic brace had significantly less hip joint effusion, shorter duration of lameness, and less radiographic evidence of CHD progression than control dogs."
There are many different types of dog hip braces available on the market. Therefore, it's essential to consult with your veterinarian to find the best option for your dog. 
Some factors to consider include the size and weight of your dog, the severity of their condition, and their activity level. To help you make the best decision for your furry friend, we've compiled a list of the best hip braces for dogs with hip dysplasia. Here's the takeaway:
Conclusion For The Best Hip Brace For Dogs with Hip Dysplasia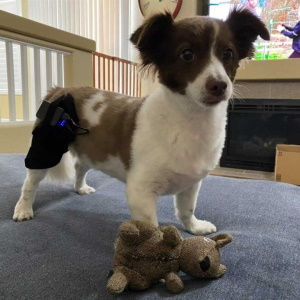 Dog braces and harnesses for hip dysplasia are not a cure, but they can help your dog be more comfortable and mobile. Hip dysplasia is a painful condition that can make it difficult for your dog to move around. Dog braces and harnesses can help take the pressure off of your dog's hips and make it easier for them to walk and run. If you think that your dog may benefit from a brace or harness, talk to your veterinarian about the best option for your pet.
Do you want to learn more about hip dysplasia? We highly recommend that you check out this video: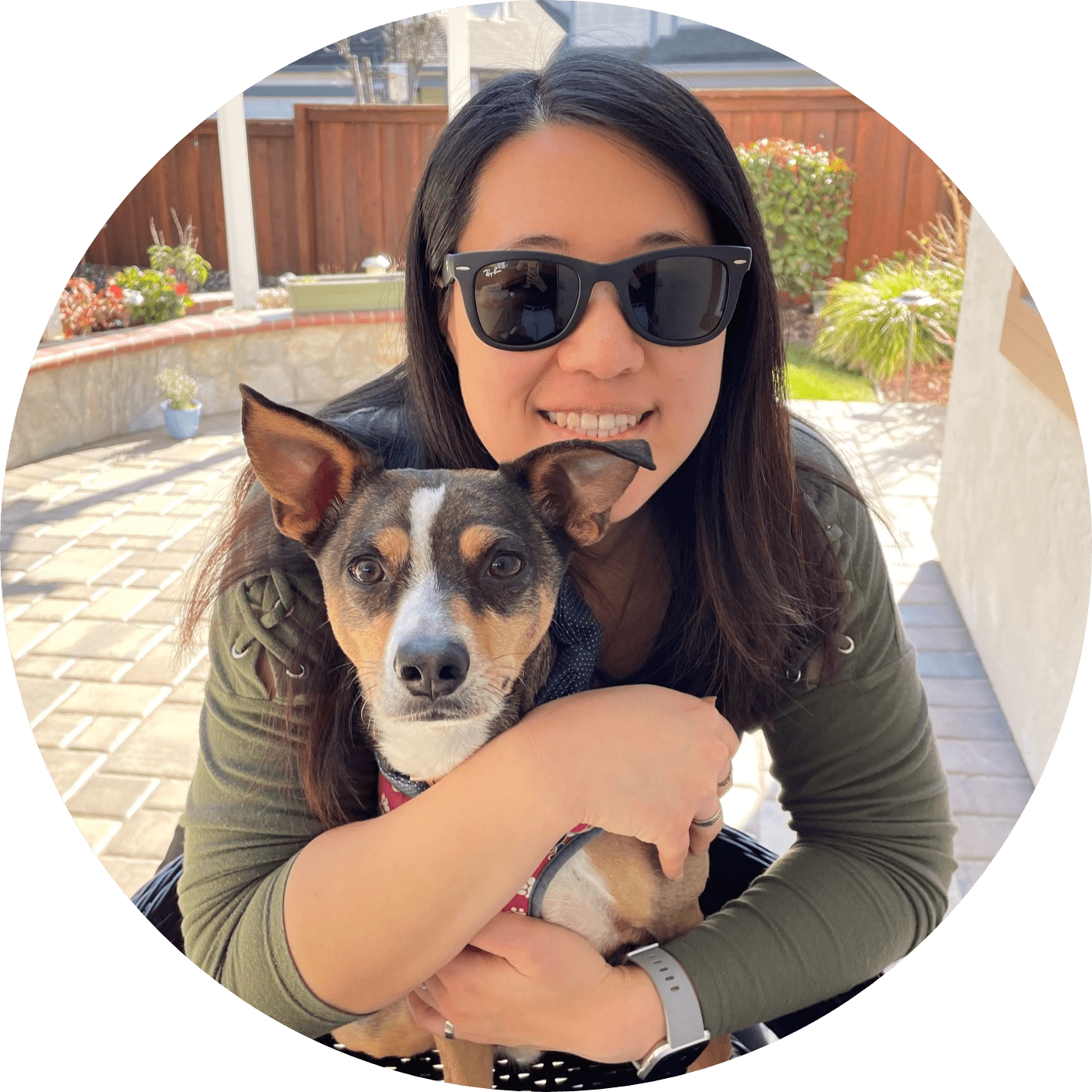 Dr. Sabrina Kong graduated from the Royal Veterinary College in England in 2016 and has been working at a small animal clinic in Northern California since then. She grew up in the Bay Area and got her bachelor's degree from Cal Poly San Luis Obispo. She also became a Certified Canine Rehabilitation Practitioner through a program at the University of Tennessee.
When she isn't in the clinic taking care of her four-legged patients, she enjoys traveling and trying new foods with her friends and her three-legged dog, Apollo. She adopted Apollo from her clinic when he was a puppy with numerous health issues. Dr. Kong truly cares about taking care of animals.