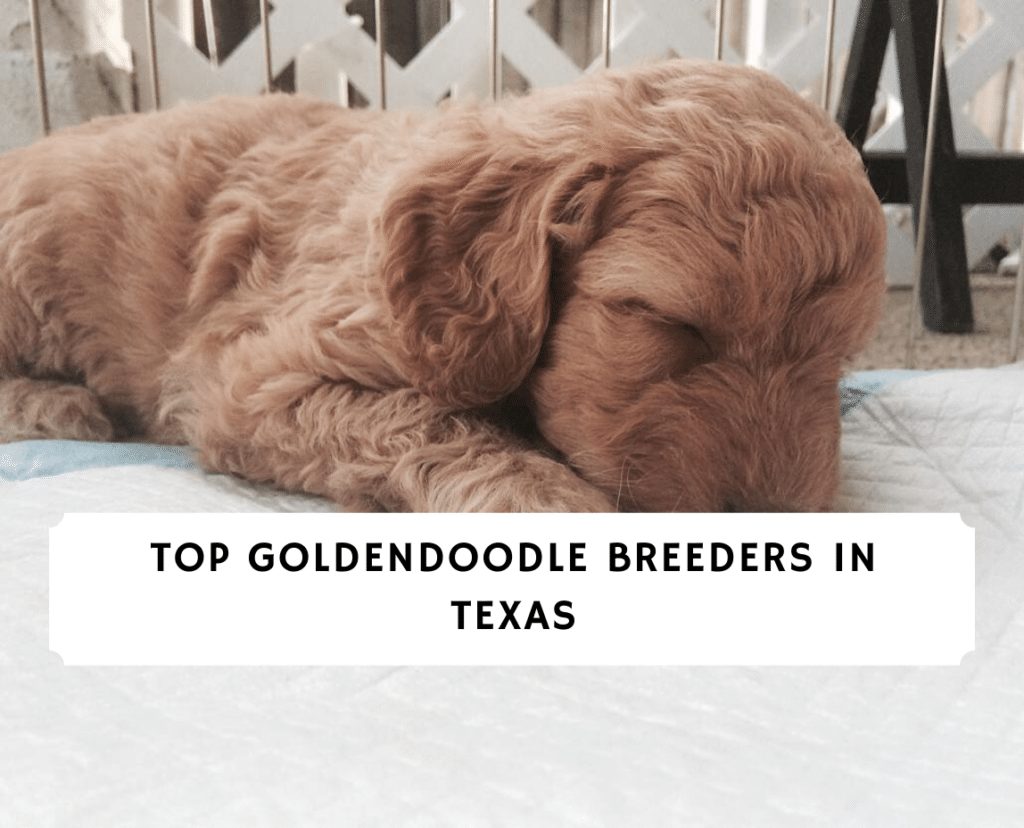 If you're looking to buy a Goldendoodle puppy, then one of the most daunting tasks is to find a breeder. Getting a puppy is a large investment, so there are a variety of factors that you need to consider before purchasing a dog like health, temperament, and personality. Goldendoodles are a 10+ year investment so you'll want to make sure you purchase a dog from a reputable breeder in Texas and not a puppy mill.
Texas is an extremely large state and we reviewed close to one hundred different Goldendoodle breeders. We narrowed down our list to the Top 7 Goldendoodle Breeders in Texas based on breeder reputation, certifications, and association with the Goldendoodle Association of North America (GANA). 
1) Dacus Doodles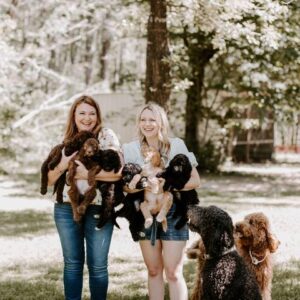 Dacus Doodles is a licensed Goldendoodle breeder located in Southern Texas near Houston. You can personally pick up your pup or they can ship your doodle via a flight nanny all around the United States. These breeders are blue ribbon certified from GANA, which is one of the most prestigious Goldendoodle breeder certifications. Additionally, they provide a 24-month health guarantee for each of their Goldendoodles.
They raise standard-size multi-generational Goldendoodles puppies in Texas and are one of the best breeders in the state. The dogs are raised inside the house and are socialized every day with their family. Dacus Doodles of Texas also begins to potty-train their Goldendoodles before they leave for a permanent home.
Goldendoodle Puppy Information:
Generation: F1B and Multi-Generation Goldendoodles
Size: Standard Goldendoodles
Goldendoodle Breeder Details: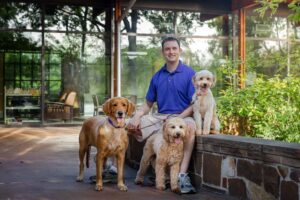 ABCs Puppy Zs is a premier Goldendoodle breeder located in Coppell, Texas (near Dallas Fort Worth area). They have been breeding miniature and petite Goldendoodles for over 15  years. We really like this breeder because they put their heart and soul into their dog breeding business and it truly shows. Every Goldendoodle puppy from ABC Puppy is family-raised from birth until they go home. They treat each Goldendoodle puppy as a family member and care about their health and happiness until they go to a forever home. 
All their Goldendoodle puppies in Texas are raised with the Puppy Culture Program and Early Neurological Stimulation (ENS) which offers stimulation and socialization to various sights and sounds. The first several weeks of a puppy's life are the most essential for a puppy due to the critical developmental traits which is why ABCs Puppy Zs follows strict puppy-raising guidelines. Their puppies go through nutritious weaning, puppy training, body handling, as well as other puppy wellness techniques. This helps create Goldendoodle puppies with outstanding temperaments and personalities.
Additionally, the parent dogs through a significant amount of health evaluations which is designed to get rid of all genetic illnesses and breed-specific issues. This allows them to offer a very generous 5-year puppy health guarantee which is more than most breeders will offer. Before a Goldendoodle puppy leaves for its forever home, it always goes through veterinarian evaluations, comes with a health certificate, and has all age-related vaccines. If needed, they also offer long-distance delivery around Texas.
We really like ABCs Puppy Zs and suggest that you check them out if you're looking for miniature or petite Goldendoodle puppies. The owner's name is Bricks and he is open to answering all the questions that you may have.
Goldendoodle Puppy Information:
Generation: F1 (First Generation) Goldendoodle Puppies
Size: F1 Mini, F1B Mini, Micro (Petite), Toy, and Teacup Goldendoodle Puppies
Goldendoodle Breeder Details: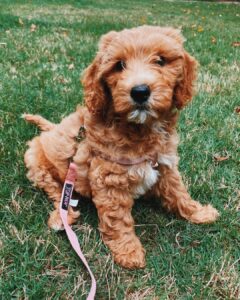 After reviewing PuppySpot and using their service, we discovered many beneficial features for users searching for Goldendoodle puppies. If this is your first time hearing about PuppySpot, then here's what you'll need to know. PuppySpot is a reputable marketplace for people searching for dogs to connect with trustworthy breeders. The process from finding a Goldendoodle puppy on the website to introducing it into your living environment is a piece of cake.
Here's why we recommend readers need to check out PuppySpot. The demand for the Goldendoodle dog breed is incredibly high, which means that you'll likely face obstacles during your search. These obstacles include getting accepted onto the Goldendoodle waiting list, which will result in longer wait times of 1+ years. Generally, it could take at least 6 months to over a year of waiting for your puppy. It can be frustrating going through countless Goldendoodle breeders in Texas. We understand your frustration.
Our team at WeLoveDoodles highly recommend readers to browse through the dog marketplace to get a feel of the platform. If you're worried about possible puppy mills, then keep in mind that Goldendoodle breeders on this platform are all screened before they can list any dogs. Goldendoodles aren't the only dog breed available. If you're still uncertain, you can use the available filters on PuppySpot to find a more specific Goldendoodle type or a similar breed. Using PuppySpot will most likely make your life easier on your search for a Goldendoodle companion.
Update: Get a $100 discount on a new Goldendoodle puppy at PuppySpot with promo code "WLD100". This is an exclusive promotional offer only to our blog readers.
Goldendoodle Puppy Information:
Generation: All Goldendoodle generations including F1, F1B, F2, F2B, etc.
Size: Miniature, Medium, and Standard Goldendoodles
Goldendoodle Breeder Details:
Location: Serves everywhere in Texas
Website: PuppySpot
Phone Number: (866) 206-6827
4) Made for TV Doodles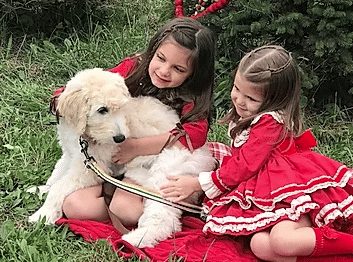 Made for TV Doodles is GANA blue ribbon certified for F1 Standard Goldendoodle breeding. They reside in just north of Dallas, Texas in the DFW metroplex and have been breeding Goldendoodle puppies for quite some time. The dogs from these breeders are going to be healthy since they have so many different certifications and affiliations.
They have a Golden Retriever that is AKC, CKC, and GANA registered which means that he is going to be a very outgoing and friendly dog. Made for TV Doodles also has a standard Poodle that is white in color and is CKC and GANA certified. All of the Goldendoodle puppies are raised in their home in Texas and are socialized with their children. In addition, if you purchase a Goldendoodle puppy from them they offer lifetime support.
The only downside of an F1 Goldendoodle is that they shed more-so than say an F1B Goldendoodle. There's nothing wrong with this these types of Goldendoodle puppies, but that's simply a caveat to consider.
Goldendoodle Puppy Information:
Generation: F1 Goldendoodles
Size: Medium, Standard Goldendoodles
Goldendoodle Breeder Details:
Location: Just North of Dallas, Texas. If you're looking for a Goldendoodle in Tyler, Texas this is close option for you.
Telephone: (479) 650-0550
Website: Made for TV Doodles
Email: madefortvdoodles@gmail.com
5) Blackwater Doodles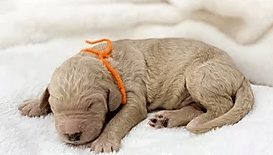 Blackwater Doodles is a Goldendoodle breeder in Texas that is affiliated with the CKC and GANA. They are a relatively small breeding program that focuses on Goldendoodle puppies that will be used for hunting, service dogs, therapy dogs, or family pets. The health tests of their dogs include hips, elbows, and eyes from OFA. They also do genetic testing on the parent dogs through Pawprint Genetics which you can view before purchasing your dog.
Blackwater Doodles in Texas raises the dogs inside of their house and starts training them from an early age. At 16 days they do neurological stimulation which has been proven to help with stress tolerance, immunity, and better hearts. They are part of the preferred breeder programs through GANA. Pricing starts at $2,500 and goes up to $3,000 for a miniature Goldendoodle which is pretty reasonable pricing compared to other breeders of mini Goldendoodles in texas. They also have a 24-month health guarantee.
Goldendoodle Puppy Information:
Generation: F1B, Multi-Generation Goldendoodles
Size: Mini, Medium, Standard Goldendoodle
Goldendoodle Breeder Details:
Location: Keller, Texas region.
Address: Amarillo, TX
Website: Blackwater Doodles
Email: Blackwaterdoodles@gmail.com
6) Lonestar Doodles
Lonestar Doodles of Texas is located in Weatherford, Texas, and produces sociable, gentle, and healthy Goldendoodle puppies for sale in Texas. They have a home breeding program and several guardian homes where other families will raise their Goldendoodle puppies. Lonestar Doodles of Texas breeds out of 5 different homes and provides a variety of different Goldendoodle sizes and generations including the miniature Goldendoodle. All bred Goldendoodle puppies are de-wormed, microchipped, and have had their first shots before they go to their forever home.
Goldendoodle Puppy Information:
Generation: F1, F1B Goldendoodles
Size: Mini, Medium, Standard Goldendoodles
Goldendoodle Breeder Details:
Location: Weatherford, Texas and Fort Worth, Texas. If you're looking for a Goldendoodle in Waco, Texas this is a close option for you.
Website: Lonestar Doodles
Email: lonestardoodles@gmail.com
Phone number: 817-714-5977
Reviews: Facebook
7) Snickers Doodles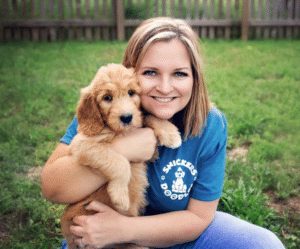 Snickers Doodles is Goldendoodle breeder near Austin, Texas. They breed Goldendoodles of all sizes and primarily focus on the F1 and F1B generations. They have a 2-year health guarantee and can extend it up to 5 years. In addition, Snickers Doodles of Texas also gives you 30 days of pet insurance in case anything goes wrong while you get accompanied to your Goldendoodle puppy. There is a $250 deposit and puppies are ready for pickup at 8 weeks old!
I think these are great Goldendoodle breeders in Texas because they provide lifetime support and lifetime re-homing. So if you have to get rid of your dog, they will help find a new home for them. This shows that they absolutely care about their Goldendoodle puppies. In addition to Goldendoodles, they also breed Bernedoodles.
Goldendoodle Puppy Information:
Generation: F1, F1B Goldendoodles
Size: Petite, Mini, Medium, Standard Goldendoodles
Goldendoodle Breeder Details:
Location: 30 minutes from Austin, Texas. 2.5 hours south of Dallas, Texas. 2.5 hours west of Houston, Texas. 90 minutes north of San Antonio, Texas.
Address: Georgetown, Texas
Telephone: 512-869-9541
Website: Snickers Doodles
Email: Becky@Snickersdoodles.com
How to pick Goldendoodle Breeders in Texas?
There are hundreds of Goldendoodle breeders in Texas and honestly several good ones that we had to leave off the list. However, we also did notice a lot of backyard breeders in Texas that don't seem to provide any certifications or health guarantees on their Goldendoodle puppies. If you didn't find a Goldendoodle breeder in Texas on our list, then we will help you go through the process of finding one.
First, you need a research a Goldendoodle breeder online. I always recommend looking at the GANA breeders first because they ensure that these breeders have health certifications and good living conditions to raise a dog. Next, contact the breeder and ask them questions about their dogs, health checks, and any genetic testing. Reputable breeders will be able to provide all of these documents on the parent dogs.
Lastly, you'll want to check the reviews of the various Goldendoodle breeders in Texas. Most of the breeders have a Facebook or a website with various testimonials and pictures of their Goldendoodles puppies. This will help give you an idea of what their Goldendoodles look like and if they are the color and coat type you are looking for.
Conclusion for Top 6 Goldendoodle Breeders in Texas
There are so many different Goldendoodle breeders in Texas, but we have given you a list of 6 that we thought were reputable and would trust to buy a Goldendoodle puppy from. Anyways, we hope that you found the right Goldendoodle puppy to enjoy your fluffy teddy bear! Feel free to contact us if you have any questions about Goldendoodles.
Garrett loves animals and is a huge advocate for all Doodle dog breeds. He owns his own Goldendoodle named Kona. In addition, he volunteers at the Humane Society of Silicon Valley, where he fosters dogs and helps animals. Garrett enjoys writing about Doodles and believes that dogs can teach humans more about how to live than humans can teach a dog.
Why Trust We Love Doodles?
At We Love Doodles, we're a team of writers, veterinarians, and puppy trainers that love dogs. Our team of qualified experts researches and provides reliable information on a wide range of dog topics. Our reviews are based on customer feedback, hands-on testing, and in-depth analysis. We are fully transparent and honest to our community of dog owners and future owners.