If you are looking for a Goldendoodle breeder in Maryland, then we are here to help!  We have created this list of Goldendoodle puppy breeders in Maryland to assist you and your family to find your next loveable fur baby.  Goldendoodles have rocketed in popularity in the last few years and for good reason.  These dogs are loyal and loveable, incredibly cute, and highly intelligent.  One of the disadvantages of the increase in popularity of this breed is that buyers need to be very wary of puppy mills and disreputable breeding practices.  We are committed to ensuring that no puppy mills or puppy brokers are on our list of Goldendoodle puppies in Maryland.
Goldendoodles were originally the result of the cross-breeding of a Golden Retriever and a Poodle.  As the Goldendoodle standard has been around since the 1990s, now many Goldendoodles are bred as multigenerational meaning that a Goldendoodle is bred to another Goldendoodle and thus ensuring a stricter adherence to breed standards.  The Goldendoodle is known to be hypo-allergenic and sheds very little.  They are bright and faithful and make excellent service dogs, as well as family pets.  Goldendoodles come in four sizes – Petite, Mini, Medium, and Standard with the smaller dogs tending to be more energetic.
Goldendoodles puppies and adult dogs will require a significant amount of grooming and the cost, or time commitment, towards grooming should be factoring in when deciding on this breed.  Expect to take your dog to a professional groomer every 6-10 weeks, depending on how short you prefer the coat length to be and how much maintenance you are willing or able to do between grooming sessions.  
1. CurlyDOODLES Puppies in Maryland
April from CurlyDOODLES is the only Member of GANA (Goldendoodle Association of North America) on our list of Goldendoodle puppies in Maryland.  Membership in GANA is limited only to breeders that are willing and able to provide health clearance on all adult breeding dogs. You know they are a reputable Goldendoodle breeder in Maryland if they can make the GANA list.
Wherever possible, we highly recommend that you look for a GANA registered breeder when looking for a Goldendoodle puppy.  These breeders are committed to establishing consistent breed standards with regards to health, coat, type, and temperament of their Goldendoodles and need to stick to strict ethical breeding standards.
There is a long waitlist for Goldendoodle puppies from CurlyDOODLES; however, April is very fair and upfront with the waitlist process so you will always know an approximate amount of time that it may take to get a puppy.  A non-refundable deposit of $250 is required to be added to the waiting list which is put against the final purchase price of $3000. 
Note that micro-mini Goldendoodle puppies will be $3500.  As per GANA standards, all canine parents are health tested and coat tested for the hypoallergenic qualities that she breeds for.  The price of a puppy includes a vet exam, first shots, microchipping, flea and heartworm treatment, and 30 days of free pet insurance.  Coats bred are solid, Parti and Merle.
Goldendoodle Puppy Information:
2. Maryland Doodles
Goldendoodle puppies from Maryland Doodles are whelped and raised right in their home so you can be assured that all puppies are sufficiently socialized and played with daily.  The importance of having puppies used to the everyday chaos of stimuli that a loving home produces should never be overlooked.  Puppies should be exposed to a variety of sights and sounds from vacuums to crying to laughing to doorbells so that they can more easily blend in with their forever families.  By getting a Goldendoodle puppy from Maryland Doodles, you can be assured that your puppy got the best start in life.
Goldendoodle Puppy Information:
Generation: F1 and F1B Goldendoodle puppies
Size: Standard Goldendoodle puppies
3. Al-bark Kennels in Maryland
You can rest assured that puppies raised at Al-bark Kennels are well socialized and used to children.  This large Mennonite family all take part in helping to rear the variety of puppies that are bred on the farm since 2004.  Goldendoodle puppies are currently $1575. This is a pretty fair price for a Goldendoodle breeder in Maryland.
Goldendoodle Puppy Information:
Generation: F1 and F1B Goldendoodle puppies
Size: Standard Goldendoodle puppies
4. Gleneden Goldendoodle Breeder in Maryland
Puppies from Gleneden Goldendoodles are currently only available for repeat families; however, we have included this breeder on our list as the next generation is starting to take over the breeding program and more Goldendoodle puppies may be consistently available.
Puppies from Gleneden Goldendoodles are generally cream, blonde, apricot, red, and sometimes black.  This Goldendoodle breeder in Maryland is happy for you to come through for a visit to allergy test your new furry family member before pick up at eight weeks of age.
Goldendoodle Puppy Information:
Generation: F1B and Multigen Goldendoodle puppies
Size: Mini, Medium and Standard Goldendoodle puppies
Location: Within 55 miles of either Washington, DC or Baltimore, MD
Address: 1315 Arnoldtown Rd, Burkittsville, MD 21718
Telephone: +1 (410) 913-7723
Website: www.glenedengoldendoodles.com
Email: hello@glenedengoldendoodles.com
5. TLC By the Lake Standard Poodles & Doodles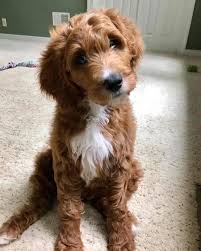 Goldendoodle puppies from TLC By the Lake Standard Poodles & Doodles are well socialized by this large family.  Children are often around to play with the puppies and offer a variety of important stimuli for training.  This Goldendoodle breeder in Maryland has been operational for over 12 years and breeds a variety of other doodle varieties throughout the year.
Numerous happy families have commented on the loving and caring nature of this breeding program with regards to their rearing practices and about the quality of the dogs which they produce.
All breeding dogs have been thoroughly health tested.  Goldendoodle puppies range in price from $2595 to $2995 including a $350 non-refundable deposit.  Application forms are available on their website.
Location: Within 70 miles of Pittsburgh
Address: 1886 Mosser Rd, McHenry, MD 21541
Telephone: +1 (301) 501-1818
Website: www.tlcbythelake.com
Email: tlcbythelakestandardpoodle@hotmail.com
Conclusion Goldendoodle Puppies in Maryland – Top 5 Breeders+
There are several Goldendoodle breeders in Maryland and the surrounding states.  Due to the increased popularity of this breed, and other doodles in general, unscrupulous breeding practices have also been on the rise. 
It is important to interview any potential breeder when looking for a Goldendoodle puppy and any responsible breeder should not be offended by any questions relating to their breeding practices or the history of the puppy's parents.  Ideally, go to the breeder of your choice and see the parents and how they are kept. 
The temperaments of the breeding pair can tell you a lot about how the puppies will likely be.  It is important to always choose a puppy based on how their temperament will fit in with your family and your lifestyle; a reputable breeder will work hard to match an appropriate dog to your needs to ensure a loyal and affectionate forever home for every one of their beloved Goldendoodle puppies.
Garrett loves animals and is a huge advocate for all Doodle dog breeds. He owns his own Goldendoodle named Kona. In addition, he volunteers at the Humane Society of Silicon Valley, where he fosters dogs and helps animals. Garrett enjoys writing about Doodles and believes that dogs can teach humans more about how to live than humans can teach a dog.
Why Trust We Love Doodles?
At We Love Doodles, we're a team of writers, veterinarians, and puppy trainers that love dogs. Our team of qualified experts researches and provides reliable information on a wide range of dog topics. Our reviews are based on customer feedback, hands-on testing, and in-depth analysis. We are fully transparent and honest to our community of dog owners and future owners.