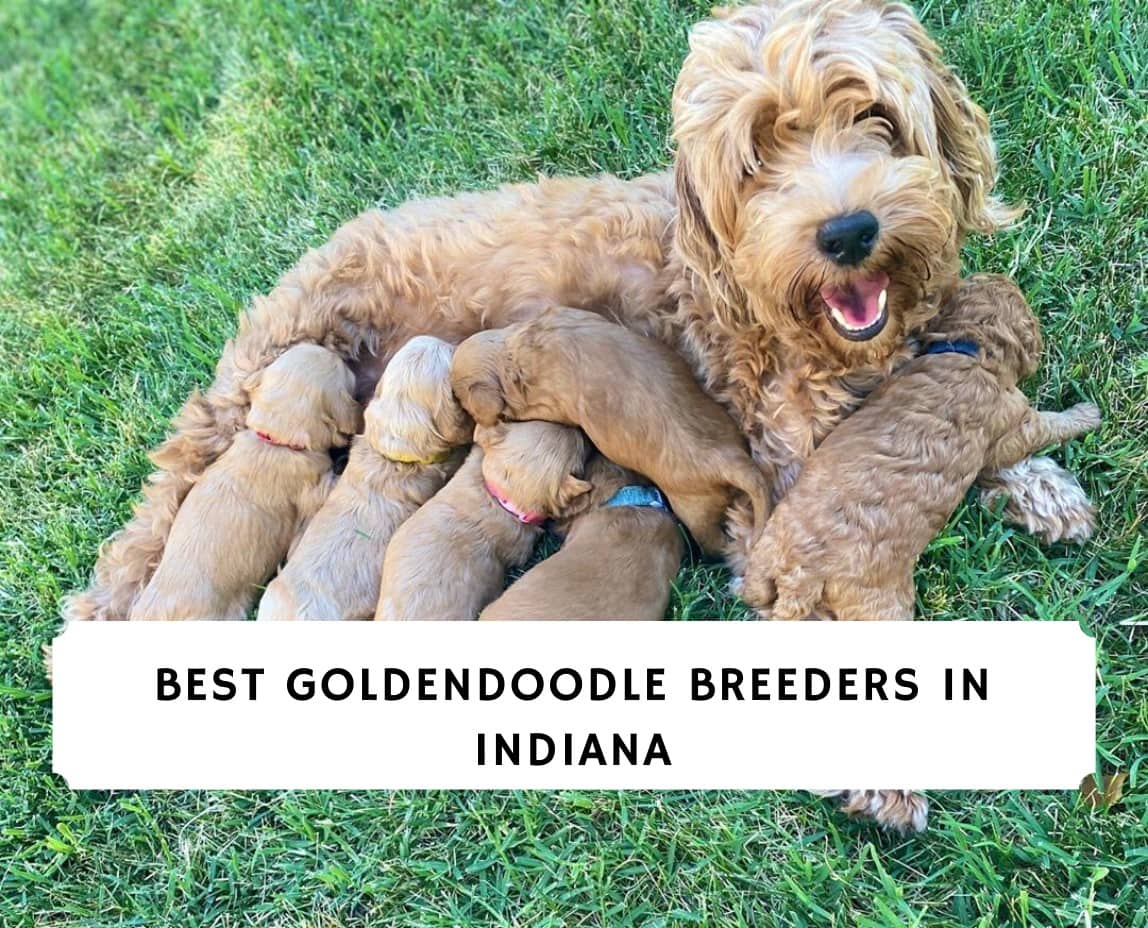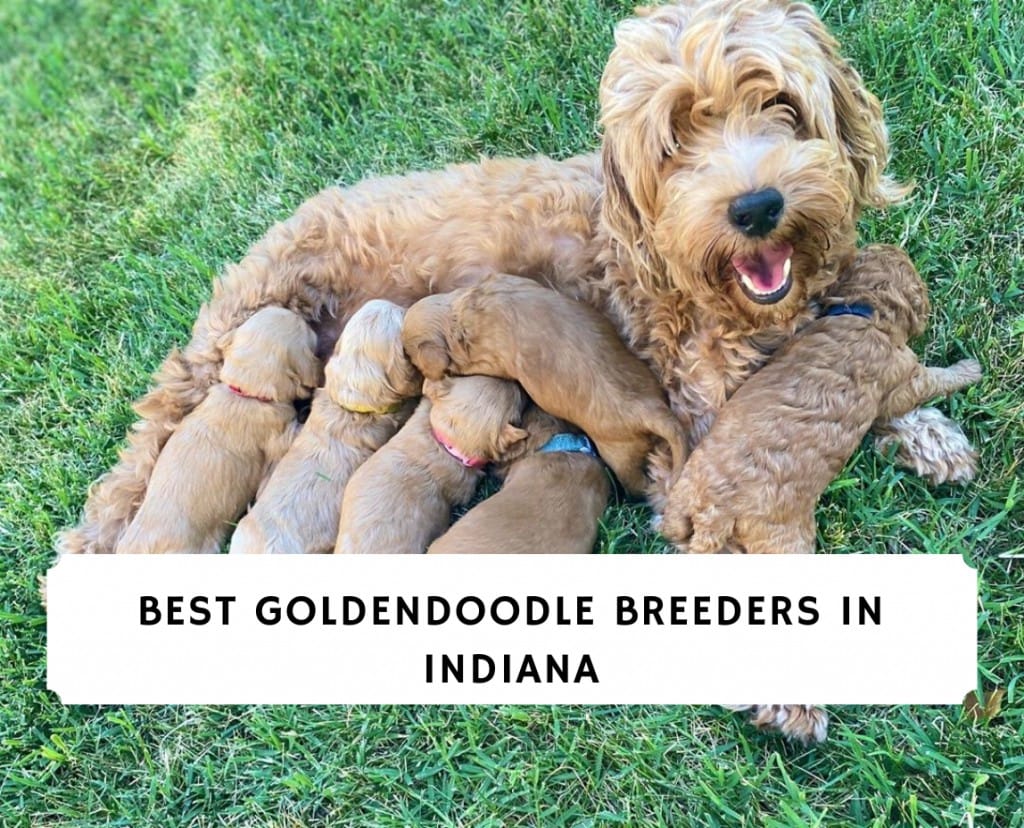 A Goldendoodle is the hybrid version of a Poodle and a Golden Retriever. They are a mix between two smart dog breeds, have great "teddy bear" like looks, and are highly trainable. If you're located in Indiana and looking for a Goldendoodle breeder, our list can help you.
Below are the best Goldendoodle Breeders in Indiana. Most of the breeders on this list are certified with the Goldendoodle Association of North America (GANA), so they go through vigorous health checks and are not puppy mills. We've done extensive research, and here are our top 6 picks.
Other articles you will like: Labradoodle Breeders in Indiana and Bernedoodle Breeders in Indiana.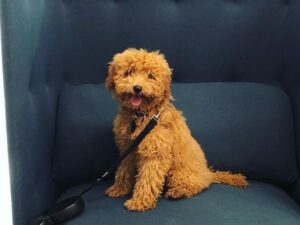 If you're currently in search of Goldendoodle breeders in Indiana, then PuppySpot is highly recommended by our team at WeLoveDoodles. We understand the challenges and difficulties of finding a reputable Goldendoodle breeder without a really long list, which is why we recommend PuppySpot.
Everyone wants to adopt from a reputable trustworthy breeder as future dog owners. The search for a Goldendoodle puppy isn't easy which is why we love PuppySpot's marketplace of strict policies. PuppySpot doesn't allow puppy mills and requires all Goldendoodle breeders to go through a strict screening process. After this process, less than 10% of dog breeders will be approved. Their breeder selection process is approved by the American Kennel Club and USDA.
With the ease of mind, PuppySpot also provides future dog owners the option to filter out a certain age, color, coat, etc. We highly recommend PuppySpot as your first option if you're searching for a Goldendoodle companion in Indiana. They have puppies for sale today can fly them out to you if they aren't located in Indiana. We bought one of our Goldendoodles from PuppySpot and highly recommend them. To date, they have sold over 220,000+ puppies and are a highly reputable network of breeders.
Goldendoodle Puppy Information:
Generation: F1, F2, F1B, F2B, Multi-gen
Size: Petite Mini, Mini, Medium, and Standard Goldendoodle puppies
Goldendoodle Breeder Details:
2. Winding Creek Ranch Goldendoodles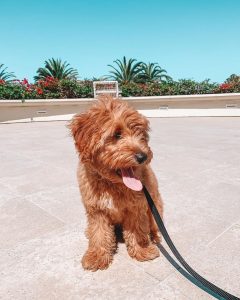 Winding Creek Ranch began breeding Goldendoodle puppies in 2010. It's run by a family that invests their time and resources in breeding dogs that meet all the requirements put in place to attain the Blue Ribbon Level status in the Goldendoodle Association of North America (GANA).
All their breed dogs undergo health testing to ensure that they have no health conditions. They also provide a health warranty in addition to the documents verifying the parents' pedigrees and generations of health testing.
Goldendoodle Puppy Information:
Generation: F1, F1B, Multi-gen
Size: Petite Mini, Mini, and Medium Goldendoodle puppies
Goldendoodle Breeder Details:
Location: Central Indiana. Less than 1 hour west of Indianapolis, Indiana. Less than 1 hour south of Layfayette, Indiana.
Address: 7124 US Hwy 136, Crawfordsville, Indiana, 47933
Website: Winding Creek Ranch
Email: wcrgoldendoodles@yahoo.com
Telephone: (765) 376-5944
Reviews: Facebook
3. Hilltop Pups of Indiana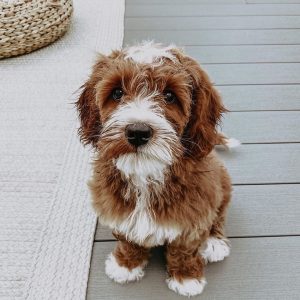 Hilltop Pups has been breeding English Goldendoodles since 2002. They capitalize on their experience and professional knowledge to breed genetically sound puppies. They prefer to breed with English Retrievers instead of American Golden Retrievers as the former has a higher life expectancy and rarely gets cancer.
At 3 days old, all their puppies are introduced to Early Stimulation Training to ensure that they are in the desired personality range. They also play desensitization CD to ensure that the puppies are accustomed to real-world sounds such as kids, thunderstorms, fireworks, etc.
Hilltop Pups encourages prospective owners to visit their facilities and see where the dogs are bred and live. You will, however, need to book an appointment.
Their pups are priced between $2,800- 3,500 and weigh between 8 and 38 pounds. Each pup goes home with a health record, CKC registration papers, and a 2-year health guarantee. During the adoption process, prospective buyers are required to deposit $400 to reserve a spot on the waiting list. The deposit is refundable if you don't get the puppy you desired.
Goldendoodle Puppy Information:
Goldendoodle Breeder Details:
Location: Jasper, Indiana (South Indiana). About 1 hour southwest of Evansville, Indiana. About 1.5 hours from Bloomington, Indiana. About 2 hours from Indianapolis.
Address: Jasper Dubois Rd, Jasper, IN, 47546
Website: Hilltop Pups
Email: hilltoppups@yahoo.com
Phone Number: 812-630-5099
Reviews: Testimonials
4. Sunshine Acres Goldendoodles
Sunshine Acres is a breeder that specializes in matching families with their ideal Goldendoodle puppies. The purchase process is seamless and begins with prospective buyers detailing the characteristics they are looking for. Sunshine Acres then select the puppies that meet your requirements for the buyer to choose. Once the buyer selects a puppy, they schedule a visit to pick the puppy or plan shipping logistics.
Each puppy is bred and raised on Sunshine Acres. The family lives with dogs and thus understands each puppy down to their temperament and healthy history of the puppies, parents, grandparents, and even great-grandparents. They also offer a 3-years health warranty
They have over 17 years of breeding and raising Goldendoodle puppies and understand how to socialize them from a young age.
Goldendoodle Puppy Information:
Generation: F1 and F1B
Size: Medium and Standard Goldendoodle puppy
Goldendoodle Breeder Details:
Location: Northwest Indiana. 30 minutes from Layfayette, Indiana. 2 hours from Southbend, Indiana.
Address: Wolcott, IN, 47995
Website:

Sunshine Acres Goldendoodles

Phone number: 219-863-4060
Reviews: Testimonials
5. Gertie's Goldendoodles
Gertie's Goldendoodles is a family-run breeder that is located in Central Indiana. They have extensive experience and knowledge in breeding Goldendoodles, puppy development, healthcare, socialization, and more. The family also owns and runs a dog training business where they have successfully trained numerous Goldendoodles. The breeder is also GANA certified as a Red Ribbon Breeder.
During the breeding process, the sire and dam are tested extensively before they are approved for breeding. In addition to this, once you buy a puppy from Gertie's Goldendoodles, you're issued with a 2-year genetic health warranty. This guarantees that your puppy is free from any genetic conditions that might affect its growth and quality of life in the next few years.
The average price of puppies is $2,500. You're required to pay a $500 deposit to secure a spot on their waiting list. Once your purchase is approved, you'll have to wait until the puppy is 8 weeks old to take it home.
Goldendoodle Puppy Information:
Goldendoodle Breeder Details:
6. Cottonwood Goldendoodles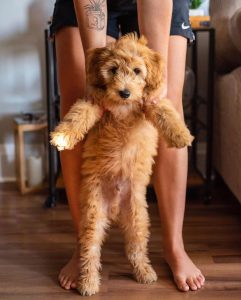 Cottonwood Goldendoodles is a small breeder from Boone County and has been breeding since 2013. The dogs are bred and raised on their 5-acre farm, where they are treated as part of the family. The dogs are allowed to play and run wild on the farm.
Our puppies are raised in a family setting where they interact with children and other puppies. They are socialized at a young age, which makes them suitable as family pets.
Goldendoodle Puppy Information:
Goldendoodle Breeder Details:
Location: Boone County. 2 hours south of Southbend, Indiana. Close by to Indianapolis, Indiana.
Address: Lebanon, IN 46052
Website: Cottonwood Goldendoodles
Phone number: (317) 750-0446
Email: cottonwooddoodles1@gmail.com
Goldendoodle Puppies in Indiana
Goldendoodles are more than just your regular dog breed. They are intelligent, entertaining, loyal, energetic, friendly, and so much more. Indiana has four different seasons and experiences moderately high humidity, as well as precipitation. Since the dogs are bred and raised in Indiana, they should have an easy time adapting to your area's climate. 
How to Choose a Goldendoodle Breeder in Indiana
When it comes to adopting dogs, your options are unlimited, but they narrow down as you look for specific dog breeds such as Goldendoodles. Here are tips to help you choose the right breeder:
Visit the breeder 
If you can schedule a visit to the farm and tour their home, kennel, playground, etc. be sure to do so. You want to understand where the dogs are bred and how they are raised before making your purchase. 
Ask to see the puppy's parents 
Since the puppies are products of their parents, you need to see the Goldendoodle parents. It will give you an idea of your Goldendoodle puppy's appearance, temperament, size, and coat color.
Medical history
Ask to see the parent Goldendoodle's medical history. Almost all reputable breeders will be doing health checks for eyes, joints, and heart.
Where can you find a Goldendoodle Breeder in Indiana?
The best option is always research, and if you know anyone who has bought a Goldendoodle puppy from a breeder, you can ask about their experience. Learn everything you can about the breed before you embark on a path to adopt one. 
You can also check out the Goldendoodle Association of North America for Goldendoodle puppies and recommended breeders near you. 
Conclusion for the Best 6 Goldendoodle Breeders in Indiana
Getting a puppy that fits all your requirements is easy; the hard part is raising the puppy and catering to its needs as it transitions into life under your care. The kind of dog that Goldendoodle puppy becomes is largely influenced by your love, dedication, and time.
Therefore, if you're serious about getting a Goldendoodle, check out reputable Goldendoodle breeders in Indiana. These are breeders who care about their puppies and not just making money. 
Other articles you would like:
Garrett loves animals and is a huge advocate for all Doodle dog breeds. He owns his own Goldendoodle named Kona. In addition, he volunteers at the Humane Society of Silicon Valley, where he fosters dogs and helps animals. Garrett enjoys writing about Doodles and believes that dogs can teach humans more about how to live than humans can teach a dog.
Why Trust We Love Doodles?
At We Love Doodles, we're a team of writers, veterinarians, and puppy trainers that love dogs. Our team of qualified experts researches and provides reliable information on a wide range of dog topics. Our reviews are based on customer feedback, hands-on testing, and in-depth analysis. We are fully transparent and honest to our community of dog owners and future owners.