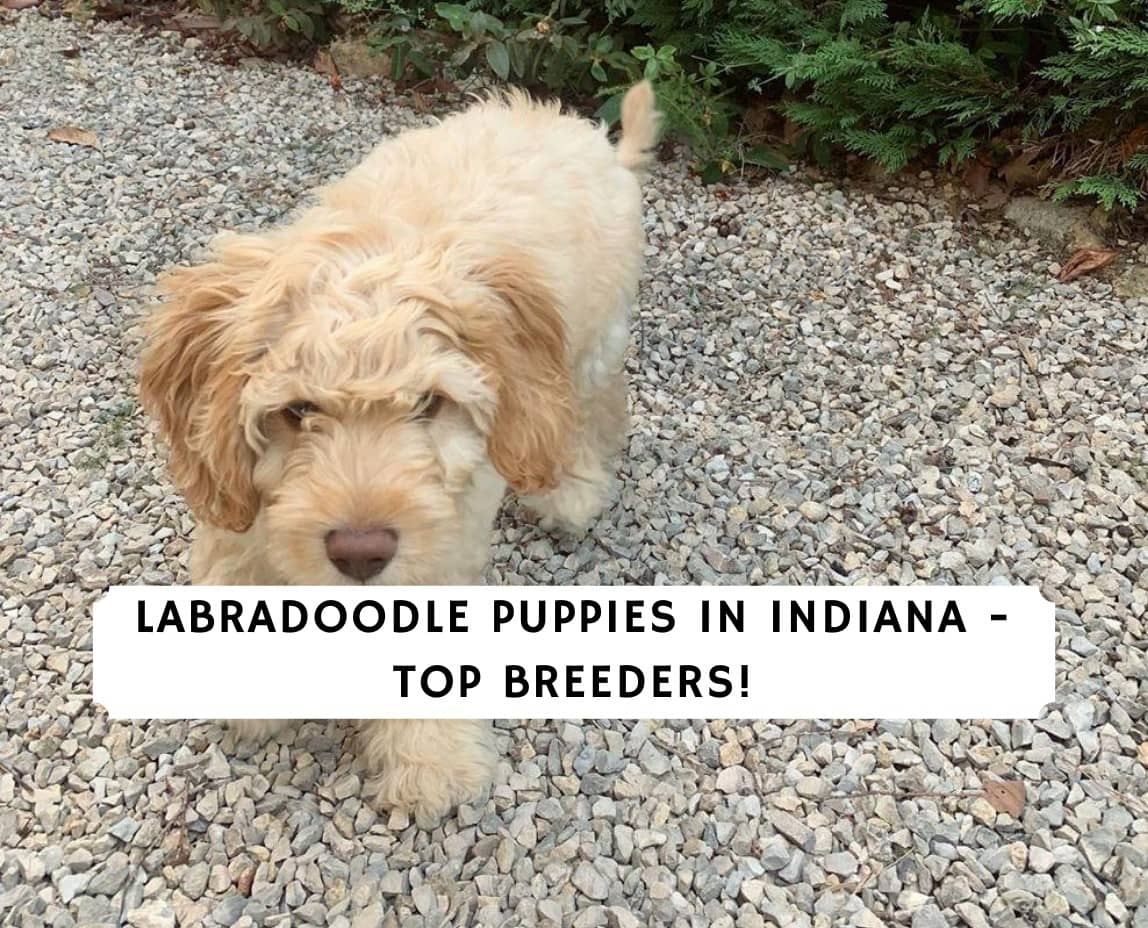 The Labradoodle breeders in Indiana are popping up everywhere and there are a lot of puppy mills that I wouldn't personality a dog from. If you're a fan of these sweet-natured, intelligent, playful puppies it's important that you buy a dog from a reputable breeder or your dog may have genetic diseases that will cost you a lot more money in the long run. 
We've done a lot of independent research on Labradoodle puppies in Indiana and have chosen the top breeders from sources like the Australian Labradoodle Association of America (ALAA).  Many of the breeders we chose, like Forever Friends Labradoodles and Daffodil Hill Australian Labradoodles, are family-run operations that are "Silver Paw" certified by the ALAA.  Perks to these small-sized Labradoodle breeders in Indiana include more individual attention given to each puppy and a feeling that you become part of the family when you buy from them. 
Others like Chestnut Hill Labradoodle Puppies in Indiana are located on lush midwestern farmland where your future fur-baby can run and play between corn stalks at training school recess.  The cost of a Labradoodle for these breeders averages around $2700 USD. 
1. Ashford Manor Labradoodles Indiana
Ashford Manor only selects breeding dams and sires from the best Australian Labradoodle lines, and follow every protocol to a tee. Not that the dogs would never know this, but they get superior genetics including a mostly hypoallergenic and nonshedding coat.  In addition, they keep their breeding program small to give each individual puppy the love, attention, and socialization they need to become loving, attentive pets. 
All dogs live in the homes of Ashford Manor extended family guardians, and usually have a playmate or two which keeps them socialized!  Some of these boys and girls will grow up to be the furry family member, while some are destined to be service dogs, assisting and comforting first responders, therapy dogs, and helping special needs groups with their gentle and intelligent personality. 
Therapy and service bound Labradoodle puppies will not come home with you trained (after all, they're only eight weeks old!), but they are more curious than their siblings, faster learners, less easily stressed, and in the case of service dogs, show no fear and are ready to try anything once. If you're looking for a potential service Labradoodle puppy in Indiana this could be a great breeder.
In fluffy, allergy-friendly, and non-shedding coats, all of these pedigree puppies are taught by expert trainer, Julie Case. An Australian Labradoodle puppy can be yours for $3210. Therapy qualified Labradoodle puppies are an investment of $3745, while their service qualified brothers and sisters are $4280. Their Labradoodles typically come in unique coat colors of red, apricot, and chocolate. This is one of the more reputable Labradoodle breeders in Indiana.
Labradoodle Puppy Information
Generation: Multi-generational Labradoodle puppies
Size: Mini and medium sizes Labradoodle puppies
Labradoodle Breeder Details
2. Chestnut Hill Labradoodles Indiana
Located on a sprawling 25-acre farm in Southeastern Indiana near the Ohio River, breeders Rob and Lindsay, along with their daughter, Shelby, hand whelp all of their Labradoodle puppies. They pride themselves on being a small home-centered breeder with all the trappings of your typical farm.  Breeding only Australian Labradoodles from top lines like Teagen Park and Rutland Manor, this Gold Paw operation is one of our top choices Labradoodle puppies in Indiana. They have one of the highest breeding certifications from the ALAA.
Chestnut Hill Labradoodle puppies are raised with puppy culture and trained with positive reinforcement because those first sixteen weeks are a critical part of their development. 
Offering puppies trained for life as the family pet, or bound for the rewarding work of service, therapy, or emotional support animals, Rob and Lindsay offer additional training if needed, along with the head start of one month of Trupanion pet insurance.  They also provide you with a 2-year health guarantee with an option for a third year if you continue their diet of Life's Abundance dog food. Will everything they have to offer and a Gold Paw certification, these are one of the best Labradoodle breeders in Indiana.
If life with an Australian Labradoodle raised on a family farm piques your interest, the family will be happy to provide you with more info. 
Labradoodle Puppy Information
Generation: Multi-gen Labradoodle puppies
Size: Mini, Medium & Standard Labradoodle puppies
Labradoodle Breeder Details
3. Daffodil Hill Australian Labradoodles IN
These are some lucky Labradoodle puppies.  The Snyder family lives in the middle of agricultural paradise where puppies can run their little paws through the corn and soybean stalks. Jill Synder is "head dog mom," and runs her business as one happy extended family, committing herself with love and attention to both her Australian Labradoodles and the families who adopt them. 
Puppies from this Silver Paw certified breeder from the ALAA are a steal for the breed at just $2500.  Your new fur-baby will arrive with a two-year genetic guarantee and a welcome home bag of toys, treats, and even a blanket with momma's scent to assist with the transition. If you're looking for healthy Labradoodle puppies in Indiana on a budget, these guys are very affordable breeders.
Puppies expected soon!  Proud parents Bella and Bo are expecting babies soon.  Based on their mom and pop, the little ones will be kind and outgoing, intelligent and playful, and all kinds of cuddly. 
Labradoodle Puppy Information
Generation: Multi-gen Labradoodle puppies
Size: Mini to Medium Labradoodle puppies
Labradoodle Breeder Details
4. Forever Friends Labradoodles Indiana
Integrity is the name of the game at Forever Friends, and this family business raises only the best-credentialed Labradoodle puppies with protocols up to Silver Paw standards from the Australian Labradoodle Association.  Raised with Puppy Culture, and given a temperament test at 7 weeks to ensure everything is going according to nature's plan, you can be sure that you're bringing home your dream puppy that will be healthy.
Believing that planning and preferences are what determine a perfect match, they ask for yours at application time.  To uphold the quality of their program, the first priority is given to selecting little Labradoodles to carry on the family name, then on to those puppies destined to help humankind as therapy dogs, and finally to those headed for a life of luxury as family pets. 
In return, they're counting on your integrity.  The Labradoodle puppies are family to them and they want to ensure that you're committed to providing them with the best care for their entire life. They insist that you bring them to your own veterinarian within 72 hours of arrival in your home to verify that are healthy. You can trust this Labradoodle breeder in Indiana to be there for you and your new furry family member for their entire life.  Puppies of all sizes, colors, and coat types are $2750. 
Playful white cuddle bunny Jemma, and chocolate-brown gentleman Jack are expecting 20-25 pound miniature ALDs this summer.  You could name your puppy Jumping Bean Jemma or Gentle Jack.
Labradoodle Puppy Information
Generation: F1, F1B, Multigenerational Labradoodle puppies
Size: Mini and Medium Labradoodle Puppies
Labradoodle Breeder Details
5. Harvest Labradoodles IN
Harvest has been breeding multi-generational ALDs for dog lovers across southern Indiana, Northern Kentucky, and South-Central Ohio since 2013.  A small-scale operation on a beautiful family farm in Madison, Scott, and Tracy Murphy, along with their nine children, are able to provide nurturing and special attention to each dam, sire, and puppy.  Bred to be both friendly and allergy-friendly, the Murphys personally attest to these dogs being the perfect fit for a family with young children. 
Rainey, Holly, Rosie, and Piper are beautiful girls in graduating hues of white, tan, and black fluffy non-shedding fur. They plan to start breeding Holly this fall, and her puppies will grow to be around 25-30 pounds of sweet apricot and cream that you'll be longing to bring home.  You can reserve your Labradoodle puppy in Indiana now from them.
Labradoodle Puppy Information:
Generation: Multigeneration Labradoodle puppies
Size: Mini, Medium, and Standard Labradoodle puppies
Labradoodle Breeder Details
Conclusion for Labradoodle Puppies in Indiana
There are tons of Labradoodle breeders in Indiana, but you need to make sure that you are buying from a reputable breeder. We've done a lot of research and used many certified breeders from the Australian Labradoodle Association of America (ALAA) which mandates health checks on the parent dogs. This is to help ensure that you getting one of the healthiest Labradoodle puppies in Indiana. 
Garrett loves animals and is a huge advocate for all Doodle dog breeds. He owns his own Goldendoodle named Kona. In addition, he volunteers at the Humane Society of Silicon Valley, where he fosters dogs and helps animals. Garrett enjoys writing about Doodles and believes that dogs can teach humans more about how to live than humans can teach a dog.
Why Trust We Love Doodles?
At We Love Doodles, we're a team of writers, veterinarians, and puppy trainers that love dogs. Our team of qualified experts researches and provides reliable information on a wide range of dog topics. Our reviews are based on customer feedback, hands-on testing, and in-depth analysis. We are fully transparent and honest to our community of dog owners and future owners.