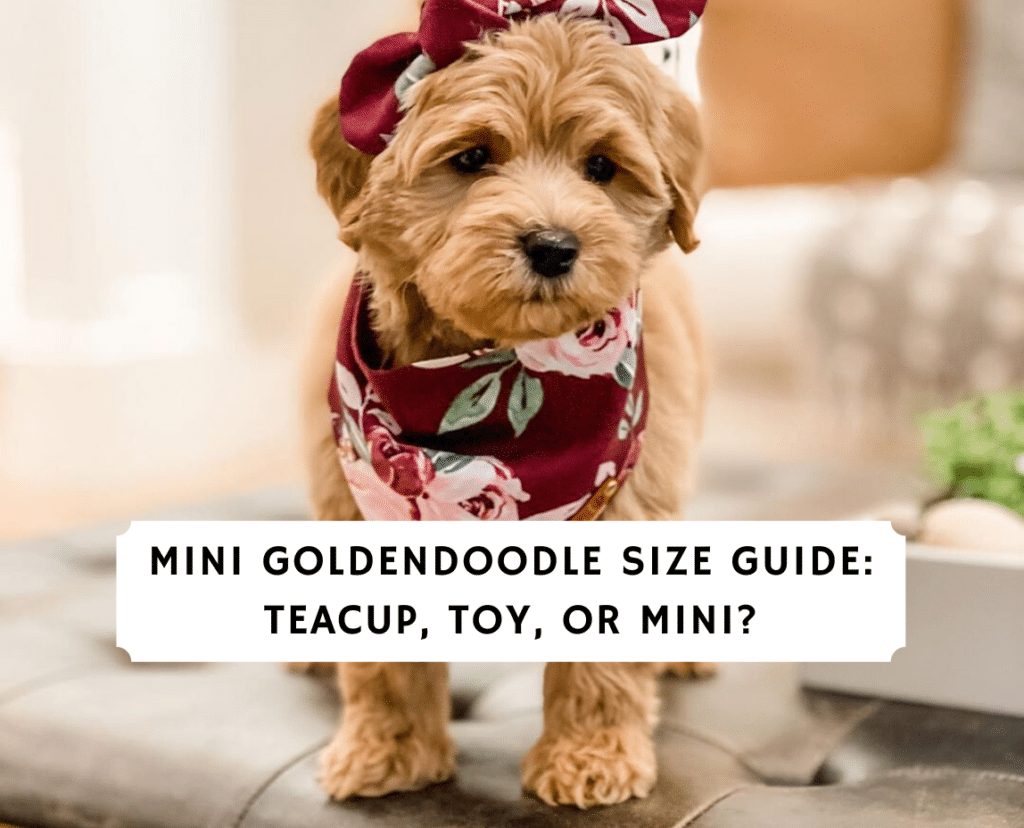 Goldendoodles are arguably the most popular crossbred dog within the last 10 years. This is mainly because they look like teddy bears, are hypoallergenic, and nonshedding. This combination of gorgeous looks and great genetic traits make Goldendoodles highly sought after. One specific size of this dog, the mini Goldendoodle, is one of the most popular sizes. After all, who doesn't want a real-life teddy bear mini Goldendoodle?
Already have a mini Goldendoodle? Check out the Best Goldendoodle Puppy Food.
Mini Goldendoodle Sizes
If you're thinking of purchasing a miniature Goldendoodle, then you need to make sure that you pick the right size dog. Most people don't know that there are technically three sizes that fall under the "mini Goldendoodle size." The three sizes of mini Goldendoodles are the Teacup, Petite / Toy, and Mini.
Most breeders consider the full-size mini Goldendoodle to be a dog under 30 pounds, but there is no defined weight or height for a mini Goldendoodle since they are a crossbred dog. With this broad range of weight, many breeders have been creating smaller weight classes with the Teacup Goldendoodle and Toy Goldendoodle. These mini Goldendoodle sizes are meant to further differentiate between a mini Goldendoodle's full size and weight.
Teacup Goldendoodle Size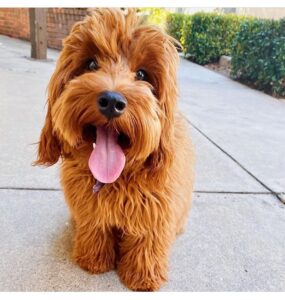 The Teacup Goldendoodle is the smallest size of this dog that you can purchase. A Teacup Goldendoodle is a dog that will weigh less than 13 pounds. These dogs also stand around 11 inches or so tall. If you're trying to envision a Teacup Goldendoodle, then take a look at an 8.5 x 11-inch piece of paper and that's how tall they will be!
The Teacup size is an extremely small mini Goldendoodle and can be easily held in one arm. However, there is a lot of controversy surrounding this mini Goldendoodle size. Since Teacup Goldendoodles are bred from taking the runt of each litter and breeding with small toy Poodles, they suffer from a lot of genetic defects. The continuous breeding of runt dogs to get a smaller size causes increased health issues.
Some of these genetic defects are increased vulnerability to patella luxation, heart defects, hypoglycemia, and other issues. In addition to the health issues, Teacup Goldendoodles come with an extremely high price tag. Since they are bred over several generations of mini Goldendoodles to get this small size, some breeders are charging over $5,000 for this mini Goldendoodle size. Due to the health issues, large price tag, and breeding practices we recommend that you do not purchase this mini Goldendoodle size.
Petite / Toy Goldendoodle Size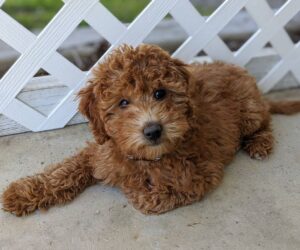 A Toy Goldendoodle, also called the Petite Mini Goldendoodle, is the next smallest mini Goldendoodle size. The Toy Goldendoodle is larger than the Teacup Goldendoodle and generally weighs around 20 pounds or less. These dogs also stand around 14 or 15 inches in height. If you're looking at an external monitor screen right now, that's approximately the size that your Toy Goldendoodle will be.
If you're constrained to a smaller living space like an apartment, condo, or RV then this small-sized Goldendoodle might be a good choice for you. Otherwise, if you just want a small dog that looks like a teddy bear mini Goldendoodle then this could be the right dog for you.
The Toy sized Goldendoodle is small enough in size that you will still be able to pick them up easily. In addition, these smaller sized mini Goldendoodles also tend to have less energy than the larger Goldendoodles. One of the downsides of getting a larger Goldendoodle is that they have tons of energy and require lots of regular exercise and mental stimulation. If a Goldendoodle isn't properly taken care of they tend to have destructive behavior around the house and will chew on things.
Mini Goldendoodle Size
The mini Goldendoodle is used as a general classification of a Goldendoodle under 30 pounds. However, most breeders will refer to the mini Goldendoodle size as a dog weighing 20 to 30 pounds. A full-size mini Goldendoodle will also be around 16 to 18 inches tall. full size Typically if the dog is smaller than this, a breeder will classify them as a teacup or toy size.
The mini Goldendoodle size is the most popular and sought after sizing because they don't get too big. In addition, Goldendoodles are generally a very active dog breed, but if you get a smaller size they tend to have less energy. This means that if you have a confined living space, then you can still get a mini Goldendoodle and be fine. However, these dogs will still need to be regularly walked and exercised.
Where to buy a Mini Goldendoodle?
It's extremely important to find a reputable breeder if you're going to be purchasing a mini Goldendoodle. Since these small Goldendoodle sizes come with typically come with an increased likelihood of health issues, finding a reputable breeder will help mitigate some of this risk. A reputable breeder will be able to provide you with several different types of health tests including tests on the parent dog's hips, eyes, heart, elbows, and patellas. Generally, if the parent dogs are healthy then their offspring will be healthy.
We recommend that you visit the Goldendoodle Association of North America (GANA) to find a mini Goldendoodle breeder. GANA the main association of Goldendoodle enthusiasts that consists of breeders and pet owners.
Conclusion for Mini Goldendoodle Size Guide
We hope that you enjoyed our mini Goldendoodle size information. If you're considering purchasing one of these miniature dogs, then we suggest that you look into the toy / petite Goldendoodle or a mini Goldendoodle. There's a lot of health issues surrounding the teacup or mico Goldendoodle so we wouldn't recommend that you get this size.
For more information about Goldendoodles check out these articles: