Teacup Cockapoos are a relatively new breed, so you may be curious as to where you can find the best Teacup Cockapoo puppies for sale in the United States. Well, we're here to help!
Teacup Cockapoos are small dogs that make wonderful, loyal companions. The Cockapoo is a designer dog produced by crossing a Toy or Miniature Poodle with a Cocker Spaniel. These are friendly little dogs, and while a regular Cockapoo weighs around 15 pounds, a Teacup Cockapoo is half the size, weighing around six pounds.
We all know that buying dogs is difficult because it can be hard to know if a breeder is somebody you can trust. This is why we have put together a list of the top breeders with teacup Cockapoo puppies in the United States to help you find the perfect puppy.
Before scrolling down this list of breeders with teacup Cockapoo puppies for sale in the United States, you can check out these other recommendations from our team at We Love Doodles: Best Pomsky Breeders in the United States and Best F1b Goldendoodle Breeders in the United Staes.
Teacup Cockapoo Breeders in the United States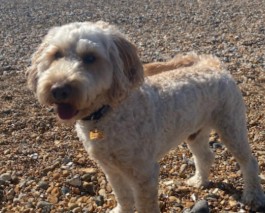 Teacup Cockapoos have to be carefully bred, and not every person selling a dog is to be trusted. We have compiled a list of breeders who produce miniature-sized dogs, including Teacup Cockapoos, with a noteworthy online presence and good reputation.
Cockapoo Product Recommendations: Best Odor Resistant Dog Beds and Best Puppy Flea Shampoos.
1. PuppySpot's Teacup Cockapoos For The United States
It takes time and emotional investment to decide to add a Cockapoo dog breed to your home and surrounding areas. Since the process is overwhelming and time-consuming, most people keep themselves away from it. If you are a pet enthusiast but do not know how to get the right breed, PuppySpot is your one-stop-shop.
PuppySpot offers you several features and benefits. Through this marketplace, you can search by dog breed, size, and other criteria to find the dog that's right for you and your family. 
A qualified team of puppy pros will help you decide, should you need help. Then, the rest is easy! You can just add the puppy you love to your cart, check out, and wait for delivery of your little companion. 
So far, PuppySpot has provided about 200,000 pets to US families. Their customer service is top notch, and thousands of families have added healthy, socialized puppies to their homes through the service. 
PuppySpot not only screens and validates the pets in terms of health and other aspects, but they also check and verify the users who list their pets on PuppySpot's site. Due to this, you will find Cockapoo puppies that have passed a checkup from head to tail and provide you with a pet with optimal health.
The best part of PuppySpot is that you will be safe from scammers, puppy mills, and fraudulent people. Since the screening allows only 10% of users to list their puppies on the site, the chances of scams is quite low.
PuppySpot is so confident in their breeders that they offer an industry-leading 10-year guarantee on each dog. They're affiliated with the AKC and with the American Humane Society, which work non-profitable for the welfare and rescue of animals in the United States.
PuppySpot Details
2. Attala County Cockapoos
This is a family-owned and operated dog breeding business. This breeder started with Cocker Spaniels and then expanded into breeding Cockapoos and Cavapoos. Puppies are sold between seven and nine weeks of age, and they get regular health checkups with a vet while in the breeder's care. Puppies are vaccinated and given preventative medication for parasites.
A non-refundable deposit is required; speak with the breeder about what's required for your specific dog. You can collect your puppy directly from the breeder when he's old enough, or you can make arrangements with the kennel for delivery or shipping. 
Attala County Cockapoos Details
3. Beachwood Canyon Cockapoos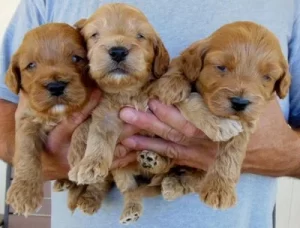 Beachwood Canyon Cockapoos has been breeding dogs since 2011, so they have over ten years of experience in caring for and producing quality, healthy, and cute puppies. The breeder offers a 30-day health insurance policy on the new puppy you take home. There is a one-year warranty on each puppy that is adopted.
The warranty is a guarantee against congenital disabilities. The breeder sells these puppies as pets, not animals to be bred by the buyer. They outline details in a contract on their website, which you need to go through carefully before deciding to buy one of their puppies. You'll be required to spay or neuter your dog at a specific age – this will be outlined in your purchase contract. 
Beachwood Canyon Cockapoos Details
4. Florida Cockapoos
Florida Cockapoos breeds first-generation Cockapoos. In other words, the parents are the purebreds, namely the Poodle and Cocker Spaniel. They do this because they believe it keeps the dogs healthy and fit. This breeder requires a non-refundable deposit and additional processing fees depend on the payment method, so you'll need to read their policy on exactly what payment will be.
All puppies produced by this breeder are microchipped, and they come with a health guarantee. Discuss spay or neuter requirements with the breeder before you place a deposit on your dog. 
Florida Cockapoos Details
5. Carolina Cockapoos
Carolina Cockapoos is located in North Carolina and are members of the American Cockapoo Club. They have experience keeping, caring for, and breeding small Toy and Teacup Cockapoos.
Carolina Cockapoos performs genetic testing on each of the parents, specifically for PRCD and PRA. These are both eye problems that are caused by gene mutations. They also test for patella luxation, another genetic problem that could be passed on to puppies.
This breeder has a health guarantee that lasts until the puppy is six months of age. This warranty covers life-threatening problems and inherited disorders. Puppies are vaccinated and dewormed before they're ready to be adopted. A deposit is required, and this is non-refundable. The necessary contact details are provided below to find out more details on the deposit and other information on this breeder.
Carolina Cockapoos Details
6. Barmor Puppies
Barmor Puppies breeds Teacup Cockapoos as well as Cocker Spaniels and Schnoodles. They have four decades of experience when it comes to breeding dogs. Their pricing is consistent, and they do not suddenly increase or decrease fees due to holidays or other events.
This breeder has a policy of checking the background of people wanting to purchase a puppy. This is in the dog's best interests, ensuring the animal does go to a decent home. There is a non-refundable deposit that's required if you do decide you want to buy one of Barmor's puppies. Talk to the breeder for notes on how you can train your puppy, including ideas about basic commands and crate training. This is useful information for potential Cockapoo owners.
Barmor Puppies Details
7. Oz Cockapoos
Last on the list of the best breeders with Cockapoo puppies for sale in the United States is Oz Cockapoos. They breed Mini Cockapoos and Teacup Cockapoos and they test the temperament of their puppies before selling.
Oz Cockapoos does ask for a deposit; this cannot be refunded but can be used towards a new litter if there is an issue and you cannot use it for a current litter. They give some tips and advice on their website on how to socialize the new puppy, and there are books you can refer to that are also listed here.
This breeder suggests that puppies be kept on vitamins and that all vaccinations be kept up to date to prevent illness. Contact Oz Cockapoos for more details using the information given below.
Oz Cockapoos Details
How to Choose a Teacup Cockapoo Breeder in the United States
Teacup Cockapoos are small dogs that are not as easy to find as the standard-sized Cockapoo. Nonetheless, there are breeders of miniature-sized and Teacup Cockapoos scattered across the United States. You can begin your search for a breeder by using the list of six breeders we have provided. Remember, though, that you need to investigate these and other dog breeders further.
Contacting breeders via a phone call or email is a good first step and can give you an idea of what the person is like and what dogs they have available or expect to have available. It would be best to look for reviews or recommendations by people online. However, this should not be the only criteria you use.
Do note any criticisms or negative feedback and reviews about breeders. Evaluate each breeder in terms of prices and what they offer. Note that they will almost always want a non-refundable deposit, which makes it even more important for you to do your homework before deciding on using a certain breeder.
It is best to find a breeder with teacup Cockapoos who is closer to you geographically. Most breeders won't want cargo ship puppies because of the risks, so you either have to arrange this yourself, see if they have a nanny service to accompany puppies or fly to an airport near the breeder to meet them. You may also be able to visit the breeder and collect the dog yourself. Teacup Cockapoos are very small and not very well-suited to air travel, so picking up your pup in person is best. 
Related: Cockapoo vs. Cavapoo.
Choosing Your Teacup Cockapoo Puppy in the USA
A Teacup Cockapoo is the smallest sized Cockapoo. There are some good reasons you may want to choose a Teacup Cockapoo over a standard. We have outlined these below:
Related: How Long Do Cockapoos Live?
More Information About Teacup Cockapoo Breeders in the United States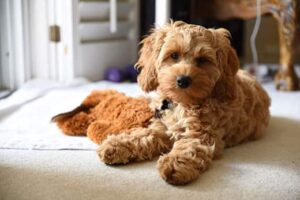 Reputable breeders of Teacup Cockapoos should be able to give you a lot of information on these dogs, from their size to their temperament and how to care for them. You should be suspicious if you speak to a breeder who can't answer your questions fully or who does not respond promptly when you email them.
Related: Cockapoo vs. Poodle.
Conclusion For "Teacup Cockapoo Puppies For Sale in the United States"
Teacup Cockapoos are desirable dogs to get as companions, but finding breeders can be tricky. We have given you the list of the top breeders with teacup Cockapoo puppies for sale in the United States. Besides using this list of Teacup Cockapoo breeders, you should also consider all of the tips we have given on choosing a breeder before you decide.
For more guides similar to this list of breeders with teacup Cockapoo puppies for sale in the United States, you can check out:
Before you bring home a teacup Cockapoo puppy from a breeder in the United States, you can learn more about this dog breed by watching "How to Train a Cockapoo" down below: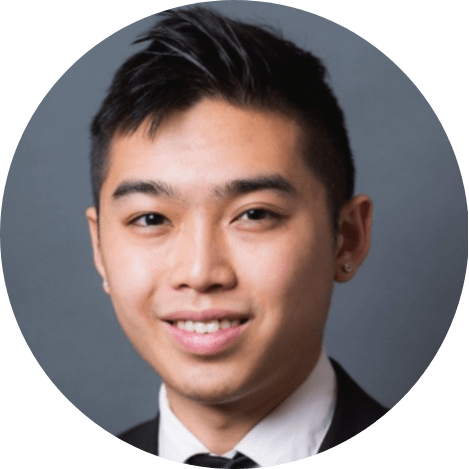 Andy is a full-time animal rescuer and owner of a toy doodle. When he's not saving dogs, Andy is one of our core writers and editors. He has been writing about dogs for over a decade. Andy joined our team because he believes that words are powerful tools that can change a dog's life for the better.
Why Trust We Love Doodles?
At We Love Doodles, we're a team of writers, veterinarians, and puppy trainers that love dogs. Our team of qualified experts researches and provides reliable information on a wide range of dog topics. Our reviews are based on customer feedback, hands-on testing, and in-depth analysis. We are fully transparent and honest to our community of dog owners and future owners.