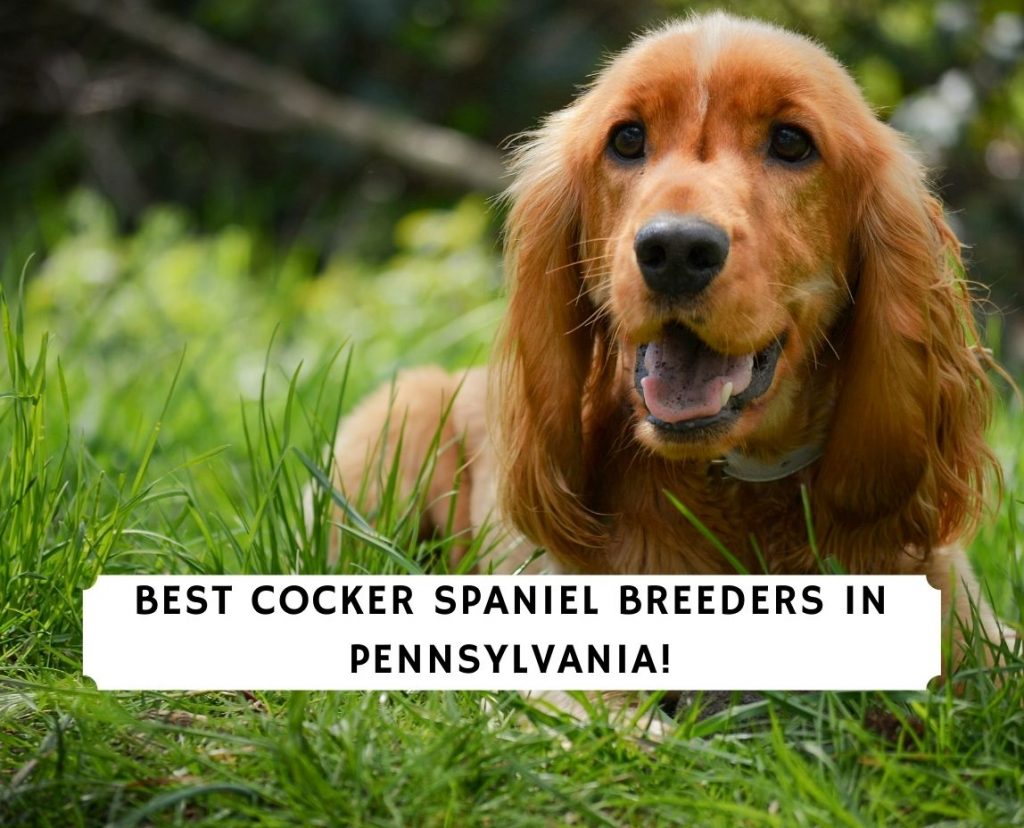 If you're browsing for the best Cocker Spaniel breeders in Pennsylvania, then you're in for a treat. The star of the movie Lady and the Tramp, Cocker Spaniels, are known for their beauty and elegance. The lady-like aura they have – is a fit for someone who can spend a great deal of time and energy on their grooming. They are not just beautiful on the outside, but they also have a loving and gentle personality. It's no surprise that there are tons of Cocker Spaniel puppies for sale in Pennsylvania.
Other articles you might like: Maltese Breeders in Pennsylvania and English Bulldog Breeders in Pennsylvania.
Cocker Spaniel Puppies For Sale in Pennsylvania
While Cocker Spaniel puppies are good with children and the elderly – they also make great therapy dogs. When buying or adopting a Cocker Spaniel, you must be very careful about who is breeding them. In general, you should not purchase a puppy from a backyard breeder, a puppy mill, or a pet store. They seldom care about the dog breed, their temperament, and they may have health issues. If you are in Pennsylvania and are looking for Cocker Spaniel puppies, here are some breeders whom you can check out.
1. Barrel Valley Cockers Pennsylvania
The first on the list of Cocker Spaniel breeders in Pennsylvania is Barrel Valley Cockers. Their story began thirty years ago when they were given a black Cocker, Scooby, by a good friend. She was not of show quality but was loved by them as their favorite pet. A while later, they bred her with a local black and tan Cocker Spaniel from top show lines and named it Kitty. A few fun puppy matches had them hooked on to showbiz. They breed puppies for shows as well as for loving homes. When they do not have Cocker Spaniel puppies for sale in Pennsylvania, they are more than willing to recommend other reputable breeders to you.
They make sure to place their Cocker Spaniel puppies in loving homes only. Any puppy which is of show quality is called as having 'show potential.' All of their pet quality puppies are sold with limited registration and spay/neuter contract. Their Cocker Spaniel puppies are placed with a contract mentioning expectations and guarantees. They do not ship puppies so you'll have to pick them up in Spring Church, Pennsylvania, or arrange a meeting location. They prefer to place them nearby as they can be available for any sort of help that the new dog owner would need.
Barrel Valley Cockers Details
2. Buttonwood Cockers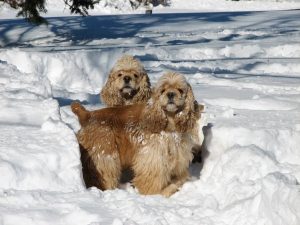 A breeder and handler of over 60 Breed Champions with multiple feathers under the hat, Catherine Carey has had Cocker Spaniels for over 50+ years. Her dedication to the breed displays in her efforts in breeding, socializing, showing, and raising a happy set of healthy Cockers. All of her champions are health tested, including hereditary eye diseases yearly, and at the right age, they are also tested and certified free of hip dysplasia.
Being a Life Member of the American Spaniel Club for 30+ years, her dogs have won many awards, having also bred and owned the #2 Ascob Cocker Will. She has also made her presence known internationally – from judging various puppy sweepstakes assignments in the U.S. to judging Cocker Specialties in Sweden and Finland.
Buttonwood Cockers Details
3. Dawson Family Cockers
As an inspected State Licensed kennel and AKC licensed kennel, Dawson Family Cockers are located in State College, which is cradled in the stunning mountains of Central Pennsylvania. They raise some of the sweetest and healthy Champion line Cocker puppies and consider them very much a part of their family. They consider the Cocker Spaniel as one of the most loving and devout dogs for a family. All the visits they have made in the local rehab, senior citizen homes, schools, and camps make owning a Cocker Spaniel worth it. Cocker Spaniels enjoy everybody's company, and their enjoyment has been reciprocated as well.
Cockers are great family dogs, and the breeder has a personal commitment to them being so good with their kids. They have been meticulous when it comes to breeding from the best of champion lines. It is to maintain the health, beauty, temperament, and overall standard of the breed. As careful puppy owners choose the right breeder, these Cocker Spaniel breeders in Pennsylvania are similarly careful about choosing the right homes for their puppies.
This shows how dedicated they have been to raising their puppies. They ask potential buyers answers to their FAQ page to see if interested families are prepared to take a cocker home.
Dawson Family Cockers Details
4. Cocoa's Cockers Pennsylvania
Similar to the warmth of hot cocoa, they offer Cocker Spaniel puppies that would hug your soul. Cocoa's Cockers are small hobby breeders nestled in the beautiful Pocono Mountains region of Pennsylvania. They are devoted to this breed and take great pride in breeding and raising quality Ascob (brown and buff), Black Cocker Spaniels, and Parti  Cocker Spaniels for pet, show, and performance homes. They are active in showing their dogs and are members of the American Spaniel Club, the Keystone Cocker Spaniel Club, and the Lackawanna KC.
They breed their dogs for bettering the breed which includes their beauty, health, intelligence, and brilliant temperament. Whether plopped onto your lap or adorning a show ring with their royalty, they make wonderful companions pets. All their adult Cocker Spaniels in Pennsylvania have a current CERF and are OFA'D. They are selectively bred to bring out the best qualities in their litters. Additionally, they come with written health and temperament guarantees. They raise their dogs and puppies in their home with their children and pets, and they have never been kennelled. They're all socialized before being placed in their new homes.
Cocoa's Cockers Details
5. Martin's Double E Kennel, LL
The last on the list of Cocker Spaniel breeders in Pennsylvania is Martin's Double E Kennel. They breed ACA-registered Cocker Spaniel puppies for sale, which are available for adoption in loving and caring homes. They also offer mixed breed puppies for sale. Being a state-licensed commercial kennel, their facility is temperature-controlled with heat and air conditioning throughout. They have monthly on-site vet inspections so every puppy is veterinarian checked before adoption. Adult dogs enjoy routine checkups and vaccinations.
They consult a local and certified AAHA (American Animal Hospital Association) vet hospital. It is for ensuring the health of their dogs. Their purebred Cocker Spaniel puppies in Pennsylvania are registered with ACA. Many puppies include an optional AKC registration as well. The kennel has many dog breeds and mixed breeds, including Bichon Frise, Dachshund, Havanese, Shih Tzu, and Scottish Terrier. They guarantee their quality by declaring the Puppy Lemon Law. Their website includes many different sections that provide information about their puppies.
Martin's Double E Kennel, LLC Details
Fun Facts About Cocker Spaniel Puppies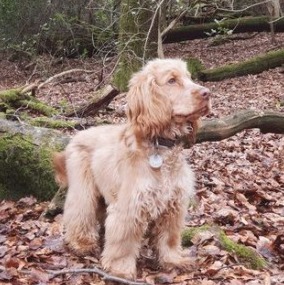 Their long droopy ears and affection-filled eyes could have anybody falling in love with them. Here is some fun trivia about Cocker Spaniels:
Cocker Spaniels arrived in America on the Mayflower. Records show that they were two dog passengers on the Mayflower, which reached New England in 1620.
The Cocker Spaniel is the smallest in the AKC Sporting Group.
They were originally bred to hunt birds and had special skills in hunting the woodcock bird. That's how they got their name 'cocker.'
Scientists state that dogs can detect cancerous samples by scent, though they do not know what exactly the dogs are smelling. In a study, a Cocker Spaniel named Tangle performed successfully in detecting cancer.  He did it with a 56% accuracy. Researchers worked with Tangle, improving the rate to 80%.
Checkers may be the most famous First Dog to President Nixon, who mentioned him in an hour-long newscast, which came to be called "the Checkers speech." Other famous personalities like Oprah Winfrey, George Clooney, and British Royals Will and Kate are also proud parents to cockers.
In general, Cocker Spaniel puppies are known for their gentle demeanor, smartness, and happy attitude. With a height of around 15 inches, they make a great apartment pet and are happy to run around the backyard of a large house.
They are the smallest member of the AKC Sporting Group and the apple-of-the-eye for many American pet owners. It is no surprise that they were chosen as the main lead of the movie Lady and the Tramp. The Cocker Spaniel remains one of the top fifteen registered breeds according to the AKC. It is not a surprise that this breed is a pleasure to have for its merry and sound temperament. Cocker Spaniel puppies also have a beautiful shiny coat. Just like its coat, they are loving and do their best to spread happiness in their family.
Conclusion For Cocker Spaniel Breeders in Pennsylvania
One piece of advice if you're planning to purchase from unknown Cocker Spaniel breeders in Pennsylvania is that you should do your research before making any financial decisions. There are many Cocker Spaniel puppy mills out there that breed dogs unethically. Hopefully, this guide will help you bring home a beloved Cocker Spaniel companion!
If traveling to these Cocker Spaniel breeders in Pennsylvania is a distance, you can check out our recommendations from other states:
To learn more about the Cocker Spaniel dog breed, we recommend you watching "Cocker Spaniel – Dog Breed Information" by Dog World down below:
Garrett loves animals and is a huge advocate for all Doodle dog breeds. He owns his own Goldendoodle named Kona. In addition, he volunteers at the Humane Society of Silicon Valley, where he fosters dogs and helps animals. Garrett enjoys writing about Doodles and believes that dogs can teach humans more about how to live than humans can teach a dog.
Why Trust We Love Doodles?
At We Love Doodles, we're a team of writers, veterinarians, and puppy trainers that love dogs. Our team of qualified experts researches and provides reliable information on a wide range of dog topics. Our reviews are based on customer feedback, hands-on testing, and in-depth analysis. We are fully transparent and honest to our community of dog owners and future owners.