Searching for the best Maltese breeders in Pennsylvania can be tough for many new potential dog owners. Fortunately, this guide will save you time and help your narrow down some options. The Maltese are some of the most famous small dogs with extremely mild temperaments. You find tons of Maltese puppies for sale in Pennsylvania, but you'll want to purchase from a reputable breeder.
Check out these other breeders in Pennsylvania: Cavapoo Breeders in Pennsylvania and Poodle Breeders in Pennsylvania.
Maltese Puppies For Sale in Pennsylvania
With the right training at an early age, you will have a lifelong companionship with a Maltese dog. It's important to purchase a Maltese puppy from a reputable breeder who cares about the health of their puppies. In addition, good breeders will socialize their dogs from an early age and prevent hereditary diseases. To save you time, here's your list of the best Maltese breeders in Pennsylvania. Remember to do your own research and find someone who you can trust!
1. Josymir Maltese Pennsylvania
The first on the list of Maltese breeders in Pennsylvania is Josymir Maltese. Josymir Maltese started in western Pennsylvania in 1994 when they purchased their first Maltese and named him Gucci. The dog royally stole their hearts, and since then, they have been devoted to the Maltese breed. They breed on a small scale and focus on quality puppies rather than quantity. Josymir Maltese breeders produce clever, healthy, and beautiful Maltese puppies that love to play outdoors. Additionally, their puppies are lively and meet the AKC standard.
They only introduce healthy dogs with good temperaments and ones that represent the purebred standard. The outcome is impressive pedigrees coming from American and International Maltese champions and Top Champion producers. They take great pride in the quality of their breeds, producing champions and winners. They also sell puppies to family homes and not just show Maltese puppies. Whether you want a show dog or a family companion, they make sure to get you the best puppy possible. Their website has a host of information that could help you know more about choosing the right breeder, and they also sell accessories for your Maltese puppy.
Josymir Maltese Details
2. Stone Ridge Maltese PA
Stone Ridge Maltese breeders have been Maltese Show breeders since 2006. They have their dogs living in the comfort of their home on the Northwest side of Pennsylvania in Pittsburgh. The breeders sell puppies that are affectionate, properly trained, and healthy. They devote themselves to constant research and improvement of the Maltese dog breed. Under the guidance of leading experts, they strive to preserve and improve the breed.
Showing their Maltese is a family hobby for them. They aim to preserve the breed and raise them as beautiful and healthy dogs. It is their goal to produce well-bred Maltese puppies for sale in Pennsylvania that are strictly offered only as companion pets. They are not for any other breeders and come with a spay and neuter contract.
Their Maltese puppies in Pennsylvania conform to the AKC standards. They have placed their Champion Maltese puppies on a global scale and have several happy customers. The hobby breeders produce a few litters per year and are very careful about where they place them and whether the family loves their puppy. They prefer meeting you in person before handing over their puppy to you.
Stone Ridge Maltese Details
3. AA Ridgewood Kennels II
What started as a hobby, with two Poodles in the back of their childhood home, has turned into a fun hobby, a side-line, and a full kennel and store. With 50 years of dog breeding experience, AA Ridgewood Kennels II was a family-run business, currently partnered with brilliant 5-star breeders and two stores. They specialize in small dog breeds to avoid health problems and have multiple licenses to back them up – registered with The American Canine Association (ACA) and have USDA approval. Their partner Kennels are State Licensed and Inspected, and they have achieved the status of Five Star Kennel, awarded by the ACA.
Their Maltese puppies in Pennsylvania come with all seven immunizations complete, two dewormings, and a written lifetime warranty. Being a second-generation business, these breeders are highly qualified and experienced. Their website has a lot of information that would be useful to you, and they even have an app for you to download! But it is best to visit for yourself to see how your future puppy has been bred.
AA Ridgewood Kennels II, LLC Details
4. The Happy Woofer Maltese
Having been owners of a fine establishment for 60 years, the Sponaugles sit on a 25-acre farm and include many other animals like goats, chickens, ponies, kittles, donkeys, and their macaws. Since they have been in the pet industry for this long, they have enough knowledge to raise your Maltese puppy and provide them with love. They aren't located in the state of Pennsylvania but are close by in Delaware.
The large farmland allows the animals and the owners to enjoy the property thoroughly. Upon your visit, you can see for yourself the clean and healthy environment in which your next little Maltese puppy has been raised. The love that they shower the puppies with is reflected once you take them home. They also have a boarding facility that is well-heated and air-conditioned. They have a well-integrated website, with all relevant topics covered. While finalizing your breeder, do go through this helpful website here.
The Happy Woofer Details
5. Petite Pups Kennel Pennsylvania
The last on the list of Maltese breeders in Pennsylvania is Petite Pups Kennel. A small breeder located in Loganton, Pennsylvania, Petite Pups Kennel, keeps puppies of various breeds. They raise beautiful Yorkie and Maltese puppies. Their puppies are in excellent health, are well socialized, and pre-spoiled. Their Maltese pups come with AKC and ACA certifications. They are vet-checked with current vaccinations. Your Maltese puppy will come home with a one-year guarantee.
The best way to find out about the breeder is by giving them a call or visiting them. They do not have a website yet, but that does not make them any less credible. They do have a Facebook presence with pictures of all their puppies.
Petite Pups Kennel Details
More Information About Maltese Puppies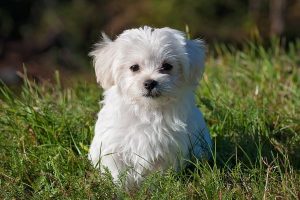 Here's a little something that you should know about the Maltese dog breed before you purchase one. Contrary to popular belief, the name has no connection with the famous, most-loved, yummy chocolate Maltesers. Nor are they related to Gandalf – even though they look very similar.
Maltese puppies are believed to have originated in Malta, a small island nation south of Sicily, Italy. Donning the look of a high-born, the Maltese has been a favorite of many royalties, including Elizabeth I and Mary Queen of Scots. The showstopper to many dog shows, this toy dog breed is known for its beautiful long, silky, and white hair falling over like a cascade. Beneath their fur is an energetic, lovable, and cuddly living puppy.
The Maltese are known to have been around for thousands of years. They are one of the oldest toy breeds from Europe, and you will also see them drawn in various Egyptian images. They are nicknamed 'The Comforter,' as they were known to cure people in sickness by laying on the sick's pillow. But, today, they are still used as therapy dogs.
These short cute adorable dogs have a slightly rounded skull, small black nose, drop ears, and dark, alert eyes that will melt your heart. Despite their delicate, noble appearance, the Maltese are full of energy and require a daily walk of at least 30 minutes. They train well with rewards and reinforcements. However, they could get attached very soon and suffer from separation anxiety if left alone for long hours. Their protective nature often makes them aggressive if their place in the family feels affected.
Related: Best Dog Toys For Separation Anxiety
Conclusion For Maltese Breeders in Pennsylvania
It is crucial to keep in mind that the breeder is vital to the kind of puppy you adopt. Knowing the right questions to ask, checking the hygiene of the environment that your future puppy has been raised in, and the regular health check-ups that your breeder has done – all ensure that you have a happy and healthy puppy coming home with you. Do not be in a hurry to adopt a puppy without finding out its history because one small momentary impulse could result in a lifetime of sadness and regret. Before you go looking for the right breeder for you, keep these things in mind.
You should see the breeder face-to-face because it brings a lot of information to light. Observe both the dog and the breeder. The cleanliness of their home or kennel, any odor, the breeder's genuine passion for the dogs, how well they are fed, how the dogs are with the breeder, how the dogs interact with strangers. These things are best understood in person.
Adopting a puppy forms a lasting relationship with their breeder too. No matter how silly you think, your questions are – ask. You can also see how the breeder responds to your questions. Are they patient with you? Are they explaining things clearly? Breeders wish to see their dogs into a happy, loving, future home, having put so much effort into raising them. So, they would be happy to share all their knowledge with you.
Seeing your dog's parents helps you determine their nature, friendliness, looks, and size. There's no better way to predict that! Responsible breeders will readily provide you with all the health certificates like OFA and CERF. They would also discuss any possible health conditions with that specific breed, so you're prepared.
You cannot meet a breeder and buy a puppy in one visit. Puppies require at least 2-3 months of maturation – this gives them time to mature and socialize with their mother and siblings. The transition is important as well as crucial to the health of your puppy. Meanwhile, puppy-proof your home so that you're ready when they come to you!
For better comparisons, check out:
To learn more about the Maltese dog breed, watch "The Maltese Dog – Character, Care, and Health" from AnimalWised down below:
Garrett loves animals and is a huge advocate for all Doodle dog breeds. He owns his own Goldendoodle named Kona. In addition, he volunteers at the Humane Society of Silicon Valley, where he fosters dogs and helps animals. Garrett enjoys writing about Doodles and believes that dogs can teach humans more about how to live than humans can teach a dog.
Why Trust We Love Doodles?
At We Love Doodles, we're a team of writers, veterinarians, and puppy trainers that love dogs. Our team of qualified experts researches and provides reliable information on a wide range of dog topics. Our reviews are based on customer feedback, hands-on testing, and in-depth analysis. We are fully transparent and honest to our community of dog owners and future owners.