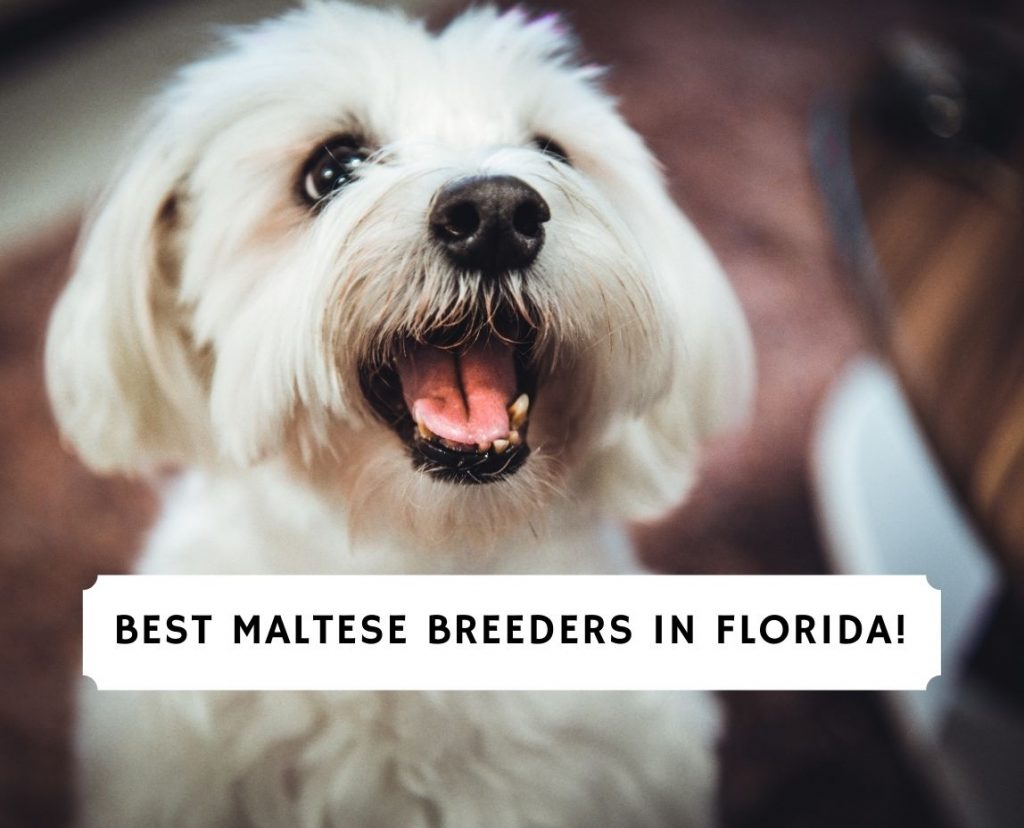 Finding reputable Maltese breeders in Florida can be difficult for many people because they're high in demand for many reasons. This small toy dog breed has a very easygoing temperament and sheds very little hair. Thus, they are a perfect family dog, especially those with children. Due to their popularity, you'll see tons of Maltese puppies for sale in Florida.
However, you need to select a reputable breeder to ensure that your puppy is healthy and will live a long life. Reputable Maltese breeders are the ones that health test and care for your potential puppy for the first 8 weeks of their life. 
Maltese Puppies For Sale in Florida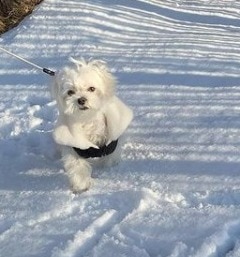 We made our own list of Maltese breeders in Florida. We did our own independent research to try and identify breeders that you can get in contact with. Our list should help you narrow down your choice of breeders, but we always recommend that you visit each breeder and ask them lots of questions before putting down a deposit on a puppy.
1. Poos 4 U Florida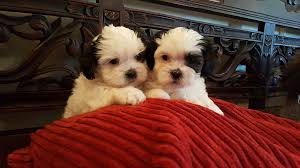 Poos 4 U is a breeder of Maltese, Shih Tzu, Malti Tzu, and other dog breeds. They are located in Panama City, Florida. A customer wanting to hold a Maltese puppy has to put in a non-refundable deposit of $300 for any puppy priced up to $1,000. Anything more than that will need a non-refundable deposit of $500. Once the puppy is ready to be delivered, the customer has to make the remaining payment.
These breeders not only breed dogs but also have grooming services for them. You can schedule an appointment to get a dog grooming service. They have 15 years of grooming experience, and dogs are handled amicably. Grooming includes nail trimming, bath, and drying, ear cleaning, flea treatment, teeth cleaning, etc. After the bath, they are blow-dried, and the coat is reshaped or trimmed. Their Maltese are not caged and are handheld. Grooming generally takes a maximum of two hours, depending on the services requested. They also offer to pick up and drop facilities if needed.
Poos 4 U uses high-quality products for pet grooming to make sure that there are good results and the pets do not show any allergies post-treatment. Other than that, they have useful tips on their website that help keep the pets in the best health. The products and Remedies section offers useful home remedies for minor health issues.
Poos 4 U Details
2. Exquisite Pups Florida
Exquisite Pups is located in Winter Haven, Florida. They have over 25 years of breeding experience. This family-owned breeding center breeds Yorkies and Maltese puppies. They also breed a combination of the two, known as Morkies! They have small toy-sized puppies, which are ideal for families with small kids. They raise all their puppies in their own home. Additionally, they treat the Maltese puppies with lots of love and attention. The puppies are well-socialized with children, adults, and other pets. They are also all checked by top-quality vets.
Exquisite Pups are open to visitors at any time. You can set up an appointment to see their Maltese puppies for sale in Florida and even their parents. The breeders also share pictures and information if you are not local. At Exquisite Pups, the Maltese puppies come with a health guarantee. They are vaccinated by vets and will have no communicable diseases at the time of delivery. There is a one-year life-threatening genetic health guarantee. However, there are certain measures that the new owner also has to take. Details of the health guarantee are available on the Exquisite Pups website.
Exquisite Pups Details
3. Tatortot Pups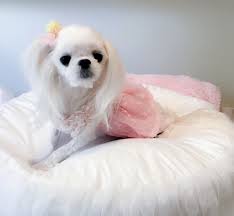 Tatortot is located in Sarasota, Florida. These hobby breeders sell only to pet owners. They have over 20 years of experience in breeding Maltese dogs with a Korean lineage. They breed dogs with a celebrity look, with the health and temperament to match. They assure the utmost professional and ethical treatment of their clients. The  Maltese puppies leave for their new homes post 12 weeks old. Tatortot suggests not to over-vaccinate the puppies, as this generally leads to other health issues and a short life span. They also suggest visiting a veterinarian that is experienced in handling the Maltese breed because these dogs require a different level of care.
Their Maltese puppies in Florida are CKC-registered with a pedigree of 3 generations. Prices for their Malese puppies start at $2,500 and go all the way to $8,500 for different puppies. An additional cost of $500 applies for CKC papers. There is a deposit of $1,000 for males and $1,500 for female puppies. The customer has to make a 50% payment at the sixth week after birth. Additionally, the remaining payment can be made when the puppies are picked up by the owners. Pet finance is also available through Rocket Loans. 
Tatortot Pups Details
4. Toy Puppies FL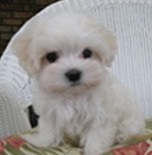 Toy Puppies is located in Fort Lauderdale, Florida. This is owned by Myra, who is into the breeding and exhibition of high-quality toy-dog puppies. All the puppies are bred as per standards for the breed. Additionally, they are all tested for their temperament, registered, and are non-shedding, making them ideal home companions. Myra has been breeding and training puppies for over 20 years. The Maltese puppies are raised in the house, so are used to human presence. Puppies are paper-trained, given first shots at six weeks, and get more shots until they are 10–12 weeks old.
Their Maltese puppies in Florida are shipped all over the United States, as well as Puerto Rico and South America. Health certificates and custom paperwork can be provided where required. Customers will have to call for information on availability and pricing.
Toy Puppies Details
5. Wee Puppy Paws Florida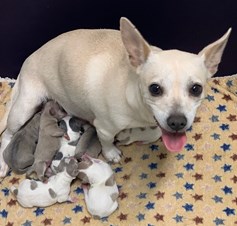 Wee Puppy Paws is located in Homestead, Florida. It is home to many healthy and happy puppies of such breeds as the Yorkie, Maltese, Chihuahua, and Maltipoo. This breeder's rural setting includes two ponds, a beach, and a tiki-hut for the puppies to enjoy. With so much room to play, the Maltese puppies develop a happy temperament. Wee Puppy Paws has been breeding puppies since 2006. Its dogs' vaccinations are up-to-date and the customers get documents about how to care for their puppies.
Wee Puppy Paws Rescue is a non-profit rescue organization. It has a newly built air-conditioned building where the rescued dogs live. They get toys, beds, and an outdoor play area. They have shade to run around and also a pond area. Wee Puppy Paws is open seven days a week. Customers can contact them directly for more info about pricing and availability.
Wee Puppy Paws Details
6. Heavenly Puppies FL
Heavenly Puppies is located in Boca Raton, Florida. The family-owned puppy boutique not only has puppies for sale, but also accessories like dog beds, blankets, collars, leashes, and more. This Maltese breeder wants to make sure that the puppies are going to a place suited for them. They also offer advice and products related to nutrition, accessories, and services that will help keep your new puppy in its best shape. Heavenly Puppies has a long list of questions that all customers have to answer before they can qualify to purchase a puppy. The questions relate to other pets in the house, the new environment, children, work timings, and so on.
They have, among other breeds, Maltese dogs that you can take home with you. Dog grooming services are offered at the boutique. Services include bubble baths using natural soaps and shampoos, brush and blow-drying, anal cavity cleaning, and toys. Other services include nails and hair trimming, paw-pads polish, basic teeth cleaning, facial, flea treatment, and more.
Heavenly Puppies Details
7. TLC Puppy Love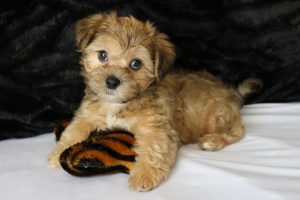 TLC Puppy Love is located in Jacksonville, Florida. The breeders are specialists in breeding small, hypoallergenic breeds that are hand-raised in their own homes. The puppies are smart and are used to human contact. It is owned by Stacy Collins, who breeds her dogs in a very loving environment. She started with breeding Chow Chows in 1982. She calls herself a "mid-woof" who helps her dogs deliver their puppies, provides pre-and post-delivery care for the new dog mothers, and takes care of their diet.
She potty-trains the Maltese puppies, cleans their playpens, toys, beds, etc. Thus, there is a well-trained puppy that goes to the new owner's home. There are Maltese, Havanese, Miki, Poodles, and other breeds of dogs available at TLC Puppy Love. Their Maltese puppies for sale in Florida are available at $2,000 each and can be booked with a non-refundable deposit of $200. Payments can be made using a card or via PayPal. All puppies are vaccinated and vet-checked until the time they are eight weeks old and ready to go to their new owners.
TLC Puppy Love Details
More Information About Maltese Puppies in Florida
The Maltese dog is a native to Europe. It falls under the "toy dog" category because of its small size. Contrary to what its name might suggest, the Maltese have no affiliation with the island country, Malta.
The Maltese dog was beloved among women and children in ancient Greece and Rome – they are even mentioned in their literature! This dog has long hair, a compact body, a rounded skull, a black stubby nose, and a curled tail. It is mostly found in white color. They generally do not shed their coat, so it does not cause dog allergies.
Tear stains are pronounced and easily noticeable due to their white coat. These could sometimes be an indicator of an underlying condition. They weigh between 1.5kg to 4.5kgs. The Maltese dog is generally kept by those looking for a cute companion, or as a fashion accessory. Some owners trim the fur, this gives the pup a different appearance. The Maltese tend to bark continuously over small changes in their surroundings.
Conclusion For The Best Maltese Breeders in Florida
These are some of the reputable Maltese dog breeders in Florida. You can call your nearest breeding center and bring home a cute Maltese dog with you soon – that is, if you're a suitable owner, of course. We hope you enjoyed our list and were able to help you identify a breeder for your Maltese puppy in Florida!
We recommend checking out other similar dog breeds in the same state:
To learn more about the Maltese dog breed, check out this video down below:
Garrett loves animals and is a huge advocate for all Doodle dog breeds. He owns his own Goldendoodle named Kona. In addition, he volunteers at the Humane Society of Silicon Valley, where he fosters dogs and helps animals. Garrett enjoys writing about Doodles and believes that dogs can teach humans more about how to live than humans can teach a dog.
Why Trust We Love Doodles?
At We Love Doodles, we're a team of writers, veterinarians, and puppy trainers that love dogs. Our team of qualified experts researches and provides reliable information on a wide range of dog topics. Our reviews are based on customer feedback, hands-on testing, and in-depth analysis. We are fully transparent and honest to our community of dog owners and future owners.