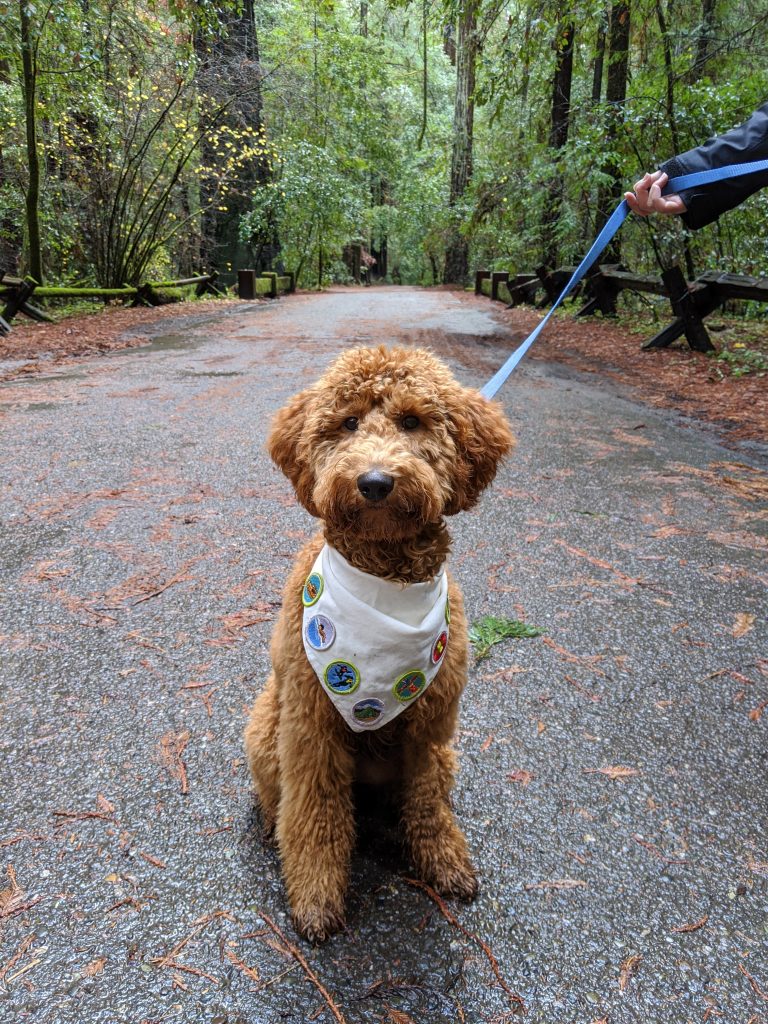 Labradoodle allergies are extremely common and it's likely your dog will experience some sort of allergies every year. Do you notice signs of your dog like itching, diarrhea, hives, or inflamed skin? These could all be signs that your Labradoodle has allergies. Allergies occur when a dog reacts to substances in their environment that are harmless to most other dogs. This is caused when the immune system works too hard. Essentially a dogs body is attacking these harmless substances which releases histamines. This causes swelling, inflammation, and redness of the skin which causes your dog to itch and react.
Below is our list of the Top 3 Labradoodle allergies and you can help treat and prevent them.
Labradoodle Skin Allergies
Skin allergies are by far the most common dog allergy to detect, but are sometimes the most ambiguous to diagnose. Skin Labradoodle allergies are also called allergic dermatitis and caused by three main factors: flea allergies, food allergies, and environmental allergies. These are the most common types of allergies in Labradoodles.
Labradoodle dog allergies should be taken seriously as dogs, like humans, can go into anaphylactic shock which can be fatal if not treated properly. Luckily, this is rare in dogs, but consult your vet for an antihistamine if you notice any type of swelling to your dogs face, throat, lips or eyelids.
1. Labradoodle Flea Allergies
Since Labradoodles have lots of hair, they attract all sorts of dirt and bugs off the ground which contains fleas. Flea bites are extremely hard to detect ahead of time, and an owner typically only notices fleas when the dog starts itching. Flea allergies are an allergic reaction to a flea bite, specifically the flea saliva. When a flea bites your Labradoodle, it injects its saliva inside your dog which could severely irritate your dog and cause an allergic reaction.
An allergic reaction to a flea bite will cause intense itching that lasts significantly longer than a normal flea bite. Symptoms include a rash, raw and exposed skin, raised bumps, and bleeding that could last longer than 2 weeks. Typical flea bite hotspots are on your dog's legs, stomach, and tail areas so keep an eye on these areas.
2. Labradoodle Food Allergies
Have you recently changed food for your Labradoodle? Has your Labradoodle eaten any food that it wasn't supposed too? Food allergies are extremely common when switching from puppy food to adult food or introducing a new type of food to your dog. Changing your Labradoodles food causes food sensitivities and intolerance. Typical food allergies include ingredients like beef, lamb, chicken, eggs, corn, wheat, and milk.
Labradoodle food allergies cannot only cause irritated and itchy skin, but it can also cause gastrointestinal issues such as diarrhea and vomiting. In addition, your Labradoodle may develop several symptoms like ear infections, poor or smelly skin coat, and foot infections. Typical areas of irritation on your Labradoodle will be the ears, mouth, and paws. Monitor for not only itching but also constant biting.
You'll want to put your Labradoodle on a bland diet (i.e. chicken breast and rice) until the itching and biting subsides. Then you'll want to either put your dog on an older food formula that they are comfortable with or expose your dog to different food one at a time so you can easily figure out what they are allergic too.
3. Labradoodle Environmental Allergies
Like humans, dogs can also be allergic to their surrounding environment. Things like dust, mold, and even pollen can cause topical skin allergies in your dog. Typically, environmental Labradoodle allergies are seasonal and only occur during certain times of the year (i.e. when pollen releases or dry skin in the winter causes additional itching). Also, check to make sure that your Labradoodle isn't coming in contact with plants they may be allergic too.
Environmental allergies are very common if you keep your Labradoodle outdoors or take them to new and interesting places outside. Some symptoms of environmental allergies are a dog sneezing, red eyes, or discharge from one eye.
Treating Dog Allergies
If you notice allergy symptoms than you should take your Labradoodle to the veterinarian because all allergies pose a risk of infection from continuous itching and biting. Chances are that your vet will change your dogs flea medication and tell you limit your dogs exposure to the outside environment. Common medications could include new flea medication and spot-treatment flea medication. You'll also want to clean all carpeted areas to prevent fleas from spreading. In addition, your vet may recommend topical, oral, or injected relief for your Labradoodle to decrease inflammation and itchiness. These types of remedies would be similar to Benedryl. If there is exposed skin than your vet may also prescribe an antibiotic to prevent infection.
Self treatment for Labradoodle dog allergies:
Change your shampoo to an oatmeal based shampoo
Try feeling your dog coconut to make their skin less dry and more oily — max 1 tablespoon per 10 lbs!
Conclusion
Allergies are common within all types of dogs, but especially Labradoodles since their hair attracts all types of dirt, pollen, and dust. The three most common types of allergies are flea allergies, food allergies, and environmental allergies. If you notice your dog itching for more than a few days, it's best to take them to a veterinarian to get checked out.
Check out these other interesting articles: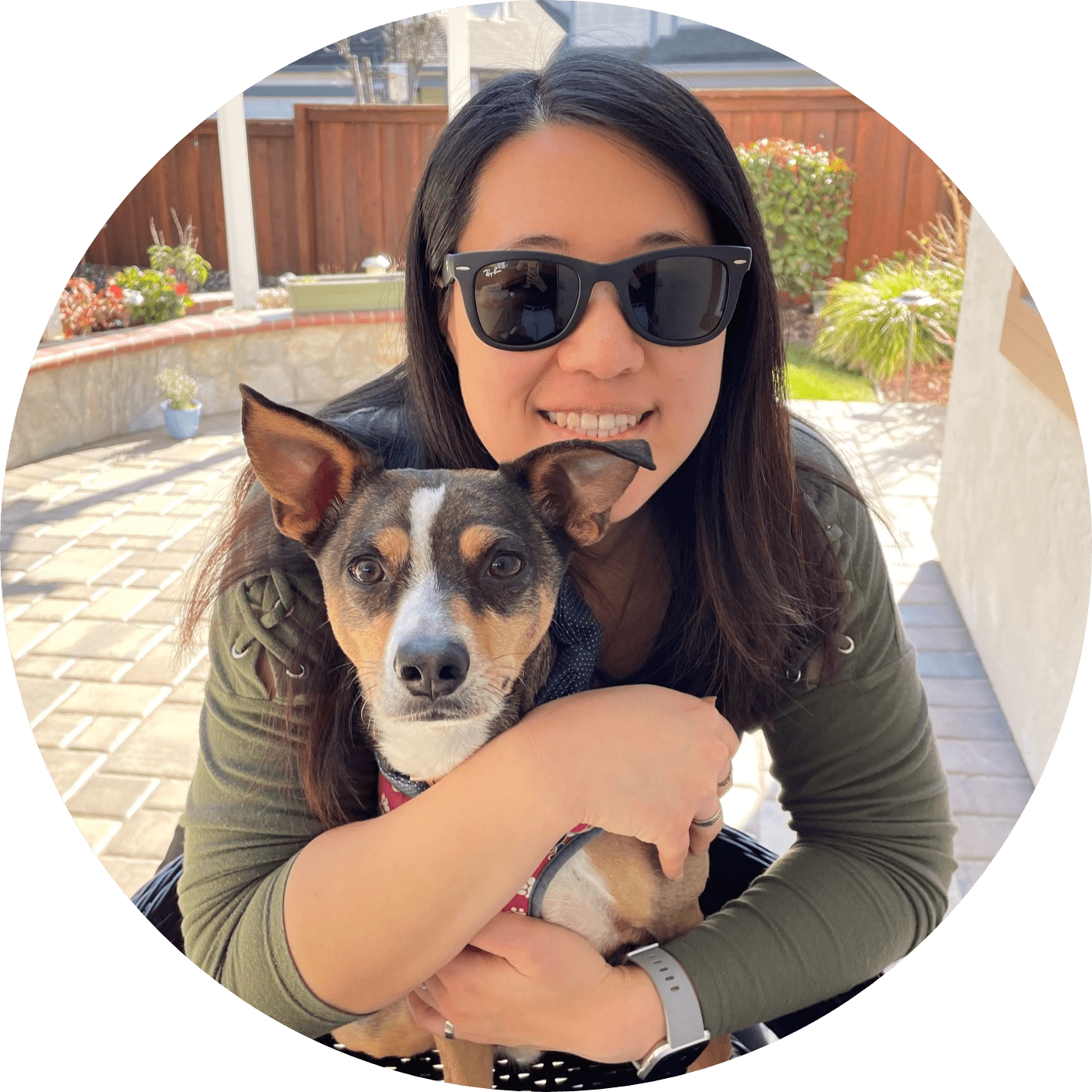 Dr. Sabrina Kong graduated from the Royal Veterinary College in England in 2016 and has been working at a small animal clinic in Northern California since then. She grew up in the Bay Area and got her bachelor's degree from Cal Poly San Luis Obispo. She also became a Certified Canine Rehabilitation Practitioner through a program at the University of Tennessee.
When she isn't in the clinic taking care of her four-legged patients, she enjoys traveling and trying new foods with her friends and her three-legged dog, Apollo. She adopted Apollo from her clinic when he was a puppy with numerous health issues. Dr. Kong truly cares about taking care of animals.