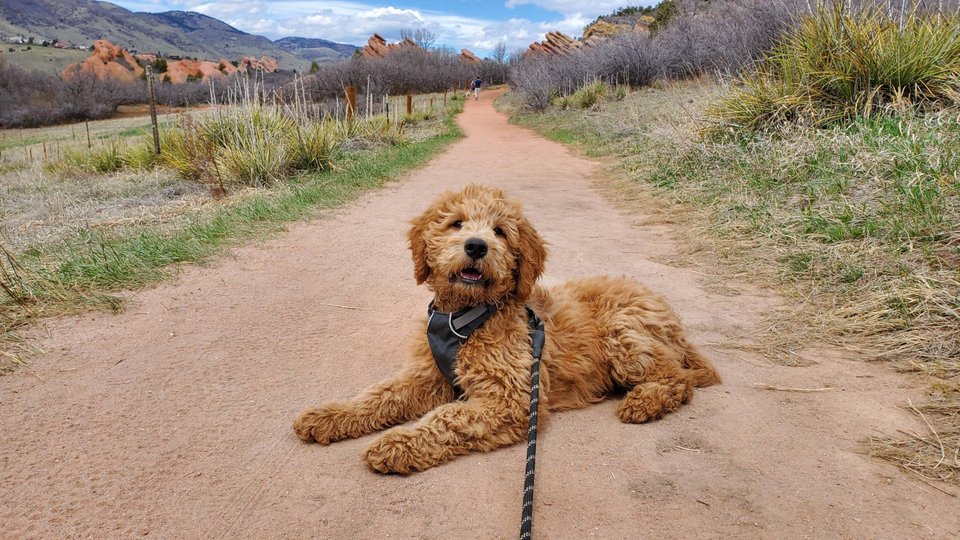 Introduction to the English Goldendoodle:
The English Goldendoodle AKA Goldendoodle, also known as the hypoallergenic golden retriever resembles a brown cuddly teddy bear and is becoming one of America's most popular dog breeds due to their hypoallergenic attributes. The English Goldendoodle is a mix-breed between a Standard Poodle and an English Golden Retriever. They are are extremely loyal, fun-loving, and obedient dogs. Due to the Goldendoodles tolerant attitudes, they make extremely fabulous family pets and potential working dogs.
If you've been considering adding a dog to the family, then you've probably already looked at Goldendoodles, or at least you should be. Read more about this nonshedding and hypoallergenic golden retriever below.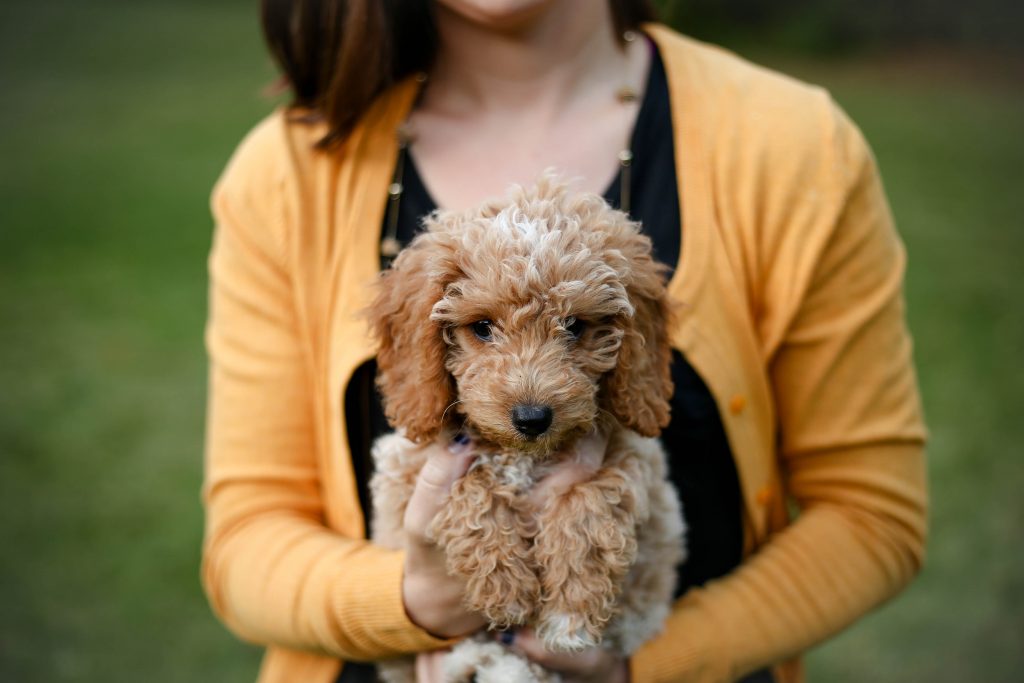 Characteristics of a English Goldendoodle
WLD Breed Popularity: Rank 1 of 25
Breed: Standard Poodle & Golden Retreiver
Temperament: Friendly, Intelligent, and Devoted
Typical Standard Height (Approx.): 20 inches (male), 19 inches (female)
Typical Standard Weight (Approx.): 40-50 pounds (male), 35-45 pounds (female)
Life Expectancy: 10-13 years
Dog Category: Display / Sporting
At this time, the Goldendoodle is not officially recognized as a distinct breed by the American Kennel Club (AKC), the Canadian Kennel Club (CKC), the United Kennel Club (UKC) or other purebred dog registries. The Goldendoodle Association of North America (GANA) is the only organization creating and maintaining a reliable dog registry for the English Goldendoodle.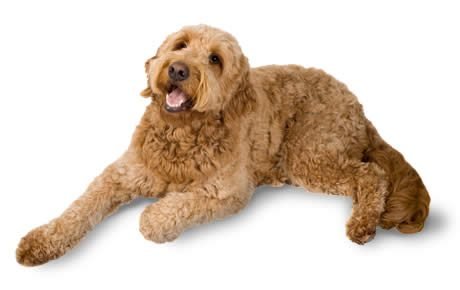 Origins
The concept of poodle mixed-breed dogs is relatively new and dates back to the late 1990's. The original poodle mix-breed dog was created by Wally Conron when he originated the term the Labradoodle, which is a mix between a Labrador Retriever and a Poodle. This breed was created for those who were visually impaired as well as suffered from dog allergies and needed a hypoallergenic pet. Shortly after, breeders decided to create fancier dogs by mixing the English Golden Retriever and Standard Poodle together to create the English Golden Doodle. The gentle, cheerful nature, and beautiful coat of the Golden Retriever mixed with the intelligence and hypoallergenic characteristics of the Poodle turned out to be a huge success. The English Goldendoodle is one of the most popular Poodle Hybrids in America today for good reasons!
Generation Information
For more detailed information, check out our post on The Best Goldendoodle Generations.
People commonly get confused by the generations of Goldendoodle. In general, a dog with more Poodle genes is going to be more nonshedding, hypoallergenic, and contain a curlier coat. On the other hand, a dog with more Golden Retriever genes is going to be more friendly, loving, energetic, and contain a straighter coat. The hypoallergenic golden retriever receives its genetic traits from the poodle. However, dog personality may differ quite significantly due to being a mixed-breed.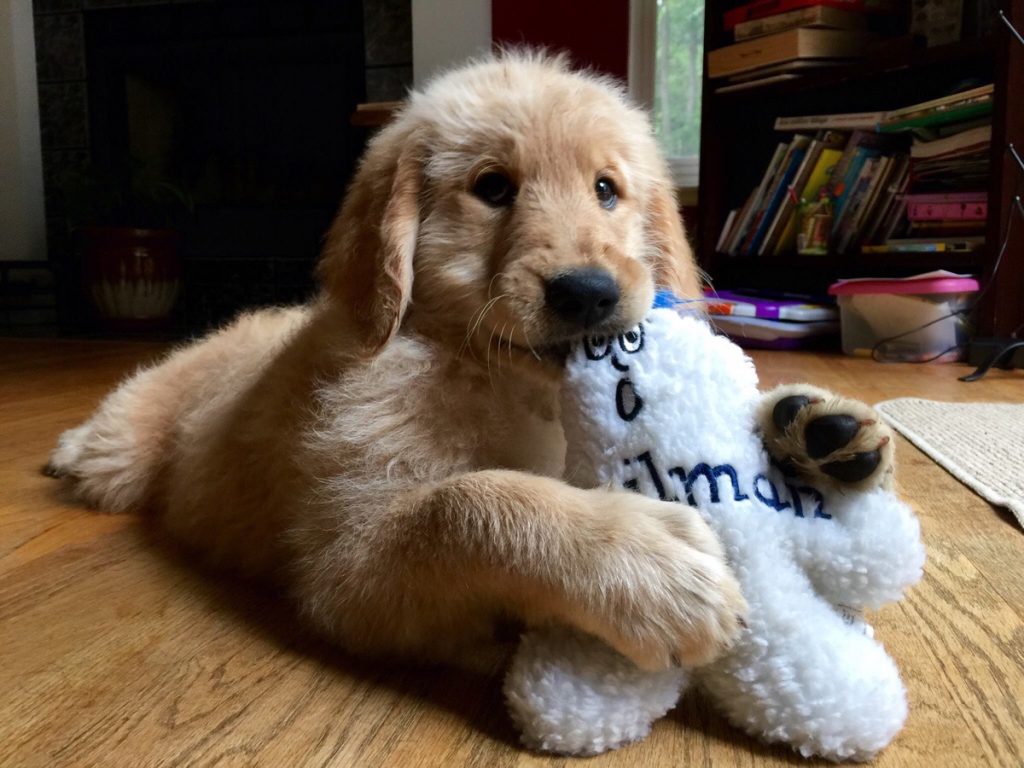 F1 Goldendoodle (50% Poodle, 50% Golden Retriever): First generation Goldendoodle (F1). This is a cross between a purebred Golden Retriever and a Standard Poodle. The result is a dog that is 50% Golden Retriever and 50% Poodle. F1 Goldendoodles gain the health benefits of being Hybrid Vigor, which means the first cross between two purebred dogs will be healthier than any parent purebred dog.
F1B Goldendoodle (75% Poodle, 25% Golden Retriever): This is a cross between a first generation Goldendoodle and one of the original purebred lines. Typically, a F1B Goldendoodle is a cross between a F1 Goldendoodle and a Standard Poodle as breeders prefer a nonshedding and hypoallergenic dog coat. The result of an F1B Goldendoodle is typically 75% Poodle and 25% Golden Retriever. This generation is typically referred to as the Hypoallergenic Golden Retriever. Alternatively, and less likely, is a mix between a F1 Goldendoodle and a purebred Golden Retriever which results in a dog that is 75% Golden Retriever and 25% Poodle. Check with your breeder which type of dog they bred. With each successive generation, the hybrid vigor trait is lose.
F2 Goldendoodle (50% Poodle, 50% Golden Retriever): Second Generation Goldendoodle (F2). This is a cross between a F1 Goldendoodle and another F1 Goldendoodle. Most breeders will not breed an F2 Goldendoodle due to being the most unpredictable generation of Goldendoodle in terms of coat type, coat hair, and variation of shedding.
F2B Goldendoodle (62.5% Poodle, 37.5% Golden Retriever): This is a cross between a F1 Goldendoodle (50% Poodle, 50% Golden Retriever) and a F1B Goldendoodle (75% Poodle, 25% Golden Retriever). This generation also resembles a hypoallergenic golden retriever. There is a small chance that the F1B Goldendoodle is (25% Poodle, 75% Golden Retriever) making the resulting F2B Goldendoodle (37.5% Poodle, 62.5% Golden Retriever). Check with your breeder to verify. With each successive generation, the hybrid vigor trait is less.
Multi-Generation Goldendoodle: Multi-generation Goldendoodles are a result of several generations of Goldendoodle to Goldendoodle breeding. Typically, the breeding of multi-generation Goldendoodles are the result of backcrosses to poodles for the nonshedding and hypoallergenic genetic traits. Poodles are also less expensive and can create new coat colors such as red.
A rather new term and generation description is the F1BB Goldendoodle:
F1BB Goldendoodle (87.5% Poodle and 12.5% Retriever): F1BB Goldendoodle is product by breeding a F1B Goldendoodle with a Standard Poodle. These types of Goldendoodles, or super hypoallergenic golden retrievers, have the highest success of being hypoallergenic and nonshedding. We recommend this generation of dog to families that suffer from severe animal allergies. In addition, these dogs typically have the most wavy and curly coats.
Best Goldendoodle Brush: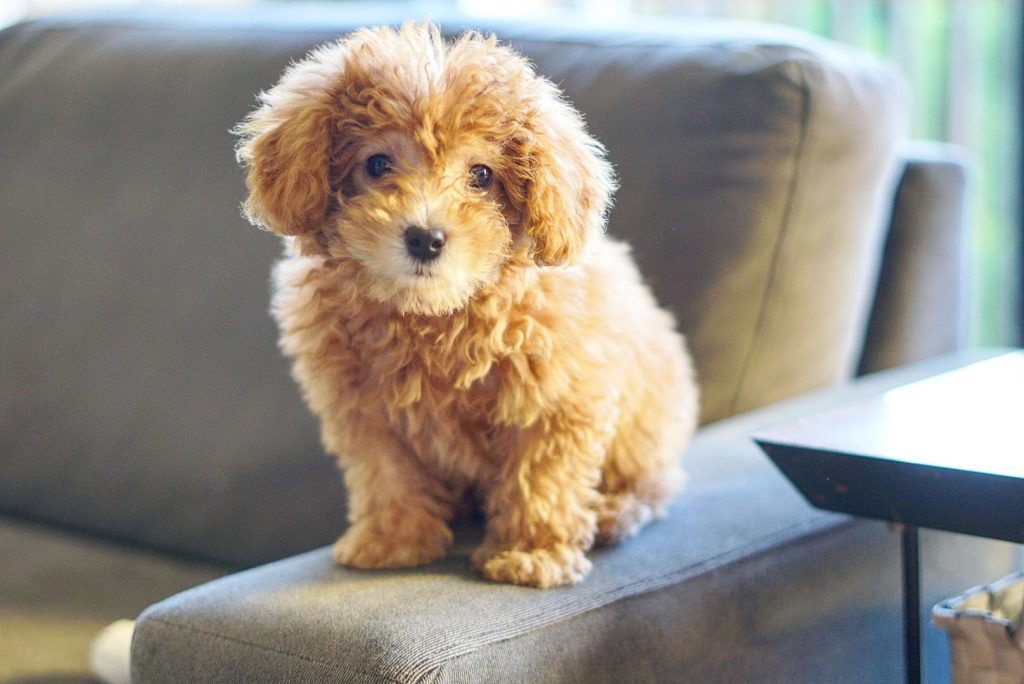 Size Information
There are typically three sizes of Goldendoodle. The terminology and sizing is a little bit confusing, so I've listed them in more detail below:
Petite Goldendoodles / Toy Goldendoodles (Small): These small sized Goldendoodles range from 20 to 35 pounds in weight and grow to be approximately 15 inches tall. They are ideal for individuals living in apartments, constrained / shared living spaces, or just simply want a cute small teddy bear walking around the household.
Miniature Goldendoodles (Medium): These medium sized Goldendoodles range from 35 to 45 pounds in weight and can grow 16 to 20 inches in height. This is the most commonly bred Goldendoodle and the ideal dog size for people living in larger homes with a yard. They can also be ideal for smaller living spaces with regular exercise.
Standard Goldendoodles (Large): These large sized Goldendoodles range from 45 up to 70+ pounds and are typically around 22 inches in height. These are the largest size of Goldendoodle which will typically require a significant more amount of exercise and socialization.
There has recently been a trend for what known as a Teacup Goldendoodle:
Teacup Goldendoodle: A smaller version of the Petite or Toy Goldendoodle. The Teacup Goldendoodle is typically created by introducing the dwarfism gene — i.e. Miniature Poodle mixed with a Petite / Toy Goldendoodle. Although they are extremely cute and fuzzy animals, they suffer from a variety of health problems. Please make sure you research a reputable breeder before purchasing a Teacup Goldendoodle.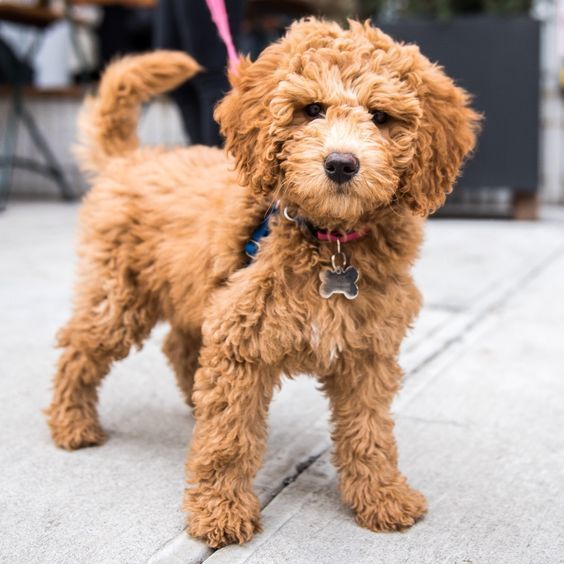 Temperament & Personality
Goldendoodles are an ideal family dog because they are friendly to virtually anyone including strangers. They inherit their nice, likable, and outgoing personalities from the Golden Retriever. On the other hand, Goldendoodles get the significant curiosity, intelligence, and ease of training from the Poodle. When properly socialized as a puppy, Goldendoodles are gentle, affectionate, and trustworthy which allows them to get along with small children and other household animals. English Goldendoodles require a moderate amount of daily exercise and can be taken for moderate runes, bike rides, and hiking. Goldendoodles develop a significant amount of attachment to their owners.
Like most dogs, Goldendoodles are social animals that require attention and environmental socialization. Leaving a Goldendoodle alone for a significant period of time will cause the dog to develop behavioral problems since the dog will become stressed and sad. Keep your Goldendoodle occupied with a horn to chew on or other mental stimulation toys. You'll often come home to chewed up carpets, scratched doors, or broken valuables caused by personality traits like separation anxiety and curiosity. We recommend puppy training classes and constant socialization to prevent bad behavior. It's extremely important to socialize your English Goldendoodle between the ages of 7 weeks and 4 months to have a well-behaved adult dog.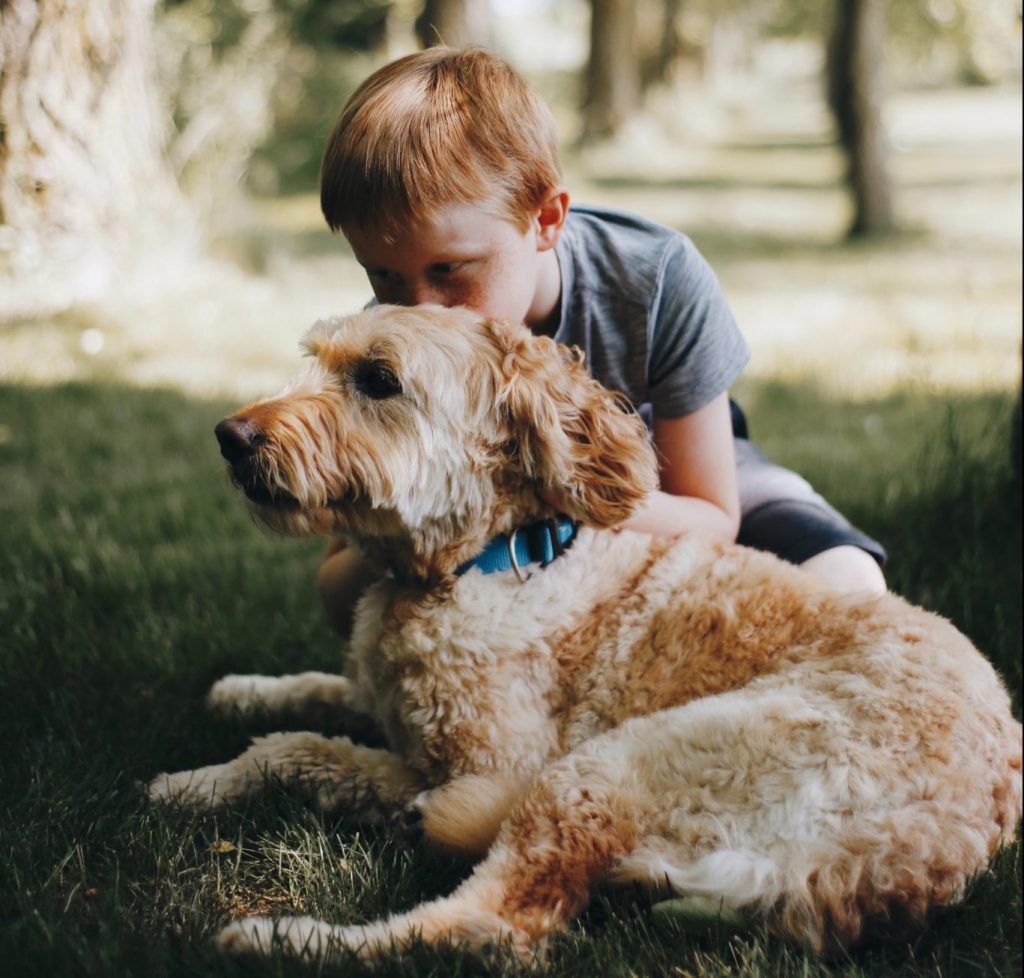 Nutrition
High-quality dog food is important relative to the dog's life stage: puppy, adult, or senior. As a rough estimate, your Goldendoodle will burn roughly 1,200-1,600 calories per day depending on the activity level. Goldendoodles are prone to becoming overweight if you feed your dog a significant amount of calories via dog treats or food.
As a puppy, your Goldendoodle should be consuming puppy food that has the correct phosphorus to calcium ratio (1.2 parts calcium to 1 part phosphorus). A deficiency in calcium can cause serious bone and orthopedic issues later in life. Feed your puppy approximately three times a day for the first 6 months.
Adult Goldendoodles should be fed twice daily for approximately 1.5-2 cups of food. Ideally, your Goldendoodle should be eating dry food as the hard kibble helps to remove bacteria that may be stuck to your dog's teeth. Proteins, carbohydrates, fat, and fiber should all be an essential part of your Goldendoodles diet.
Grooming
For more detailed information, check out our post on the Best Types of Haircuts for Goldendoodles.
All dogs require grooming, but the amount of grooming is highly dependent on which type of coat your Goldendoodle receives. Depending on which generation of Goodledoodle you receive, your dog will end up with one of three types of coats: straight, wavy or curly.
Straight Coat: Your Goldendoodle inherited this coat from the Golden Retriever. Lucky for you, these coats are the easiest to maintain and only require some minimal brushing. Unfortunately, with a straight coat you won't get the Goldendoodle signature wavy or curly look which makes it look like a teddy bear. In addition, your dogs coat is likely to shed if it is a straight coat.
Wavy Coat: Wavy or shaggy is the most common of the three Goldendoodle coats. A wavy coat is a combination of the straight Golden Retriever coat and the curly Poodle coat. Good news is that this type of coat relatively easy to take care and is typically hypoallergenic and nonshedding. This type of coat requires weekly brushing to prevent the coat from matting or tangling, remove dead hair, and dead skin. We recommend that you give your Goldendoodle a haircut every 8-10 weeks with a wavy coat.
Curly Coat: Curly coats are the most hypoallergenic and nonshedding. Inherited from the Poodle, the curly brown coat gives the Goldendoodle its signature teddy bear look and the nickname "hypoallergenic golden retriever." However, this type of coat requires a significant amount of upkeep. Daily brushing is required in order to prevent a matted or tangled coat. In addition, a haircut will be required approximately every 8 weeks.
Below is some Goldendoodle inspiration for grooming and haircut styles:
If you want to try to shave your own Goldendoodle, read our article here: How to Shave a Goldendoodle
The Goldendoodle Puppy Cut: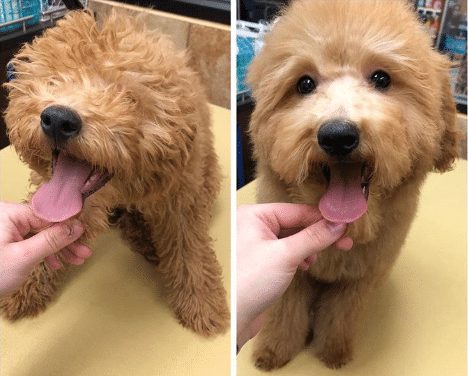 The Goldendoodle Poodle Cut: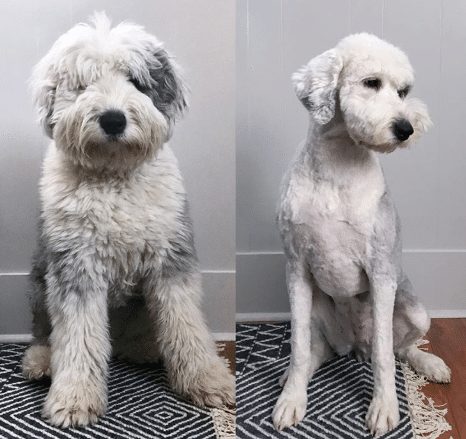 The Goldendoodle Lion Cut: We also wrote an in-depth article called the Cutest Lion Cut Dog Photos on the Internet!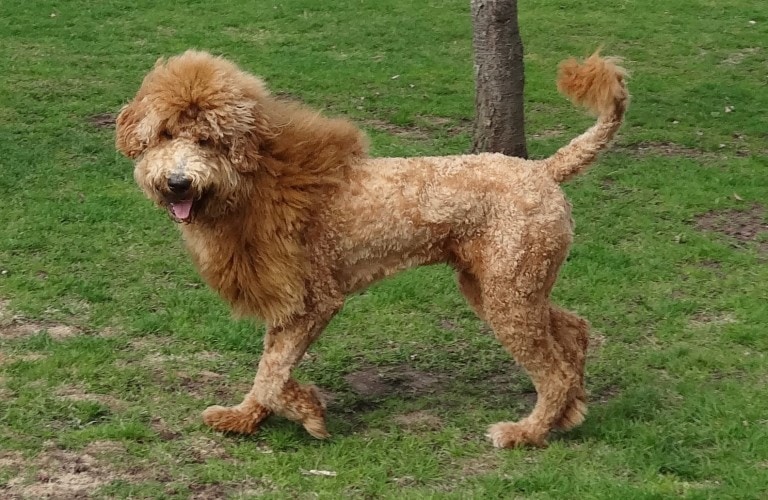 General hygiene procedures are also recommended. Try to bathe your Goldendoodle no more than once per month. Bathing your dog too frequently can lead to dry skin and constant itching. If your Goldendoodle consistently smells bad, check for a yeast infection and switch your dogs diet to chicken. You should also be regularly trimming the hair out of your Goldendoodles eyes and trimming their toenails.
Exercise
One of the happiest times for our Goldendoodle is when he is running around the backyard or socializing with other dogs at the dog park. The amount of physical exercise your Goldendoodle will need highly depends on its size, age, and personality. In general, you should aim to exercise your full-grown Goldendoodle approximately 15-30 minutes at least three times a day. Goldendoodes generally have high energy, a fair amount of stamina, and drink lots of water. Exercise can be in the form of throwing a ball, going for a walk around the block, or playing sports like soccer. My biggest tip is to make sure every moment is supervised with your Goldendoodle and they are curious creatures!
Without exercise, Goldendoodles are prone to becoming obese. Excess weight can lead to a significant amount of health problems such as diabetes, heart disease, increased blood pressure, and damaged bones or joints. Exercise also prevents unwanted behavior when you're gone at work or busy with your personal life. Remember, exercising your Goldendoodle will also help you get in shape.
Training
Goldendoodles are one of the most trainable dog breeds due to their eager-to-please personality. However, training a Goldendoodle isn't easy and a significant amount of time will go into obedience and training to cultivate the personality they are known for.
Start Training your Goldendoodle Early: You'll likely get your Goldendoodle as a puppy between 6 and 8 weeks old. As soon as you get your Goldendoodle you should start training it. Create a regular routine for meals — showing your dog where to eat and having a set meal time. For potty training, when your puppy is about to go, pick him/her up and place them in the desired location to use the restroom. Use positive reinforcement for potty training to reinforce the behavior.
Early Socialization is Key: After a couple days at home, you should begin to let your puppy explore the outside world. The sooner that your Goldendoodle is exposed to different humans, dogs, and environments, the more comfortable he will be. Short walks around the neighborhood, trips to the dog park, and taking your puppy with on personal activities are all good ideas. The first 4 months are the most critical for socializing your puppy. This should be an easy task though as Goldendoodles typically love socializing anyways!
Obedience / Puppy Classes: Highly consider obedience or puppy classes for your Goldendoodle in order to teach them basic commands, help them socialize, and instill trust in their owner. Goldendoodles are a highly trainable breed and it's best to ultilize their puppy years in order to have a well-behaved adult Goldendoodle.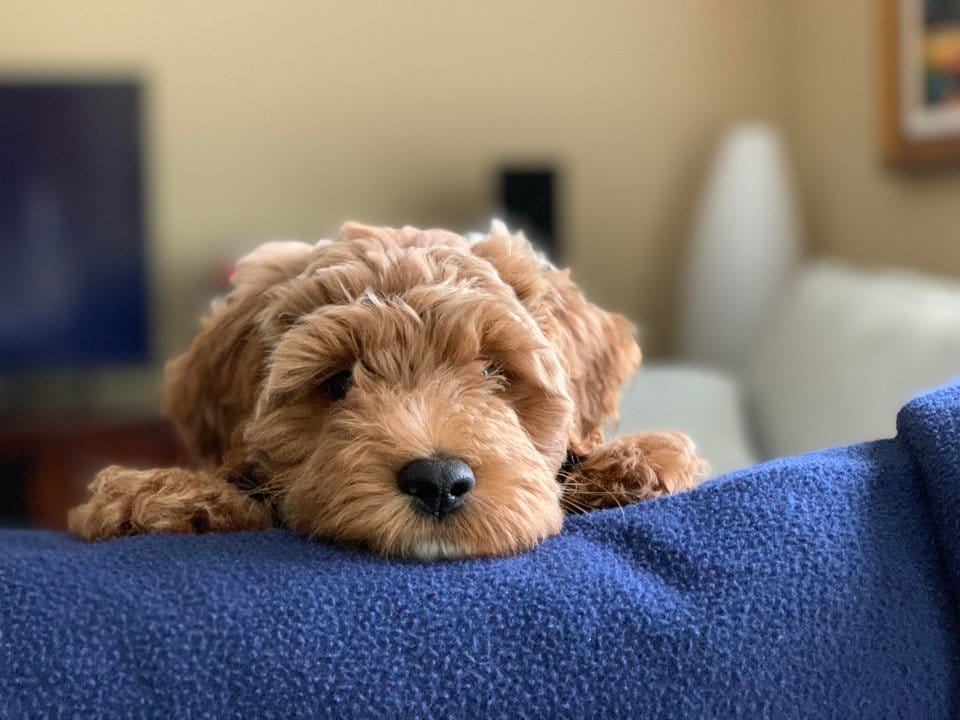 Health
Since Goldendoodles are a mix between Golden Retriever and Poodle, they obtain a unique genetic trait called Hybrid Vigor also known as Heterosis or Outbreeding Enhancement. This means that Goldendoodles obtain increased biological qualities that are superior to their parents and are less likely to have genetic problems that are a result of inbreeding or breeding purebreds. In other words, Goldendoodles will almost always be healthier than either a purebred Golden Retriever or a purebred Poodle because they will only inherit genetic problems that are common to both the Poodle and Golden Retriever. The life expectancy of a Goldendoodle can be estimated to be 10 to 14 years.
Goldendoodles will suffer from the same health issues as their parents which may include:
Skin Disorders: Ichthyosis is common among Goldendoodles. This includes dryness, roughness, and scaling of a dog's skin. There is currently no cure, but there are different treatment options to make the itchiness more bearable.
Eye Disorders: Progressive retinal atrophy (PRA) is bilateral degeneration of the retina and can cause poor vision. This is an inherited disease that cannot be cured.
Hip and Elbow Dysplasia: Goldendoodles are typically always ready to play and run. If you notice your Goldendoodle having difficulty getting up, or leaning towards one of the side of their body, they may have hip or elbow dysplasia which is the result of abnormal development of the joints. This is typically caused by either genetics, obesity, rapid growth, or poor diets.
Obesity: Goldendoodles are highly susceptible to obesity due to overfeeding and lack of exercise. Obesity lowers the dog's quality of life as well as takes years off their life expectancy. A study on Golden Retrievers showed that over 60% of that dog breed is overweight and suffers from health issues like damaged joints, high blood pressure, kidney and liver disease, diabetes, and cancer.
Von Willebrand's Disease (vWD): Common Goldendoodle inherited bleeding disorder that is caused by a deficiency in the amount of a specific protein that is used to clot blood cells together to seal broken blood vessels.
Patellar Luxation: This occurs when a Goldendoodles patella, also known as the kneecap, is dislocated from its thigh bone. The dislocated kneecap is typically a genetic malfunction or due to significant trauma on the leg.
Before buying a Goldendoodle we recommend that you ask the breeder if they test for specific Health Requirements. The Goldendoodle Association of North America (GANA) gives some specific health requirements that you should look for.
Appearance
I wrote a really in-depth article on all the different Goldendoodle Coat Colors.
Coat: As noted in the Grooming Section, Goldendoodles can have three different types of coats: straight, wavy, or curly. The coat type highly depends on which genes your puppy inherited from their parents. The Golden Retriever will have a straight coat that is more prone to shedding and allergies while the Standard Poodle will have a tightly curled coat that is more hypoallergenic and nonshedding. The hypoallergenic golden retriever coats are inherited from the Standard Poodle. The typical coat of a Goldendoodle will be wavy.
Color: Goldendoodle coats can come in a variety of different colors due to their genetic combinations. These colors include cream, gold, apricot, red, chocolate, brown, black, and grey. The color is typically highly dependent on the Poodle parent. Typically, the Standard Poodle will be a white color which results in a litter of cream-colored Goldendoodles. However, Golden Retrievers can be red-colored and Standard Poodles can be black colors resulting in a wide array of colors.
Important tip: The Goldendoodle fur color will usually lighten as they grow older. For instance, if your puppy is a red-apricot color due to the breeding of a red Golden Retriever and a white Standard Poodle, the fur color as the Goldendoodle grows older will lighten up to be more apricot colored.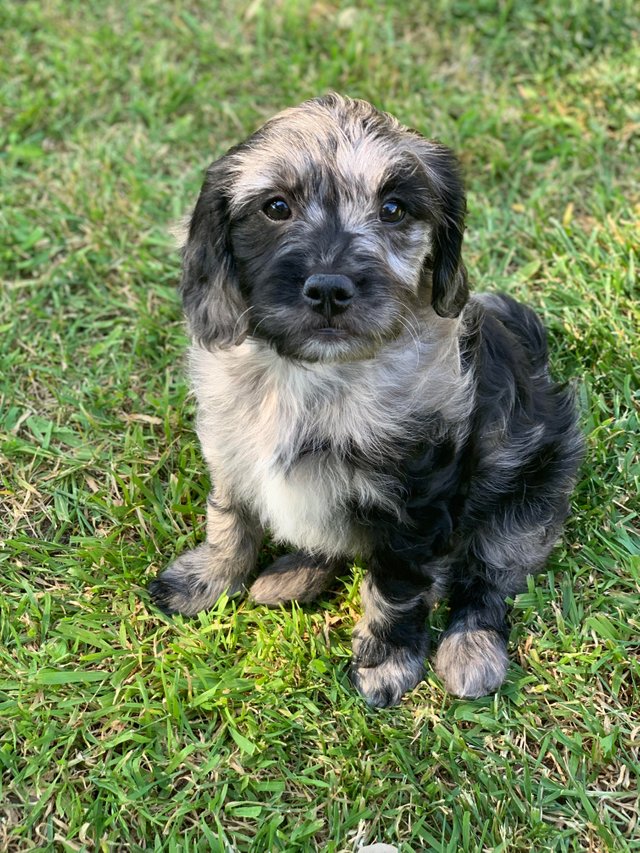 Prices
Goldendoodles vary in price but typically reputable breeders will sell them anywhere from $1,500 – $3,500. We recommend that you search the Goldendoodle Association of North America (GANA) and view their breeders list to find a reputable breeder. They typically have breeders in most states for easy accessibility. GANA has their breeders undergo stringent health testing requirements like hip, heart, eye, and elbow testing to ensure that you are getting a healthy Goldendoodle.
Conclusion
Goldendoodles are a breed between two of the smartest dogs in the world. They are the ideal family dog combining a clever and silly side from the Standard Poodle with the loyal and loving side of the Golden Retriever. This makes them adaptable and suitable to almost any environment given the right amount of attention and love. In addition, Goldendoodles require the appropriate training, socialization, and daily exercise as they mature to become well-behaved adults. This can be a rewarding experience though, and you can help raise a new best friend and a family companion that looks like a cuddly teddy bear with the benefits of being hypoallergenic and nonshedding.
Check out our other articles:
Garrett loves animals and is a huge advocate for all Doodle dog breeds. He owns his own Goldendoodle named Kona. In addition, he volunteers at the Humane Society of Silicon Valley, where he fosters dogs and helps animals. Garrett enjoys writing about Doodles and believes that dogs can teach humans more about how to live than humans can teach a dog.
Why Trust We Love Doodles?
At We Love Doodles, we're a team of writers, veterinarians, and puppy trainers that love dogs. Our team of qualified experts researches and provides reliable information on a wide range of dog topics. Our reviews are based on customer feedback, hands-on testing, and in-depth analysis. We are fully transparent and honest to our community of dog owners and future owners.